Special Features

March Issue 2001
NC Museum of Art in Raleigh, NC, Presents Major Retrospective of Works by Stanton Macdonald-Wright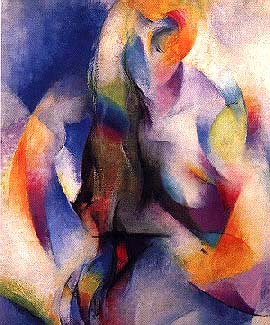 Yin Synchromy No.3, 1930
Uncompromisingly original, fierce in his passions, diverse in his interests and decades ahead of his time, American painter Stanton Macdonald-Wright (1890­1973) (Stanton Macdonald-Wright and Synchromism: Chronology) was a true pioneer of American and international modernism and one of the most fascinating artists of the 20th century. From Mar. 4 - July 1, the North Carolina Museum of Art in Raleigh, NC, presents the first full retrospective of the artist's work, with 63 paintings and drawings spanning a period of more than 60 years. This ground breaking exhibition, Color, Myth, and Music: Stanton Macdonald-Wright and Synchromism, seeks nothing less than the restoration of this remarkable artist's esteemed place in the annals of art history and an exploration of the man behind the artwork.
"Like Picasso but without the enduring celebrity, Macdonald-Wright seems to have been deliberately reckless in his personal life in order to fire and refire his imagination," said exhibition co-curator John Coffey, chair of the Museum curatorial department and curator of American and modern art.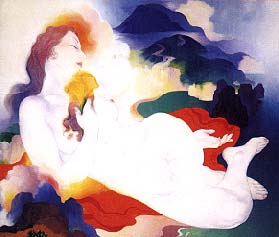 Synchromy in Purple Minor (detail), 1918
From his early days, Macdonald-Wright was a confident if not headstrong youth, whose keen intelligence was matched by his interest in wine, women and mischief - interests that resulted in expulsion from two private schools during his teens and set the stage for a variety of passions he would pursue throughout a lifetime of painting. He relentlessly pursued women and revealed in his artwork a conviction that man was not complete without woman. He was both a boxer and a gourmet cook, both a playwright and a composer. He spoke French, Spanish, Chinese and Japanese. He was a revolutionary individual who ironically oversaw the New Deal's art program in Southern California. He was a furniture designer. He was a professor who repeatedly clashed with fellow faculty members and university administrators but earned a devoted following among students. He was a man who believed with all his soul that history would confirm him as a great American painter, in spite of the incomprehension of critics and the art establishment. In the quarter-century after his death, Macdonald-Wright has yet to receive the full recognition he so richly deserved.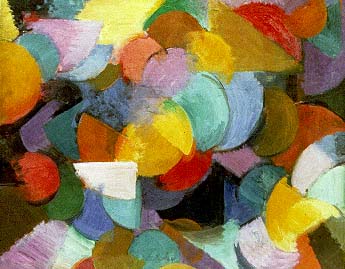 (Unknown)
"This exhibition corrects a big gap in art history with a new look at this bold American master and a long-overdue assessment of the rise of modernist painting on the West Coast," said exhibition co-curator Will South, (read more) curator of collections at the Weatherspoon Art Gallery, University of North Carolina - Greensboro. "While living in Paris, Macdonald-Wright and his colleague Morgan Russell co-founded Synchromism, a brashly provocative theory of color and emotion, and Macdonald-Wright subsequently returned to New York to bring the light of modernity back to America. But after 1918, when he moved west to almost single-handedly create a modernist community in California, he dropped out of the East Coast art scene and thus, unfortunately, out of the dominant art history perspective."

While his earliest known works date to his teens and reflect the impressionist style popular at that time in California, Macdonald-Wright made his first important artistic contributions while living in Paris between 1909 and 1915. After studying works by Gauguin, Cezanne, Picasso and Matisse, Macdonald-Wright and fellow expatriate painter Morgan Russell began developing a theory of painting, called Synchromism, that understood art primarily as an intense experience with color. They believed (and many scientists today support this belief) that colors, like sounds, stimulate specific emotional responses in the viewer. For Macdonald-Wright, the job of the artist was to "orchestrate" compositions out of color and shapes. By 1913, the two artists had made a fiery debut not only of their works but of their words, in the form of manifestoes declaring the primacy of their new art form. Over the next two years, dividing his time between New York, London and Paris, Macdonald-Wright continued to put Synchromist theory into practice and honed his own skills as a painter. It was during this extremely fertile period that he produced some of the most advanced color abstractions, including several paintings titled Conception Synchromy, now in the collections of the Whitney Museum of American Art and the Smithsonian's Hirshhorn Museum.
After a return to New York in 1915, Macdonald-Wright organized the celebrated Forum Exhibition of American Painters - a watershed event in the history of American modernism. But health problems and his disappointment with the New York art scene prompted a move in 1918 back to California.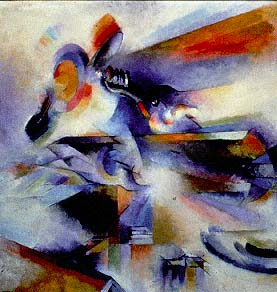 Aeroplane Synchromy in Yellow-Orange, 1920
Macdonald-Wright quickly became an important, almost legendary figure in the cultural development of Southern California, a region then evolving as one of the most populous, ethnically diverse, economically productive and socially volatile in America. More than anyone of his generation, he encouraged the development of a distinctively West Coast response to modernism. Even a skeletal list of his activities in Los Angeles confirms his centrality in the emerging modern art scene. In 1920 he organized the first-ever exhibition of modern art in Los Angeles; he headed the Los Angeles Art Students League most of the 1920s and early 1930s; he wrote and published a treatise on color; he experimented with color film; he wrote and directed Synchromist Theater for the Santa Monica Theater Guild; and he organized the area's most important modern exhibiting entities - the Group of Independent Artists of Los Angeles and the Modern Art Workers.
In the 1930s and early '40s, Macdonald-Wright served as a supervisor and later as director of the WPA's Federal Art Project for Southern California during the Great Depression. In these capacities, he exercised considerable (and controversial) power over the regional art scene. Under the aegis of the WPA/FAP, he organized important thematic exhibitions, while continuing to write, exhibit and lecture. Macdonald-Wright's passionate commitment to civic art is represented in the exhibition by several monumental panels from his mural cycle for the Santa Monica Public Library, lent by the Smithsonian American Art Museum.
In his own painting, Macdonald-Wright in his last decades revisited Synchromism, incorporating Eastern philosophy and a deep understanding of Japanese and Chinese art; in fact, his poetic synthesis of East and West marks him as a prophet of a global culture. This fascination with Oriental art and philosophy was already evident in the 1920s and early 1930s in such superb landscapes as "Chinese Valley Synchromy" and in the incomparable nude "Yin Synchromy No. 3", both of which are in the exhibition. When later in his career the artist returned to color abstraction, the design and color harmonies of these later synchromies reveal the subtle influence of Oriental aesthetics. He also taught art and aesthetics at the University of California at Los Angeles, expanding the cultural and philosophical horizons of his students and influencing yet another new generation of painters emerging in California.
Three major retrospectives were devoted to Macdonald-Wright's work during his lifetime: at the Los Angeles County Museum in 1956; at the National Collection of Fine Arts (now the Smithsonian American Art Museum) in 1967; and in the UCLA Art Galleries, 1970. While these shows emphasized the artist's later works, Color, Myth, and Music: Stanton Macdonald-Wright and Synchromism, at the North Carolina Museum of Art presents the first balanced retrospective of the artist's entire career. The book accompanying the exhibition is the first scholarly monograph on the artist.
The exhibition and its national tour are sponsored by SAS Institute Inc. and The Henry Luce Foundation. Additional support from state funds and private donations is administered by the North Carolina Museum of Art Foundation.
Group tours are offered Tue.­Fri. The Museum expects strong demands for tours; reservations for groups of 10 or more may be made four weeks in advance by calling (919) 839-6262, ext. 2145 or 2103.
For further information check our NC Institutional Gallery listings or call the Museum at 919/839-6262 or at (http://www.ncartmuseum.org).
[ | Special Features | Mar'01 | Feature Articles | Home | ]

Mailing Address: Carolina Arts, P.O. Drawer 427, Bonneau, SC 29431
Telephone, Answering Machine and FAX: 843/825-3408
E-Mail: carolinart@aol.com
Subscriptions are available for $18 a year.
Carolina Arts is published monthly by Shoestring Publishing Company, a subsidiary of PSMG, Inc.
Copyright© 2001 by PSMG, Inc., which published Charleston Arts from July 1987 - Dec. 1994 and South Carolina Arts from Jan. 1995 - Dec. 1996. It also publishes Carolina Arts Online, Copyright© 2001 by PSMG, Inc. All rights reserved by PSMG, Inc. or by the authors of articles. Reproduction or use without written permission is strictly prohibited. Carolina Arts is available throughout North & South Carolina.