Special Features

One Eared Cow Glass
1001 Huger Street
Columbia, SC
803/254-2444
www.oneearedcow.com

Short History and Photo Exhibit of Glass-Making Process at One Eared Cow Glass in Columbia, SC
In the summer of 1992, three young art graduates, Tommy Lockart, Mark Woodham and Bob McKeown, from the University of South Carolina in Columbia, SC, decided to take a chance and follow their dreams of continuing to express themselves artisticly through creations of molten glass. At the time, their only influences and access to the art of glassblowing and sculpture came from the University's glass department. Unfortunately, about the time they became really serious about pursuing a career in glass, the University decided to close down the glass department. All of this occurred about the time of graduation, so choices had to be made concerning the "real world".
(See another feature about the commission One Eared Cow Glass did for the new Columbia, SC Convention Center. April 2005)
Due to a lack of funds and not enough experience, attending graduate school for glass was not one of the choices they were able to make. Their only other option at the time in order to follow their dreams was to build their own glass studio. Fortunately, for the three artists, their experience and training at the glass department at USC was very good. They knew the basics very well. And, with advice and help from their former instructor, they started fabricating their own equipment. Now all they needed was a place to set up a studio.
Renting or leasing a building was quite a disturbing and risky proposition since the three were already starting out with what little they could find. A relative mentioned a small building, rent free, about an hour out of Columbia, in a small farming community called Bishopville. After about eight months of commuting back and forth from Columbia to Bishopville, the studio was close to being finished. The three eager graduates moved into a two-story farm house about a mile from the new studio and began to create. Now all they needed was a name for their newly started business.
During the clean-up process, prior to building the studio, an antique, carved, wooden cow's head was found and kept. It was missing an ear probably due to rough handling over the years. During an inspiring moment, it was nailed to the front door of the studio, merely for decor. About a month later, and after rejecting almost every idea for the new studio's name, the one eared cow nailed to the door, spoke in a way only it could, and the studio acquired its new identity - One Eared Cow Glass.
About two years later, after much consideration and planning, the three decided it was time to move back to Columbia. The business seemed to be a success and the three artists needed the customers and culture of the larger city. After a few failed attempts at acquiring a new location, an affordable and pliable option arose on Pulaski Street in the Historic Congaree Vista area. About a year after moving to this location One Eared Cow Glass reduced its number to only two partners, Tommy Lockart and Mark Woodham.

Two years at this location was what the studio needed to boost their image and attitudes, and in February of 1996, One Eared Cow Glass began a move to their third and current location to 1102 Huger Street, at the intersection of Huger and Senate Streets, a little closer to the heart of the growing Vista area.

This new location was large enough to provide a working studio and a large gallery space to showcase the creations of One Eared Cow Glass. Visitors can now browse in the gallery filled with hundreds of glass objects, watch the artists at work, or do both. One Eared Cow Glass is one of only two working glass studios located in South Carolina, offering a rare opportunity for visitors to see skilled craftsmen using the techniques and tools of an art form dating back thousands of years. You can watch molten glass that has been heated to 2400 degrees, blown and shaped into a work of art. Now, art students from USC come to the studio to watch artworks being created out of raw glass.
A small photo essay on the One Eared Cow Glass studio.
Please Note: The following images were taken while the artists were actually working on several different works. It is not a continuous sequence of one work in progress. The images show a variety of steps used to make these different pieces. It should also be noted that the rods that hold the glass on the end are always in motion. The artists don't stop turning the rods until the piece is finished. This fact makes it hard to take clear (stop-action) images, but you'll get a good idea of what is going on here. The best thing is to make a trip to One Eared Cow Glass on a weekday to see the artists at work.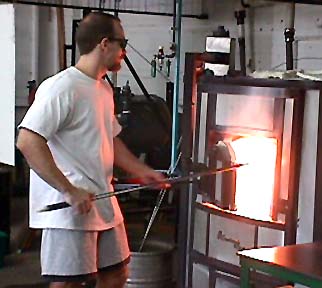 The first step in the process is taking one of the rods and getting an amount of raw molten glass on the far end from the main furnace, which is kept at 2400 degrees. Tommy Lockart will start us off.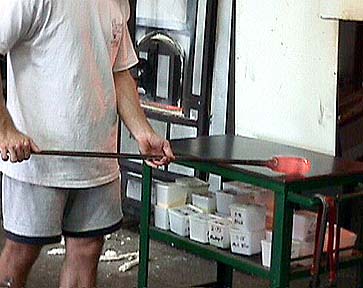 Lockart is rolling the glass on a flat table top to shape the glass.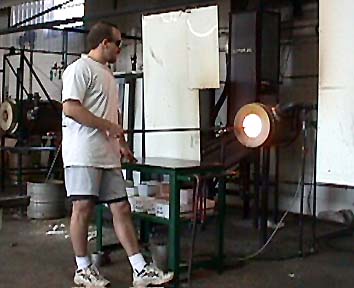 Here Lockart is heating the glass in one of the smaller furnaces, a constant process which is repeated after almost every step in the creative process. The glass must stay hot in order to shape it.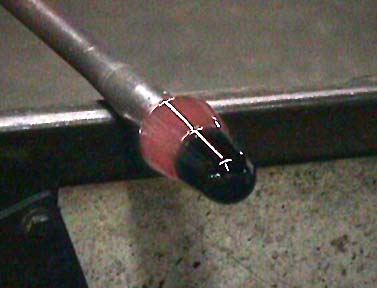 Here we see that a piece of colored glass is added to the glass mixture.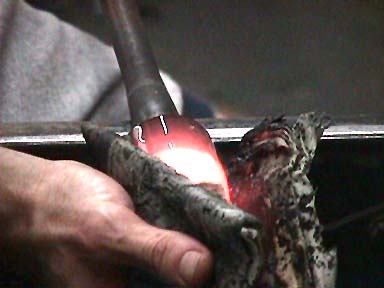 Here is another step in the process that is repeated many times. Lockart is using wet newspaper to help shape the glass. Wet newspaper is used as it is flexible, in ready supply, and a great insulator.
Here we can see Lockart using one of many special tools which help shape the glass.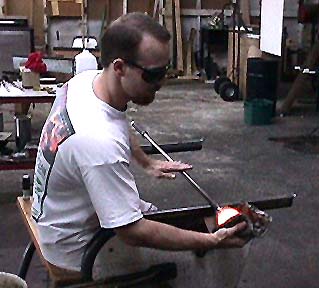 More shaping with wet newspaper.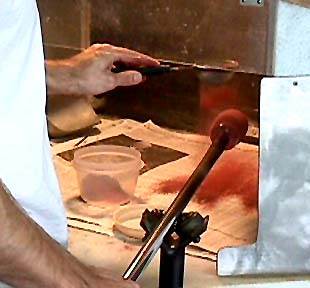 Here we see colored glass crystals being added to the glass. This is a process that can be repeated many times to create a desired color.
[ | Special Features | Home | ]
Mailing Address: Carolina Arts, P.O. Drawer 427, Bonneau, SC 29431
Telephone, Answering Machine and FAX: 843/825-3408
E-Mail: carolinart@aol.com
Subscriptions are available for $18 a year.
Carolina Arts is published monthly by Shoestring Publishing Company, a subsidiary of PSMG, Inc. Copyright© 2000 by PSMG, Inc., which published Charleston Arts from July 1987 - Dec. 1994 and South Carolina Arts from Jan. 1995 - Dec. 1996. It also publishes Carolina Arts Online, Copyright© 2000 by PSMG, Inc. All rights reserved by PSMG, Inc. or by the authors of articles. Reproduction or use without written permission is strictly prohibited. Carolina Arts is available throughout North & South Carolina.