Past Commentaries
December Issue 1999
Commentary
by Tom Starland
Annual Holiday Reminder
Each year during the holiday season, no matter what holiday you celebrate, I try to remind our readers that one of the best gifts you can give someone or yourself is the gift of art. Most art will not need batteries. Most art will not wear out from over viewing. The recipient will get to enjoy your gift year after year, and year after year they will think about how wonderful a gift you have given them. And, best of all, most art comes with no assembly necessary.

OK, art can be a little pricy as a gift, but just like the economic status of our readers, good art comes in all sizes. For the price conscious, fine art crafts can offer the most bang for the buck. Reproduction prints of original works of art also come in a wide range of prices, but don't forget that fine art prints that have been hand-pulled by the artist and come in smaller editions can be had for about the same price as some reproduction prints. Myself, I'd always rather have an image that only a handful of people share with me vs. thousands, and having an original is even better.
Now, if you're in the category of having to find that special gift for a special person - maybe even yourself, I've got a secret I'm willing to let out of the bag. Some artists and galleries will let you make payments on artworks with a weightier price tag. If you're the kind of person who does your holiday shopping in July - there is also something called layaway. It doesn't hurt to ask.
For those of you who fit into the category of, price is no consideration, what better way to make an incredible impression than with a monster piece of art - something that can give the folks at DeBeers a run for their money. Believe me, you will make an impression on the recipient and the artist. You could become a patron overnight.
No matter what your price range, there is art out there which can fit any taste and any price range. And, you're lucky to be in the Carolinas, as there are plenty of talented artists out there working for you.

And, one last thought - if you can make your special purchase from one of the advertisers found in this paper - it would be a lot better for me and you. After all, they have been paying for this paper for years. Show them your appreciation.
Required Reading
Attention Artists, Art Galleries, and Institutional Gallery Spaces in North and South Carolina: If you read anything at all in this issue, read the article, "How to write a press release about an exhibit and turn it into an article in Carolina Arts". I hope this will be helpful to people who haven't sent us a press release before, for those who have problems writing them, and for those who don't think they have problems writing them. It might even provide a few chuckles to those who have to read press releases on a regular basis and those who haven't been subjected to this - finest of all art mediums.
I also want to emphasize, as best I can, that Carolina Arts only covers the visual arts in North and South Carolina. Our focus is on exhibits vs. individual artists, and we try to include as much and as diverse a mix as we can. That means: advertisers and non-advertisers; commercial and non-profit, including different areas of the two states we cover, and all we can fit in before we run out of space. Space is limited by the total amount of advertising support we receive each month.

The other thing to keep in mind is that we can't and don't cover every area of North and South Carolina. So, if you don't see your city's name on the front of our paper - we probably don't cover that area. Believe it or not, it is physically impossible for us to cover everywhere and some areas can't muster the needed support or just don't care about our paper.
Not Taking the Bait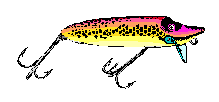 Unfortunately for the organizers and defenders of the current exhibit at the SC State Museum, 100 Years /100 Artists: Views of the 20th Century in South Carolina Art, which I have dubbed as the "Lucky 100 Exhibit," no one has taken them up on their request or should I say desperate plea to have the public come up with alternative lists of 100 deserving artists whose work should have been placed in the show. In press releases and newspaper articles, statements have been made that selecting 100 artists to be included in this show was difficult and that it is hoped that this exhibit will foster debate on who should, and who shouldn't have been included. Which is about the only purpose this exhibit seems to serve. Even Jeffrey Day, arts reporter for The State newspaper has been wondering why no one has responded to his request for people to submit their list of artists who should have been included in the exhibit.
Guess what? We're not taking the bait! These people would love nothing better than to have the reaction to this exhibit be nothing more than a debate on who should and who shouldn't have been included. But, the problem with this exhibit isn't the work or the artists whose work is included - it's the exhibit itself. This exhibit, more than any other policy or event taking place in SC's art community, is an example of what's wrong with SC's state agencies vested with the responsibility of showcasing and fostering SC's art and artists. Notice I used the words "SC's" art and artists - I'm not talking about WPA artists who spent at couple of weeks in the State or here today gone tomorrow part-time university professors. Creating alternative lists would be an insult to those selected and those not, but perhaps could have been.

I'm not surprised by any action taken at the SC Arts Commission, but this exhibit makes me ask why is the SC State Museum even involved in presenting fine art exhibits. They don't have the budget, focus, knowledge, resources, or staff to present exhibitions that truly represent the state of South Carolina - so why are they allowed to continue to stumble through the process? And, I might add, at the expense of the rest of the art community in SC. Why not let SC look like SC really is? Why not represent the majority and not a 10 percent minority? They don't get to chose the history that represents SC, why do they get to select the art that represents SC?
Now it should be pointed out that the State Museum's partner in crime here is the SC Arts Commission who has and continues to assert control over the Museum's Lipscomb Gallery by dangling money, like a carrot, to lead the Museum down the path of the Commission's own selective vision. The Arts Commission and the Museum have become kissing cousins.

To give just one example of what's wrong here, the exhibition's catalog(ue), isn't scheduled to be printed until months after the exhibit is over due to a lack of funding. If the catalog can't be there during the run of the exhibit, why print it? What purpose will it serve except to be a great PR piece for the organizers and the artists involved. Save the money for other exhibits. Or save the money to repair some of the exhibits the children have worn out on the other floors of the Museum.

In the next couple of months we'll have more about this short-sighted effort to celebrate the millennium and take a look at art in SC during the 20th century.
Unfortunately after the above was written, it was reported that on Sun., Nov. 21, one piece from this exhibit turned up missing after a routine gallery inspection. The missing piece is a small work by Lee Malerich of Orangeburg measuring approximately 5" x 5" unframed and 10" x 10" framed. For those who are not familiar with Malerich's art - she works in a colorful embroidered style. In a news release put out by the SC State Museum it stated, "The Museum staff is reviewing security arrangements for the exhibition."
It just leaves me with more questions.
Vista Lights
I made it to Vista Lights in Columbia, SC, held the Thursday before Thanksgiving - remember that for next year. The guy who does their PR needs to read the article about press releases - especially the part about sending one. It was a last minute dash - I almost forget the event takes place on a Thursday evening. But, it was nothing, really nothing to hop in the old van and take a two hour drive up I-26. No hurricane - no problem.
Vista Lights is a celebration of a special district in Columbia nestled along the Congaree River, affectionately known as the Vista. During Vista Lights all the businesses in the area stay open, put out luminaries, serve up food and beverages, and sometimes provide live music - it's a real good time. Can you believe the City of Columbia lets them block off Gervais Street for several hours to provide a performance space? That's like closing down a major interstate highway.

I go for the galleries. During Vista Lights the seven or eight galleries in the area host new exhibits. I say seven or eight depending on how you classify a gallery. For some reason the person putting the PR together didn't consider One Eared Cow Glass a gallery - even though it has the second largest exhibit space in the Vista. But, then again I've thought for quite a while that the PR guy for Vista Lights should have been fired long ago. Did I mention he gets paid for what he does or doesn't do. At least this year someone figured out that Gallery 701 isn't in the Vista and isn't in the same class as the other "real" galleries. Their dungeon-like space isn't what I consider a gallery - no matter how desperate you are for exhibit space. Also, for some reason this guy thinks Vista Lights should just be for local Columbia residents. That was too bad, there were some really good exhibits. In fact, they were all very good exhibits. And, the folks doing Vista Lights were having a very, very good time. I was having a good time even before I made an art purchase, and then my time even got better.

Now, I didn't go intending to purchase any art - I have an arts newspaper and believe me or not - it costs enough to keep me from purchasing much art. But, when the opportunity came to purchase an Ethel Brody etching for $5 presented itself - I'm no fool. I still don't understand why she was selling the etching for so low a price. Perhaps she was tired of seeing hundreds of people just looking at art instead of looking and buying art, or maybe she was testing the public to see it they would respond to an offer too good to refuse. Brody is one of the artists who rents studio space at Vista Studios. She's what I call a master printmaker. A visit to her studio is like a lesson in fine art printmaking.
The point of all this is that next year remember - it's the Thursday before Thanksgiving, it's a really good time, and take change for a ten dollar bill. All this and I was home before the 11 o'clock news.

For those folks who live in the Columbia area - don't wait for the next party to go back to the Vista. Those galleries offer good art and good exhibits all the time.
First Charleston Fine Arts Annual
Last month we reported on the efforts of a group of Charleston Galleries who were trying to offer something different to the visual art lover vs. the standard art walk - it was called the Charleston Fine Arts Annual. By most reports the event was a success and should be an even bigger success in its second year. The galleries involved provided invited guests with a weekend of fine art indulgence. If anything, the event showed that there is a growing hunger for more high-end educational events dealing with the visual arts. I'm still getting calls from people who missed the event or heard about it late and wished they could have participated.
The highlight of the weekend was a lecture by Hilton Kramer on how he became an art critic, about the media's and major museum's obsession with worthless art, and the conflicts of interest involved with the Brooklyn Museum exhibition Sensations. Kramer was an entertaining speaker if not passionately opinionated. I only wish the staff of the SC Arts Commission was there to hear him.

The stated purpose of the event was to attract serious collectors to Charleston's growing visual art market and hopefully see those collectors go home with some art from Charleston's galleries. If you consider yourself a serious collector and didn't receive an invitation to this event, but would have liked to, you can contact us and we'll make sure you get on a mailing list for next year.


[ | What got printed | What didn't get printed | What no one would talk about | Past Commentaries | Home | ]
Mailing Address: Carolina Arts, P.O. Drawer 427, Bonneau, SC 29431
Telephone, Answering Machine and FAX: 843/825-3408
E-Mail: carolinart@aol.com
Subscriptions are available for $18 a year.
Carolina Arts is published monthly by Shoestring Publishing Company, a subsidiary of PSMG, Inc.
Copyright© 1999 by PSMG, Inc., which published Charleston Arts from July 1987 - Dec. 1994 and South Carolina Arts from Jan. 1995 - Dec. 1996. It also publishes Carolina Arts Online, Copyright© 1999 by PSMG, Inc. All rights reserved by PSMG, Inc. or by the authors of articles. Reproduction or use without written permission is strictly prohibited. Carolina Arts is available throughout North & South Carolina.