Past Comments
July Issue 2006
Commentary
by Tom Starland
Just A Reminder
The South Carolina Watercolor Society's 29th Annual Exhibition - Watermedia Plus is still on display at City Art in "Columbia", SC, through July 21, 2006 and Brimming Tides: Paintings and Drawings by Brian Rutenberg, is still on view at the South Carolina State Museum in Columbia, SC, through Sept. 6, 2006. These are two important shows - you should see and since they are in the same city - it's a bonus during these gas price soaring days.
Works from both exhibitions are available - for the right price. The Watercolor Society still has some of their "original art posters" created by participating members, at City Art and at the Columbia Museum of Art's Museum Shop.
If you take a liking to Rutenberg's work, even after this exhibit is over, you can see and purchase his works at Jerald Melberg Gallery in Charlotte, NC. They represent Rutenberg in the Carolinas.
On The Cover This Month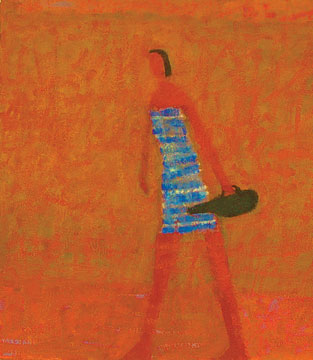 Raymond Chorneau
This month we have an image of a work by Raymond Chorneau, which is being used in all publicity for An Appalachian Summer Festival, being held at Appalachian State University in Boone, NC.
I hope they don't mind me referring to the Festival as a sort of - Spoleto of the North. Of course, it's not as big as the Charleston festival, but it is comprehensive in that it includes the visual arts - a lot of visual arts.
Chorneau's work can also be found at Blowing Rock Frameworks & Gallery, Ltd. in Blowing Rock, NC.
You might want to consider a trip to the mountains - when you start melting - when it seems like it's raining but the sun is shining, or when them hurricanes come a calling. They seem to come from both sides of the Carolinas these days - backside from the south or head on - going northwest.
How About Those Hurricanes?
I'm not talking about those darn weather pest. I'm talking about those Carolina Hurricanes. Win or lose, they showed those Canadians they can't just come down here every spring and use our beaches without us stealing their national sport. There's nothing like Hockey - southern style! (And Stanley Cup Champions!)
Looking Back At Spoleto & Piccolo Spoleto
Well, there is nothing to look back at when it comes to Spoleto Festival USA. We're a visual arts publication and they didn't do anything other than pay homage to the exhibits the Gibbes Museum of Art were showing and present a preview of an auction of old American flags. I wonder what festival director has a brother who is in the auction biz?
All I can say about this festival is that they better get back on track as far as the visual arts go - if they want to call themselves world-class or comprehensive - when it comes to its arts presentations.
And, if we ever make it to 30 years - I hope we throw a better celebration then they did. This was the ho -hum festival. When the main controversy is an artistic director of a dance company and an audience member exchanging verbal barbs after the curtain falls - bring on the clowns.
When it comes to the Piccolo Spoleto Festival ("little" festival) and its over 700 events - what can I say? Really, what can I say?
Well, again in respects to the visual arts - at least the City of Charleston Office of Cultural Affairs is trying. It's still hit or miss - as there is no plan, but at least they know you can't throw an arts festival without visual arts. But, you have the feeling that it is just thrown together. You wonder which way the wind is blowing each year. Who has the ear of the OCA?
Here, the main problems I'm sure is funding and a lack of vision. Funding, in that not all venues are treated equally and lack of vision, as there is no well-rounded guiding hand steering where the visual arts should be heading and what the festival wants to present - what is the image we want visitors to walk away with after viewing these "official" offerings.
I understand that Piccolo's mission is to provide a venue for all in the greater Charleston art community an opportunity to strut their stuff - in front of the Spoleto audience and hopefully make a buck while doing so. And, provide some free "art" events to the community in general. At least that's what the mission may have started out to be - but not anymore.
I didn't know Jeff Daniels lived in the area - maybe he has a place out at Kiawah Island.
Any who - I think Piccolo needs a vision check. Sort of like a town meeting with the art community. At least I'd like to see one done with the local visual art community to ask - where is Piccolo going - in respect to the visual arts and what image do we want the Festival's visual art offerings to present to visitors?
But you know there is a problem when the main stories in the local newspaper - as far as visual arts goes - is about an art exhibit featuring works by animal inmates at the local aquarium and a sand-castle competition. At that point you know there's a problem with the program.
I'm not going to review any of the exhibitions. I saw most of them. But, reviewing art isn't my thing and after all it would just be my biased opinion - not an educated review. If you want to know what I thought of any of the shows - give me a call. If you're a reporter - don't forget to say you're working on an article first.
You know, that kind of thing happens. You're talking with someone - like you're just having a conversation, but they are fishing for comments they can use later in a story. And, if you're not making the right comments - they won't make it in the story - as if no one had a different opinion on the subject of the story.
OK - How About Some Piccolo Results
One of my favorite venues during Piccolo is the outdoor show at Marion Square - the outdoor endurance test. I love it because you get to see what over 100 artists from around SC - mostly the Lowcountry have been doing since the last show. Some change - some are forever the same.
One of the things I like about the show is that it is always developing a diverse offering of art. Sure there are a gizillion landscapes offered, but every year there are more abstract artists, photographers, folk and outsider artists - and even some nudes. Nude works of art - not nude artists. Although I bet some would like to shed their cloths at times.
I make no criticism of landscapes. It's like the chicken or the egg question - which came first - tourist wanting paintings of the beautiful Lowcountry or artists who paint landscapes?
If I have any criticism and it's really more of a request or opinion - I wish all the artists would have their names and where they come from on the front of their tents. There is no way I'd ever get anything done if I had to strike up a conversation with all 100 artists.
OK, back to the results. The big award was given to J. Michael Kennedy. His work, Awesome Awendaw was selected as this year's Mayor's Purchase Award. So this work will be joining the City of Charleston's art collection. And, as tradition goes - the person who wins this award usually has a great festival. Translation - Kennedy sold a lot of his paintings - a lot of landscapes.
The First Place Award went to Carolyn Epperly for her work, Which One Is This. Second Place was given to Tammy Papa for Dancing with Clouds and Third Place went to Tate Nation for These Old Houses.
Awards of Merit were presented (by the way, by the Mayor of Charleston - Joe Riley) to: Ann Hightower-Paterson for Sunday Shoes; Diane O'dachonski for Charleston Place View; Tyler Ann Blanton for 2 Monkies; Joyce Hall for The Museum; and Rick Reinert for Cypress, St. Michaels.
Honorable Mention Awards were given to: Hillarie Lambert for The Gossips; Stephanie Shuler Hamlet for Inspiration; Lynn Hardwick for Good Luck Fish; Susan Colwell for Apricot Afternoon; and Daryl Knox for Southwest of Here.
The Awards Juror for the 2006 Show was Joe Miller, owner of Cheap Joe's in Boone, NC.
The outdoor show in the park didn't get much mention by local media as no art works were stolen this year - thanks to Charleston's finest in uniform. Yeah, thanks a lot guys & gals - next year how about looking the other way. The only way this show ever gets mentioned is when crime comes a calling.
You know the art is good when they're stealing it!
Next we have the results of the 2006 Piccolo Spoleto Juried Art Exhibition, displayed at the Charleston Visitor Center and organized by the Charleston Artist Guild. This show was broken down into three categories.
In Painting/2D - juried by Elizabeth Bronson of McClellanville, SC, winners were: First Place went to Caroline Street Trickey for Herman the Master Painter; Second Place was given to Ben Nita McAdams for Hats in Lavender; and Third Place went to Susan Lenz for Forward Thinking.

In Photography - juried by Jack Alterman of Charleston, SC, winners were: First Place went to F.W. Pate for The Card Players; Second Place was given to Lauren Preller for Killer Windows; and Third Place went to Micheline Callicott for Theo-NYC.
In Sculpture - juried by Tom Durham, winners were: First Place went to Gregorie Rawls for View from My Balcony in Alicante; Second Place was given to Hank Reisman for Color Falls; and Third Place went to Diane Cretara for Well of Depression.
Honorable Mention Awards in all categories were giver to: Lynda English for Break Time IV; Tom Herzog for Red Meadow; Gerardo Leccese for Rain in Florence; Mike Parker for Dogwood Blossom Blizzard; Michael Richmond for Meeting Street Ionic; and Jaclyn Wukela for Rubber Duckie, You're the One.
In my opinion, this show needs some rethinking. At one time this statewide juried competition was really a must see and must get in event. I don't think that is the case anymore. Most of the show consists of works from artists from the lower third of the state - with a few exceptions. That's not a statewide show. Of course you can't blame the organizers for who enters and who doesn't, but there are reasons.

First the venue is not the best. Although lots of people see this show as they pass through the Visitor Center - the lighting is bad and the space is cramped.

Second - the award money is low. You're gonna need more honey to attract more of the state's better artists. And we all know - money is the Mother's milk of the arts.
Third - the show needs a well rounded juror from outside the state to judge this show - not local artists.
But is a top notch statewide juried show really what organizers want? I don't know.
I'm not criticizing the art in this show or the people who spent a lot of their time making it happen. But as I stood there in the middle of the Visitor Center with hundreds of people who may have come to SC or Charleston for the first time - I wondered. Is this our best effort? What message are we showing these visitors about our visual art community? What if this is the only show they see while they are here?
I know what I was thinking.
[ | What got printed | What didn't get printed | What no one would talk about | Past Commentaries | Home | ]
Carolina Arts is published monthly by Shoestring Publishing Company, a subsidiary of PSMG, Inc.
Copyright© 2006 by PSMG, Inc., which published Charleston Arts from July 1987 - Dec. 1994 and South Carolina Arts from Jan. 1995 - Dec. 1996. It also publishes Carolina Arts Online, Copyright© 2006 by PSMG, Inc. All rights reserved by PSMG, Inc. or by the authors of articles. Reproduction or use without written permission is strictly prohibited. Carolina Arts is available throughout North & South Carolina.