Past Comments
September Issue 2004
Commentary
by Tom Starland
Step Back In Time
I'm going to start my commentary this month with a step back in time to the Renaissance period of history. Back to the days when if you spoke ill of the King's ways or policies, you might end up spending time in the public stocks, were sent to the dungeon, or worse yet - sent off to foreign lands to fight the dragon. Taxes were high to pay for the army that kept us safe and opportunities were few for the common man... wait! This sounds a little like today. OK, so we're not that far removed from the way things were back in Renaissance times, but at least it was a simpler time. No e-mail to check, no cell phones, and no carb counting. Eat, drink and be merry!
What's this got to do with the visual arts in the Carolinas? Well, there are connections. The Renaissance period was a time of skilled craftsmanship - at least for the rich. There was fine fabrics, fine art jewelry, metal works, glass blowing, paintings, drawing, and many more objects of art being produced for the rich and powerful. Gee, again, not much different than today. Maybe things haven't changed that much, but you can go back in time by attending The Carolina Renaissance Festival & Artisan Marketplace - just outside of Charlotte, NC. (See article in this month's Feature Articles.) For seven weekends during Oct. and Nov. of this year you can step back in time with me - traveling back to Renaissance times.
Yes, for about four years now I have been visiting this Renaissance Festival to escape from the everyday life of a newspaper editor. First, as an observer, and then eventually as a costumed participant.

A friends' daughter got us interested and then in costume. Yes, in costume. You actually fit in better in costume. Believe me, the ale tastes better in costume. We even got so into it that we make our own costumes now.
A few people in the Charleston art community got a look at me in my monk costume during an event for the Charleston Artist Guild. I was asked to help judge a costume contest so I went in costume. I got a lot of second looks that night. Below is a picture of Linda and I from last year's festival. The photo caption should read: Rengar and his Norman plunder.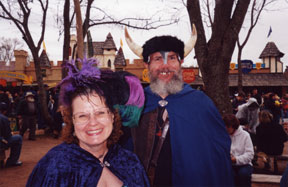 Of course this just goes to prove to a lot of folks out there that I'm just a barbarian at heart. But, it's a lot of fun. And, it is a cultural event. The Festival offers great theatre, art, and excitement. Take a trip back in time yourself.
From The X Files
Before I take off Rengar's hat - here's a story from the stranger than truth files. Remember the exhibit, Thresholds: Expressions of Art & Spiritual Life? This is the major exhibition produced by the SC Arts Commission and other southeastern state art agencies that I have complained about several times because they didn't do any publicity when the show was in Charleston, SC. Guess what? It's here again and we still haven't received a press release about it. Not from the Arts Commission or the SC State Museum in Columbia, SC, which is presenting the exhibit.
In last month's issue we printed two press releases sent to us from the Arts Commission, but I guess they just forgot our address this month. Funny, they had time to send out invitations for the exhibit's opening. Again, this is how the Arts Commission serves the art community and the public.
The PR people at the SC State Museum are no better. They don't even have any mention of this exhibit on their website.
But if you go to the Arts Commission's website, they now have a link that rewrites history. They have placed info on their site which would lead people to believe that this link has been there since the end of the first showing of the exhibit back in Feb., 2004. But, the link is very recent. It went up after the exhibit started in Columbia.
We're still waiting to receive info about the exhibit, so we can forward it on to our readers. Perhaps they can make our next deadline - maybe not. After all, they only have 30 staff members. The State Museum has two PR staff members and we get press releases from them all the time - just none about this exhibit. Maybe they're waiting for the Arts Commission to provide them with info about the exhibit they are presenting. Then again, many of us think the Arts Commission pulls the strings over at the State Museum when it comes to art exhibits, so maybe the PR people haven't gotten permission to send out a press release yet.
Anyway, go see the exhibit. It's a good one. I just wish we could tell you which days it will be there. If you go and it's gone already - don't blame us.
Website Update
If you're a regular viewer of Carolina Arts Online, our companion website for Carolina Arts - the printed version - you may have noticed that beginning last month you could see what the printed version of the paper looks like - ads and all.
Yes, for the first time you've been able to see the ads that make this paper possible. That's important. Many people have told me that the ads are just as important to them as the articles and information provided.
Even our writer in Australia commented about how nice it was to see the paper - the way it is printed. We've sent her copies of the paper before, but this will be a much faster way to see it.

We'll start out keeping six months of back issues, but will probably not just keep adding issue after issue - like the electronic version of the paper does. That would take a lot more storage space for our website and it's already bigger than we ever thought it would be - over 4,000 pages of content.
As I have said before, the website version of the paper is very different than our printed version of the paper and it contains much more than you would see in the printed version.
Each month we receive many more articles than we could ever fit in the paper. And, we keep getting them - long after our deadline. In fact, we're no longer going to constantly update our site so long after our deadline. After the 25th of the month we're not going to process these articles and post them on our site. We're spending too much time doing work for people who pay no attention to our deadline. We don't mind providing this outlet for people we don't normally cover in our printed version of the paper, but we just can't spend unlimited time doing it.
Now, we will keep receiving info about and posting it to the website when it comes to Call for Entry and Opportunities. This info is important to artists and they rely on our site for this info.
We also post a lot of general info about artists and art institutions on our site under the heading of ART NEWS. This is info we would never have room for in the paper, and some of it is very interesting. Check it out.
[ | What got printed | What didn't get printed | What no one would talk about | Past Commentaries | Home | ]
Carolina Arts is published monthly by Shoestring Publishing Company, a subsidiary of PSMG, Inc.
Copyright© 2004 by PSMG, Inc., which published Charleston Arts from July 1987 - Dec. 1994 and South Carolina Arts from Jan. 1995 - Dec. 1996. It also publishes Carolina Arts Online, Copyright© 2004 by PSMG, Inc. All rights reserved by PSMG, Inc. or by the authors of articles. Reproduction or use without written permission is strictly prohibited. Carolina Arts is available throughout North & South Carolina.