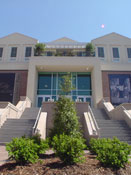 Last Friday, on July 8, 2016, I traveled down to Charleston, SC, from the headquarters of Shoestring Publishing Company in Bonneau, SC, to go to a reception for the exhibit, Requiem for Mother Emanuel, featuring nine works by Dr. Leo Twiggs, on view at the City Gallery at Joseph P. Riley, Jr. Waterfront Park, through July 31, 2016. It was already 100 degrees when I left the house. Going to Charleston was the last thing I wanted to do that afternoon, but I had to. It was a matter of paying respect to an artist who well deserved it. Later on, the heat index would reach 110 and it felt like every bit of that and more.
I first met Dr. Twiggs at a special lunch set up by the Gibbes Museum of Art, back in the 90's when they were showing an exhibit of photographs by W. Eugene Smith on his landmark photo essay, 'Nurse Midwife' Maude Callen, published in LIFE magazine in Dec. 1951. Back then I was still known as "somebody" in the Charleston photography community and I lived in Berkeley County where Maude Callen did her work. Dr. Twiggs was from St. Stephens, SC, in Berkeley County where Callan operated out of a small clinic.
I've never really talked with Dr. Twiggs since, but we have covered many an exhibit of his works throughout the years at institutional art spaces and commercial galleries in our publications South Carolina Arts and now Carolina Arts. In fact I loved every opportunity we got to show one of his works with the Confederate battle flag in it. I truly enjoy publishing works by a black man using that flag as a recurring symbol in his art.
And just like any day I go anywhere outside the area I live in, on Friday as I left to go to Charleston I had to drive past four Confederate flags flying in people's front yards in my neighborhood.
I have no personal connection to the Civil War so it shouldn't matter to me whether that flag flies anywhere, but I've grown to hate what it stands for today. Don't give me that line about heritage – I'm not buying it. When I first arrived in SC I would often get asked which side my family was on – North or South. Being from Michigan, many assumed I was one of those carpetbaggin' Yankees, but my relatives weren't even in the US when the Civil War took place. They where trying to get out from under the boots of Russian Czars and British rulers and they didn't make it out until after the turn of the century.
I've lived in South Carolina for 42 years and I never thought that the Confederate flag would come down off the SC State House grounds, much less the State House, but a stupid kid who thought he was a Johnny Reb who killed nine people while they were at a bible study class brought it down. Who would have thought that? Not me.
I'm not going to go into what's behind Dr. Twiggs work or the work in this exhibit, the gallery has a film you can watch about that and a nice exhibit catalog which you can read his words on his work. You don't need to hear my interpretation. But you should go see this exhibit.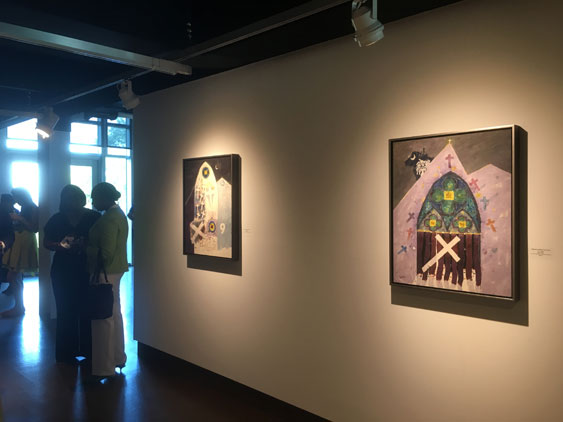 Here's some information the gallery provided about this exhibition: Requiem for Mother Emanuel brings together nine new works by Leo Twiggs, created in commemoration of the nine victims who lost their lives on June 17, 2015 at Emanuel African Methodist Episcopal Church. A video produced exclusively for this exhibition will feature the personal commentary of Twiggs, who shares his artistic vision and gives tribute to the extreme grace displayed by the Mother Emanuel family.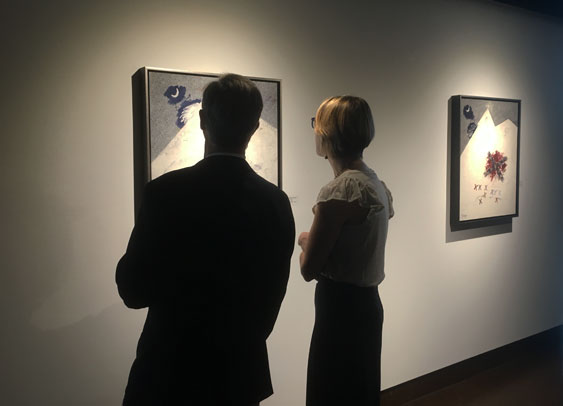 "This series has been the most difficult I have ever done," says Leo Twiggs. "Some of the members of Mother Emanuel are close to my family. No series has been more painful or personal. I want people to look at my works and know that something tragic happened in a Church . . .  that a horrible thing happened in a Church that changed lives. My paintings are testimonies to the nine who were slain. But I also record another moment: our state's greatest moment . . . a response that moved us from tragedy to redemption. For one shining moment we looked at each other not as different races but as human beings. From the City Gallery I can see the docks where the ships came in carrying my ancestors. Through the decades many of them worshiped at Mother Emanuel. Hopefully, we will not forget but will remember that moment that brought us all together."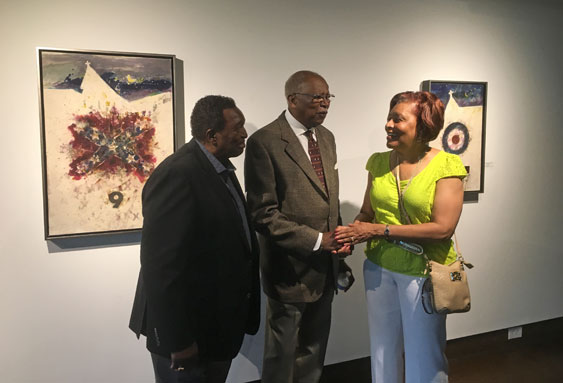 Dr. Leo Twiggs (center)
One of the symbols that Twiggs has used in his paintings since the 1970's is the Confederate Flag. The flag becomes a reoccurring symbol in the Requiem series as it is splashed across the surface of the Church. The flag morphs from a recognizable symbol to a disintegrating form that becomes a cross on a blood stained background and then changes to a cross with the red drained from it. The target and the symbol nine also appear in this series. There is a definite visual transition in the sixth painting as Twiggs recalls the afternoon he entered the Church and stood in front of the stained glass window.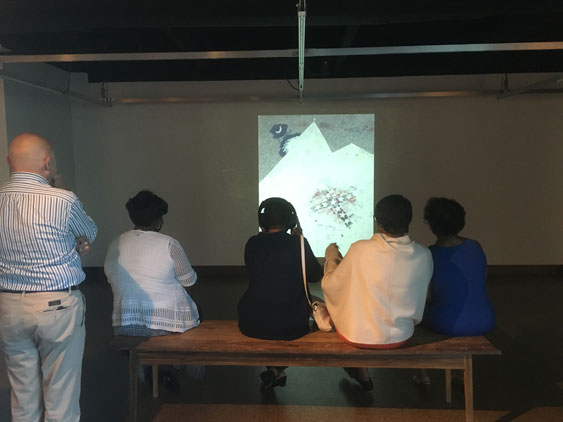 People watching the film about Dr. Twiggs and the making of this exhibit.
I also want to mention that this exhibit was made possible with the help of the Hampton III Gallery in Taylors, SC, (Greenville area) that is one of the galleries in SC which represents Dr. Twiggs' work. Also, if you don't live in the Charleston area or can't get there in time to see this exhibit, that I understand it will be traveling to other parts of SC. Stay tuned into to Carolina Arts for more info on that.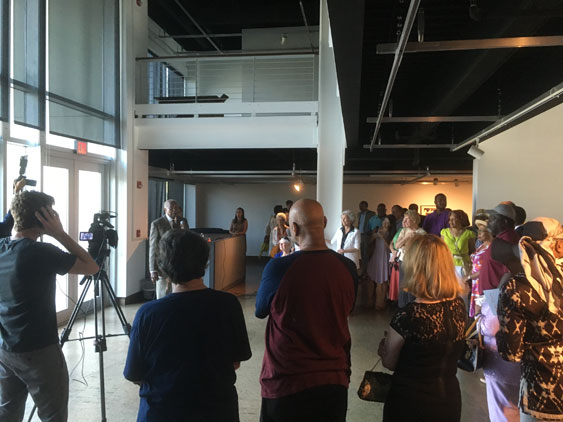 Dr. Twiggs giving a short talk at the reception.
As I mentioned in a Facebook post after attending the reception, the crowd there was a Who's Who of the SC visual art community. The director of the SC Arts Commission and staff members where there, City of Charleston officials and staff members, institutional and commercial gallery owners and directors, artists, and other folks involved in the visual arts, as well as members of the Mother Emanuel family. They were all there to pay respect to one of SC's most talented artist and one who was not afraid to use symbols of SC's racial history in his works.
Now you can go and pay your respects to the artist and see the works he made in commemoration of the nine victims.
The City Gallery at Joseph P. Riley, Jr. Waterfront Park is located at 34 Prioleau Street in downtown Charleston, SC, and gallery hours of operation are Tuesday through Friday, 10am until 6pm, Saturday and Sunday, noon until 5pm.
For more information and holiday closures, visit (http://citygalleryatwaterfrontpark.com) or call 843/958-6484.