Back in the day, when I had to spend a week delivering Carolina Arts all over North and South Carolina, I would spend 12 – 16 hours a day driving in big circles around the two states. One route in South Carolina took me up I-26 to Columbia, then to Newberry, then Clinton, then to Spartanburg, over to Greenville, up to Seneca, back down to Clemson, then over to Pendleton, across I-85 into Anderson, on to Belton, then a long stretch to Greenwood, then down to Edgefield, down further to Aiken, then to Denmark, finally to St. George over to I-26 and back home to Bonneau on the shores of Lake Moultrie where the headquarters of Shoestring Publishing is. On a real ambitious day I would include Abbeville, McCormick and Barnwell. I remember even going to Union a couple of times. That was when I was acting like I was a missionary for the arts. Eventually I just took the paper to places where we got support from, which meant almost the entire left side of SC was being left out. They didn't support our efforts – why should they see the paper? Now that we're an electronic publication – anyone anywhere can download a copy – no delivery by me. And we cover anywhere in the Carolinas, as long as they send us info before our deadline. We just never heard form folks on that left side of the state.
In 2016, out of the blue we started getting some support from Greenwood and then Anderson. So when I decided I wanted to make a trip to Greenwood I had to look on a map to see how to get there directly from Bonneau. Of course it was get on I-26, it's always I-26 it seems. Head through Columbia, up to Newberry and then take Hwy. 34 over to Greenwood. I don't think I have ever been on Hwy. 34 in SC before, which was amazing as I feel like I've been on every road at one time or another. I noticed I'd be going through Ninety Six (a Revolutionary War town) which might be interesting.
I've never understood why SC is so into the Civil War when it is the Revolutionary War it should be proud of – it was won mostly in South Carolina.
Hwy. 34 is just a two lane highway and it is an up and down road. Most of the traffic was logging trucks. I never did see where they were coming from or where they were going to, but both drives in and out of Greenwood was one logging truck after another.
I left Bonneau just before 7am (it was 61 degrees) and got to Greenwood about 10:30am (it was about 68 degrees). It was like a Fall day in October. Remember, this was the 8th of June – June.
First stop was the Arts Center of Greenwood, at the Federal Building, 120 Main Street, in downtown Greenwood to check out the "11th Annual South Carolina Festival of Flowers Juried Art Show". The weekend of June 2-4 was the SC Festival of Flowers' 50th Anniversary, which I had hoped to attend, but too many other things got in the way. Also on view at the Arts Center was the "South Carolina Festival of Flowers Juried Youth Art Show," featuring works by regional youth artists (K-12).
I've tried over several years to get the folks at the Arts Center of Greenwood to send us press releases about their exhibits with no success. They have a nice exhibit space and put on some interesting exhibits – why they are not interested in publicizing them is a mystery to me, but I got a few insights on my visit yesterday.
When I walked into the Arts Center and began viewing the exhibit, I was soon greeted by someone who was manning a front desk. I asked if there was a handout sheet giving info about the exhibit. She replied no. A short time later I asked if she could tell me who the juror was. She could not. By the time I had a third question about the exhibit, she offered to takes some notes and get me some answers when a staff member arrived. No one on staff was on site that morning? This is why you produce an information sheet for volunteers to hand out.
As I looked around the exhibit, I recognized some names, but there were many that I did not and it was soon clear that this was mostly a regional show of artists from the left side of the state. I'm not sure if that was a restriction of the exhibit, but I didn't see many artists from other parts of the state. We have never received a call for entries about this exhibit, so my guess is not many artists knew about it.
By the time I got home I had an e-mail from Catherine S. Gaither, Facilities Director at the Arts Center of Greenwood. Her short note offered that they had 182 entries, 64 of those were accepted and the judge for the exhibit was Erin Glaze Nathanson.
So I was wrong – the woman who couldn't help me with much info about the exhibit was Ms. Gaither, who is on staff at the Arts Center. So the staff doesn't talk to each other much about what goes on in the Arts Center. But she did get me the info I wanted and that was better than most communications I've had in the past trying to get them to send me info about their exhibits.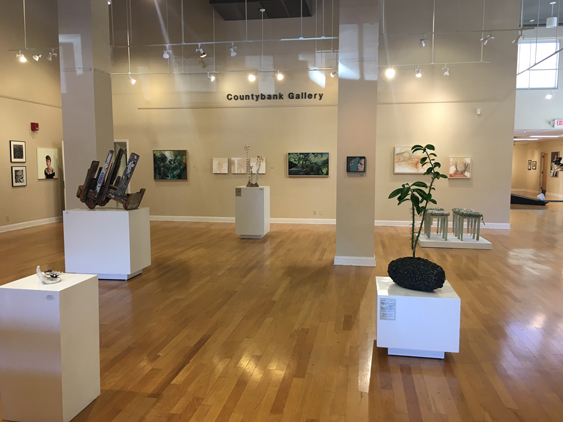 Centered view of the Countybank Gallery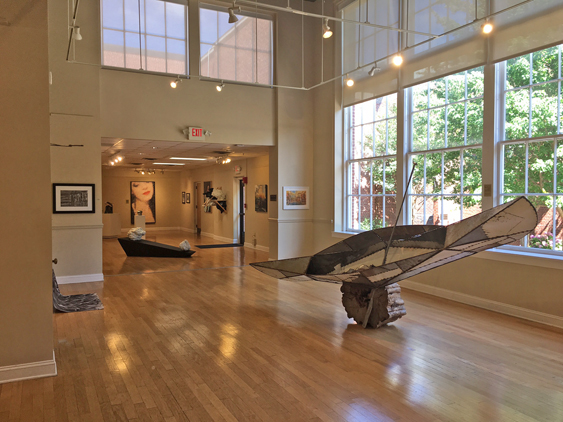 View of the right side of the Countybank Gallery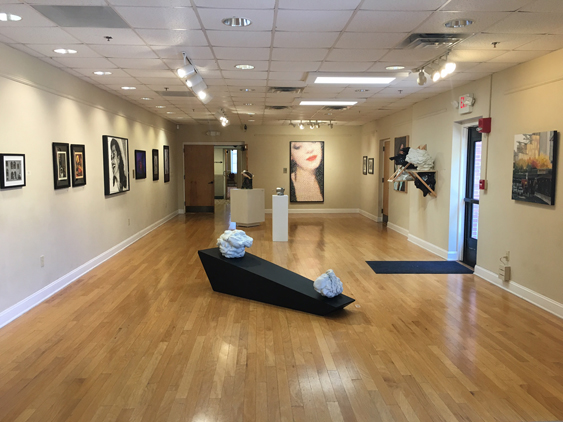 View of the Gallery Hall/Greenwood Capital
Erin Glaze Nathanson is from Charleston, she used to work at the City Gallery at Waterfront Park, another exhibit facility that doesn't see much value in promoting their exhibits. They do a much better job at it now.
I later requested info on the winners of the competition and once I received this I figured that it was a state-wide opportunity, as their were award winners from Rock Hill and Charleston. I'll include that info at the end of this post.
Well there could have been more artists from around the state who were part of the 182 entries, but didn't get selected to be in the exhibit.
I'll give the Arts Center credit for not having a judge from the region – Charleston is a long way from the left side of the state. But it might have been better to have a judge from outside the state for a state-wide competition.
So what about the exhibit?
Not knowing what was entered and seeing the 64 works selected to be on view, one third of the entries, there were some very good works on view and I didn't walk away thinking out of all the works on display – how did the judge give awards to these works and not others. I think it would have been a hard job for any judge. The quality of the works were all at a high level, which isn't always true of a juried show. I've included some images of works that caught my eye and the show in general, showing the exhibit space. Keep in mind some works that I liked may have been impossible to get a good image of so they are not included.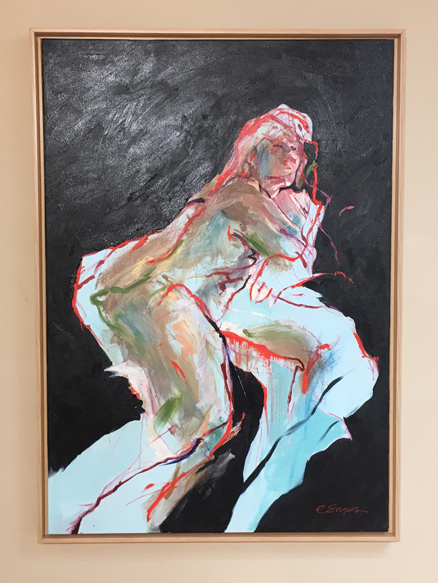 "Grounded" by Elizabeth Snipes-Rochester of Greenwood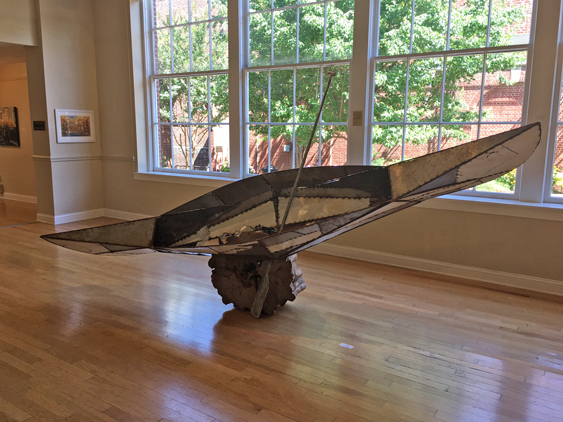 "Myth" by Carey Morton of Pendleton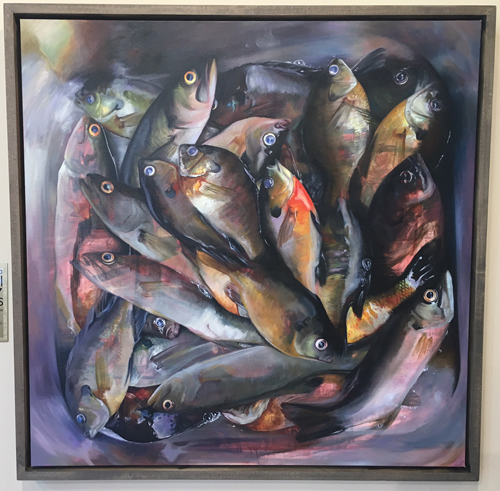 "A Good Plenty" by Katelyn Chapman of Athens, GA – I guess the show was open to artists in Georgia too or they could be a student at one of the state colleges or universities.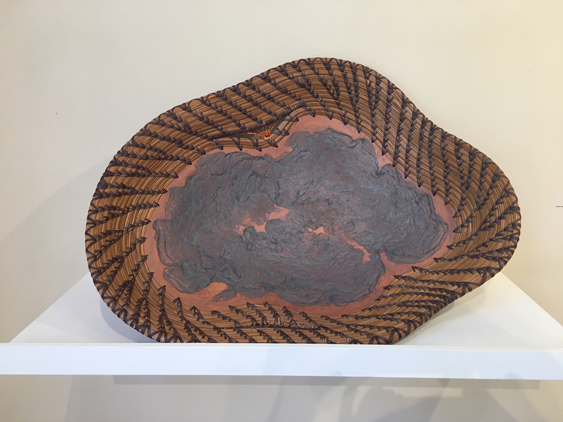 "Vessel No. 357″ by Lee Sipe of Columbia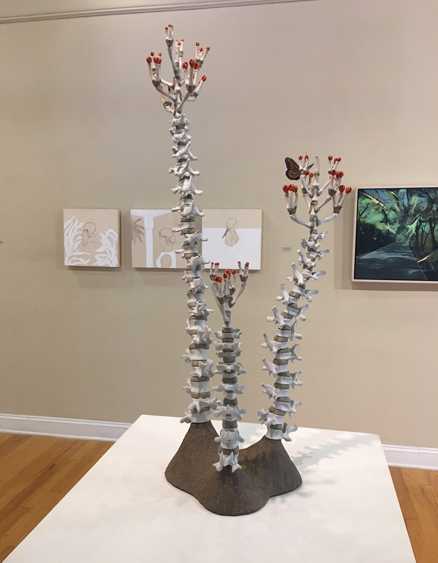 "Hominid Asclepias Sp3″ by Elaine Quave of Greenville
We included info from the SC Festival of Flowers that the show would be up through June 27, but I found that on the Art Center's website they say it will be up through the end of the month June 30, 2017. I'd call to make sure if you plan a visit. And, I recommend that you do make a visit to Greenwood to see this show and other things still on view during the month of June.
I'm not sure why the folks at the Arts Center are not interested in sending us info about their exhibits, why they are not interested in helping Greenwood attract more visitors, but the local tourism folks are. I do know it's discouraging for SC's B and C size cities to do much PR beyond their own backyard as the media in SC only sees three cities in SC – Charleston, Columbia, and Greenville. All other areas can only be mentioned when something bad happens there. I hope at some point they change their mind, but I didn't see any info about any other exhibits planned for the Summer.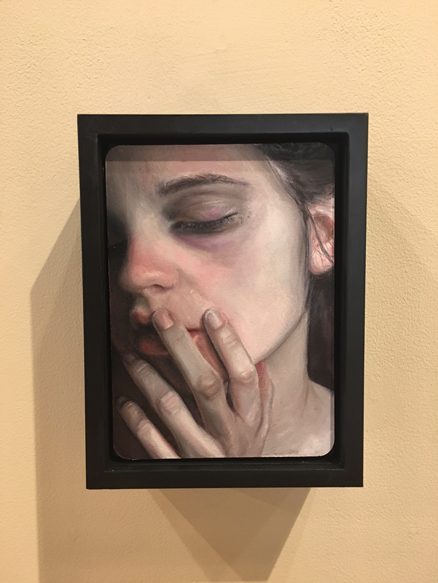 "Pause" by Kendall Lusk of Belton – this was a small work 7″ x 5″ but it was as strong as the biggest work in the exhibit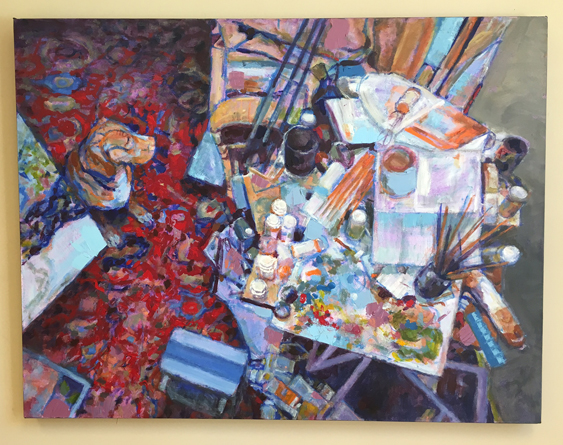 "Untitled" by Al Beyer of Aiken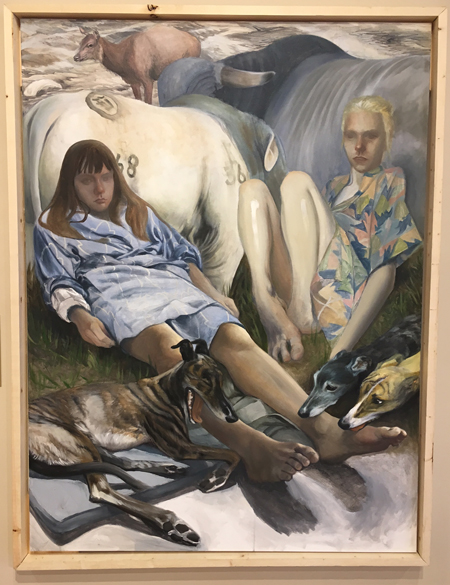 "The Girls Who Hang with Cattle" by Kymberly Day of Pendleton – this was the Best of Show winner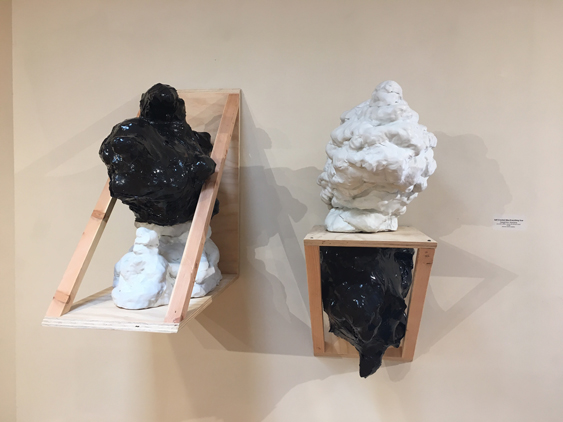 "Self-Created Bliss/Everything True" by Deighton Abrams of Seneca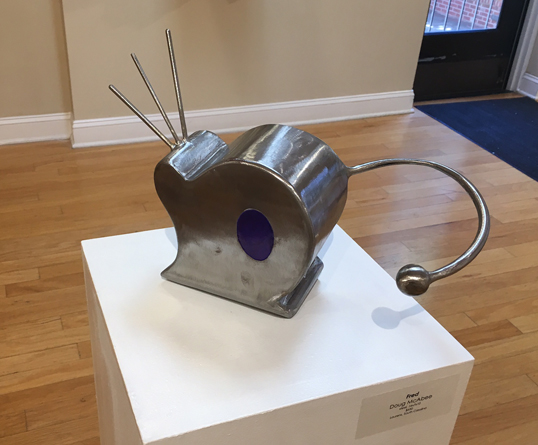 "Fred" by Doug McAbee of Laurens
Hours for the Arts Center are: Mon.-Fri., 10am-5pm and Sat., 9:30am-1:30pm. You can contact them by calling 864/388-7800 or visit (www.emeraldtriangle.us/arts-center), but you won't really find much info there.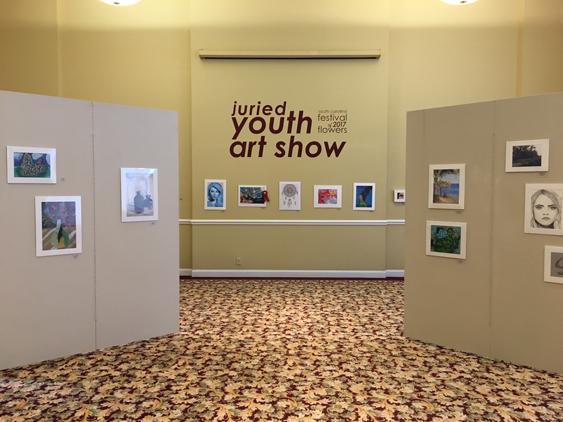 View of the Calhoun Mays Reception Hall
Now while at the Arts Center I also took a look at the "South Carolina Festival of Flowers Juried Youth Art Show," on display, but it will come down before I can get this posted. I'm always amazed at youth art shows as there are always a few works that don't look like they were done by a student. There were a couple of works that reminded me of work by Jim Arendt, the winner of the first top prize at ArtFields – paintings made with different colored strips of denim. But my favorite works were a series of ink drawings. I took a few images but the works were all covered with shrink wrap, which is very reflective and that made it impossible to get good photos of them. There is another part of the story of these ink drawings later.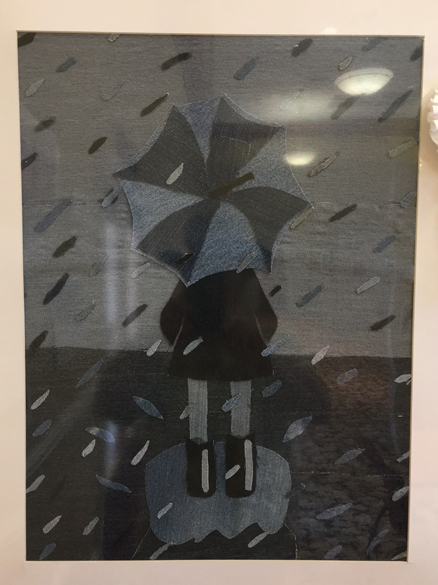 "Blue Skies" by Rachel Holder, 8th grade, Brewer ACTS School – painting with denim
"Elated Elephants" Faith McMann, 10th grade, Clinton High School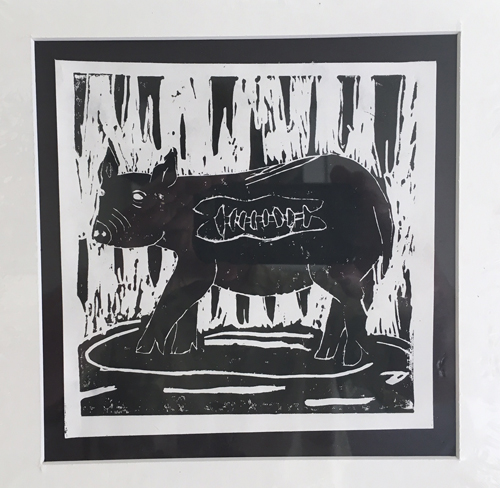 "Pigskin" by Samantha Phillips, 8th grade, Brewer ACTS Magnet School – I thing a woodcut
My next stop was at Main & Maxwell, 210 Main Street, at the intersection of Main Street and Maxwell Avenue in Greenwood – just a few buildings down from the Arts Center on the same side of Main Street.
Main & Maxwell art gallery is celebrating its one year anniversary during June. The gallery, which is a converted bank building, specializes in local South Carolina artists, offers handcrafted art, pottery, jewelry, fiber and gifts for all occasions. It's the kind of gallery where there is wall to wall art and is almost filled from floor to ceiling. You could spend hours in there looking and I'm sure if you came back a few hours later you would notice something you swear you didn't see before. My eyes were bouncing from one place to another. All the work in the gallery was work from artists I've never seen before with a few exceptions.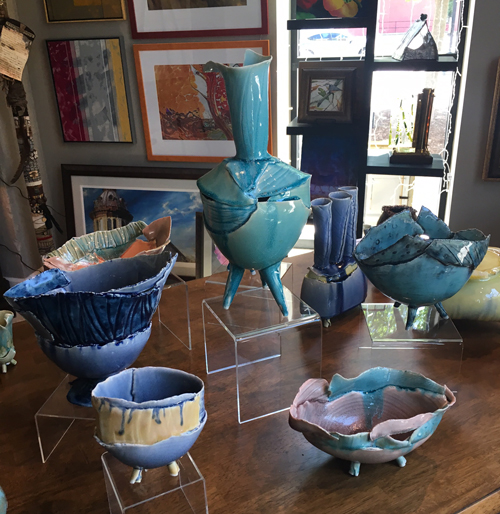 Pottery works by Sandy Singletary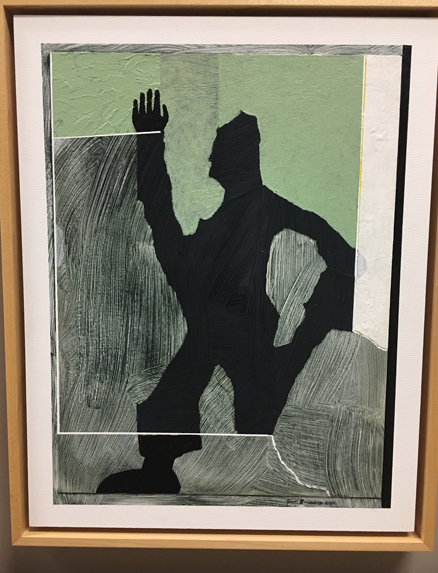 Painting by Jim Brinson
The owner of Main & Maxwell is Laura Bachinski, who is a ceramic artist herself, so the gallery carries a lot of pottery – mostly by other artists. There is some works by her there, but you know how that goes when an artist opens a gallery – their own work tends to take a backseat to everyone else's work. But I heard they are soon to open a basement space and a kiln is in the gallery's future. So Bachinski might have more occasion to make work at work, but…we'll see. This basement will also add on room for classes and maybe even studio space.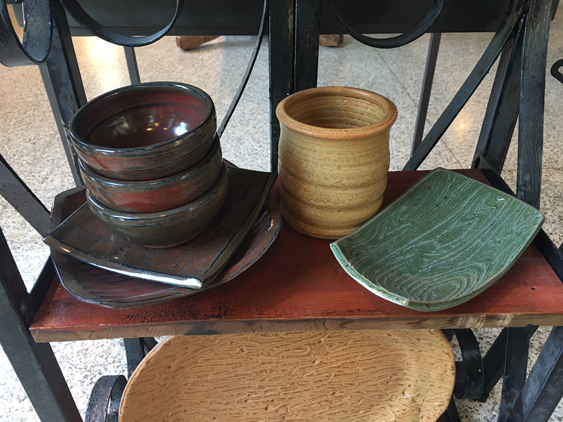 Works by Laura Bachinski
There seems to be more jewelry on hand than I've seen in most art galleries. I'm glad Linda couldn't make the trip – we'd still be there looking. But at the same time the place seemed full of paintings and other fine art craft items of all sorts and mediums – all really good stuff too. I know what you're thinking – what else is he going to say about an advertiser? Well, I didn't have to go. I could have gone in, looked around and left, but I didn't – I wanted to know who all these talented artists were and where had they been in my thirty years of doing an arts publication.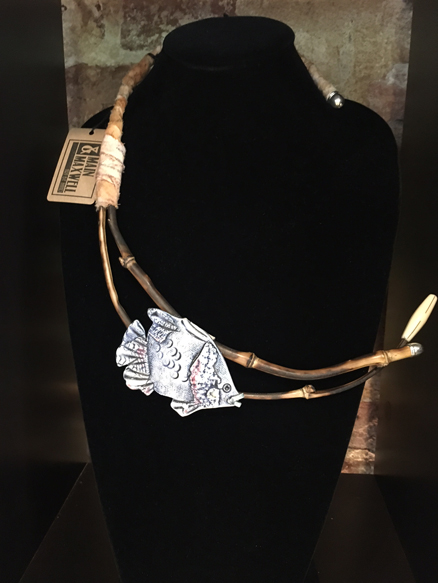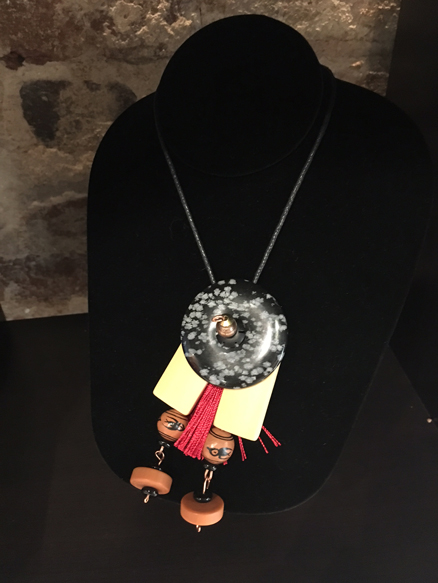 Jewelry by Elizabeth Nason
One of my discoveries was a batch of ink drawings that looked a lot like those works I enjoyed in the youth art show at the Arts Center. These note cards and framed drawings were by Art by Phyllis Anne which had to be connected to the works at the youth show. I asked if they knew if she was the teacher of student work in the show and Bachinski said she was a teacher.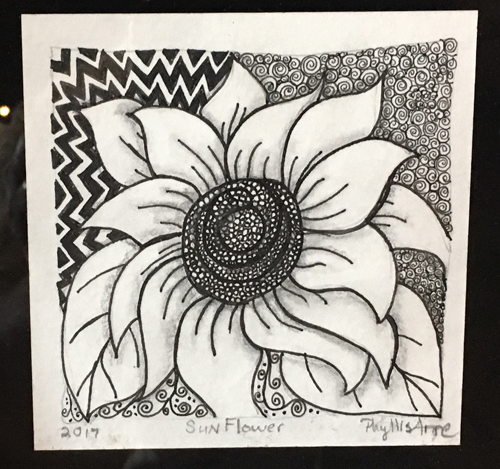 Work by Phyllis Anne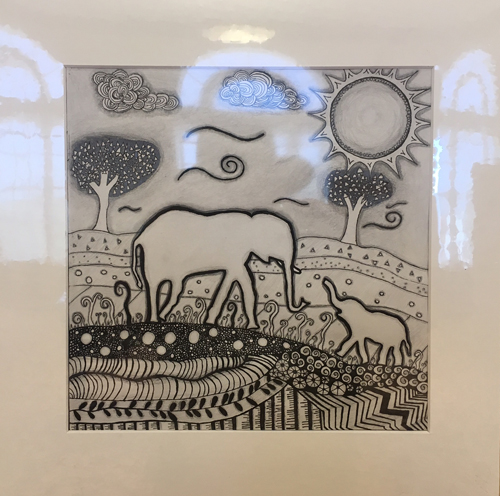 Work by her student Faith McMann
You see another thing missing at the Arts Center was that they did not include the teacher's name of the student's work in the show, Most youth art shows do that to give credit to the teacher. I mean these kids didn't just one day start making art like that on their own. They gave me the artist's business card at the gallery and I later e-mailed her and found out she did teach those students.
Unlike the Arts Center, Main & Maxwell is doing everything they can to get people to come to Greenwood and see the works by regional arts and in many cases take them home with them.
Here's some views of the gallery: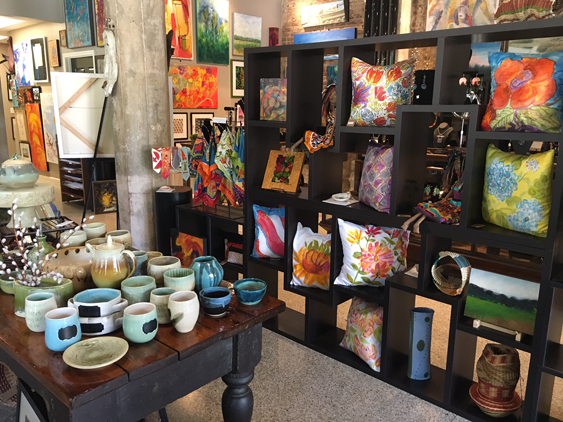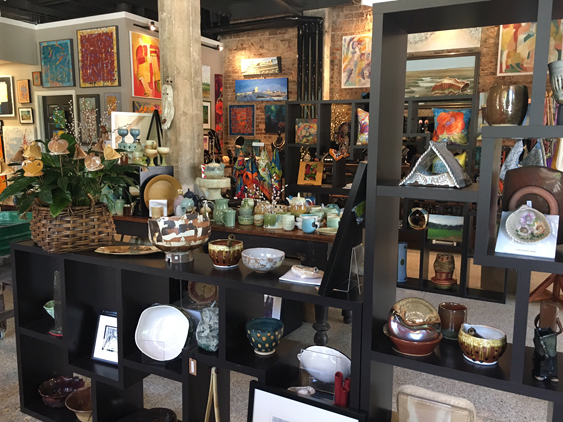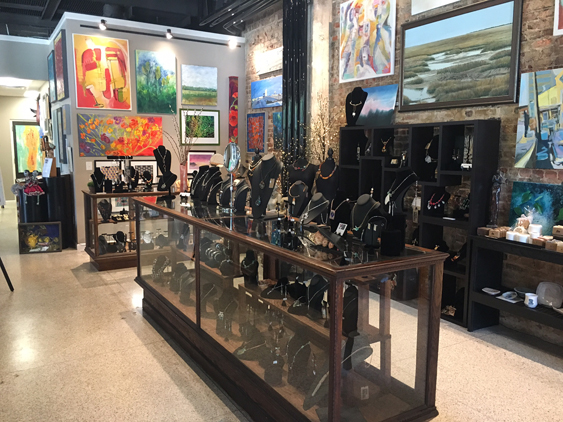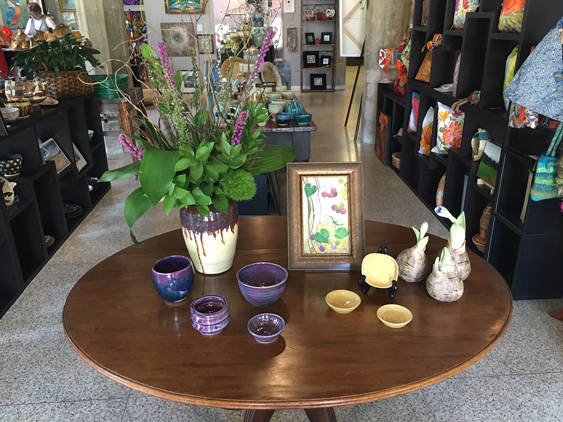 Main & Maxwell is open Mon.-Sat., 10am-6pm. For further information call 864/223-6229 or visit (www.mainandmaxwell.com).
Time was running out on me and I had one more mission for this day and that was to get some images I could use in the future to promote Greenwood. Here's a few.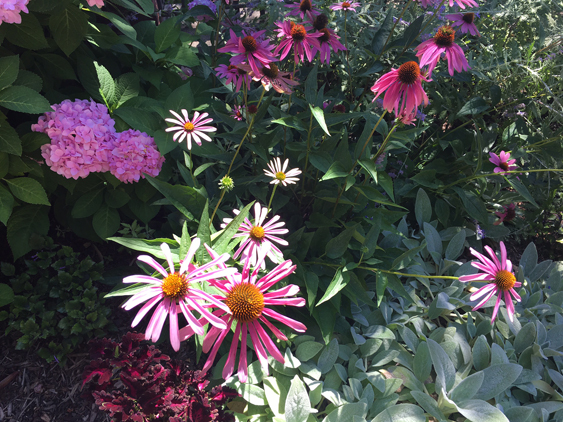 Of course you can't have a Festival of Flowers without flowers
And here's a few of the Signature Topiaries placed around the downtown area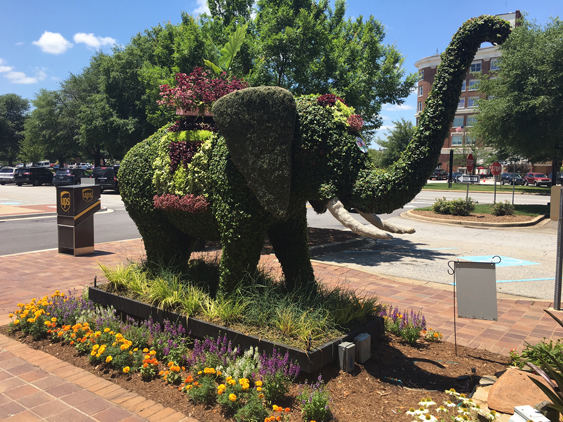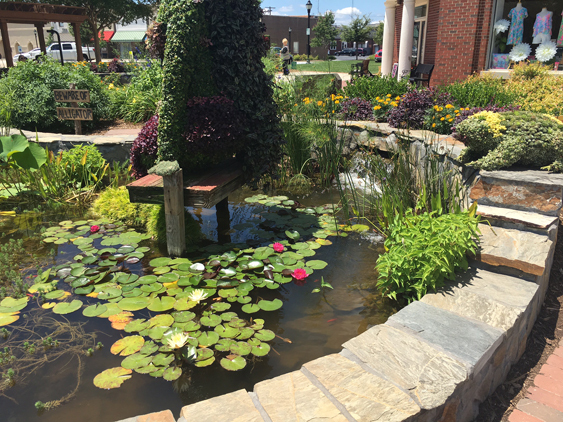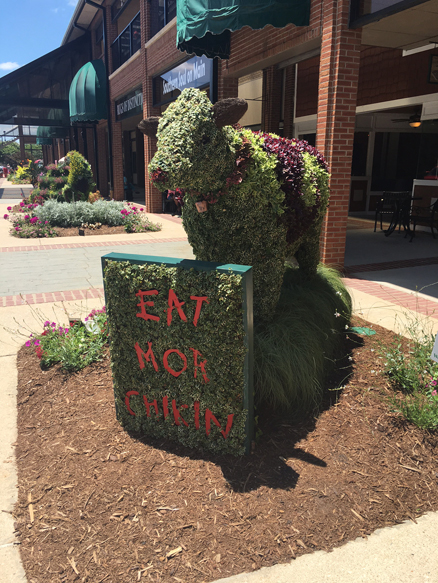 And, one more thing – if you can't make it there this month to see these exhibits, Main & maxwell is always going to be open and on July 6-8, 2017, Uptown Greenwood will be presenting the Festival of Discovery – BBQ & Blues, including a BBQ competition, live Blues music on a main stage, an arts & crafts fair, and Kids Zone. For further info visit (www.festivalofdiscovery.com).
Here's the results of the Juried Arts Show at the Arts Center of Greenwood:
Honorable Mention – "Myth" by Carey Morton (Pendleton, SC)
Honorable Mention – "Image of a Nude" by Jack Rookard (Central, SC)
Honorable Mention – "After A While, You Learn" by Lindsey Bargar (Rock Hill, SC)
Merit Award ($100) – "Pause" by Kendell Lusk (Belton, SC)
Merit Award ($100) – "Diminishing Connections 3" by Mary Cooke (Inman, SC)
Merit Award ($100) – "Tender Love & Care" by Haley Floyd (Central, SC)
Best of 3-D ($400) – "Hominid Asclepias Sp3" by Elaine Quave (Greenville, SC)
Arts Center Merit Award (1) ($100) – "A Good Plenty" by Katelyn Chapman (Athens, GA)
Arts Center Merit Award (2) ($100) – "Evelyn" by Chuck Keppler (Charleston, SC)
3rd Place ($300) – "Coil Form 2" by Spencer Bautista (Greenwood, SC)