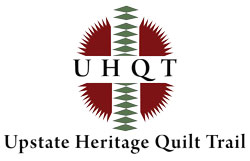 The Upstate Heritage Quilt Trail is always expanding and we'll always try to keep you up on these developments as best we can. Sometimes we just receive a photo and a little info while other times we receive a photo or two and some details about the quilt, its sponsor and the location where it can be found. For the latest and most updated info about the Upstate Heritage Quilt Trail, visit (http://www.upstateheritagequilttrail.org/).
Here's what we've heard lately.
A new quilt square or quilt block, (#71) Box Square, can be found at Comfort Keepers, 402 E. Greenville Street in Anderson, SC (GPS N34° 30.7061′, W082° 38.8874′). The block is sponsored by Melisa Morris Gleen and features the design by quilter Cassie Colfelter Morris.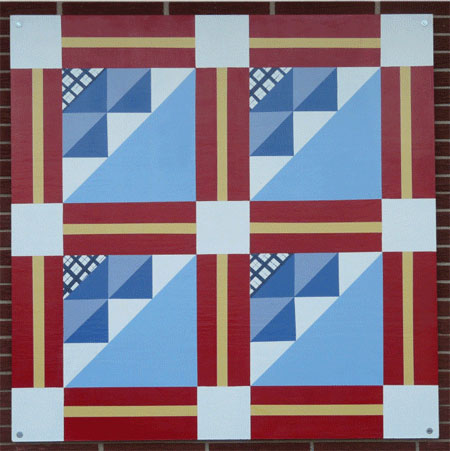 The late Cassie Colfelter-Morris made the original cloth quilt, Box Square. Mrs. Morris was the grandmother of Melisa Morris Glenn and the quilt was made in 1981 to honor her graduation from high school. Cassie learned to quilt from her mother and grandmother.
Lucky Acre Farms has joined the Upstate Heritage Quilt Trail with the addition of a quilt called (#74) Grandmother's Quilt mounted on the barn of Gloria and Joe Williams, owners of the farm. Located at 1024 Milford Road in Townville, SC, the Williams' raise alpacas primarily, but the farm is also home to pygmy goats, a peacock couple, dogs, cats, donkeys, a horse and two hives of honey bees.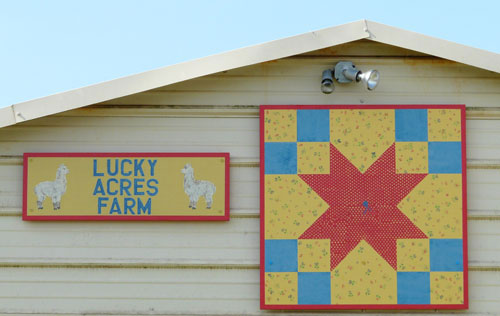 According to Mrs. Williams, "This is a quilt that I made for my mother. After she died, it came back to me. My grandmother had taught me to quilt, crochet and sew. My grandparents raised me on a small farm in Upstate New York. We had very little money, grew most of our food and used everything we could from the farm. At that time, animal feed came in calico feed sacks which we used for making clothing and quilts."
Grandmother's Quilt is a pleasant two-block star design and is listed in Barbara Brackman's Encyclopedia of Pieced Quilt Patterns as one found in book #116 of the Old Chelsea Station Needlework Series, a syndicated service available since the 1930s to the present. It may well have been a pattern printed elsewhere featuring the two-block combination. It works because they both have the same drafting category (a four patch).
The Williams' bought 28 acres in 1994 on what was described as an "old homestead" in the local paper.  They went to the Townville post office for directions and before they knew it, they were the proud owners of Lucky Acres Farm. They lived in their camper for two years, as Joe demolished the old house on the property and built a log cabin. In 2001, they joined the AOBA (Alpaca Owners and Breeders Association), began to create pastures suitable for alpacas, built a small barn, and installed fencing. In 2003, they purchased their first alpacas, 3 pregnant girls, 1 herd sire and 1 gelding.
Today, Lucky Acre Farms is open to the public four weekends – the first weekends in May and December as part of the Heritage Corridor Farmer's Association tour; the first weekend in June as part of the Carolina Farm Stewardship Association and the last weekend in September as part of the Alpaca Owners and Breeders Association Open Farm Days. The gift shop at Lucky Acres offers a wide selection of articles made from alpaca fiber – scarves, sweaters and blankets knitted or crocheted by Gloria, as well as bears, dolls and other toys. Check their website for more information at (www.luckyacresfarm.com).
"We have to carry on the tradition of small family farming. It is our belief that anything we can teach our young people about the traditional ways is of highest importance.  In hard times we can rely on the farmer to sustain us, growing our own food and making our clothing.  If the knowledge of how to be self-reliant were lost, it would be a great disrespect of our ancestry."
The City of Easley has two new quilts as part of the Upstate Heritage Quilt Trail. The home of Robert and Betty Chrismer, located at 1034 Anderson Highway, is the site of a replica of a Tulip quilt originally made by his grandmother, Mary Rider Spalding in 1885. The daughter of William and Mary Ann Rider, she was born in 1858 in Littlestown, PA. She married James D. Spalding, a farmer and businessman in 1885. Mrs. Spalding died in 1894 at the age of 36, leaving behind her husband of 9 years and four young children.
Mrs. Chrismer's father, Roy Reeves of Reeves' Builders, built the Chrismer home in 1962. Mrs. Chrismer's grandfather, Charles Jefferson Hendricks, originally acquired the land in 1906. Mr. Hendricks was a cotton farmer and lived on this land until his death in 1956. Three Chrismer children were reared here. The Tulip quilt is mounted on a woodworking shop built by Mr. Chrismer and his sons in 1981. He is a retired engineer and furniture maker in his spare time.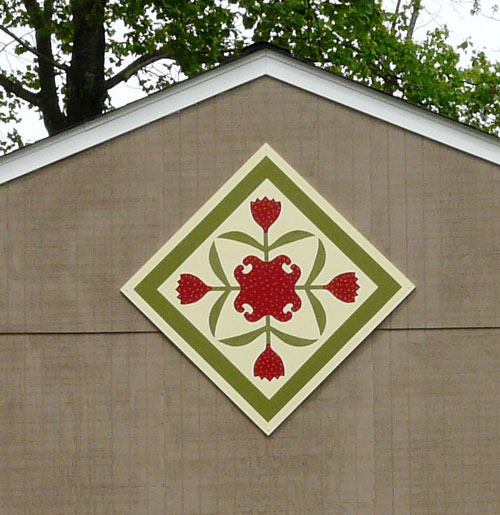 This particular quilt block may be referred to as a (#78) "tulip quilt". In the mid-19th century, quiltmakers created countless variations of appliquéd floral designs, typically favoring a color scheme of red and green. The inspiration quilt combines two popular elements – a modified fleur de lis in the center with four outstretched tulips – in a familiar format. The majority of these early quilt patterns did not have distinct names; the maker of this quilt probably called it her "Tulip quilt."
The Chrismer's daughter, Elizabeth Hitchcock, lives with her husband, Ken, across the road in the original family home built by Mr. Hendricks. The farm was recently named a 'South Carolina Century Farm' and was home to four consecutive generations of the Hendricks family.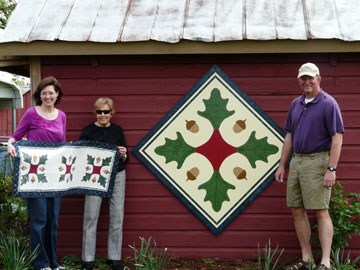 Their quilt block is an (#77) Oak Leaf pattern mounted on an old smokehouse built by Charles Hendricks that was used throughout the 20th century to cure meat. The smokehouse is now a garden shed used by Ken and Elizabeth to store garden tools and equipment. Elizabeth is a Master Gardener and enjoys landscaping as a hobby.
The quilt runner was designed and crafted in 2011 by Virginia (Jennie) Grobusky of Walhalla, SC, and is used on a desk handmade by Elizabeth's father, Robert Chrismer. The oak leaf pattern was chosen to symbolize family heritage.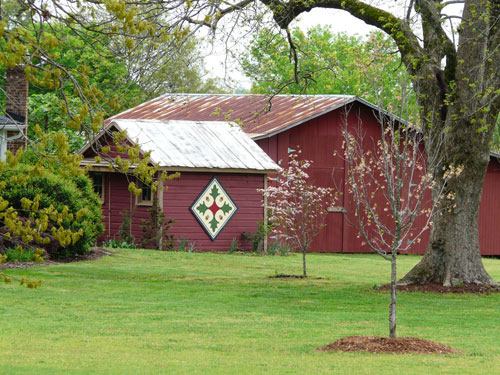 The Oak Leaf pattern, in many variations, was popular throughout the second half of the 19th century. Some early examples featured four small red and green acorns tucked among the four leaves. Early Oak Leaf quilts typically contrasted red and green; later examples made use of other color combinations.
The offices of Gloria and David Arnold, located at 10612 Clemson Blvd., Seneca, SC, joined the Upstate Heritage Quilt Trail. As they explained, "We decided that we wanted to be a part of the quilt trail and thought this would be a great opportunity to showcase the quilting skills of our friend and former neighbor Lori Kuba by having one of her quilt blocks mounted on our office building. The pattern we chose is from a wall hanging she gave us after we moved into our home."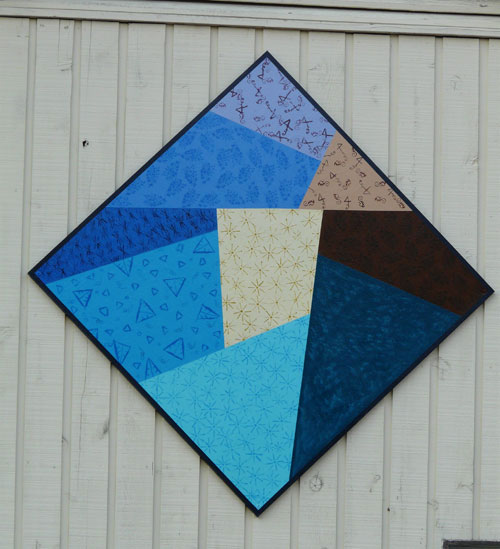 The quilt, titled (#73) Blue Horizon, was originally designed and created by Mrs. Kuba, who took up quilting after she and her husband moved to this area in 1991. She said she'd been reading about quilt groups in the area and decided to give it a try. She attended several meetings finally joining the Lake and Mountain Quilt Guild here in Seneca. One of her favorite things has been helping to establish the Guild's "Day Bees," or free classes held on the third Tuesday of each month.
Mrs. Kuba makes all kinds of quilts, but prefers to do hand appliqué and hand quilting to machine work. Blue Horizon came as a result of a class she took on Bargello quilting from Marge Edie, a well-known local quilter and author. Bargello takes its name from the Bargello Palace in Florence, Italy, where there is a collection of tapestries employing this technique. Bargello, or flame point, gives the impression of flames of color moving up or down. It can be done with paint, in needlepoint, or in quilting. The construction technique of bargello quilting is different as well, in that strips of fabric are laid down onto the backing and batting rather than making a top and then attaching it to the backing.
Mrs. Kuba's advice to beginners is simple. "Find your own way. This area of the Upstate is home to some of the most marvelous quilters – people who enter shows and win awards. It's good to expose yourself to such talent."
Gloria, David and Corey Arnold are the owners of The Arnold Corporation (www.thearnoldcorp.com), building custom homes and emphasizing the need for a successful relationship between homeowner and contractor. Their work is accomplished with a Lump Sum Contract and a specific completion time.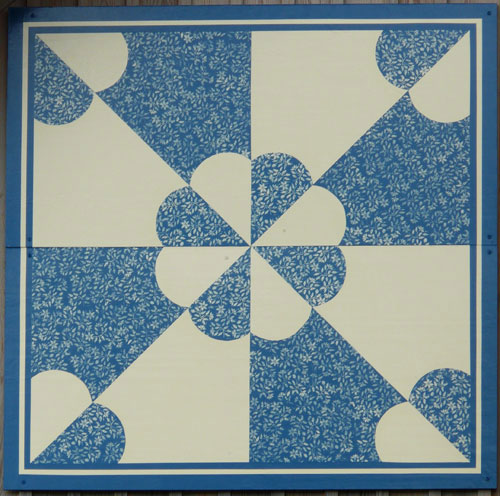 Chattooga Belle Farm has joined the Upstate Heritage Quilt Trail. Two quilts have been mounted at this mountain resort vineyard, owned by Edward and Kitty Land. The first features geometric patchwork patterns that play with our perceptions. The predominant round 'flowers' in its design emerge at the intersection of eight triangles, each of which has contrasting petals on the two acute corners.  This pattern is called (#75) Hearts and Gizzards, a 19th century name for a 19th century pattern. The Ladies Art Company published under this name in the 1890s. Coats and Clark published it in a pattern booklet in the 1940s as Hearts and Flowers. Other 20th century companies published it under other names such as Snowball, Windmill, Lover's Knot, and Pierrot's Pom Pom.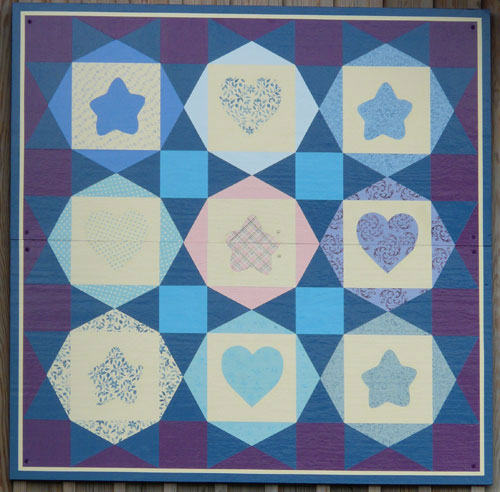 The second quilt (#76) Hearts and Stars is a modern design that combined simple elements in a novel manner to create an unusual and effective design. Each block features, alternately, a heart or a chubby star. The blocks are set together with "sashing" pieced of squares and triangles. Careful placement of the light, dark, and medium shades of the fabrics creates the image of interlocking stars.
The original quilter is Jean LaFreniere, Mrs. Land's mother. She quilted these quilts for her granddaughter, Taylor, when she was born in 2000. Mrs. LaFreniere began quilting when she was 45 years old. As the mother of four girls ranging in age from 12 to 27 years old, she picked up quilting as a hobby for the first time in her life. Over the next nine years, she made a full-sized quilt, completely stitched by hand for each of her daughters. With the assistance of a sewing machine, she continued to make quilts for her grandchildren and more for her daughters. She quilted for 25 years, and loved it immensely.
Chattooga Belle Farm is located at 454 Damascus Church Road, in Long Creek, SC. For information on the farm, call 864/647-9768, or go to (www.ChattoogaBelleFarm.com).
When Anderson County built its Main Library in downtown Anderson, SC, at 300 North McDuffie Street, one of the architectural decisions was to place a compass-rose mosaic in the middle of the floor in the main lobby. The compass theme was then used in a variety of forms on signs and shelving throughout the building. It is said to illustrate the library system, with the 8 points representing the branch libraries and reaching out from the center circle, or Main Library. Since its simplicity is a memorable image for people to associate with the library, the compass was eventually chosen as the library system's logo.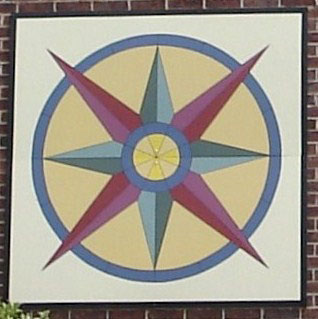 The Main Library has been host to the Anderson Prickly Fingers Quilt Guild's meetings for many years. To honor that long-standing relationship and to celebrate National Library week, the Guild and one of its members, Diane Schonauer and husband David, decided to co-sponsor a quilt block for the Upstate Heritage Quilt Trail. Diane fashioned her mini quilt after the (#79) Compass Rose mosaic. Her quilt was made in 2011 as an appliqué that is top-stitched using monofilament thread. The complexity of this pattern appealed to skilled quilt makers of the mid-1800s. The radiating design has appeared in many variations under such names as Compass Rose, Chips and Whetstones, Sunburst and The Sunflower. These patterns require the maker to measure, cut, and sew accurately, so that the points are sharp and all the pieces lie flat without bunching or rippling.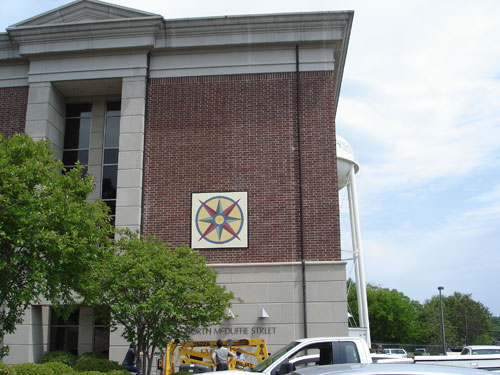 Diane learned to sew from her sister Linda. Their mother had a Singer sewing machine and they used it first to make doll clothes, then eventually clothing. She was exposed to quilting at a young age with her mother's Cathedral Windows, Yo-yos, and Log Cabin blocks. She had always admired them—as a young adult, she took a quilting class at Katie's Calico Corner, a local fabric shop. Twenty years later, her local high school offered evening classes on quilting—she signed up for the class and has not stopped since.
The quilt block is mounted on the west side of the Anderson County Main Library that faces McDuffie Street.
For more information about the Upstate Heritage Quilt Trail, click on (http://www.upstateheritagequilttrail.org/).