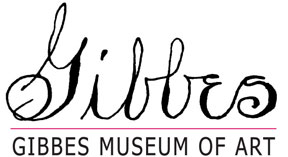 The Gibbes Museum of Art is pleased to announce the first ever Art on Paper Fair, from Nov. 2 – 4, 2012. The museum has partnered with Charleston Fine Art Dealers' Association (CFADA) for the Fine Art Annual, an annual event that celebrates the visual arts in Charleston, SC, the first weekend in November. The Art on Paper Fair will be held at the Gibbes Museum and will feature dealers representing CFADA galleries as well as other premier galleries of the southeast. Works for sale will include prints, pastels, watercolors, photographs, and drawing. Admission to the Art on Paper Fair will be free during museum hours, from 10am to 5pm on Saturday, Nov. 3 and 1pm to 5pm on Sunday, Nov. 4, 2012.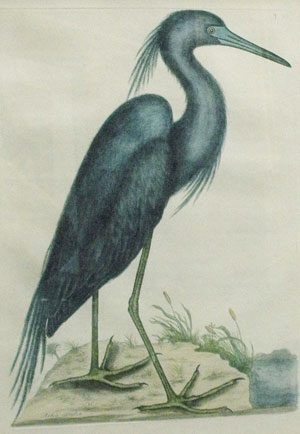 "Blue Heron", by Mark Catesby, from THE NATURAL HISTORY OF CAROLINA, FLORIDA, AND THE BAHAMA ISLANDS. London, 1731.  (original hand colored copper plate etching). Courtesy of The Cheryl Newby Gallery.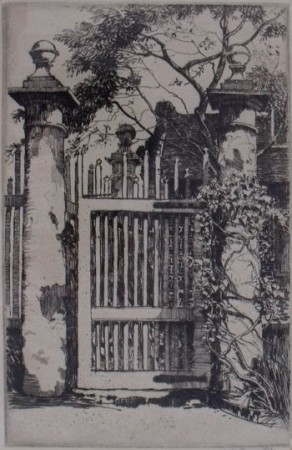 "The Garden Gate", 14 Legare Street, by Alfred Hutty. Etching on paper; 8 3/8  x 5 1/2in. Edition: unknown. Signed l/r and snail symbol. Courtesy of Hampton III Gallery.
"I am incredibly excited to join forces with CFADA by presenting Charleston's first ever Art on Paper Fair as part of the annual Fine Arts Weekend," noted Gibbes Executive Director Angela Mack. "Purchasing works of art from the finest dealers in South Carolina and beyond is the best way to celebrating the visual arts of our great city and support our creative economy."
Participating galleries include Jerald Melberg Gallery, Cheryl Newby Gallery, Corrigan Gallery, Dog & Horse Fine Art and Portraiture, Hampton III Gallery, Horton Hayes Fine Art, Helena Fox Fine Art, Morris & Whiteside Galleries, Smith Killian Fine Art, The Sylvan Gallery, David Allen Fine Arts, and The Wells Gallery. New inventory will be featured by all of the dealers and objects will be available in a wide price range, offering purchasing opportunities for both new and seasoned art collectors.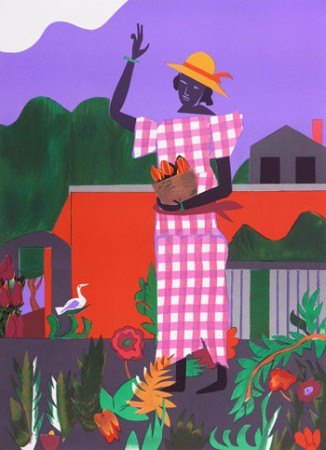 "In the Garden", 1979, by Romare Bearden (1911-1988). Lithograph; 22 x 16 in. Courtesy of Jerald Melberg Gallery.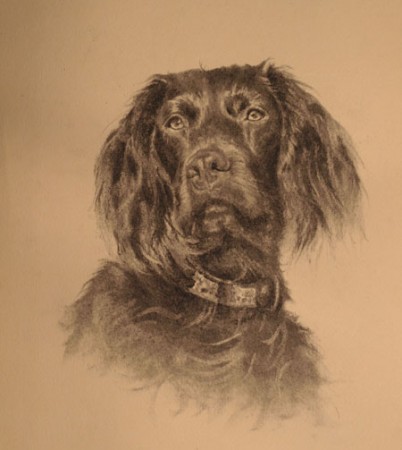 "Boykin Spaniel", 2012, by Beth Carlson. charcoal on paper, 8×10 in. Courtesy of Dog and Horse Fine Art and Portraiture.
On Friday, Nov. 2, the museum's young patron auxiliary group, Society 1858, will host an opening night preview reception for the Art on Paper Fair at the museum. The party, titled "Rock, Scissors, Paper", will be held at the Gibbes from 8 to 10:30pm, following the Fine Art Annual Art Stroll. Tickets to the event are $30 in advance, $40 at the door. Tickets can be purchased online at (www.gibbesmuseum.org/events), or by calling 843/722-2706 ext 21.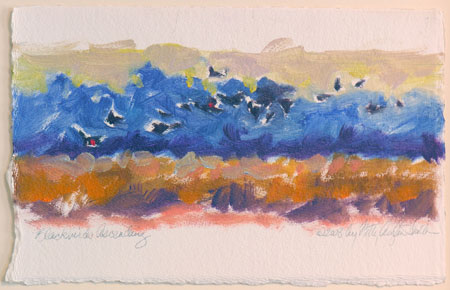 "Black Birds", by Betty Anglin Smith.  Oil on paper. Courtesy of Smith-Killian Fine Art.
Art on Paper Fair Schedule (Museum admission and events are free unless otherwise noted):
Nov. 2
Charleston Fine Art Annual Stroll, 5–8pm
"Rock, Scissors, Paper" preview party and reception at the Gibbes hosted by Society 1858,
8–10:30pm, $30 advance purchase, $40 at the door
Nov. 3
Art on Paper Fair at the Gibbes, 10am –5pm
Painting in the Park at Washington Square, 9am–12noon
Curator-led Tour of Art on Paper Fair at the Gibbes, 2pm
Buy Art Party and Auction at the Gibbes hosted by CFADA, 6:30–8:30pm, $55 advance purchase, $65 day of event
Nov. 4
Art on Paper Fair at the Gibbes, 1–5pm
Curator-led Tour of Art on Paper Fair at the Gibbes, 2:30pm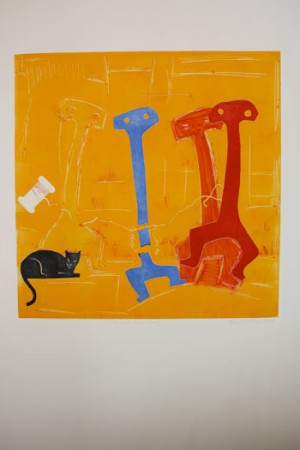 "Broken Man", by Mary Walker. Monotype; 14 ¼  x 14 ¼ in. Courtesy of Corrigan Gallery.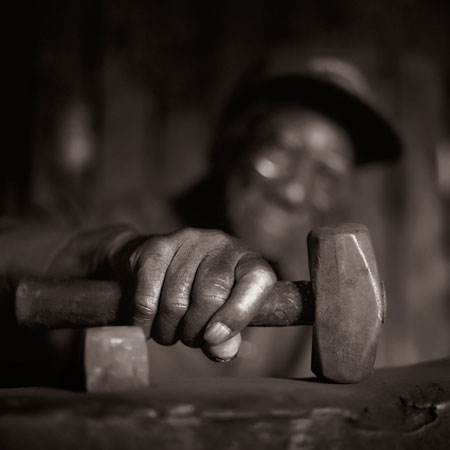 "Philip Simmons 3″, by John Michiels. Silver gelatin photograph, edition of 50; 14 x 14in. Courtesy of Wells Gallery.
Established as the Carolina Art Association in 1858, the Gibbes Museum of Art opened its doors to the public in 1905.  Located in Charleston's historic district, the Gibbes houses a premier collection of over 10,000 works, principally American with a Charleston or Southern connection, and presents special exhibitions throughout the year. In addition, the museum offers an extensive complement of public programming and educational outreach initiatives that serve the community by stimulating creative expression and improving the region's superb quality of life. Visit highlights of the Gibbes collection on Google Art Project at (www.googleartproject.com).