As many people in the Carolinas and beyond were heading to Charleston, SC, for a big visual art weekend including the first Friday art walk, the opening of the SC Watermedia Society's annual member exhibition, the Charleston Fine Art Dealers' Fine Art Annual, and the 6th Charleston Art Auction – Linda and I were headed to Hilton Head Island, SC, to visit some galleries and attend a good friend's wedding.
We would be missing one of the biggest gatherings of people interested in the visual arts in Charleston's history – bigger than the Spoleto Festival which is mostly performing arts – and close to attracting the crowd the Southeastern Wildlife Expo says they bring in. But that's a whole different crowd and would be a major blog explaining who those folks really are. We still haven't figured out how to be in two or three places at once so it's a pretty normal thing of having to make hard choices. There are always several good things going on at the same time in different parts of the Carolinas.
Now, I'm not just calling these galleries the best on Hilton Head Island because they are two of our best supporters, they earned that reputation on their own, but I think you'll see by the photos I present and when you go check it out for yourself – if you don't already know I'm telling the truth. And, I ask you – why would I go to galleries that don't support our paper?
We left early Friday morning to get to Hilton Head in time to still catch the crew at Morris & Whiteside Galleries before they left for Charleston to set up for the Saturday night Charleston Art Auction, which we have now received a report that the auction set a new record this year with over $700,000 in sales – not bad for one evening, but months and months of work.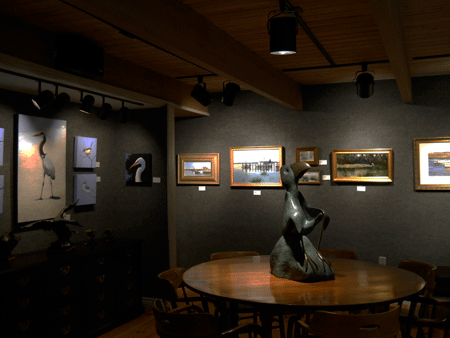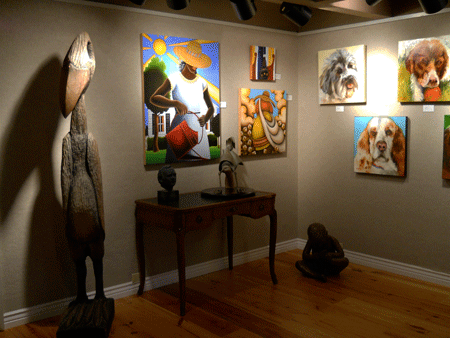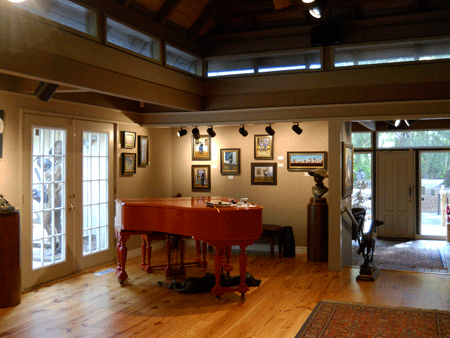 The auction team of Jack A. Morris, Jr., J. Ben Whiteside, David G. Leahy, (of Morris & Whiteside Galleries) and Janie & Joe B. Sylvan (of The Sylvan Gallery in Charleston) have over thirty years experience presenting fine art to collectors throughout the Unites States. The Morris & Whiteside group is also involved in the Scottsdale Arizona Auction which sold over $15 million this Spring. Of course they had 411 items in that auction compared to the 100 in the Charleston Art Auction. They know what they are doing and by establishing an art auction in Charleston have helped that city be a major arts destination in the South. It may have helped Charleston become the number one destination for travelers in the US this year. Who knows?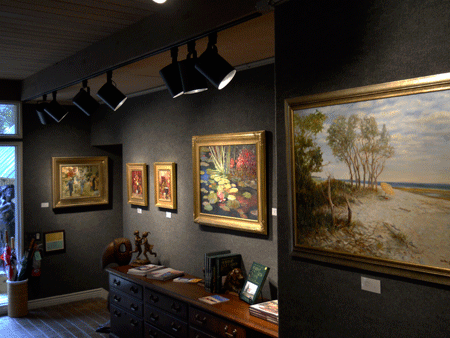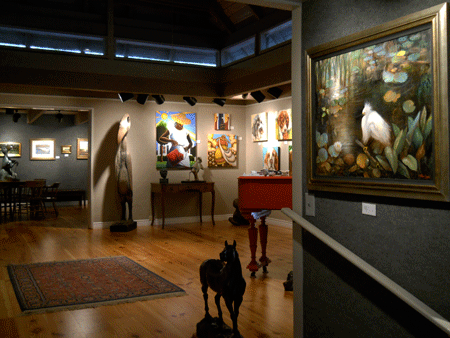 We arrived at Morris & Whiteside Galleries just in time to help load art on to the truck headed to Charleston. I actually handed one painting up to someone in the truck, but I would have done more, but I felt an obligation to get some photos of the gallery for you readers. It's all about the readers with me when it comes to heavy lifting. We also got to see Clark Hulings paintings before they were loaded, which is a good thing as they all sold at the auction. But they have a few more at the gallery – just for you.
I've been in this same space when it was the Red Piano Gallery years before Morris & Whiteside Galleries took it over and it has never looked so good, as you can see from the photos. The red piano is still there.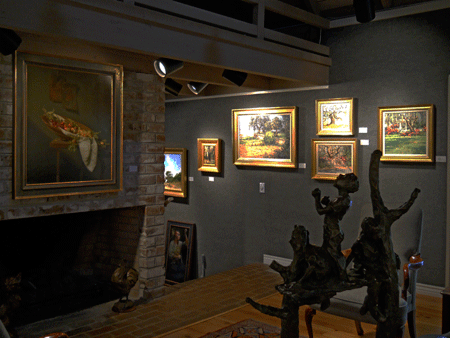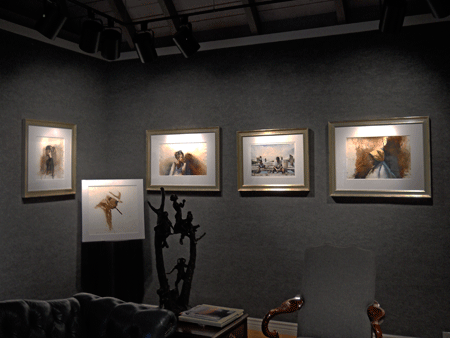 We didn't want to over stay our welcome and they had a lot of work to do before they could head to Charleston so we headed to the next stop, Smith Galleries in the Village at Wexford.
But before that, you should know that Morris & Whiteside Galleries will be presenting a reception for the exhibit, Recent Works: Dean Mitchell, on Nov. 18, 2011, from 6-8pm.  If you're going to be in the area or know of Mitchell's work – check it out.
I have an interesting story about Smith Galleries. Long before we ever got involved with art galleries and visual art newspapers – back when we were still in the photo processing biz, Linda and I made a trip to Gatlinburg, TN. Back then, pottery and photography was the only art we were collecting. We asked someone in the town where we would see the best pottery and someone suggested a potter named Wally Smith. So we checked it out and we purchased one of the best pieces in our collection. Years later, by 1995 when we decided to take our paper Charleston Arts and expand it intoSouth Carolina Arts I traveled to Hilton Head Island to check out the galleries there and get them to participate in our venture.
When I got to Smith Galleries there was Wally and his wife, Jean, who makes wearable art. They had moved from Gatlinburg to Hilton Head – I think to play more tennis. What I found strange and amazing was the fact that Wally had given up pottery to run a gallery that featured other people's work. It was and still is a fantastic gallery filled with amazing work, but still – I'd give my left toe to be as good at creating anything as good as he was at making pottery. But, over the years I've learned that's not so unusual – some talented artists have to make hard choices at times.
When I mentioned that I still had that piece, Jean said I've got a rare item there. And, I bet I do.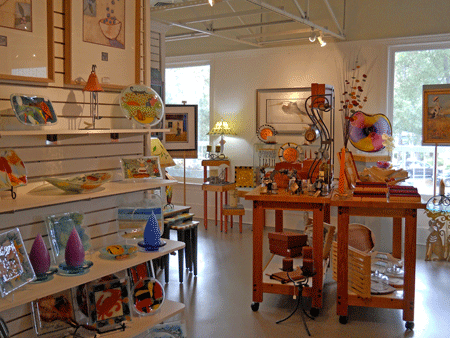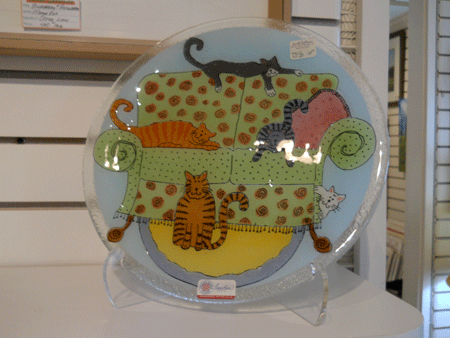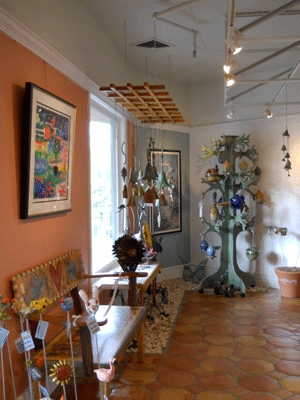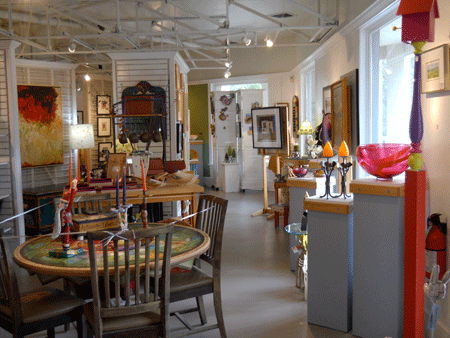 I took a good many pictures around the gallery and yet I don't think I came close to showing the place off. It's the kind of place where you almost feel like you have to leave a trail of crumbs to find your way back, but please don't and say I told you to do so. I want to be able to go back.
You'll notice I didn't take any pictures of all the jewelry they had as Linda would have been in every one I tried to take.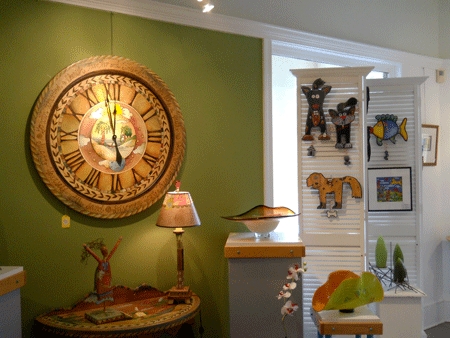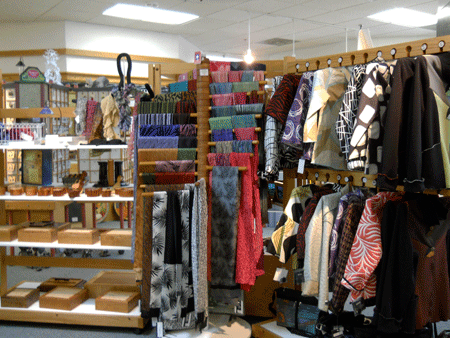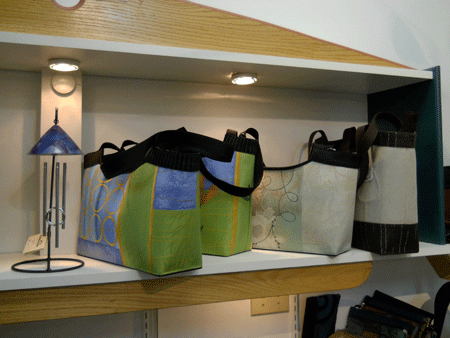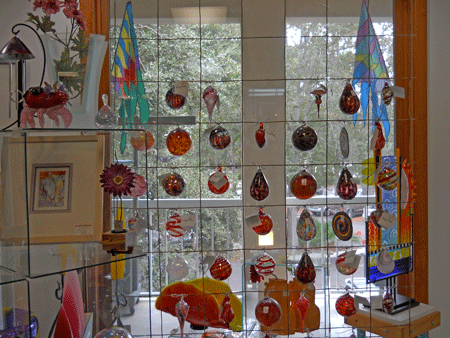 The pictures I took came in handy later as we got together with other friends who had arrived for the wedding we were attending Saturday afternoon. Someone asked something about galleries and I was suggested as the perfect tour guide, so I showed a few folks the pictures I took. Next thing I know Linda and I are waiting outside Smith Galleries early Saturday morning with a group of folks – one couple all the way from Australia – for the gallery to open as we had limited time for gallery hopping. They weren't disappointed and I later saw that one wedding gift had come from the gallery.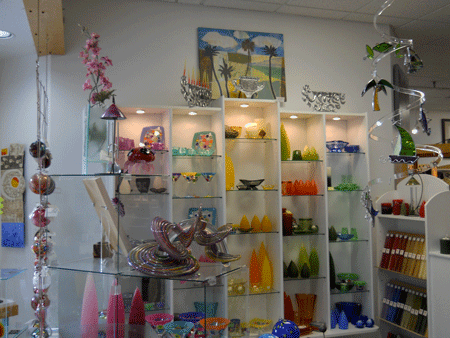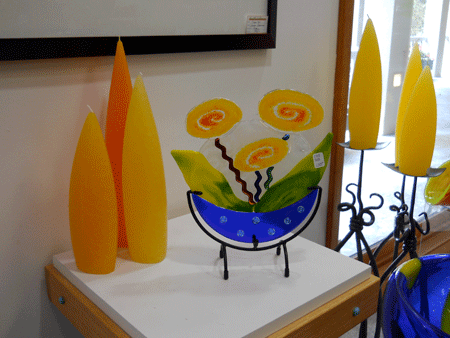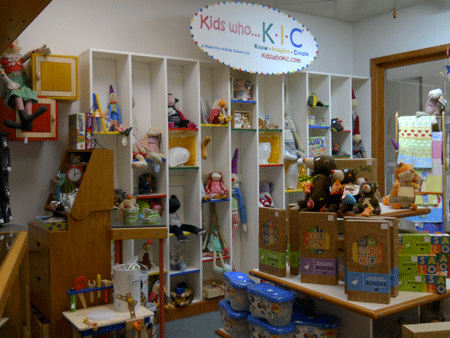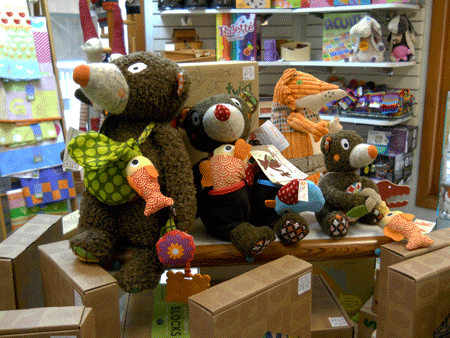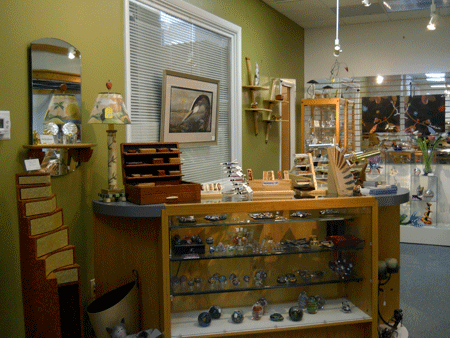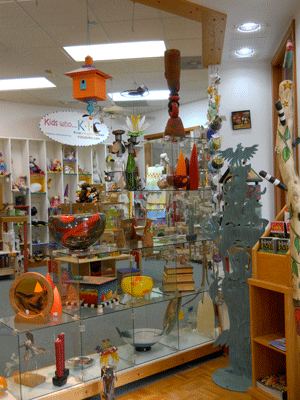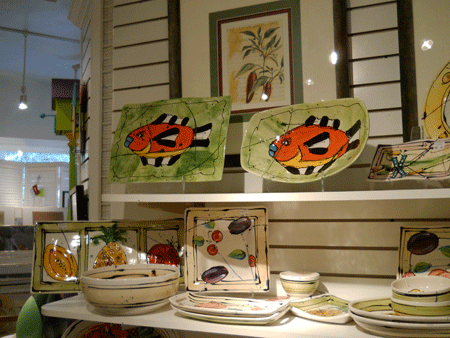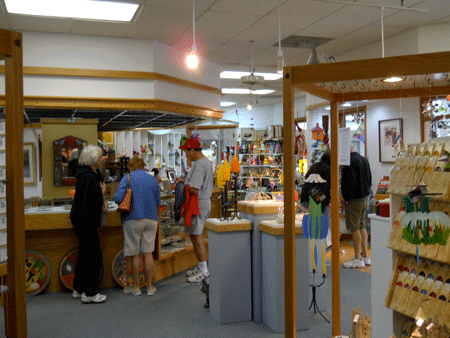 Whether it's loading artwork onto trucks or giving gallery tours – we at Carolina Arts are here to serve our supporters any way we can.
That's about it except for telling you that Smith Galleries will be having their annual Holiday Open House on Nov. 25 & 26, 2011. It should be a great event.
What about the wedding? We had a fantastic time and I heard it was so awesome that there might be a movie in the works. I heard they're thinking of Pitt and Jolie to play the lead roles. I wonder who they'll get to play me? I hear Sean Connery is no longer taking on any roles. Too bad.