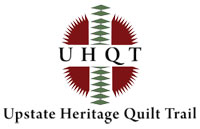 Cynthia Leggett brings us news of the latest additions to the Upstate Heritage Quilt Trail in South Carolina starting with the Log Cabin Quilt, the first interactive quilt block in South Carolina.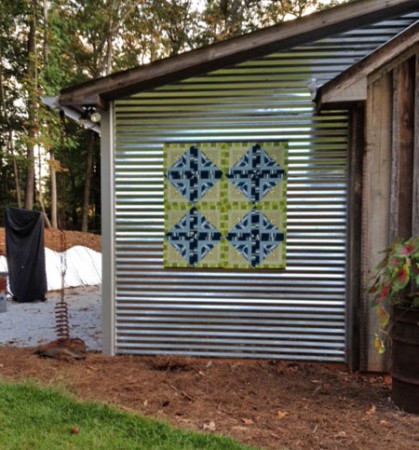 The End of the Road Studios in Walhalla, SC, now sports the latest addition to the Upstate Heritage Quilt Trail.  The original Log Cabin Quilt was a joint effort by Judy Dubose and her daughter-in-law, Robin Anne Cooper Dubose.  Robin chose the fabric and cut the pieces, while Judy sewed them together.
Robin is a native of Clemson, SC, but her marriage to Stan Dubose, Judy's son, brought her to Walhalla where she and Stan created the End of the Road Studios where they both practice their art. Stan is an accomplished potter while also teaching art at Oakway Elementary to Pre-K through 5th grade students. He's dedicated his life to creating and promoting art in the Upstate of South Carolina. Robin is a professional artist who creates cut canvas collages.  Her one of a kind process allows her to create art that has strong textural presence with clean, crisp lines. Her unique vision and positive outlook on life bring whimsy, humor and interest to all her pieces.
Judy grew up in Flat Shoals, near Tamassee. She began quilting at an early age, sitting on her mother's lap at the sewing machine, learning to stitch together 2 inch blocks of chicken feed sacking, four at a time. This became her first quilt. Since that time, she has made about 20 quilts.  The Log Cabin pattern is one that both her mother and grandmother made and she's pleased to be able to pass on the pattern to her children.
The quilt display itself at End of the Road Studios is a departure from the typical quilts on the trail which winds through Oconee, Anderson and Pickens Counties in Upstate SC. This quilt is made up of 16 one foot squares with magnets on the back. Visitors to the studios will be able to move the squares around on a metal wall to create whatever strikes their fancy in quilt designs.
Upstate Heritage Quilt Trail Celebrates Adding the 100th Quilt on Trail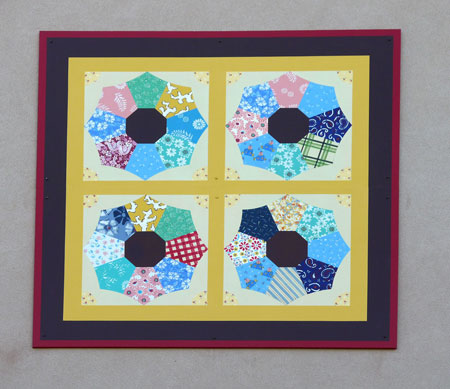 Crazy Quilt, Double Wedding Ring, Rocky Mountain Road, Grandmother's Flower Garden, Carolina Mystery, Churn Dasher, President's Wreath…the list goes on and on. The Upstate is seeing a riot of quilts on display as part of the Silver Jubilee of the Lake and Mountains Quilters Guild (LMQG) biennial quilt show and the celebration of the area's 100th quilt block on the Upstate Heritage Quilt Trail (UHQT).
The City of Westminster was the recipient of the 100th quilt block on the Upstate Heritage Quilt Trail. The quilt pattern Friendship Garden, was mounted on the Municipal Building located on Highway 123 in Oconee County, SC.  Essie Jane Spencer Smith of the Madison (Old Liberty Baptist Church) Community of Oconee County, made the original quilt. It was completed sometime before August 1945, as a wedding present to her son, Spencer and his wife, Lelline Smith. Donna J. Smith Campbell, Essie Smith's granddaughter, sponsored this addition to the trail.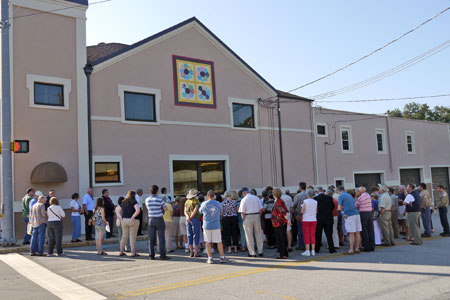 Over 100 friends of the Trail were on hand to celebrate this milestone. SC Senator Thomas Alexander presented to Martha File, Chair of the UHQT a certificate in honor and recognition of her leadership, dedication and hard work in establishing the Upstate Heritage Quilt Trail in Oconee, Anderson and Pickens Counties. Mayor Rick McCormick presented her with a City of Westminster Proclamation, declaring September 7, 2012, as Martha File Day as a tribute to a leader who honors quilts, quilters, and the heritage they represent.
It all began in Adams County, Ohio, in 2001, with Donna Sue Groves, a Field Representative with the Ohio Arts Council. She decorated her family's barn with a quilt square pattern from one of her mother's quilts. The quilt trail concept was born. Today, over 4,000 quilt blocks in 47 states can be found throughout the United States.
In the spring of 2009, Oconee County became the first in South Carolina to embrace the Quilt Trail concept. The founding group thought that extending the Quilt Trail to homes, historic buildings, public buildings, destination venues and businesses would be a good way to preserve the area's heritage and promote the Upstate. They decided to concentrate on Oconee County. With encouragement from the Mountain and Lakes Convention and Visitors Bureau and Oconee Parks, Recreation and Tourism, they pursued development of the Trail, forming the Oconee Heritage Quilt Trail. They held a community meeting and began to build alliances with local groups and agencies. A $1,000 private donation was given to sponsor a workshop and buy supplies for one quilt.
As File told us, "To help us plan the workshop, our research led us to Don and Sara Hart of Kentucky, who had experience conducting workshops for local quilt trails in Kentucky. They led a workshop for us in October 2009 in Seneca, SC. Greg and Janice Nimmons volunteered their barn for the workshop and, slowly, things began to drop into place. We soon found a permanent workspace at the Conservatory of Fine Arts in Walhalla, SC, which became our production studio. We then became an affiliate program under the Conservatory. From there, the Trail began to grow quickly and spread into Anderson and Pickens Counties. With the expanded geographic range of our Trail we changed our name to the Upstate Heritage Quilt Trail. The Upstate Heritage Quilt Trail would not be where it is today without all the community support it has received. It is a collaborative effort by many organizations, businesses and individuals in Anderson, Oconee and Pickens Counties. Some of our quilts have been painted by students in the schools, by community groups, by families, as well as by our volunteers. All quilt blocks are based on actual quilts. As we proudly display our 100th quilt block, help us celebrate. Visit all the quilt blocks and sites along the way. To view the Quilt Trail, visit our website at (www.uhqt.org) for an interactive map to create a self-guided tour or contact us for personalized suggestions."
For more information and pictures, visit (www.uhqt.org).