Editor's Note: Earlier this year we informed readers that 2012 was the 50th Anniversary of the Studio Glass Movement in America. We did a special feature on many of the glass exhibits that were being offered in celebration of that anniversary – most taking place in Western North Carolina – home to many a glass artist. We didn't learn about this exhibit until after it was too late to fit it into our Dec. 2012 issue of Carolina Arts, but we're bringing it to you now as best we can. Hopefully through this blog, Facebook and Twitter – the word will reach many of our readers.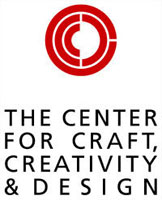 The Center for Craft, Creativity & Design in Hendersonville, NC, is presenting Harvey's Legacy: The Next Generation of Studio Glass in Western North Carolina, an exhibit featuring works by studio glass pioneer Harvey K. Littleton as well as 12 exceptional glass artists of generations X and Y who are working in the region, curated by Lauren Pelletier, Administrative Assistant at CCC&D. An opening reception will be held at the Center's gallery in Hendersonville on Thursday, Dec. 6, 2012, from 5-7pm and is open and free to the public. The exhibition will continue through Jan. 7, 2013; the Center will be closed Dec. 21-31, 2012.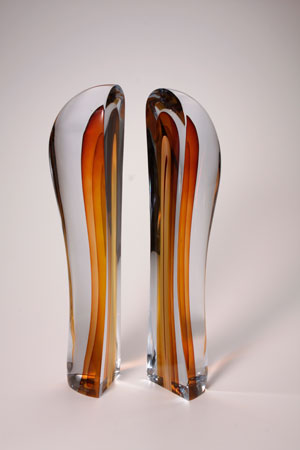 Harvey K. Littleton, Longitudinally Sectioned Flattened Ovoid, 1981, 18 x 3 3/4 x 4 inches each.
The American Studio Glass movement began with two glass workshops held at the Toledo Museum of Art in 1962. The workshops were taught by Harvey K. Littleton, who, along with scientist Dominick Labino, introduced a small furnace built for glassworking that made it possible for individual artists to work in independent studios. Since then, glass has been embraced by artists not only for production purposes, but as a sculptural medium for exploring contemporary issues and concepts.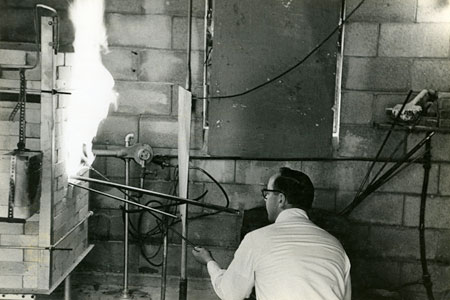 Harvey Littleton at the 1962 workshop. Photo by Robert C. Florian. Collection of the Rakow Research Library of The Corning Museum of Glass.
The exhibition celebrates the 50th anniversary of Littleton's groundbreaking workshops using a small furnace built for glass craft, which helped trigger the development of studio art glass in America. Littleton settled in Western North Carolina's Toe River valley after his retirement and that area now boasts a growing community of more than 50 notable glass artists.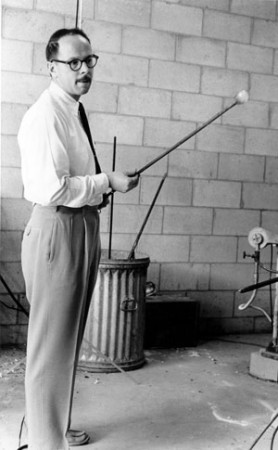 Harvey Littleton in his studio in Wisconsin. Photo by Robert C. Florian.
The other glass artists participating in this exhibit include: Kathryn Adams, Dean Allison, Alex Bernstein, Jennifer Bueno, Courtney Dodd, Ben Elliott, Micah Evans, Ben Greene-Colonnese, Clay Hufford, Mike Krupiarz, Justin Turcotte, and Hayden Wilson. To learn more about these artists visit thislink.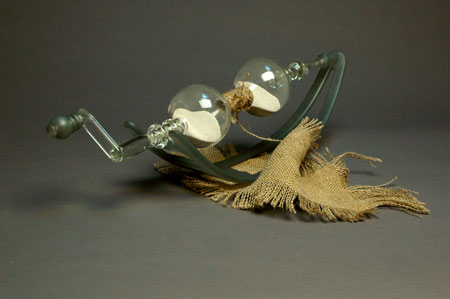 Work by Ben Elliott
"This exhibition features artists early to mid career artists, 40 and under, working in Western North Carolina. The artists selected have either studied glass at universities or spent time at craft institutions like Penland School of Crafts, Pilchuck Glass School or The Studio at Corning Museum of Glass with programs that have lineage to Littleton's experimentation," said curator Lauren Pelletier.
"I was inspired by the 50th anniversary shows like Toe River Art Council'sGlass in the Mountains that have done a thorough job highlighting the rich history of the studio glass movement in the region. I see Harvey's Legacyas a complement to those shows, with a narrower focus on emerging talent and the influence of higher education as it relates to our mission and core programming at the Center."
"My interest in glass began after taking undergraduate coursework in glassblowing, casting, beadmaking and stained glass and continued later during a flameworking apprenticeship I had shortly after moving to Asheville in 2011," adds Pelletier. "Having an understanding of the material and a familiarity with artists working in this area, I made selections for this show to include variety in experience, techniques and processes."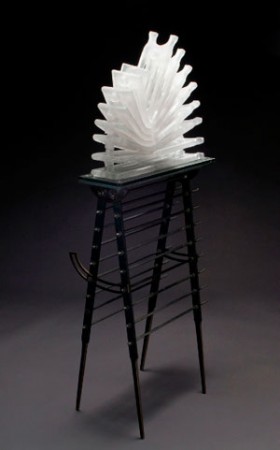 Work by Clayton Hufford
"Western North Carolina is made up of incredible communities of craft artists that support each other and learn together. The Center is delighted to have the chance to present an exhibition of these emerging artists in celebration of the 50th anniversary of studio glass," said CCC&D Executive Director Stephanie Moore.
"When glass enters the sculptural arena it is mesmerizing.  The impressive work highlights the skill of the makers who are pushing the limits of this incredibly fragile material."
During the reception on Thursday, Dec. 6, from 5-7pm, at the Center, located at 1181 Broyles Road in Hendersonville, there will be a sale of glass artworks offered. Those attending will also be able to purchase hand-made pint glasses, filled courtesy of Highland Brewing Company, with a portion of the proceeds benefiting glass art instruction in the region.
There will also be a raffle during this reception to win hot shop and flameworking classes at the Asheville Glass Center, private lessons from exhibitors Kathryn Adams and Hayden Wilson, as well as vases, ornaments, and more.
A portion of proceeds from the raffle and gallery sales will go towards subsidizing the first glass course at Warren Wilson College as well as future programming by The Center for Craft, Creativity & Design.
On Saturday, Dec. 8, 2012, from 10am-6pm, join the Asheville Glass Center staff and exhibitors Kathryn Adams, Ben Elliott, Ben Greene-Colonnese, Justin Turcotte, Hayden Wilson with special guests Alex Bernstein, Penland Resident Artist Micah Evans and exhibition curator Lauren Pelletier for exciting glassblowing and flameworking demonstrations to be held at the Asheville Glass Center, located at 140C Roberts Street in Asheville, NC's River Arts District.
For further information call the CCC&D at 828/890-2050 or visit (www.craftcreativitydesign.org).