Before we start promoting this event, there are still a few unanswered questions about last year's event and this upcoming event that you as an artist should be wondering about. Like what are they going to do differently?
A recent report tells us that 22,000 visitors attended the event – that's an estimate as there where no ticket sales to base attendance on. Of those 22,000 visitors only 5,965 people registered to vote in the competition and only 2,443 votes were cast. Why did so few visitors want to participate in the vote – which is the core of the event and then why did less then half of the people who registered to participate actually cast a vote?
We still have not been offered how many votes the top winners received – with almost 400 possible works to be voted on did the winners get over 100 votes or maybe even over 500 votes? What does it take to win this competition?
As far as this year's event goes – who are the judges for entry and who will make selections on the winners. Are they the same as last year, different or a mix?
What does "ONE" work really mean? Can it be an installation of a lot of works related to each other? Can it be a sculptural piece of 100 or 1000 pieces? Can the one work be a site specific installation that fills a whole room? I know a lot of artists who submitted one painting that was maybe 16″ x 20″ last year who were surprised when they saw some of the "one" works of art at last year's event.
And finally, if you are interested in entering, I suggest you read the rules very carefully. It cost one person $25,000 last year by not understanding the rules or thinking they didn't matter.
Just remember, I support this event and feel the folks in Lake City did a wonderful job on their first effort, but there is room for improvement. I have yet to hear anything about those issues.
Here's the official call for entries: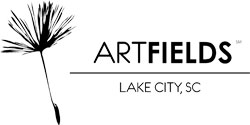 Starting Oct. 30, 2013, You Can Register for the 2014 ArtFields Competition and Exhibition in Lake City, SC
The 2014 ArtFields Competition and Exhibition takes place in Lake City, SC, from Apr. 25 through May 4, 2014.
Whether you're an established or emerging artist, get ready to submit your artwork to the 2014 ArtFields Art Competition for a chance to win $100,000 in total cash prizes! The Call for Submissions will open October 30 and will close December 13, 2013 at (http://www.artfieldssc.org/artists/how-it-works/) that link will be closed until October 30.
Artists may only submit ONE piece of artwork to the competition, and there is a $25 non-refundable entry fee. Artists must reside in one of the 12 Southeastern states (Alabama, Arkansas, Florida, Georgia, Kentucky, Louisiana, Mississippi, North Carolina, South Carolina, Tennessee, Virginia, and West Virginia) for 6 consecutive months prior to the submission date. Eligible artists must be 18 years of age on or before the submission deadline of Friday, December 13, 2013. Artwork must have been completed within two years of the submission deadline of Friday, December 13, 2013, and artists may submit one 2-D or 3-D piece of artwork, including, but not limited to, painting, sculpture, photography, drawing, digital media, and installation art.
View the full entry rules at (http://www.artfieldssc.org/artists/rules/), information on prizes (see below) and artists FAQs (http://www.artfieldssc.org/artists/faqs/). If you'd like to get inspiration for the Competition, visit our online gallery of last year's finalists at (www.artfieldssc.org).
For any art related questions, please e-mail to (ArtTeam@artfieldssc.org).
$100,000 in Prizes:
Prizes will be awarded in three amounts:
$50,000 – Top Prize awarded by a combination of visitors' votes and a jury of visual arts professionals.
$25,000 – Juried Panel Prize awarded by a jury of visual arts professionals who will be present in Lake City, SC during ArtFields.
$12,500 – People's Choice 2-Dimensional
$12,500 – People's Choice 3-Dimensional
Each of the People's Choice is determined by visitors' votes throughout the ten-day artfest. Visitors will register in Lake City, SC, and vote for their favorite entries during ArtFields. Visitors may only vote once per entry.
For further info visit (www.artfieldssc.org).