It's been a long time since I first went to Seagrove, NC, and came home with pottery to add to our pottery collection, but on Nov. 20, 2015, Linda and I were headed to the Gala evening of the 8th Celebration of Seagrove Potters in Seagrove. It's about a 4 1/2 – 5 hour trip north so Linda managed to get a little sleep after working a 12 hour shift Thursday night. By the time we got to the Gala, she was working on a lot of hours with little sleep. That's how bad she wanted to go on this trip.
The other nice thing about this trip was that we planned an overnight stay in Asheboro, NC, about 12 miles north of Seagrove so we wouldn't have to make the trip home another 4 1/2 – 5 hours after the Gala. This also gave us the opportunity to visit the Celebration on Saturday – with the masses – and then drive home during daylight hours.
We met up with Zelda Ravenel, our Super Blog Guru & Graphics person, who came down from Western Virginia to join us at the Gala and Celebration. She was just our Blog Guru, but after recovering our blog Carolina Arts Unleashed, which had been corrupted and then wiped out by our Internet server, I added Super to her title. This was her first trip into the world of Seagrove pottery. And, you wouldn't be reading this blog I've written on for years without the recovery Zelda made happen
We arrived at Historic Luck's Cannery in Seagrove, official home of the Celebration of the Seagrove Potters, just before the 6pm opening, after we passed the entrance – as did many other drivers in the dark (more lighting please). When we walked in the door there was a very long line of serious looking pottery collectors. I mean these people came to bid on the rare one-of-a-kind collaborative works created by Seagrove potters being auctioned and to have first chance to buy from over 75 local potters before the hordes arrived on Saturday and Sunday. And, I'm sure like me, they were also there to enjoy the food, drink and live music being offered by Bold Music. The food was fantastic as was the music, but I was the driver – so only one drink.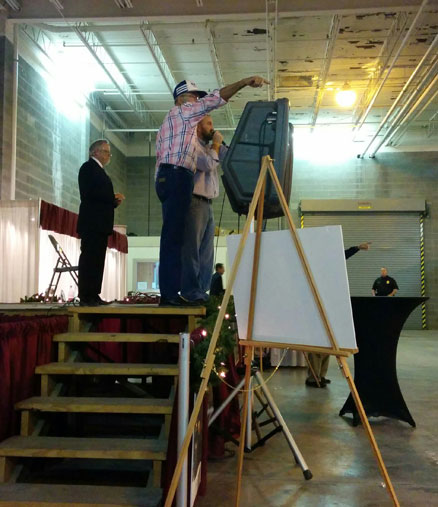 The men calling the numbers. Frank Neef standing to the back. Photo by Zelda Ravenel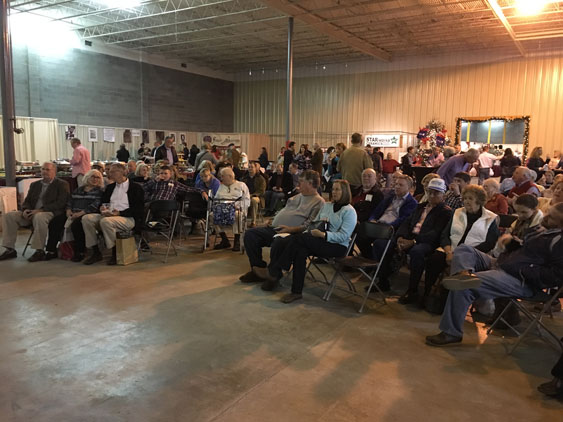 A view of the bidding crowd.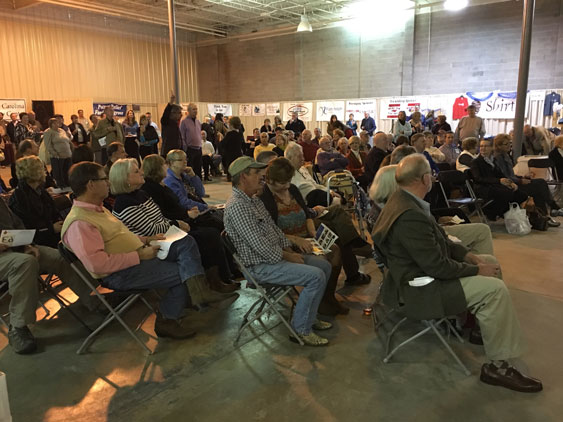 Another view of the bidding crowd.
When the auction was over, those folks, made up of highly competitive collectors, bid $8,150 on these collaborative works. Unlike some art auction fundraisers, these folks bid more than the normal value of similar works due to the fact that there wouldn't be any other works like the ones offered. Most art auction fundraisers attract folks looking to pay under market prices for works donated. They don't seem to grasp the intention of fundraisers. And Seagrove potters are asked to donate to a lot of fundraisers throughout the area and the state of North Carolina – all the time. It's nice to see the public respond so well to a fundraiser which benefits their own community.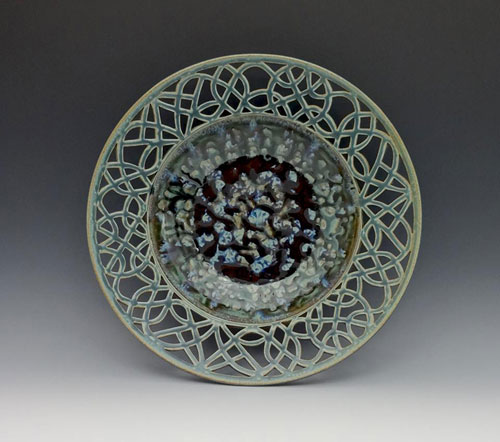 One of the works being auctioned by Frank Neef and Paul Ray. Neef was also acting as emcee for the auction and he worked on several other collaborative works being auctioned.
The live auction itself is well worth the admission of the Gala as some of the items saw some heated bidding which resulted in final figures that were staggering, but great for the potters and for the audience to witness.
During breakfast Saturday morning at the hotel we stayed we realized that most of the other folks at the hotel were at the Gala and a few were still talking about their luck in being the winning bidder at the Gala auction. The auction was the buzz of the morning and most, like us, were headed back for more pottery buying.
But before we get to Saturday and leave the Gala it should be mentioned that the Gala was also the best time to meet or catch up with all the Seagrove potters as some keep their potteries open on Saturday for folks who also want to visit the potteries where they can see more works by their favorite potters. After all, they can only bring so much to their booths at the cannery. So Friday night was also a great time for me to catch up with potters who I may interact with on Facebook and by e-mail but haven't seen face-to-face in awhile. And for me, that's the main reason for returning to Seagrove. I love the pottery they make, but I care more about keeping the friendship of some of those potters in my collection.  That's always been one of the main incentives for doing Carolina Arts – the artists, art administrators, gallery owners, and others working in the visual art community in the Carolinas. I'm not getting rich doing an arts publication, but I've been enriched by the people I have met and many I have yet to meet. As strange as it seems, some of the best people I've never met, are good friends and one day I might meet them. Of course maybe one of the reasons we're friends is that we haven't met yet. I have to think about that one.
And just to remind you that I'm not getting too mushy in my old age – some of the worst people I've met or know are also in this same art community. Not so much the Seagrove community, but the Carolina art community. Some would stab you in the back for a fistful of dollars in funding.
OK – let's get back to Saturday morning, Oct. 21, 2015, the first day of the 8th Annual Celebration of Seagrove Potters.
We learned at the Friday night Gala that Mark Heywood would be at their gallery at Whynot Pottery, while Meredith Heywood would be working at the Celebration. They are just one of many pottery husband and wife teams in Seagrove. After Zelda had enjoyed the Friday night Gala I wanted her to see one of the actual potteries – where the magic happens. Once we got in the shop she started taking photos of works she knew would fit into some of her friends home decor, but the highlight of this visit came when we visited the studio and Mark gave us a real tour of the process involved. Linda and I have seen it before but there is always something new to see or learn and in this case find a gem along the way.
Mark was showing us some things about glazes and pointed to a small jar which had a blue glaze they used to do in the past but had to stop as it didn't work well with the new firing technique they liked – it turned that blue glaze a muddy gray. As he went on about some other parts of the process I could see that Linda couldn't keep her hands off that little jar. After about ten more minutes of Linda admiring that jar I told Mark he better sell her that jar so we could get on with the tour or we would be here all day. Zelda was just eating it all up. It is an amazing process of turning clay into fine art objects or beautiful functional ware. I promised her I'd take her to One Eared Cow Glass in Columbia, SC, one day, to see the Cowboys make amazing works out of molten sand.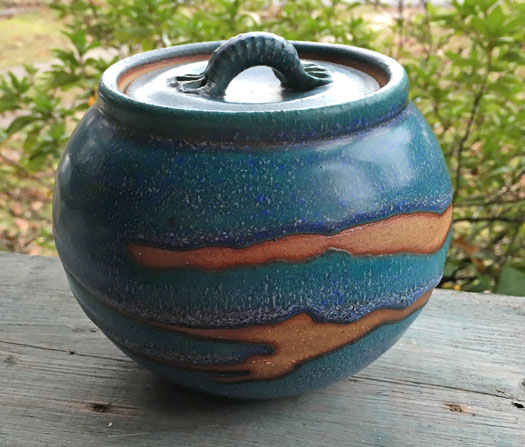 That sweet little jar from Whynot Pottery.
After Whynot, I figured it was time to get back to the cannery – by now the first shift of the crowd might be moving on and we might find a parking space. And just as we got there cars were coming out – heading to pottery festival number 2 or out to individual potteries around Seagrove. We found a not too far out of the way parking space and as we walked in we ran info folks carrying several plastic bags in each hand full of pottery, headed to their cars. The funniest scene I saw that day was a very small woman leading a very large young man carrying a very large pot – bigger than she was – probably to see if he was going to be able to fit it into her car.
Now this was my fourth trip to a Celebration of Seagrove Potters, and the last two were not great in one respect. Due to our financial situation during the last two visits I had to watch other happy folks carry those bags of pottery and I wasn't going to be carrying any. I was on a Shoestring Publishing Company budget – which was gas and food money. This time I didn't have to go home empty handed. I can tell you this – there is nothing more frustrating than looking at one fabulous work after another – all reasonably priced and not being able to make any of them yours. I also felt bad as many of the potters knew I had a pottery collection. All I could think was that they were thinking that I didn't see anything I liked, when it was a case of my eyes were filled with – I want that, and that and that too. It's not a great feeling.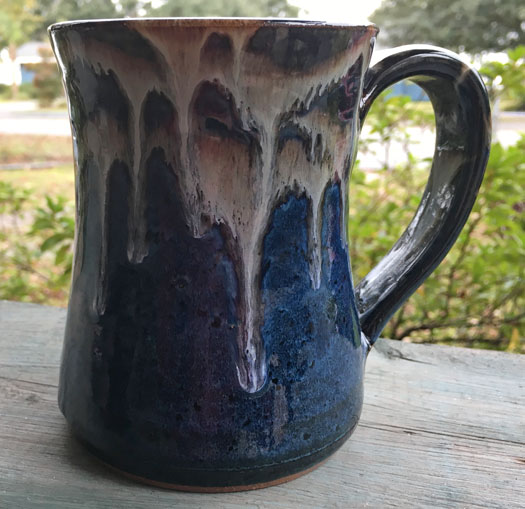 Here's another work we purchased during the event from Keith Martindale Pottery.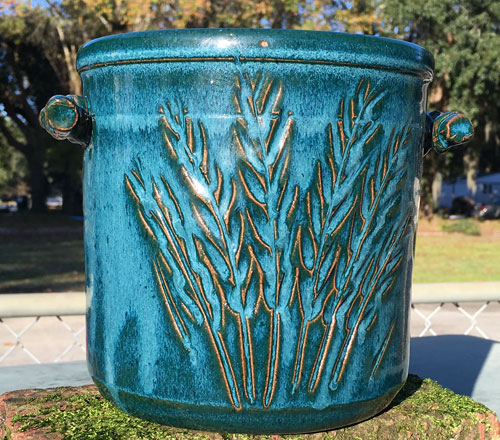 And this one from Potts pottery is now in our collection. For info call 336/873-9660. Looks like we had a thing for blue during this trip.
Once we got in it was the usual mob scene. Linda had seen it before, but Zelda was wide eyed – there were a lot of people moving like a river from booth to booth. We got there just in time for Eck McCanless' (Eck McCanless Pottery) demo which Zelda wanted to see how he got all those different clays to blend together in what seemed like a controlled manner. She had seen the finished products the night before. The demos are really something to watch. The potters work their magic with such ease right before your eyes that it seems like a trick that must involve some sleight of hand – like putting a slab of clay on the wheel – distracting the crowd and then pulling a finished piece from under the table.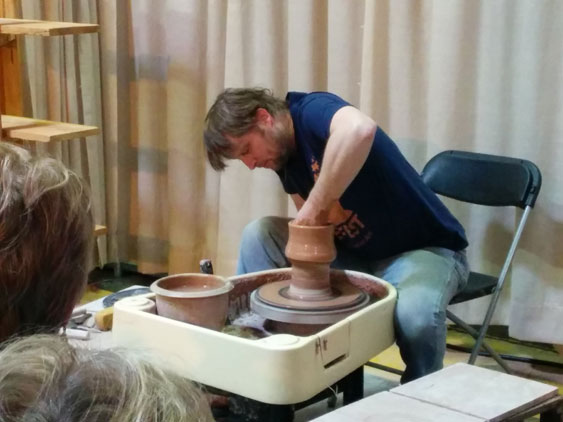 Eck McCanless of Eck McCanless Pottery doing a demo on Saturday. Photo by Zelda Ravenel.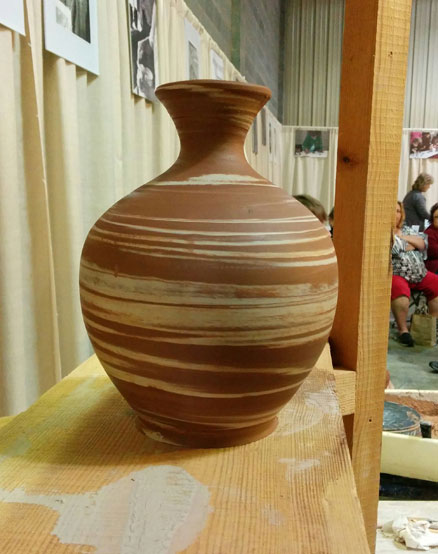 One result from the Eck McCanless demo. Photo by Zelda Ravenel.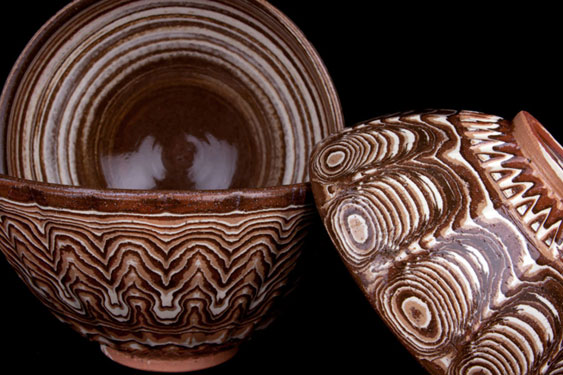 A view of finished works – carved agateware from Eck McCanless Pottery. Photo from Eck McCanless Pottery.
At lunch time I got to have my all time favorite – a box of flavorful veggies and noodles from Pacific Rim Noodles from Asheboro, NC. I've had their lunch offering every time I've gone and hope to every time I go in the future. I always ask for extra veggies and I get them. My mouth is drooling right now.
After getting that warm feeling in my tummy, it was time to make one more round and see what more was going to go home with us. We found a couple to more works that we made ours, but I still had to hold off on a few things – mostly because I waited too long to get what I wanted. Next time I'll know to do all my shopping at the Gala.
Soon it was time to head home. Zelda had a good time and I think she'd look forward to going again. Linda and I had a good time – we were tired – she was really tired from a couple of days without a lot of sleep. Zelda headed back to Western Virginia and we headed back to South Carolina. The ride home was good – we listened to Clemson win another football game and had a great dinner in Florence, SC.
I've got some images of pottery we saw, pottery we now own, and a few of the events, but none of them can come close to the experience of being there. I could have taken more, but… And, that's what all this is about. I go to these events I write about because I enjoy them and hope others will too, once they learn about them. I'm not trying to share my experience through words and pictures – I'm not that good of a writer or photographer to even come close to doing that. Believe me, you're being short changed if that's what you're trying to do by reading this. I want you to go yourself. They're going to have another Celebration next year the weekend before Thanksgiving (that's Nov. 18-20, 2016). Make plans now – especially if you're going to stay in Asheboro – their hotels fill up fast with pottery lovers from all over the Carolinas and beyond. I'm not going to tell anyone when I'm going again. I want to make sure I'll be getting all the pots I want at the Gala next time.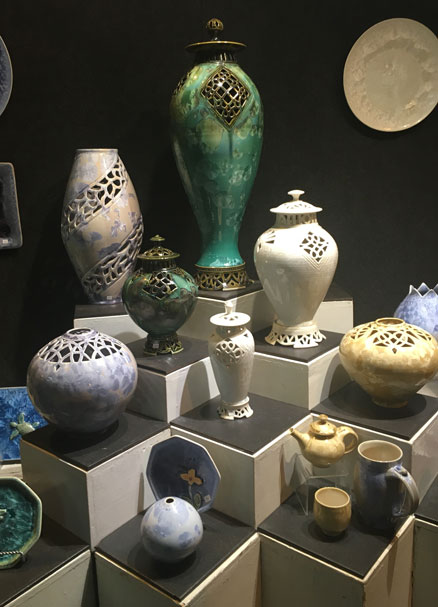 Works from Frank Neef Pottery.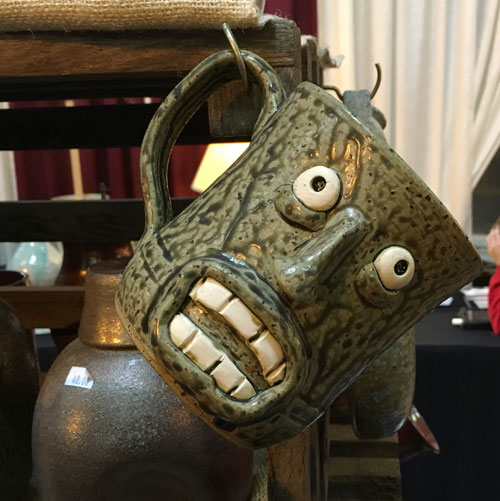 Face mug from Luck's Ware pottery. For info call 336/879-3261.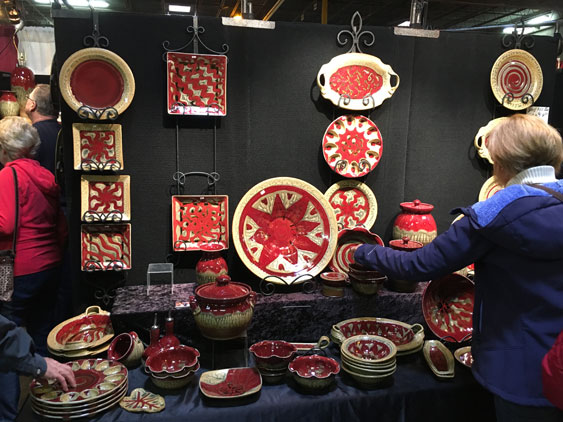 Works from Ray Pottery. My next purchase from Seagrove will be from this pottery.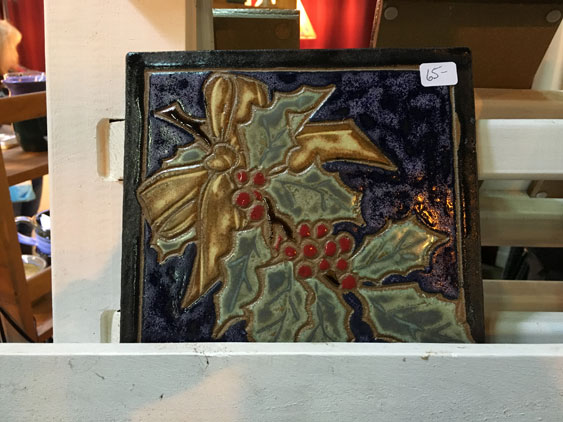 Tile from Snowhill Pottery & Tileworks. For info call 336/301-6681.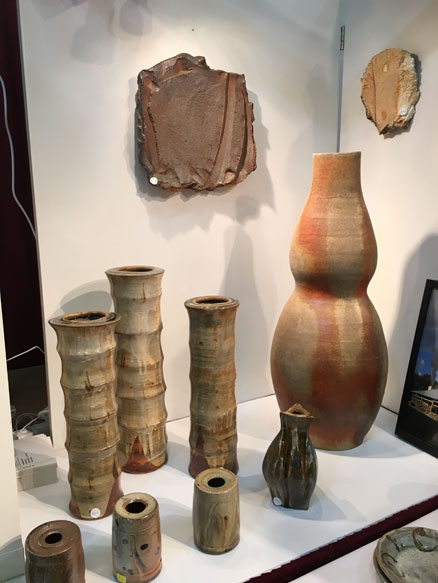 Works from Studio Touya.
Of course you don't have to wait another year, some of the potteries will be having special Christmas events next weekend on Dec. 12, 2015 – visit (www.discoverSeagrove.com) for details. And, on Apr. 16-17, 2016, you can attend the 8th annual Celebration of Spring in Seagrove, for kiln openings and a studio tours of individual potteries. Did someone say road trip? And if you're not one for crowds – you can plan your own trip anytime – just check the Discover Seagrove website to make sure folks will be open as some potteries kind of slow down or even shut down during the winter months.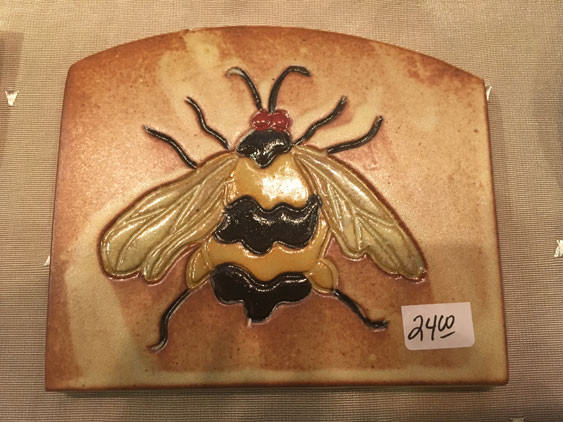 Tile from Whynot Pottery.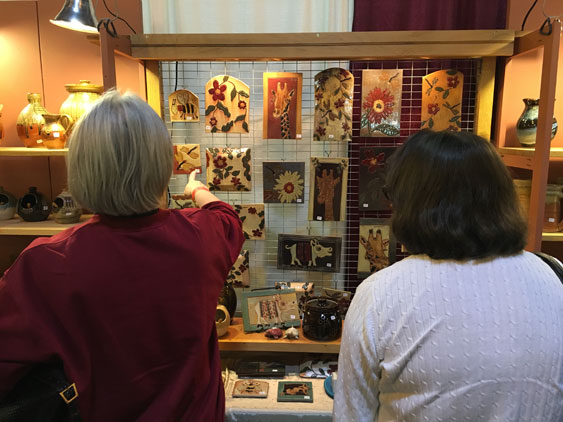 This is a photo of tiles at the Whynot Pottery's booth. The giraffe in the top row is a product of Acacia Art Tiles, a project of Meredith Heywood and her sister Lee Lewis who has passed away. Meredith is producing the giraffe tiles using an image her sister designed to keep a part of that partnership alive. There's one there in row two and row three. What a great way to remember someone.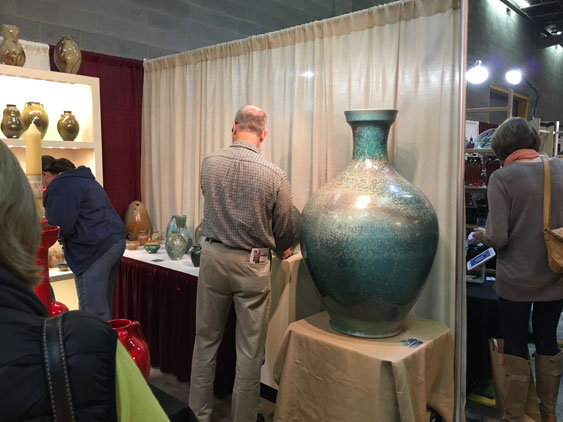 A large pot from Ben Owen Pottery.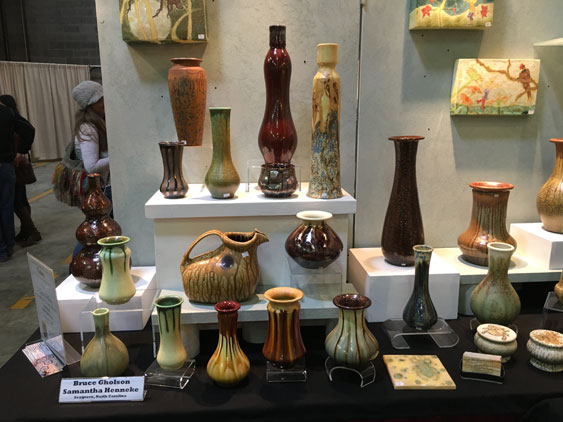 Works from Bulldog Pottery.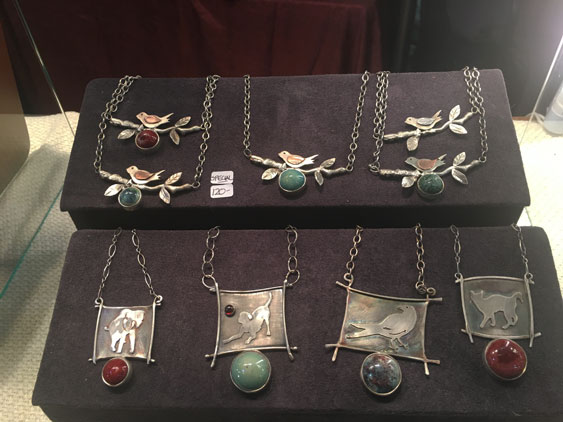 Works from JLK Jewelry at Jugtown.
The great thing about the Fall Celebration of Seagrove Potters is that it brings a lot of the area's potters together in one place like a pottery mall. You don't have to travel so far to see lots of different kinds of pottery, shop for the price that's right for you, and meet the potters. If you're looking for more of an adventure, the Spring Kiln Openings are for you. Traveling around the rolling lush hills of the Seagrove area is nice and you get the see the pottery operations. It's your choice, but it's a choice you should make. Don't sit around reading about other people's trips.
P.S. I was listening to Don Henley's new CD, Cass County while writing most of this. It fit right in with my feelings about Seagrove – the center of pottery in the Carolinas. You know Henley – he's one of those Eagles who has a sharp tongue about modern life, but is just an old Texas country boy.
Oh, and I've got one more thing to add. I've included a photo of what is NOT the North Carolina Pottery Center in Seagrove. This used to be called the Museum of North Carolina Traditional Pottery, which is not really much of a museum – it's more like a store with pottery on metal shelves. I thought the pottery wars were over in Seagrove but I guess some are still fighting. They renamed this place trying to confuse people looking for the real Pottery Center. Here's a photo of how it looks. I hope you notice the difference.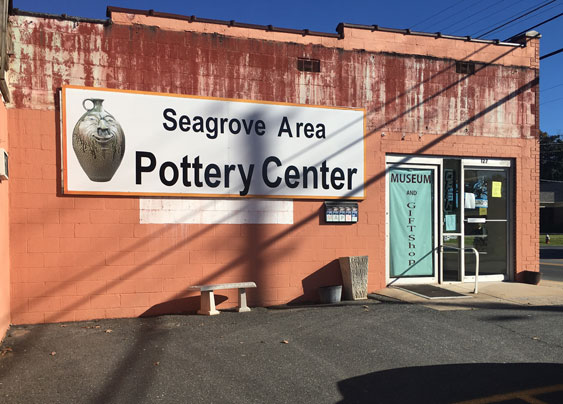 This is NOT the NC Pottery Center in Seagrove, NC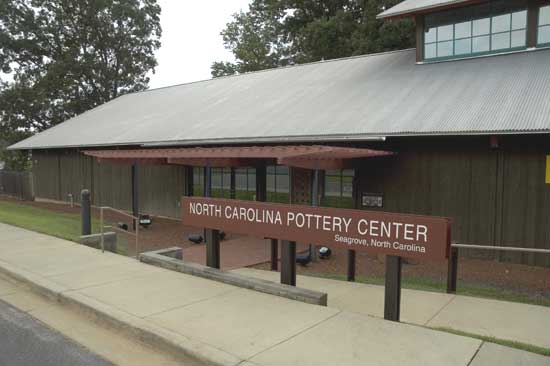 This IS the one and only NC Pottery Center in Seagrove, NC – don't be fooled.