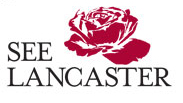 Back in the day, when I was delivering printed copies of Carolina Arts, one of my nightly routes was from Bonneau, SC, to Manning, SC, to Sumter, SC, to Camden, SC, to Lancaster, SC, to Rock Hill, SC, then to Columbia, SC, Orangeburg, SC, and back home to Bonneau. My only drop in Lancaster was at The Springs House Gallery, home of the Lancaster County Council of Arts (http://www.lccarts.net). Because this was a night time delivery I never got to see the inside of that facility. But, because of limited time, on this trip we traveled to I-26 to Columbia, where we picked up I-77 and then took exit 55 to Hwy. 200 headed to Lancaster.
As we got closer to Lancaster I told Linda, my better half, that I wasn't sure I'd know how to get around as I didn't travel this way in the past. As it turned out, Hwy. 200 ran right into Hwy. 521, my old route. And once we hit Main Street it all came flooding back to me. Our first stop would be at The Springs House Gallery where the publicity we helped distribute through Carolina Arts, was the place to pick up a "Passport" for the Tour. Imagine that, after all these years I was going to see the inside of that building, which like the name says – was a house, once owned by Colonel Leroy Springs that was converted into Lancaster's City Hall in the 1950′s. Leroy Springs played a major role in the industrial development of Lancaster and the surrounding area.
I have to add this as editor of Carolina Arts, that like in the movie Cool Hand Luke, that between the Arts Council and Carolina Arts – we have a failure to communicate. I've tried to encourage the folks at the Arts Council to inform us of the exhibits they present in a timely fashion – meaning by deadline. Even when they did make our deadline, they acted like we were charging them by the word. And, you should know by now we don't charge a cent to include people's press releases about exhibits taking place in the Carolinas.
As usual when making one of these trips I go as just another person going to an art event, sometimes I'll introduce myself to get info from someone, but most times I don't – I want to see things and hear things unfiltered for the press. When we walked into the facility that lack of communication was staring me right in the face. On view was the traveling exhibit of the "South Carolina Watermedia Society's 36th Annual Exhibition". We had no clue this exhibit would be there. All I expected was to see a photo exhibit that took a few months to figure out it would still be up during the Ag + Art Tour.
It didn't take 2 seconds before Linda said, "I know what you're thinking". She knows one of my pet peeves when it comes to exhibits is works of art in group or juried shows that are not identified. None of the works had identification tags. Now, this traveling exhibit is organized by the SC Watermedia Society and administered through the Traveling Exhibits Program at the SC State Museum in Columbia, SC. I was pretty steamed as I started looking at a lot of great works by SC artists, but couldn't tell who made some of the works. By now I can recognize a lot of the Society's member's style to have a pretty good guess as to who they were and where they were from.
Some of that steam was released when I eventually found  a stack of the exhibition catalogues the SC Watermedia Society provided. This was helpful in identifying works, but also led to another problem with the Lancaster County Council of Arts. As I went through the catalogue I noticed three paintings that were supposed to be included in the traveling exhibit that were not on display, and I looked throughout the exhibit area several times trying to find them. When I asked the person on duty that day they first said that those three works had problems with their frames – they said they were "flimsy". I knew that wouldn't be the case unless they were damaged in transit to or from one of the other facilities it was shown in. But I didn't buy that and as I continued to stare back at that person, they eventually said they ran out of room for those three. I'm not sure that was the case either. Most works were on the walls, and a few were on easel stands.
In some ways I was sure they did have a room problem. The photo exhibit I mentioned was in one small room – some were hanging on walls and some on a wire mesh stand, but a good number of works were stacked on one another in a pile. I won't say much about this exhibit other than it reminded me of a little league team where everyone gets a ribbon for participation – literally.
It was time to leave the The Springs House Gallery. After we got home later that evening and I loaded my photos taken that day onto my computer, I realized that I didn't take any photos at that facility. I was not surprized.
Some would say I shouldn't be so hard on small town art facilities, but they are getting state funding and corporate funding to do much better than what I see sometimes and other small towns do excellent work in presenting exhibitions. This is 2014 not 1950. And, sometimes if someone doesn't complain – nothing ever changes or improves.
Now it was time to head to one of the two main reasons we made this trip. I wanted to visit Bob Doster's Backstreet Studio (www.bobdoster.com), the studio/gallery space of who I think is one of the hardest working artists in SC – up there with Susan Lenz, and Jane Allen Nodine. Those three are showing works everywhere across the Carolinas, and in Lancaster, Bob Doster is "the man". You could see his work everywhere we went – from business signs to metal benches on Main Street, to large sculptures in public spaces. Not to mention his works can be found in galleries all over SC. We also wanted to meet with Cherry Doster, his wife who keeps us informed of what is going on in the greater Lancaster area. Some folks in Lancaster are trying to make it a regional hub for arts and culture, and Cherry is part of that group and they have become supporters of Carolina Arts, so anything we can do to help them – we will do it.
So Bob Doster's Backstreet Studio is located on Gay Street, the same street as The Springs House Gallery, but on the East side of Main Street. If you drove by it you might guess it's an arts place by it's funky exterior. The buildings used to be a pool hall, where only the men of Lancaster hung out – well, some men. Once you're inside you might first think it was some kind of bohemian cafe or something with all the tables and chairs inside and all the art along the walls. The table and chairs are used for art classes offered there. There's a kind of backyard open space where part of the building's roof caved in and the Dosters have filled it in with what would remind you of a Japanese Koi pond and garden, but there are plenty of Bob Doster's works scattered around. I bet the place looks great during evening events held there.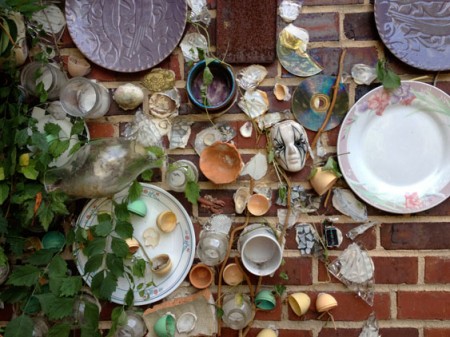 A view of a section of a wall in the outside courtyard.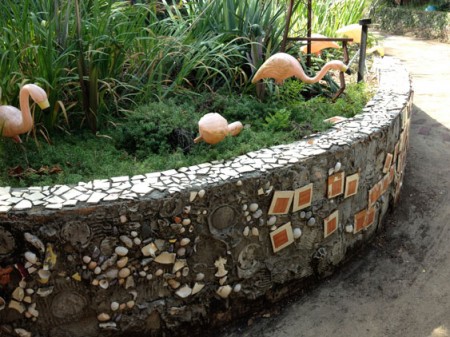 Nothing is left untouched here.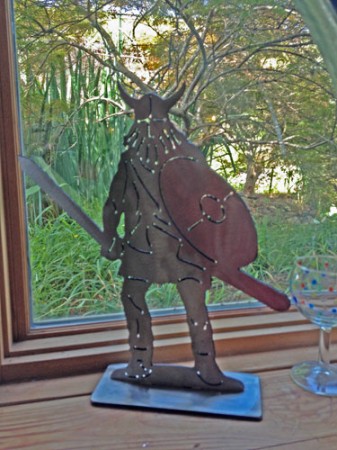 Looks like one of my Facebook profile images.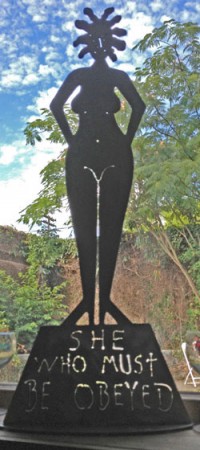 I get this.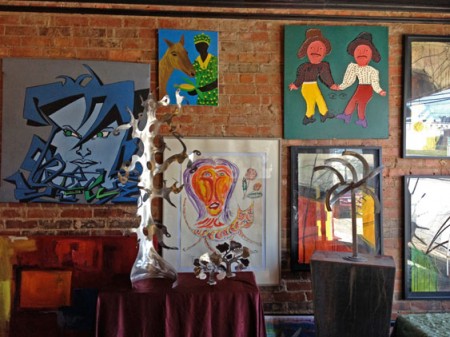 The studio also features works by many other artists.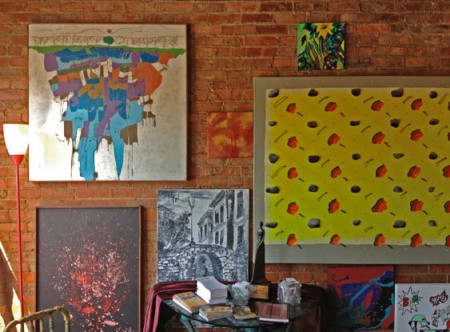 Did you notice that Verner Award – it is well deserved.
Linda and I checked the place out and I took a few photos before we introduced ourselves to Cherry Doster, who we have talked to on the phone and exchanged e-mails with during the last year or two. She then went and got Bob who was trying to work in his studio next door. That's right he was trying to work during an event. And, as it usually goes, Cherry and Linda talked and Bob and I talked. Later in the car, on the drive home, we tried to exchange notes on what was said, but I know that never works well. A month or two later when a certain subject comes up one of us or the other will bring up part of those conversations we had that day. And, one of us will be sure to say, "Well I didn't know that".
Photos I took of some of Doster's small metal sculptures didn't come out to well, due to backlight, a photography term that describes why when you're taking a photo of something inside against a lighter background – in this case a wall of windows. I should have known better, but my photography days were long behind me. Plus I was taking photo with my iPhone – which hasn't replaced real cameras – yet. You can see much better images on his website mentioned above.
Just as we were about to leave to our next stop I mentioned something about seeing a plasma cutter in a photo on Facebook and that led to a tour of Doster's work space. This was the highlight of the tour – at least for me.
If anything I have learned in my 27 years of doing this paper is that if I ever had a notion of trying my own hand at art – I'd be a painter. I love pottery, glass, and metal sculpture, but if you saw the equipment it takes to work in those mediums – you might pick painter too. Doster's studio reminded me of my father and his brothers back in Michigan. They all liked to tinker with big machines that did things with wood and metal. As a kid they were all off limits to me and when I was older, I was a 1,000 miles away in South Carolina. My father and his brothers would have drooled over some of Doster's equipment – especially the plasma cutters, of which one was connected to a computer. My relatives were pretty creative in their shops, but it's impossible to wonder what they could have done with a computer to work out their design ideas.
I did get use of a band saw, which I didn't think my father knew about, but he must have known. That band saw made me the hit of the neighborhood, as I was able to make some great wooden swords and guns with that saw. I was an arms dealer at the age of twelve.
OK, the next spot was number two on my bucket list for the day – the Native American Studies Center (http://usclancaster.sc.edu/nas/index.html) run by the University of South Carolina @ Lancaster. They have the largest collection of Catawba Indian pottery in existence and much more. It was just around the block on Main Street. This facility opened in 2012, and I've been wanting to visit since then, but could never work out the right timing. I've gone up I-77 several times into North Carolina, but on the way back it was always after hours or on a Sunday or holiday.
This is a great facility and learning center. I took a few pictures inside, but I have to admit that as a Mid-West boy who played his fare share of "Cowboys and Indians", I suffered from that old movie saying that if you take a picture of an Indian, you would be stealing his spirit. Also, I wasn't sure if I should call them Indians or Native Americans. Well, I know better, but I picked up a handy little guild while we were there titled, "CultureCard – A Guide to Build Cultural Awareness – American Indian and Alaska Native". This title confused me a little more, but inside it provides a lot of dos and don'ts on how to act – that is if you want to be respectful or as some say politically correct – as if that's a bad thing. I know I'm not always politically correct when it comes to some folks in South Carolina, who don't worry about spending much time on being anything else but.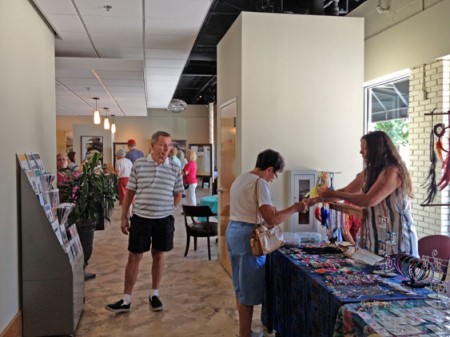 Local Native Americans were on hand to offer their art to visitors.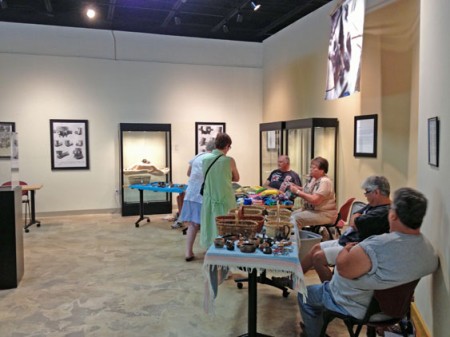 More of the same.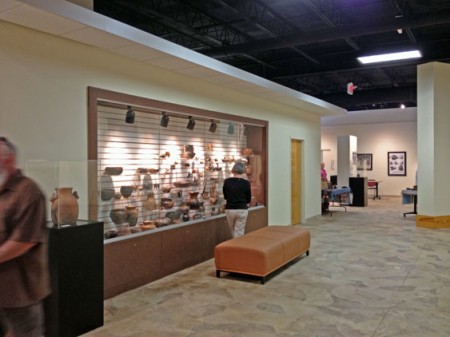 A showcase of just a part of their pottery collection.

"Yei East Female," Sand Painting, by JL Begay, unknown date, Navajo, sand and pigment. A recent addition to the Native American Studies Special Collection, on view in the Duke Energy Gallery.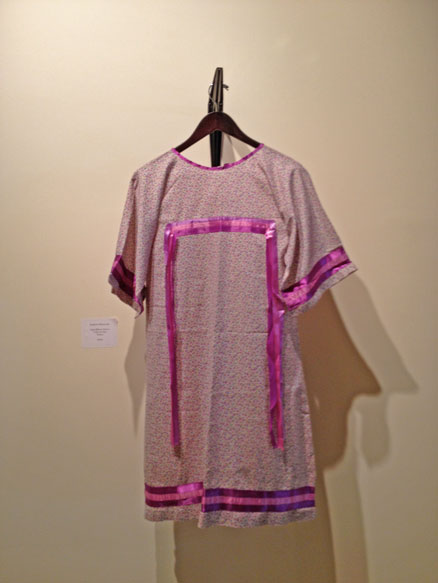 "Adult Ribbon Dress," by Stephanie Betancourt, unknown date, Seneca, fabric. A recent addition to the Native American Studies Special Collection, on view in the Duke Energy Gallery.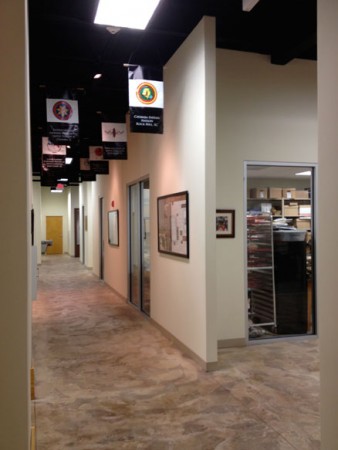 A view of some of the research area.
I also spent some time lobbying about getting more info about the Center, it's pottery collection, public activities, and the exhibits they present with a few staff members. I hope Carolina Arts will be featuring more info and photos about the arts being produced by today's Native Americans living in the Carolinas. I know we will have something in our August 2014 issue as the McKissick Museum at USC in Columbia will be presenting an exhibit about Native American artists of the Southeast.
Next, we had lunch, pumping money into the Lancaster County's economy. After all that's what most of these events are about – building tourism. On our way out as we were paying our bill I flashed the Ag + Art Tour "passport" program and told them that's why we were in Lancaster today. They had never heard of the Tour, which surprised me at first, but thinking about it later – I know folks in Charleston and North Charleston who have never been to any of the area's beaches or have put their toe in the Atlantic Ocean. Some folks never enjoy what their hometown has to offer which is sad, but much of it is due to habit and economic circumstances.
Now as far as the Ag part of this Tour goes, being just one generation removed from dairy farmers in Michigan and spending many Summers on that farm I wasn't as interested in traveling out to those stops on the Tour, but there was one stop I wanted to make given our time frame and that was the Benford Brewery (www.benfordbrewing.com), South Carolina's only agriculturally operated craft beer producer. I'm not sure we would have found the place without the use of the GPS locator on the iPhone. And, when we drove up – there was a sign made by Bob Doster. And, apparently a lot of other folks were interested in visiting the brewery, as there were cars coming and going all while we were there. This was a popular stop as they were giving out 2oz. samples of two of the beers they produce. They were also selling keg pump handles made by none other than Bob Doster.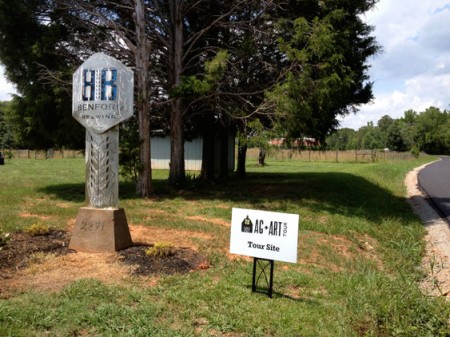 Sign by Bob Doster – surprize!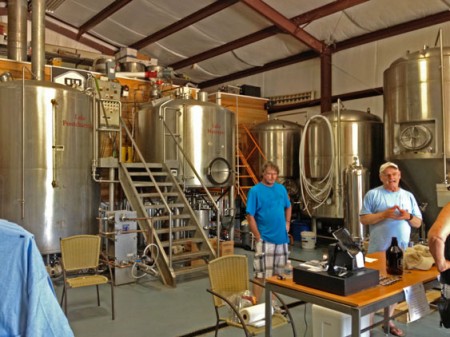 There's lots of beer in those containers.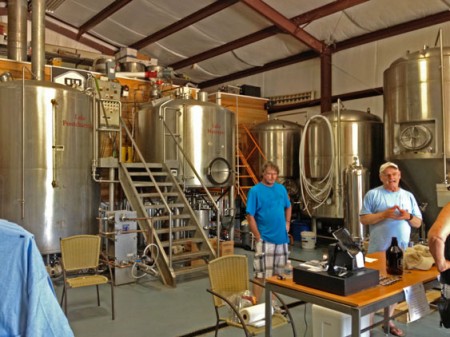 Just another view of the beer.
My first question was, what makes them the only agriculturally operated craft beer producer, and it came down to the fact that they are on a farm and feed the by-product of the process to their cows. At the time it was only one happy cow and it was explained that due to the drought in the West – cows are hard to come by these days. If anybody knows of some cows for sale, get in contact with this brewery.
It was very interesting getting the story of craft brewing, and how it all works, which is a boom business these days all across America.
On the way back to downtown Lancaster I remembered that I had forgotten to check out the new sculptures of Bob Doster's that had been installed recently in the Red Rose Park, which was right across from the Native American Studies Center on Main Street, but we went in the back door when we went there. So we stopped there to check them out and take a few photos. A small Native American garden was there too.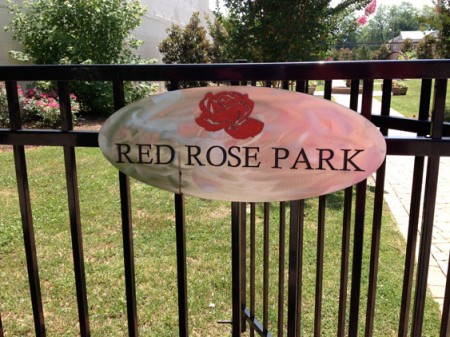 Sign by guess who.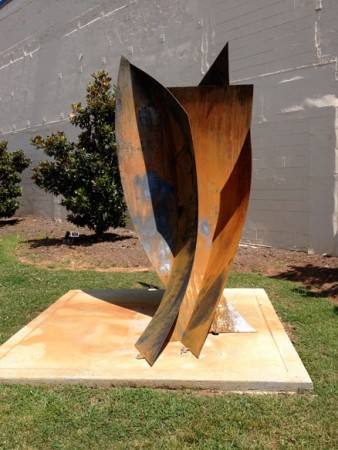 Work by Bob Doster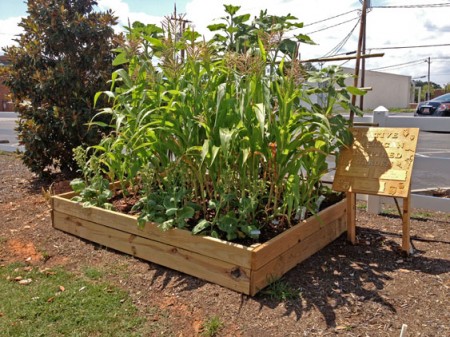 The Native American garden display.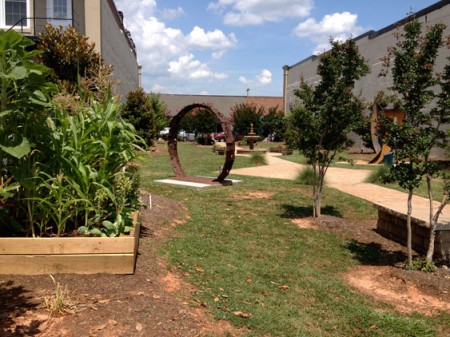 Another view of a work by Bob Doster. The installation was not finished yet, so there were no ID tags yet.
On the way back to the car I noticed another stop on the Tour, Chastain's Studio Lofts (www.chastainsstudiolofts.com), a little further down Main Street. I think I had heard of this place before, probably in a press release about another event in Lancaster, but we had no details about it and so it wasn't listed in our gallery listing in Carolina Arts – so it was off our radar. So we walked over to check it out.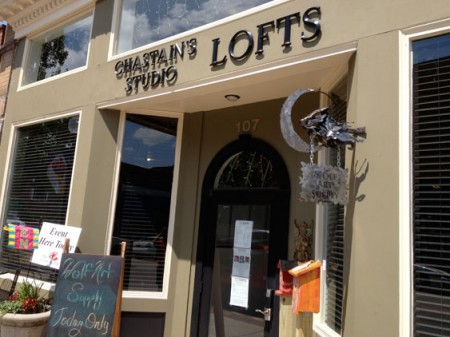 Signs by Bob Doster.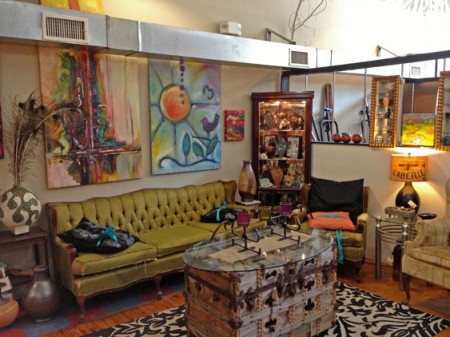 A view of part of the gallery.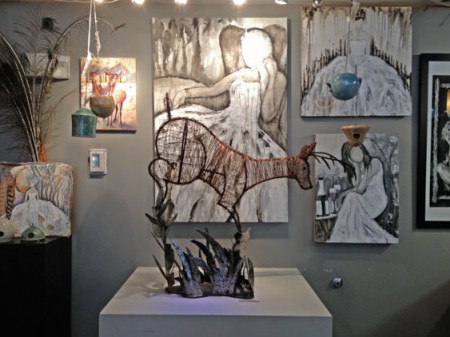 There is quite a variety of works on view.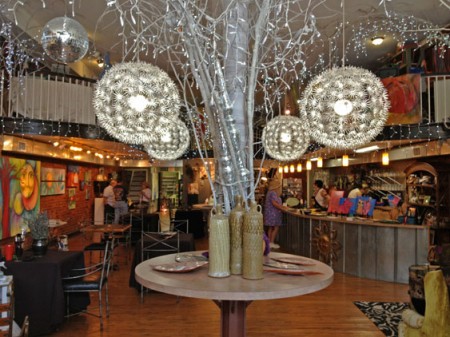 A view as you walk in the space.
The name of this place doesn't do it justice. Upon entering it looked to be a regular gallery space – well it didn't look too much like most gallery spaces, but it looked very interesting. Later I found out they are not open regular gallery hours and perhaps the name is more fitting to their operation – working studios and a place for classes and demonstrations. Maybe once Lancaster moves further down the road in becoming that arts and cultural center of the region it will justify more hours open as a gallery. But I would guess they are open during most of the events Lancaster is producing to bring in tourist and locals of the region. And, by the way, we now have them listed in our gallery listings.
There were two other art venues on the Tour, Gallery 102 and Mahaffee Studios, which we didn't get to visit, but our departure time was up and a nasty looking storm seemed to be heading toward Lancaster from the direction of Charlotte, NC. So we hit the road.
There were actually four counties that participated in the 2014 Ag + Art Tour – Chester, Fairfield, Lancaster, and York, and maybe by next year's Tour there will be more. It's a lot of area to cover so if you do it once and like it, these tours could provide an endless supply of travel opportunities to discover South Carolina's agricultural facilities and arts in some of our rural areas of the state.
For further information about the Ag + Art Tour visit (www.agandarttour.com).