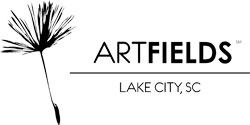 What a difference a year makes. It will be really interesting to see what version this event shows up in next year. The first event was just a big juried art show with a bigger than normal cash prize for four of the 400 + artists who had one piece of their work on display throughout this small downtown area. Last year there were a few stumbles right out of the gate but overall the small town of Lake City, SC, did a great job pulling the event off and the merchants were delighted to see folks from around the region spending money inside their shops.
After last year's event I offered some suggestions which I felt would make this event better. I think organizers listened to some of those suggestions, but others are still out there to be considered. Some took my suggestions for criticism, so I didn't have much, if any, contact with folks who were happy to talk with me before the start of the event in 2013 – what I guess now was just an effort to get lots of publicity and support out of me. Long time followers know that I'm happy to give support, but it won't come with sugar coating and a pledge to always agree with everything. I'm just not made that way.
I'm hopeful for this art competition and exhibition, but I won't call it an epic arts festival until it becomes one. They can advertise the event any way they choose, but my advice is to tone it down a bit and wait to see if they earn such a description. They're doing better than some bigger communities, but time will tell what this event should be called. Only in the world of television is a show a hit before anyone sees the first show or after just one episode.
So What About This Year's Event?
I'll say this again as I did last year, ArtFields missed the opportunity to educate the public and artists about the opportunity this event was offering through social media. I have no idea what effort they had in other states, but what media crossed my radar just never seemed to explain the event or the Lake City community other than to direct folks to check out their website for further info – which wasn't updated very early after the first event. The event suffered from the big lull effect, and a little controversy in the judging process by going silent for much too long after the first event ended. That may be the case again this year, but it's still early to tell. They have to promote this event all year long. There is lots of education to be done about the event and the community.
I hope the organizers have learned something this year about the media. What was big news one year is old news or no news the next year. Next to Florence, SC's newspaper, "Carolina Arts" is presenting more text and photos about this event than anyone else – more than just a few weeks of the year. It may not all be positive and smiley faces, but it's coverage not many other media outlets are giving this event. So my advice to organizers is that they will have to work harder at getting their message in the media or spend more time telling their story through social media. And, I'm not talking about the slick video they made this year after the event which makes ArtFields look more like a community party than an art event. What I saw in that video wouldn't make me travel to check out ArtFields in Lake City, SC, from Miami, FL. People can have a good time anywhere.
First Impressions
My first impression of ArtFields 2014 came from the online gallery of selected artists. And that impression was that the SC Arts Commission had a hand in recruiting artists to enter this event. And then there was the shot heard throughout academia. The fact that last year's top winner was Jim Arendt, an art professor at Coastal Carolina University in Conway, SC, brought entries from art professors throughout the region and especially South Carolina. As I checked out the bios it looked like university and college art professors got the impression that they could win $50,000 just by entering their work. Installation artists had also gotten the message that these folks wanted to be more like ArtPrize in Grand Rapids, MI – which now awards $400,000 in cash.
When I finally stepped into The R.O.B., the large warehouse building turned into an art gallery, my impression was confirmed – this building looked like one of the SC Arts Commission's "Triennial" shows. So, I'm sure they were more involved in this year's event, giving artists their seal of approval to enter and making contacts to artists telling them they should enter this competition. Funny thing though, not too long ago the Arts Commission was sending out the word that they didn't see much value in juried exhibits without themes that only showed one work by artists. What changed their mind? I guess they were trying to warm themselves up to Darla Moore – probably looking for funding for one of their pet projects.
Of course, none of these professors were winners of the awards so I'm not sure they will be back next year, of course they could be back in full force.
Hannah L. Davis, Gallery Director at the Jones-Carter Gallery in Lake City, was the curator of the works presented in The R.O.B., all 102 of them, which was no easy task with all the different kinds of works included there. She did a great job of laying the works out in that space. During the two days that I visited ArtFields I must have toured this facility at least six times. This venue would have been worth seeing if there was nothing else offered at ArtFields. It also showed that the event was headed in the right direction, but… and it's a big but – it all depends on what is entered and how far ArtFields reaches into the visual art communities of the 12 states from which artists can enter this competition.
Another point about The R.O.B. worth mentioning is that last year I said they needed to get rest rooms in that building. I may have overlooked it last year, but this year they had the fanciest outdoor rest rooms I've ever used. They were air-conditioned, had running water, flowers (although probably plastic ones) and artwork on the walls. And, no lines on the days I was there.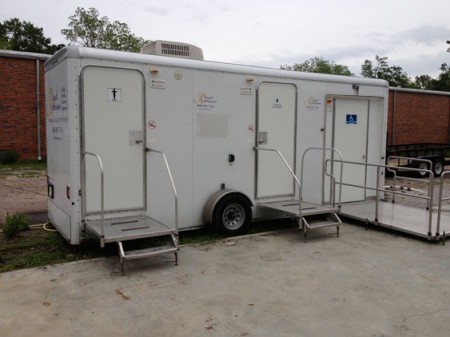 This year I got the opportunity to see more of the works being presented in the shops throughout Lake City. Some were no bigger than my bedroom. I think I saw about 90% of all works displayed in my two visits. I might have seen more except for a few basic problems – I had a May issue of "Carolina Arts" to finish, I like to talk with people in the visual art community and I ran into a lot of folks at ArtFields, even on a Monday and Thursday, and I don't like trying to see works of art over people trying to eat their food in restaurants. Stepping into hair salons which emitted a certain smell didn't bother me one bit, this paper got it's beginnings in a broom closet inside a Charleston, SC, hair salon, but bothering people during their lunch or dinner is not something I like doing. I think it bothered a lot of other people and artists too, so I would recommend ArtFields rethinking that one.
I think most of the merchants did a great job of accommodating the artworks they selected to be in their shops and many were ready to act as tour guides. A few gave up more space than I might have as a business person and a few placed works in places too hard to get a good look at – most notably some were too high up the walls to even read the ID cards. I heard this complaint from a few artists as well, who say they won't be returning next year. They may not enter the competition, but they have no way of knowing if they could even make the cut next year, so that complaint could be moot.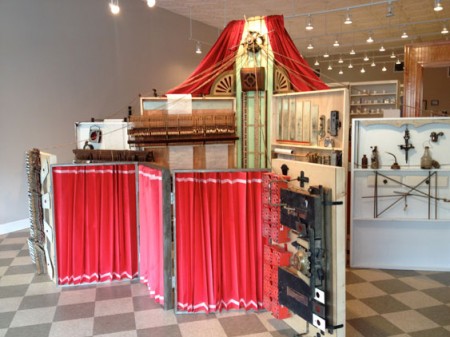 This work by Hirona Matsuda took up a lot of space at M & D Drug Company
Only a third of the folks who entered last year entered again this year, and ArtFields got about the same amount of entries (780), but I don't think they can maintain that kind of turn over every year.
I know the idea behind ArtFields is to get people to come to Lake City and spend money, and to attract people to open new businesses there, but the organizers should never lose sight of the fact that it is a fine art event and they shouldn't compromise the art in any situation over sales. An artist's lounge with free snacks and drinks are not all it takes to keep artists happy. Believe me it takes much, much more. So keep that in mind.
I know this, I stepped into a lot of stores I wouldn't even consider going into, even in downtown Charleston, to see what they had on display. So the overall concept works, but there has to be a happy medium between art and commerce.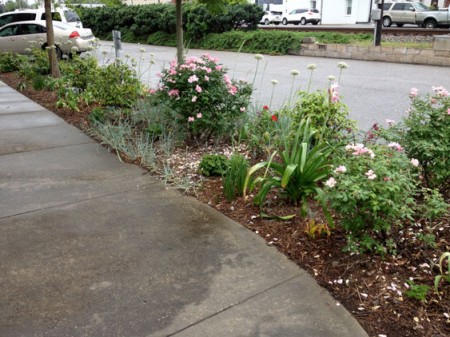 Lake City also looked a lot more green and flowery. So ArtFields has helped spruce up a town that probably looked pretty brown a few years ago. Of course I wouldn't know as I had no reason to check it out before 2013, and I have driven through Lake City on Hwy 52 many a time headed to Florence, SC, and back again. I'm actually looking forward to staying there overnight sometime in the future. A new 57 room hotel will be open on Main Street before ArtFields 2015 opens.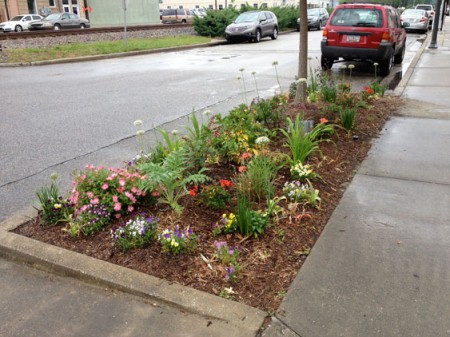 I had a great time riding the tour bus around Lake City and talking with the driver getting his impressions about this year compared to last year – sometimes riding when it was just me and the driver. Remember, I was there on a Monday and Thursday. Like they say – if you want to know what's going on talk to a taxi driver, or in this case a bus driver. He was a great ambassador for Lake City. Shop owners, waitresses, and local reporters also gave me a better view of what was going on in many cases – much better than ArtFields' staff members did. ArtFields runs a tight lipped ship in Lake City.
At some point while viewing art in the new shops on Main Street in Lake City I came up with what could be a subtitle to whatever I titled this blog. "Men of the Carolinas – Keep Your Women Away From Lake City, SC," if you don't, it's going to cost you. Then I thought that would be a pretty chauvinistic thing to say, but it's more a reflection of how this town has turned into a shopping haven – for mostly women and children. I just hope people come to Lake City throughout the rest of the year or some of these places might be closed by next year – unless their rent is being subsidized.
ArtFields hasn't released any numbers yet on how many people they thought attended, how many registered to vote, how many people voted, and the number I've been waiting to hear since last year – how many votes the top winners received. So, I can't say much about that. On a Monday and Thursday I couldn't gage whether there were more people there than last year, but I did have several, of what I call Spoleto moments.
Sometimes in Charleston, SC, when the Spoleto Festival USA and the City's Piccolo Spoleto Festival are going on it would take me 15 to 20 minutes to cross a street – the traffic was that bad. A few times on Main Street in Lake City, it took a good time to cross the street. Once I thought it would take forever, but a bus had to stop at the railroad tracks that cut Main Street in half, and it was just enough to cause a break in the traffic so I could cross. And that was on a Thursday.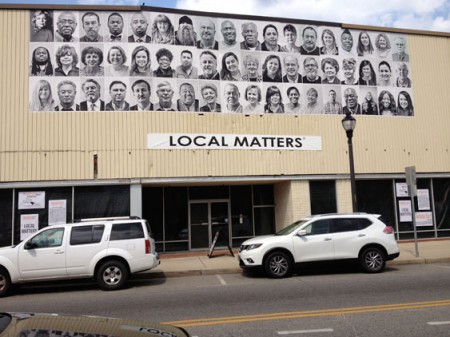 This image was part of The Inside Out Project – Local Matters, showing the faces of the people who are making this all happen in Lake City
Some Bullet Points
I received a number of calls and e-mails asking me how a  number of boxes making sounds was a visual artwork? This was referring to the top prize, "Sun Boxes Mach II," by Craig Colorusso of Rogers, AR. This was one of my favorite pieces and I voted for it. I explained that as this competition goes on they will see even more borderline works that won't look like a sculpture or painting in this competition and it won't be long before an artist enters a performance piece where they stand somewhere and create their one work of art during the event where they are the artwork or something like that.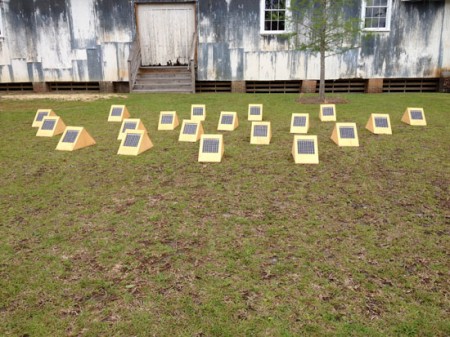 "Sun Boxes Mach II," by Craig Colorusso of Rogers, AR, not very visual
I also got asked how the jurors could select John Eric Riis' work "Neoclassic Male and Female Tapestry" a diptych (meaning a two part work) and only buy have of it – the female part as the "second" juried "bonus" prize. I couldn't answer that, but I think the fact that the work was priced at $50,000 and the award was for just $25,000 might tell you something about that.
In the case of Robert Snead, the artist who listed himself as from Charleston, SC, but now lives in New Orleans, LA, his work, "Family Dollar General Tree," was listed as Not For Sale. I'm sure he didn't turn his nose up to the "other" $25,000 Juror's Choice award offered him. Or did he? Is listing a work NFS, ever really not for sale? Snead is from Charleston, but he doesn't live their now, but I figure he did that to bank on attracting the local vote – for the People's Choice award.
Which brings us to a trend which took place at ArtFields 2014, and that is "inflation". A lot of artists heard that Darla Moore does some shopping during ArtFields, so many showed up with prices on works they only dream about at night. For a few, the big prices were their normal market price, but for many, they priced themselves out of making a sale or being selected (if that was a factor). What happens when a work is priced at $100,000 and the jurors want to make it the $50,000 prize? What does that say if the artist says I'll take it and runs to the bank? What if the jurors pass it by and say too bad we can't pick that one?
Let's get real artists, ArtFields in not only an exhibition and a competition, but it is a sales opportunity. Darla Moore didn't get rich overpaying for goods and services. Plus the odds are 22,000 to 1. There is only one Darla Moore and many more possible art buyers coming to see this exhibit. I didn't know this and it wasn't publicly promoted anywhere last year but apparently a lot of art was sold during the first ArtFields – something that should be promoted to the artists and the general public. I was told this year's sales were down – I wonder why? While viewing this exhibit many others viewing the exhibit made funny remarks about the prices on the works. I hope artists get more realistic next year when it comes to pricing their works – for their own good.
The life-changing award of $50,000 is a lot for a top prize of a regular juried show. But for the type of artists ArtFields is hoping to attract to this event, it's not that much money, especially when you have to give up your work if it is selected for one of the top awards. And, except for a few, it's not going to be life-changing. If some of the artists had sold their works at the price they were asking – winning the top prize would have been a letdown. All works sold or that have a pending sale have to wait to see what the jurors pick first and it might not be too long before an artist turns down the top award to make a better sale.
Like I said last year – when dealing with artists you'll find they are more complicated than the rest of us. They see things differently and it's a good thing they do – most of the time.
Some artists told me they will keep trying to get into ArtFields – more for the exposure than the chance to win a top award. Some think the work they produce will never be selected by the jurors and they might be right, but they still want to be part of this event as they think one day it will be a major accomplishment to just get into the competition. There are other things to be gained by entering and getting it this exhibition. Our June 2014 issue of "Carolina Arts" will feature a work on the cover from ArtFields 2014. No big deal, but it's something.
This year, there were 278 South Carolina artists accepted into ArtFields (64 from the Charleston area and 50 from the Columbia area) – 522 from SC sent in entries – that's a 53% success ratio. Those numbers need to slow down in order for ArtFields to attract visitors from other states. I'm not saying the jurors have to limit how many works can be in the show from certain areas – the event needs to encourage more "excellent" works from the other 11 states. Eventually, down the road a ways, I think you could see that number shrink down to 50 – 100 from SC. And you'll perhaps see 30 – 50 artists from each eligible state. That's once the word gets out about the opportunities being offered artists by ArtFields. I was surprised how few were coming from North Carolina.
I heard that some locals were critical about the fact that only a few Lake City artists got in the event. I was surprised that a few I saw made the cut at all, and very soon the event might see fewer from the Pee Dee area of SC make the cut. Not that there isn't talent in the Pee Dee, it's just that the competition might get that rough. But, again it all depends on how well the event attracts top artists from other states. Maybe in the future there will be a side competition just open to local and regional artists – bigger than the Greater Lake City Artist Guild show presented at the ArtFields Gallery on Main Street. Remember the goal is to get outsiders – people who live far away from Lake City – to come to Lake City.
The new handout explaining ArtFields was an improvement, as was the 64 page competition catalog you only received once you registered to vote. That was a good idea, but I'm not sure it will help get people to register to vote and then actually vote. The numbers on that haven't been released yet. The Artist's Gallery on the ArtFields' website is the most informative resource, offering larger images of artworks and artist's bios.
A lot of education and promotion that ArtFields is a competition determined – mostly – by the public voting on their favorite works has to be done. I kept hearing the mantra from staff members that people keep telling them – they just want to look at the art – not vote on it. It's tough turning some bystanders into participants.
The worst thing I heard at ArtFields was that folks from Hilton Head Island, SC, came this year to Lake City talking about the fact that they were thinking of launching their own Art??? – something. This would be a shame and dilute both events. This is what happened with the Art Walk craze – everyone has one now and nothing is special about them anymore.
What's going to bring folks to Lake City in between ArtFields each year? Well, the Jones-Carter Gallery will help with that, offering excellent exhibits, and if someone could do a better job of publicity on what the ArtFields Gallery is offering – that would help too (and Saturday hours). A new commercial art learning center/gallery opened on Main Street six months ago, named Olio Studio – this will also help, but they're going to need something more. Maybe an upscale concert series or music festival would help keep a spotlight on Lake City – bringing in upscale cultural visitors. But they're going to need something to build tourism traffic in Lake City all year long.
Finally, I think ArtFields should consider pulling the event back into April and stay away from the month of May – too many other visual art events are taking place during the first part of May. I think it cost them in attendance and media coverage. I'd head more for the middle of April.
OK – that's enough from me until the numbers come in, which I hope doesn't take too long.
I posted a number of images of art on display at ArtFields on Facebook at Tom Starland.
If you want to learn more about ArtFields – as an artist or as a possible visitor – visit (www.artfieldssc.org) of keep up with "Carolina Arts" at (www.carolinaarts.com).