Even with the best of intentions on my part, once again many of the Piccolo Spoleto Festival visual art offerings have slipped away before I could get by to see them. Even some of the exhibits I did get to see are over before I could post a blog about them. I have always said that the Spoleto and Piccolo Festivals were not designed to fit my schedule. I have to have my June issue turned into the printer before the festivals even start and then once they have started I'm delivering papers and then preparing for the July issue. It's just not a good time for me to get out and see all that is being offered. This blog helps some, but not enough. But, I did get to see some and a few will still be on display for some time to come.
This year I did not get to visit the Piccolo Spoleto Outdoor Art Exhibit 2009but once and that was not a long visit at that. I got reports about what was going on from various sources, but that's not the same as being there and getting a first hand impression from artists and visitors. Sixteen days sounds like a lot of time, but it's not. I have always said that this show is the marathon of all visual art events and that the artists who go through it in South Carolina's "what next?" weather challenges are the toughest folks around. Not to mention putting up with the viewing public's repetitive questions. It can also be a roller-coaster ride of emotions – watching your neighboring artist make sales while you don't; making sales while others don't and not being able to feel good about it or at least brag about it; wondering what else you could have done with these 16 days; and promising yourself this is the last year you'll do this. But, in the end it all turns out all right and most return – year after year. And, they end up meeting some wonderful new customers and a lot of old customers who are now friends – that return year after year.
If you want a little taste of what it's like being one of the 100 + artists down in Marion Square Park in Charleston, SC, during this exhibition visit Amelia "Mimi" Whaley's blog. You can review her 16-day journal of being there.
While delivering the June issue I did get by to see the exhibit, From Quilts in the Attic to Quilts on the Wall: Exploring Textile Art by African Americans, on view at 10 Storehouse Row at The Navy Yard at Noisette (on the former Charleston Naval Base) in North Charleston, SC. This exhibit ended on June 7, 2009, like many of the Piccolo Spoleto exhibits. This exhibit was also part of North Charleston Arts Festival which took place early in May. The artists in this exhibit explore and depict their African heritage through quilting – some traditional, some non-traditional. Here's a few images of some of the quilts.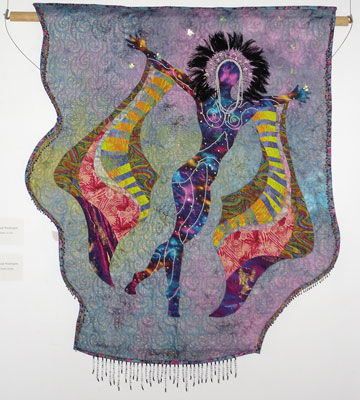 Sophia Rising by Torreah Washington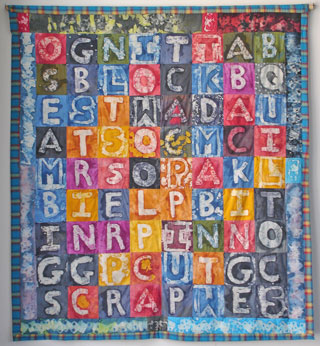 Sacred Letters by Dorothy Montgomery
Here's a little commentary for the folks developing The Navy Yard at Noisette. If they don't do something about the main roads there – people will never come there and I'm going to stop coming and tell people not to go there. Paving over those roads is long overdue.
I also got to see the exhibit, BREAKING OUT, a Piccolo Spoleto art exhibition for adults with intellectual disabilities, sponsored by the Hulsey Law Group and presented at Charleston City Hall at 80 Broad Street in downtown Charleston. At the four corners of the law to be exact. This show also ended June 7, 2009.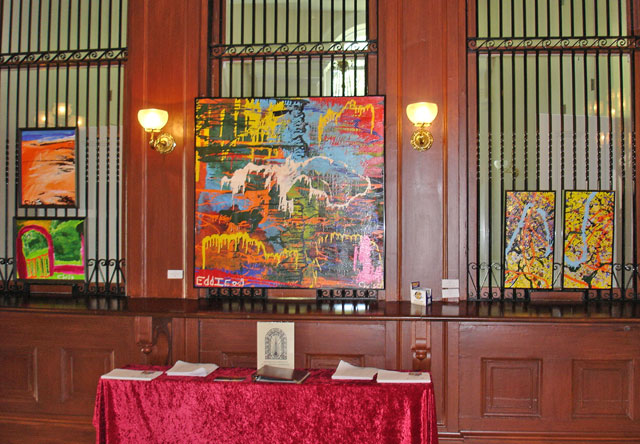 The exhibit was coordinated by: Special Olympics of South Carolina, City of Charleston Office of Cultural Affairs, VSA Arts of South Carolina and SC Arts Commission. It provided an opportunity for artists with intellectual disabilities to speak using the vocabulary of art. The artists communicate through their paintings and pottery and in so doing break down the walls raised by their disabilities. But the location of this exhibit wasn't going to break down the walls of competition for viewing exhibits during these busy Festivals. The lobby at City Hall is not made for exhibitions and people don't expect to find exhibits there and other than the Spoleto Festival's opening ceremony – nothing else happens in that part of the city – as far as Festival events go. This show could have been placed at the Charleston Visitor Center.
Without knowing the particulars of this exhibition most viewers might not know these people were not your average artist guild novice, folk artists or visionary artists, but considering their disabilities, the works can take on an exceptional quality.
Although there were people (I don't want to use the word artist) here from Beaufort, SC, and Spartanburg, SC, it would be nice if this was an exhibit which was the result of a statewide competition among adults creating works with intellectual disabilities. That would add an extra level of accomplishment for the participants.
Some might ask why is this work being presented at these major art festivals? Well, creating something is a powerful action. The arts are used by many, other than artists, for expression, therapy (physical and mental), and for relaxation. Why shouldn't that side of the arts be seen at an arts festival?
It also should be noted that beyond the exhibit's main sponsor many contributions were made by some of Charleston's commercial art businesses and commercial art galleries. These people contribute to a lot of non-profit efforts, but when it comes time to think about who should receive public funding or public help in tough times, these same folks are left out of the picture. It's not all about making money for these folks – it's about being part of the greater art community and community in general. It's time they should get some credit for that.
And, Mayor Joseph Riley (Charleston's Mayor), you better do something about your streets too. Stop saying it's the SC Highway Department's duty to keep your city's streets decent.
Well, although I couldn't draw any visitors to these exhibits, by reviewing them before they were over, beyond our pre-coverage of these events in Carolina Arts and on our website Carolina Arts Online, we have given them a little recognition and life in cyber space. That's the best we could do this year.