I was glancing through my copy of The Post and Courier newspaper this morning and when I got to the business section there was this short item which got me thinking of my good friend Pati, who I recently visited in Interlochen, Michigan, She and her husband Jim operate a maple syrup farm – Trees of Gold – Pure Maple Syrup (http://www.treesofgold.com/).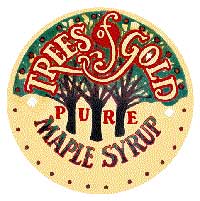 Here's what was in the paper:
Vt: New Log Cabin Syrup Not Real Deal
MONTPELIER, VT – A new Log Cabin syrup looks like the real thing that's made in Vermont, right down to its packaging in a plastic jug with an "all natural" label.
But Vermont officials say Log Cabin All Natural Syrup contains unnatural ingredients plus a mere 4 percent maple. They want the Food and Drug Administration to investigate whether Log Cabin Syrup, a division of Pinnacle Foods, is violating FDA labeling laws.
Pinnacle Foods spokeswoman Michelle Weese said the company thinks the new syrup complies with all FDA regulations. The FDA says it doesn't have a definition for "natural." – wire reports
Well, doesn't that give you faith in the FDA.
From my recent, although limited, understanding of the "process" of making maple syrup – maple syrup, or what we know to be maple syrup which comes out of a plastic or glass container isn't a "natural" thing – it's a processed result of a natural substance tapped from maple trees. That sap has to be processed into maple syrup.
But I guess the point the folks in Vermont are concerned with is the label on a bottle of a substance saying its "all natural syrup". Pinnacle Foods didn't include the word "maple" in its new brand name. That's clever.
I'm just saying – you can also get some pretty close to natural maple syrup in Michigan, and it taste real good. You folks in Vermont – you might want to send the folks at the FDA a dictionary.
What next?