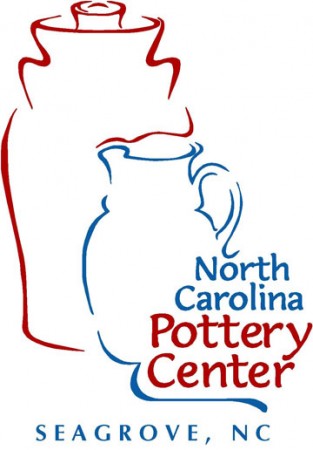 If you're a regular follower of Carolina Arts, you know we love the NC Pottery Center in Seagrove, NC. It's a fantastic facility, a real asset to NC's cultural community, and we wish we had something like it in South Carolina, but we don't.
But…the big problem is that under this economy and with a push form the right to reduce government spending in exchange for tax breaks – funding for the arts is hard to come by, but the Pottery Center and its supporters don't mind earning it the old fashion way – with hard work and creative thinking. They could just say – please give us some money, but where's the fun in that? So they keep coming up with ideas like the Potter's Palette, where they got potters to paint on canvas and auctioned them off as a unique art treasure and this new idea – Fill Your Plate. But you can read all about that in their press release about this fundraiser.
Give them your support – they deserve it.
Here's the PR:
North Carolina Pottery Center in Seagrove, NC, Presents 13th Annual Auction, "Going, Going, Gone to Pots"
The North Carolina Pottery Center in Seagrove, NC, has worked some extraordinary culinary magic for their upcoming auction. This year there will be an unprecedented, star-studded, pre-auction supper, called, "Fill Your Plate," with food prepared by several of the Triangle's best chefs, and served on plates made by North Carolina potters.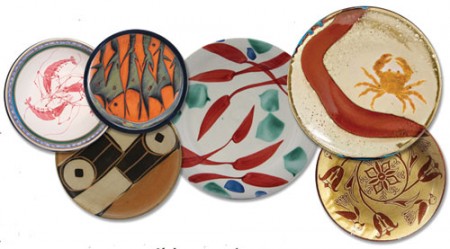 The chefs include Ashley Christensen of Beasley's Chicken + Honey, Chuck's, and Poole's Diner in Raleigh, NC; Andrea Reusing of Lantern in Chapel Hill, NC; Amy Tornquist, of Watts Grocery in Durham, NC; Aaron Vandermark of Panciuto in Hillsborough, NC; and Brendan Cox of the recently opened Oakleaf in Pittsboro, NC. Never before has such a caste been assembled, these chefs are truly amazing, several have won or been nominated for the prestigious James Beard Awards, and with such gastronomic wizards on board, it's bound to be a bountiful banquet!
This will be the Pottery Center's 13th Annual Auction, "Going, Going, Gone to Pots," and it will be held on Thursday, Aug. 23, 2012, at Leland Little Auction & Estate Sales in Hillsborough, NC.
Before supper, each participant in "Fill Your Plate" will select a handmade plate which they can take home with them after supper. The pleasure of combining fine pottery and fine dining is something potters have known for a very long time, North Carolina's ceramic history is filled with pickling jars, buttermilk pitchers, casserole dishes, pie dishes, and this event will remind patrons of the special relationship between food, pots, and potters. It's going to be a memorable meal. Supper starts at 6pm.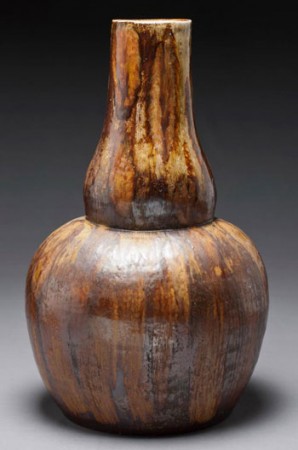 Work by Hitomi Shibata in the auction
But the evening's fun only begins with the feasting. There will be a silent auction featuring pots generously donated by over 70 of NC's finest potters, as well as many enticing non-pottery items, like wonderful holiday stays at the beach, or in the mountains.
After supper the live auction will take place starting at 7:30pm, highlighting several very special pots, antique and new, made by the best-known potters of NC, and also some unique pottery "Experiences," like making pots for an afternoon with Ben Owen, decorating plates with Alex Matisse, and helping Daniel Johnston and Mark Hewitt fire and unload their kilns. You'll also be able to bid on having lunch and a private museum tour with Larry Wheeler, Director of the North Carolina Museum of Art, and a two-hour privately conducted golf-cart tour of the NC Zoo!

Work by Ken Sedberry in the auction
The North Carolina Pottery Center promotes awareness of North Carolina's world-class pottery heritage through exhibitions, education, outreach, and visitor service. Located in Seagrove, just south of Asheboro, NC, it's a great tourist destination, and serves as the perfect start to a visit of area potteries.
All in all, this year's auction sounds unforgettable, so be sure to attend, and pass the word along to your friends. The cost of "Fill Your Plate" will be $75 per person, for which you'll get the mouthwatering meal and a plate to take home, which is quite a bargain! Alternatively, if you'd like to attend only the auction, admission is $10.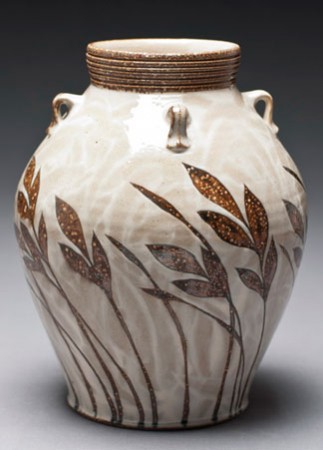 Work by Kyle Carpenter in the auction
The NC Pottery Center wishes to thank its sponsors for this event: First Bank, Leland Little Auction and Estate Sales, Shelton Vineyards, Katie B. Morris, Progress Energy, Carolina Arts, Gardner Heating and Air, Kimberly Woodard, Community One, Hans Klaussner Foundation and The Courier Tribune.
Auction items will be online for viewing and phone bidding will be available, see details at (www.ncpotterycenter.org), (www.llauctions.com), and (www.auctionzip.com).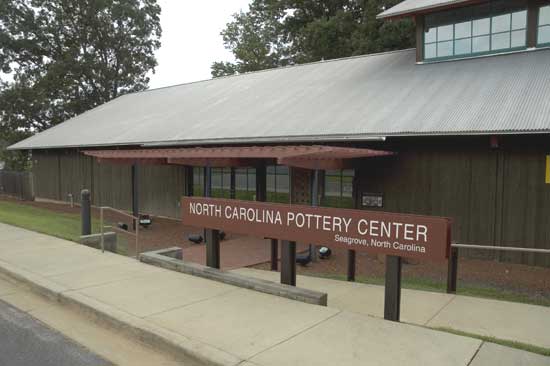 The NC Pottery Center is now selling raffle tickets, at $10 each or 3 for $25. Choose which raffle package you are interested in of purchase tickets for both. You do not have to be present to win – drawing will take place Aug. 23, 2012. Tickets are available by phone at 336/873-8430, at the NC Pottery Center or at Westmoore Pottery in Seagrove, NC.
One item is a Pierced Plate, with a retail value of $600. The plate is red earthenware with a yellow slip background. The plate was made and decorated by Mary Farrell of Westmoore Pottery. Another item is a vase, with a retail value of $550. The vase was wood fired, salt glaze with slip trailing and ash glaze, made by Alex Matisse. The third item is an Umstead Gift Certificate, with a $320 value, for an overnight stay in a premier king room with breakfast for two in Herons Restaurant.
You can see the raffle items at this link (http://www.ncpotterycenter.org/2012-auction.html).
Please contact NCPC directly for Tickets and Reservations by calling 336/873-8430. More information about the Auction and Supper is posted on NCPC's website at (www.ncpotterycenter.org).