Last Tuesday, I was engaged in my now "If it's Tuesday" I'll be at a protest rally with fellow members of Indivisible Charleston at one of two offices for SC Congressional representatives, Senators Lindsey Graham and Tim Scott, as well as Representative Mark Sanford. What am I protesting? Well generally the fact that we have the most unqualified person in the history of the United States as President and that a day doesn't go by when he does something damaging to the American citizens, our world image and the environment – as if the actions of Congress are not damaging enough. And if you feel like politics has nothing to do with the visual arts in the Carolinas – you're naive. What's happening in Washington, DC, has everything to do with the arts and artists – including health care for artists, public funding for artists and art institutions, whether anyone but the rich will have money to buy art, and on and on. Artists are not exempt from what effects the rest of Americans.
So after the rally in Mt. Pleasant at Sen. Graham's and Rep. Sanford's office I planned on stopping by the Historic Reynolds Avenue Fire Station, located at 2006 Reynolds Avenue, in North Charleston, SC, on my way home. Local sculptor and painter Fletcher Williams III is presenting "City Block", a series of new work inspired by the North Charleston cityscape, on view through June 3, 2017. With the use of reclaimed wood, automotive paints, and various building materials, Williams has created three-dimensional works that symbolize the deconstruction and transformation of local neighborhoods. The exhibit is part of the visual arts offerings of the 2017 North Charleston Arts Fest (May 3 – 7, 2017) organized and presented by the City of North Charleston Cultural Arts Department. Hours at this exhibit space are, Tue., Thur., Fri., & Sat., 11am-4pm and Wed., 11am-7pm.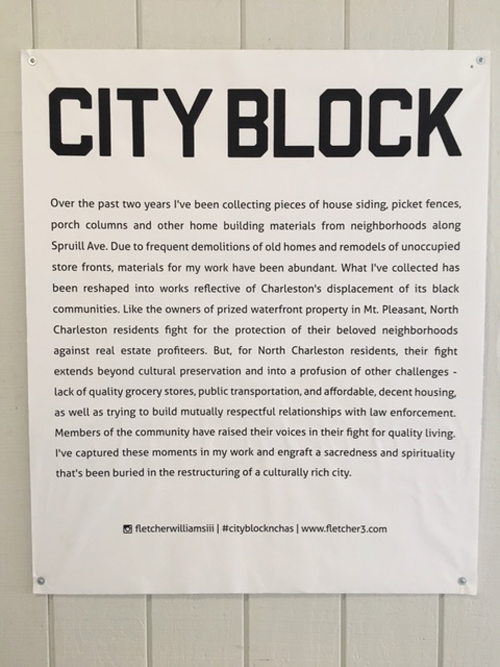 Fletcher Williams III exhibit statement
Fletcher Williams III (b. 1987) was born in North Charleston, SC. He attended Charleston County School of the Arts for much of his secondary education. Upon graduation in 2005, he enrolled in two local colleges, Trident Technical College and College of Charleston, where he focused on drawing, painting, and graphic design. He later transferred to The Cooper Union: For the Advancement in Science in Art (NYC) where he received his BFA in 2010. Since then his work has been shown in notable institutions such as MoCada Museum (2016), McKissick Museum (2015), Mann-Simon Center (2016), San Diego Museum of Contemporary Art (2015). In 2015, Williams was named an Art Matters Grantee and an Alternate Roots Visual Arts Scholar.
Now I know when most people in the greater Charleston area hear the words "Reynolds Avenue" they envision in the words of President Trump – an area worst than a battleground in Afghanistan. But it's not! Reynolds Avenue was once one of the major gateways on to the old Charleston Naval Yard. Thousands of workers from all points in the Charleston area used to work at the Naval Yard. There are still businesses open there and I felt no concern in parking my car and visiting this exhibit. The fire station has a lot of free parking at the rear of the building. Hours the facility is open are all during daylight hours – not 2am. So don't let your unfounded fears keep you away from seeing this exhibit. Go with a group if that makes you feel better.
I've been admiring Williams' works from afar up until this day. He has had shows in downtown Charleston, but it's harder for me to get to Charleston these days than Mt. Pleasant and North Charleston. I've seen a lot of his work on Facebook. And from what I was seeing, Williams was a rare item in Charleston's visual art community – he wasn't making art that was oriented towards Charleston's tourist market. The only connection there might me to tourism is his incorporation of the "Palmetto Rose" in his artwork. A "Palmetto Rose" is a rose made from a fron (long leaf) from the official SC State tree, the Palmetto tree, which Black youth sell to tourists throughout downtown Charleston.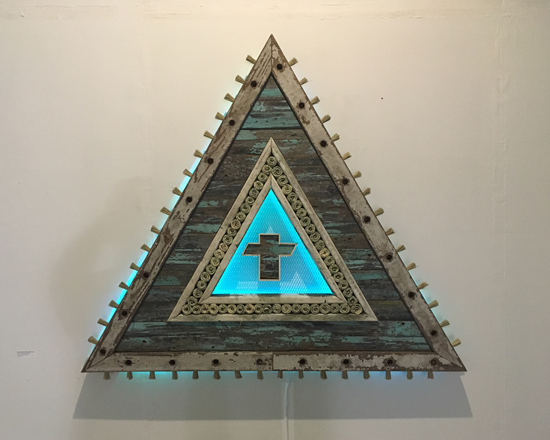 "Bless Those Sittin' High and Ridin' Clean" by Fletcher Williams III, wood, automotive paint, metal flake, steel lath, 72 x 36 x 13 inch
One work in this show has the "Palmetto Rose" incorporated in it – making a link from his previous works to this exhibit, but most of the works in "City Block" which are constructed from reclaimed wood, automotive paints, and various building materials show three trends – the use of the cross, the use of colored light, and wood assembled in different directions.
One thing that seems to be true in all of Williams' works is that he is a gifted carpenter. His use of reclaimed wood is very creative. Not to mention keeping these materials out of landfills or being burned adding more carbon to our air. See, everything is political.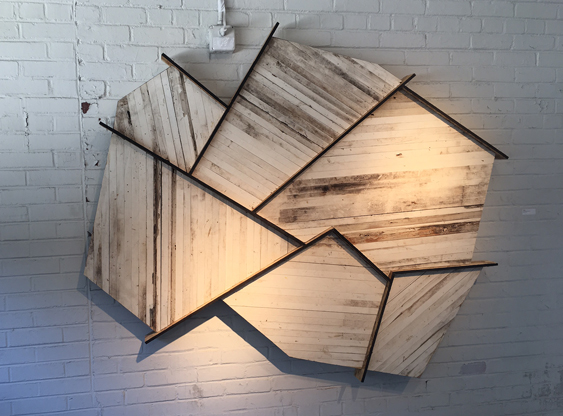 "Stacked" by Fletcher Williams III, discarded wood, plywood, 70 x 64 x 4 inches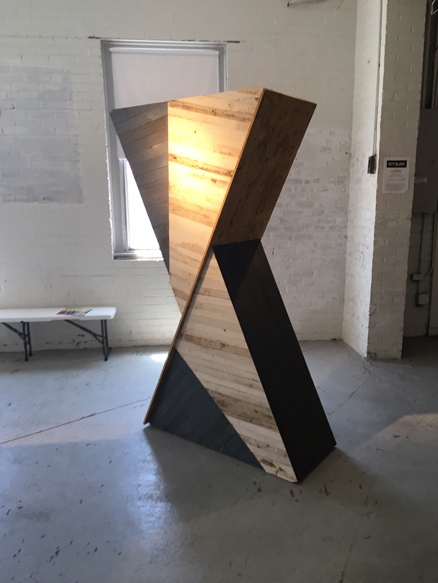 "Brace" by Fletcher Williams III, discarded wood, plywood, shingle, 77 x 52 x 21 inches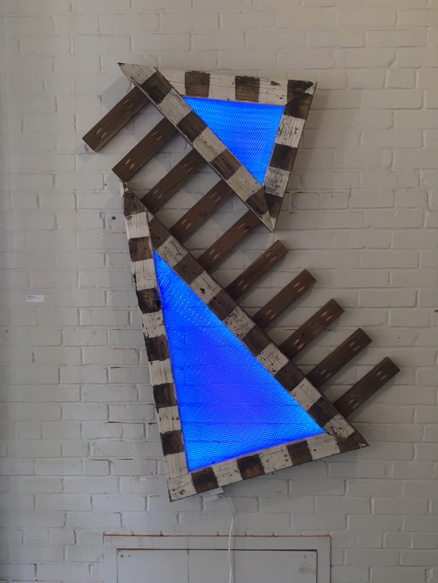 "Surveillance Station" by Fletcher Williams III, discarded wood, steel lath, LED, 63 x 48 x 4 inches
There are just thirteen works in this exhibit and I only want to show a few to give you a taste of what you'll see, as I want you to go see this exhibit. Williams deserves the attention and support of the art community and those interested in art. Don't let a trip to North Charleston get in the way of that.
To let you know how important Williams' works are and will be in the future, there was one work that had a red dot on it, meaning it had sold. I asked him if an individual had purchased it or if the City of North Charleston had purchased it to add to their art collection. He told me an artist and his wife had purchased it – named Juan Logan. It seemed Williams was not totally informed about this artist.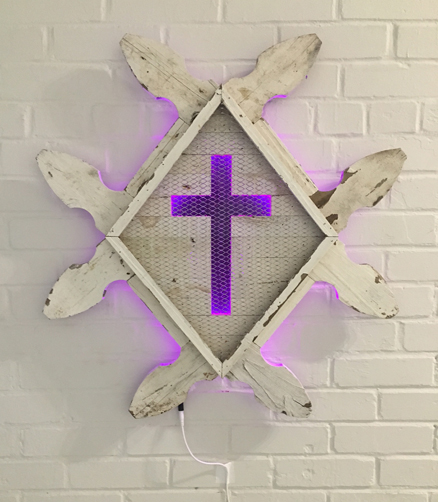 "Fresh Linen and Royalty" by Fletcher Williams III, discarded wood, automotive paint, metal flake, steel lath, LED, 30 x 30 x 4 inches – SOLD
I grabbed this from Logan's website (www.juanlogan.com): Born in Nashville, TN, Juan Logan now lives and works in Belmont, NC. Logan's artworks address subjects relevant to the American experience. At once abstract and representational, his paintings, drawings, sculptures, installations, and videos address the interconnections of race, place, and power. They make visible how hierarchical relations and social stereotypes shape individuals, institutions, and the material and mental landscapes of contemporary life. Logan has shown extensively nationally and internationally, has had numerous solo exhibitions, and executed many private and public commissions. He is married to curator Jonell Logan. Logan's works can be found in private, corporate, and public collections, including the Whitney Museum of American Art, the Philadelphia Museum of Art, the Gibbes Museum of Art, the Baltimore Museum of Art, the Memphis Brooks Museum, the Zimmerli Museum of Art, and the Boulder Museum of Contemporary Art. Most recently, his piece "Some Clouds are Darker" became part of the Smithsonian's National Museum of African American History and Culture.
Now I don't want to make this all about Juan Logan, but when an artist of his reputation ends up at an exhibit at an old fire station in North Charleston and he purchases a work from an up and coming artist to add to his collection – that says something. I was impressed, but then I already liked the work Williams was producing, my pocketbook just doesn't run as deep as this dynamic couple's. But I felt good knowing we share the same opinion on the work we were seeing in this exhibit and of the artist's future. Which leads me to the fact of asking – how long will Williams be able to stay in Charleston – a town not known for supporting creative and challenging artwork.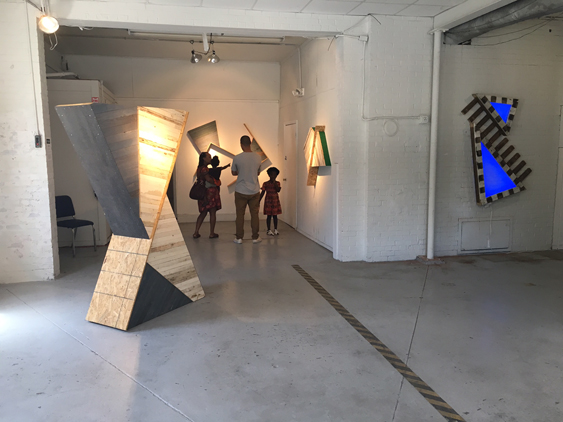 Williams talking with some gallery visitors
William Halsey and his wife Corrie McCallum made the decision to stay in Charleston and there is no doubt it cost them in the long run. They supplemented their income by teaching art. Charleston loses creative artists all the time who don't give into the lure of creating works tourist will buy. I don't blame the artists – many who are super talented and skilled at their art but who made at some point in their lives the decision to stick to subjects tourists will buy.
Go give this young artist the support he deserves – even if it's just to go see his works. It might help him stay in Charleston and help carve out a second art market in Charleston for more than pretty images of the city and its environment. And I'm not knocking it as there is plenty of that work in my collection.
I was hoping to add a short movie of one of Williams' works but I've yet to figure that out.
If you want to see a lot more of Williams' work, which is diverse, check out his website at (www.fletcher3.com). You'll see he's not an idle artist.
For more info about the North Charleston Arts Fest call 843/740-5854 or visit (www.northcharlestonartsfest.com).