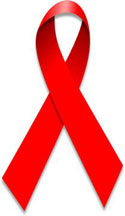 Delivering our Dec. 2010 issue of Carolina Arts was a little strange, including delivering one night when the overnight low temp was 70 degrees and then the low the next evening was 27 degrees. But when I reached Salisbury, NC, and started my route of deliveries to galleries and other stops, I really saw something unusual.
It started when I passed by a sculpture by Gretchen Lothrop, which was part of the 2010 Salisbury Sculpture Show, which is still on view through Dec. 31, 2010. As I drove past it – I could see some kind of a dark fabric draped over part of it – it reminded me the way crosses are draped during Easter. At least I thought it was a dark fabric, but it was also very dark outside – it was about 5:30am Thursday morning.
When I got to the Rowan County Library on Fisher Street I found out what was going on with Lothrop's sculpture. The four sculptures near the library were covered by dark black shrouds and a sign announcing that this artwork was being covered in observance of World AIDS Day – A Day Without Art (Dec. 1st annually).
I knew all about Dec. 1, but this was the first time I've really seen an effective demonstration of the concept of a day without art – which is hard to pull off as art is such a part of our everyday lives – even if most people don't know it. I tip my hat to the Rowan County AIDS Task Force and the artists, arts organizations and even art galleries who worked with them to get this message across.
A day later and I would have missed it all.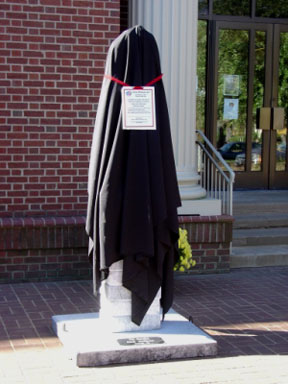 The Burning by Paris Alexander from Salisbury Post
Here's a little bit of what was published in the Salisbury Post:
Local advocates are putting art under a shroud to cast a spotlight on AIDS.
For World AIDS Day today, the Rowan County AIDS Task Force is working to acknowledge those living with AIDS in Rowan County. The task force has borrowed an idea pioneered in the country's major cities.
Hundreds of artists, designers and entertainers died of AIDS in America's cities in the late 1980s. As a memorial, many nationally prominent museums and galleries shrouded art works on World AIDS Day for a Day Without Art.
With the cooperation of the city of Salisbury, the AIDS Task Force is planning its own statement. Art objects included in the 2010 Salisbury Sculpture Show will be shrouded — covered with black cloth — today. So will pottery, paintings and art work in or around various shops and art galleries in Salisbury. Twenty-five Blue Masque students at Catawba College will wear black Wednesday and AIDS awareness signs. The largest work of art to be shrouded will be the massive Livingstone College Bear sculpture on the school's quadrangle.
Shrouds were placed over the works Tuesday and will be removed Thursday.
You can read the whole article in the Salisbury Post at this link.
When I got to Pottery 101 on So. Main Street I could see in through the windows that some of the displays of pottery were also covered with black shrouds. This was possible as Pottery 101 leaves lights on during the night – a good form of advertising during closed hours. You never know who will be walking or driving by at any hour.
Although for me – the whole city was under a sort of dark shroud – the demonstration was really effective and I'm sure it was just as effective for folks in Salisbury who were used to seeing a lot of art around their city.
As I think I've said before – they take their art seriously in Salisbury, NC.