In early 1987, I got a real crazy idea. For some reason I thought what Charleston, SC, needed was an arts newspaper to tell its story and inform the good people of Charleston what was going on, from month to month, in its art community. I waited until after the Spoleto Festival was over to launch the paper in July, 1987. Now, 24 years later I'm thinking – What was it thinking?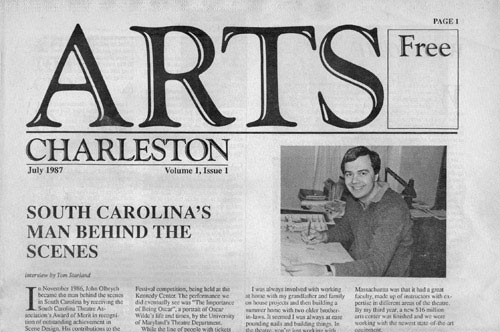 I mean, why did I wait until after Spoleto, when the largest arts audience was in town? I knew why I started the paper. There wasn't enough coverage of the arts in Charleston and it's still a problem today – not just in Charleston but all over the Carolinas.
Somewhere along the line we decided to just focus on the visual arts – mainly exhibitions.
I'm sure there are many more people out there besides me who are wondering – How has that paper survived this long? All I can contribute on my behalf is – just stubborn I guess. I have no excuse for Linda, my better half – she should know better. But, I'll shift the blame to all those people who over the years provided us with information (by deadline) and took out paid advertising – which is what really kept us alive. And, some credit goes to our printing company, Tri-State Printing – who we'll still be paying money to for awhile.
I'm not going to take you readers on some long historical journey, I'll save that for the 25th anniversary – if we make it. I just wanted to mark the occasion and say – Thank You – to all our supporters. Maybe by the 25th I'll get that fourth interview with myself done. I always enjoy talking to that guy.