Linda and I made a quick trip to One Eared Cow Glass in Columbia, SC, to pick out some Christmas gifts and a few others that have backed up – house warming and birthday gifts included. Of course it felt more like being transported for Linda. She drove home after a 12 hour shift at 911 and I jumped in the car and drove us to Columbia. She seems to be on the wrong side of our traveling anywhere, She can sleep some in the car, but it's not the best place to catch a few winks after 12 hours of emergency calls. I-26 is not the best place to chill after the nightly battle.
It's a short two hours for me – compared to my past driving experience, but there's not much in between except public radio or Christmas music. And these days only one SC Rest Stop due to construction in the Columbia area.
This was our first trip back to Columbia since the big flood. We didn't see any signs of flood damage on the route we usually take, but the rivers were higher than normal. The thing to remember when you hear about a disaster somewhere – media reports show you the worse of things, big cities recover very quickly and businesses need customers to keep a disaster from becoming a real disaster. Don't not go to Columbia as you think you'll have a hard time getting around. Most major roads are all open. And businesses not damaged really need your business.
One Eared Cow Glass was full of great gifts for family and friends and yourself – if you've been good. Prices seem to start at $30 and go everywhere in between $5,000 or $6,000 for a big glass bug that was in a display at the SC State Fair a few years ago. But I saw a lot of $50-$70 pieces that would make a great one-of-a-kind gift – from Christmas balls, jewelry, small jars, drinking glasses, wine bottle stoppers, etc.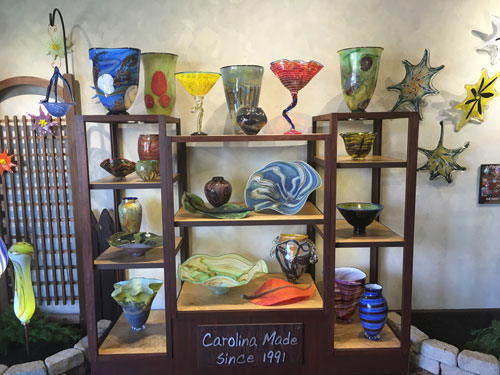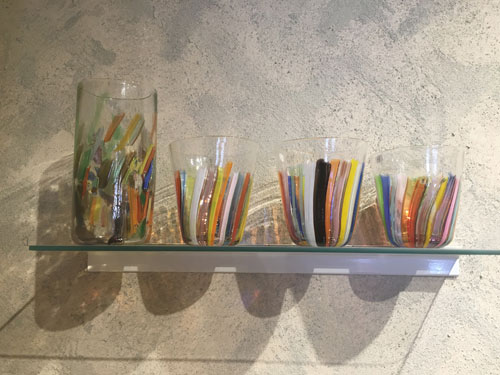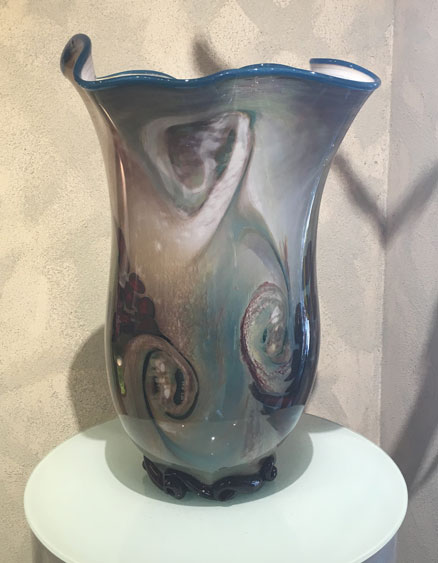 I went and talked shop with the Cowboys, Tom Lockart and Mark Woodham, while they worked. That saved me from having to give opinions about things that Linda was checking out. I was in the work studio part of One Eared Cow Glass for about 45 minutes to an hour. We talked about a number of things, but one of the interesting subjects was funding of demos of the process of creating glass, something these two guys have been doing for several decades. In fact on most days you can go there and sit down and watch them work. It's something I've done hundreds of times. They have chairs there just for that purpose.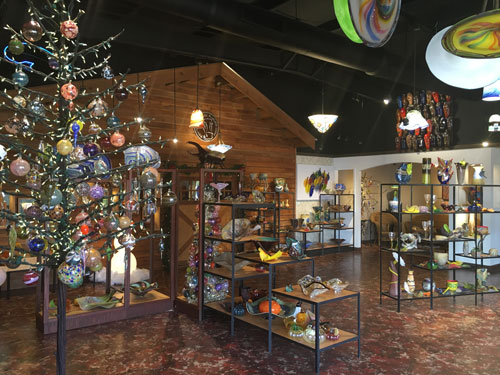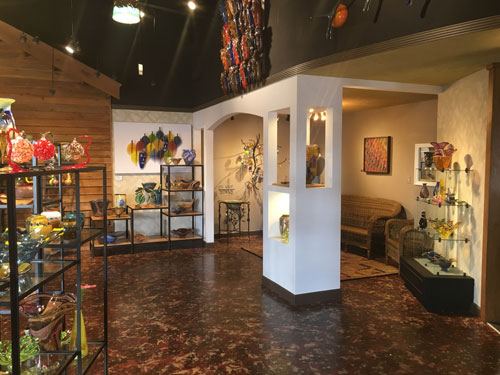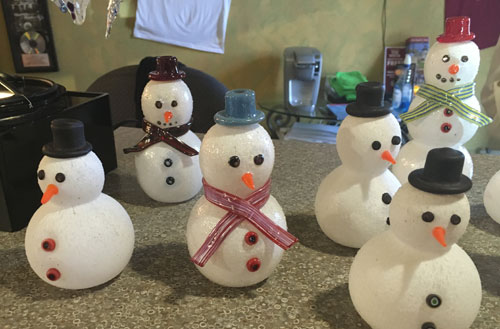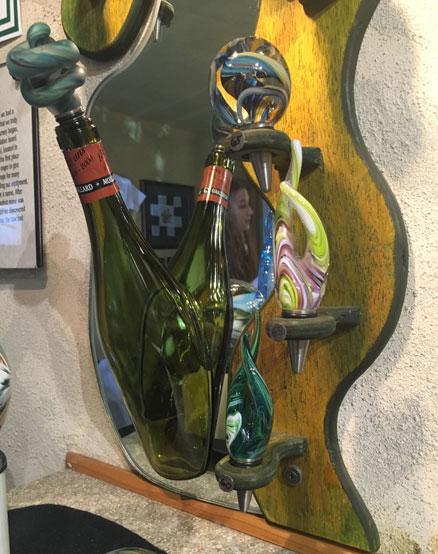 Recently another glass studio in SC received a couple of grants from the SC Arts Commission for putting on demos and something called "theatre". This was funding for a commercial business – something the Arts Commission has said can't be done for commercial businesses in the arts. I've never figured why it can't be done – at least any logical reason, but that's what they always have said, but here they were doing it. My experience is that for every rule the Arts Commission has for not doing something to help some people always finds an exception for people they want to help. There's a longer story behind this discrepancy, but I'm not going into that now, but the point of mentioning it is that all kinds of people have been doing free art demos for years and now some folks are getting paid to do it – even folks who have regularly been doing it for free, but have now found a way to get paid. What's their incentive to do them for free again?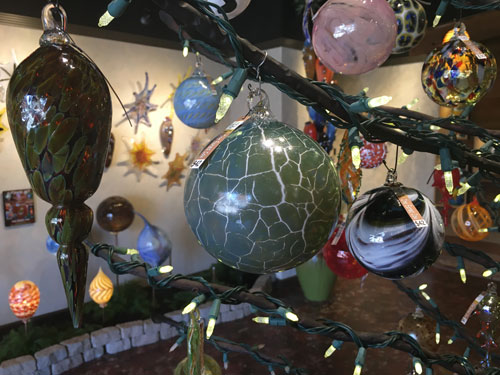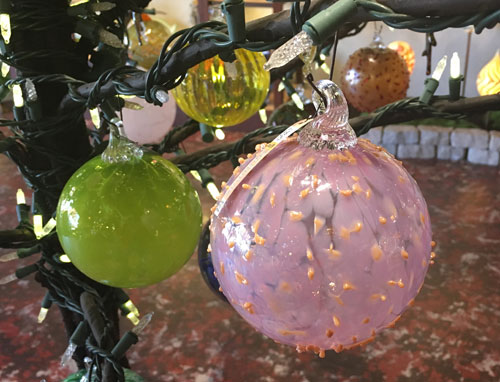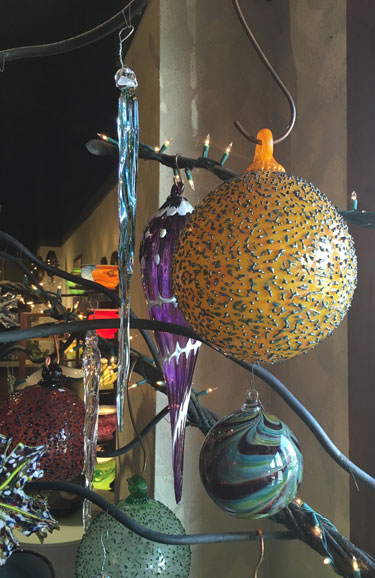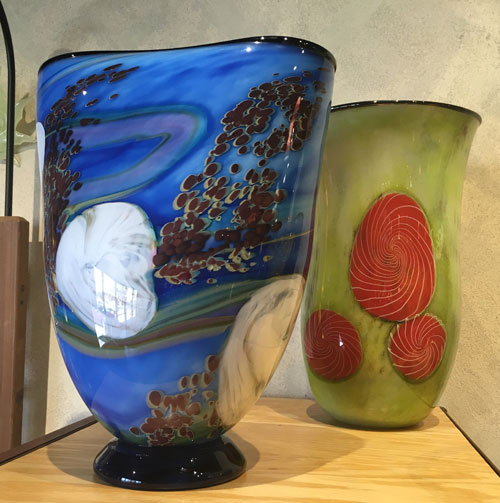 So I eventually went into the gallery and it took me five minutes to select several gifts including one for myself. It doesn't take me long to make selections – I know what I like and I usually pick what I like for others.
I took about 150 photos while there, but I selected just 16 to give you a good idea of what you'll find there. If you want to see more visit (www.oneearedcow.com).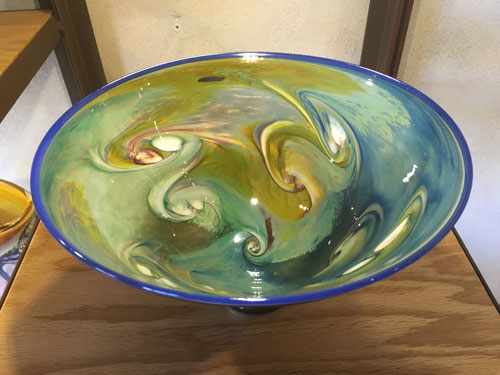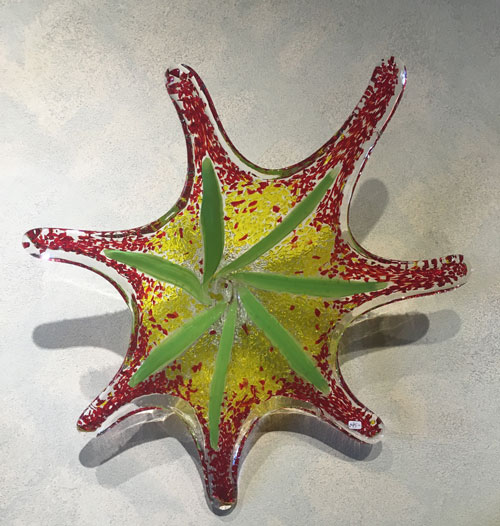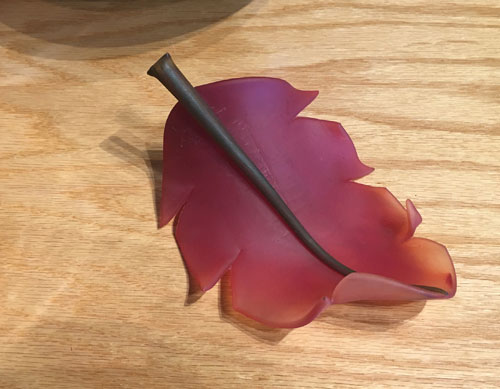 If you're looking for an unusual gift – think art glass, but if you go to Columbia, there are a lot of other art galleries there – just check out our Commercial Gallery listings in the latest issue of Carolina Arts at (www.carolinaarts.com). And if you live in Columbia – these folks will be happy to see you come through their doors too. A gift of art is always the best gift for any occasion.