With spring just around the corner, take time out this Saturday afternoon from 1-5pm to stroll around downtown Salisbury and Spencer, NC, to check out the new exhibits and deals offered by participating galleries during this month's Second Saturday Art Walk.
In Spencer, the Green Goat Gallery is offering a 10% discount on all of local metalsmith Cory Owen's clever garden flowers and canines. All pieces are one-of-a-kind, using recycled hand and industrial tools from steel rasps and antique wrenches to lawnmower chains and more.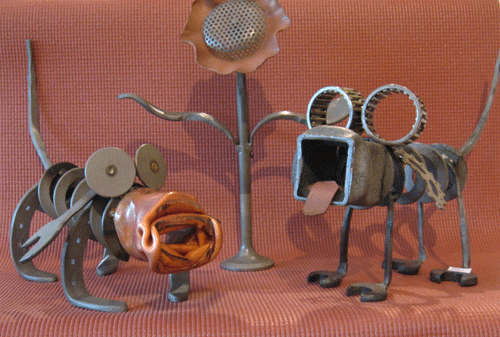 Work by Cory Owen
In Salisbury, Southern Spirit Gallery on Main Street is featuring painted and fired glassware by Kristin Shamel of The Gilded Touch.  Kristin will be offering a 15% discount on all her beautiful glassware to all participants of the Art Walk. Southern Spirit Gallery will also offer a 10% discount on all wall art for the Saturday, March 12th Stroll only.
Down on N. Lee Street, Rail Walk Studios & Gallery has extended its popular "Red Show" featuring a variety of crimson creations by artists Sharon Forthofer, Karen Frazer, Annette Hall, Jane Johnson, Patt Legg, and Marietta Smith. Annette Hall is offering one of her small, hand-painted pendants as a gift to anyone who makes a purchase from her of $100 or more. Sharon Forthofer is offering 10% off on her traditional oils, on this day only. Next door at the Looking Glass Artist Collective, there will be several artists on hand demonstrating their craft.
The Art Walk hours are 1-5pm. Many of the venues are open earlier. In the evening, the Center for Faith & the Arts is hosting an opening reception from 5-7:30pm for the exhibit, Deja Vu: Return of Last Summer's Prize Winners, featuring artists Barbara Harris Richmond, Luther Sowers and Stephen Hoke. The gallery is at 207 W. Harrison St., in the lower level of Haven Lutheran Church.
A map and list of the 11 participating studios and galleries is available in the Art Crawl Brochure.