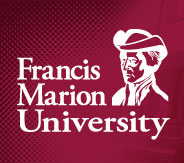 I've been wanting to see a big collection of works by Patz and Mike Fowle and the opportunity came on Oct. 6, 2011, at Francis Marion University. The gallery at the Hyman Fine Arts Center at FMU is presenting the exhibit, Funk and Awesome!, featuring individual and collaborative works by Patz and Mike Fowle of Hartsville, SC, through Nov. 10, 2011.
I first discovered Patz Fowle's unique ceramic creations at one of thePalmetto Hands exhibitions during the North Charleston Arts Festival held at the Charleston Area Convention Center in North Charleston, SC. The first work I saw was a miniature Noah's Ark with many sets of crazy looking animals on board. I had never seen anything like it. And, each successive year I would see another or maybe two new works by her and then eventually works by her husband Mike Fowle.
Earlier this year I had an opportunity to see an actual exhibition of works by these two talented artists at the Florence Regional Arts Alliance gallery in Florence, SC, but this was a small show. It just served to whet my appetite. And, I saw a few more pieces at exhibits at the Art Trail Gallery in Florence. So when I heard about the exhibit at FMU – I was ready to go.
Unfortunately for me, it was on a day when so many other interesting exhibits would be opening and I can only be in one place at a time. I'd love to have one of those Harry Potter devices where you can be in several places during the same time frame, but I haven't been able to work that out yet. It's one of the many problems with covering such a large region – making hard choices is never easy.
Florence is closer to Bonneau, SC, than most people know, so it helped make my decision a little easier. An extra bonus was that Linda was off from her "other" job and she could go too, but she worked the next day so our trip had to be a quick run in and out.
I think we were some of the first people to arrive, so I started taking photos before it was too late. Translation – before I started talking with folks. And, I did a lot of talking with some of the movers and shakers of the Pee Dee art community that night.
Taking photos was a bit of a challenge as many of the works were presented in glassed cases, but I was pleased with the results – never as good as being there, but still good enough to give you a taste. Without these images there would be no way for me to describe these works.
After coming back from seeing the exhibit I posted this on my Facebook page, "It was like visiting a dream written by Dr. Seuss combined with Alice and Wonderland and Where the Wild Things Are. A lot of wild, crazy ceramic creatures." This is a pretty good description of the collaborative creatures made by both of these artists, but this exhibit offered more than the ceramic creatures.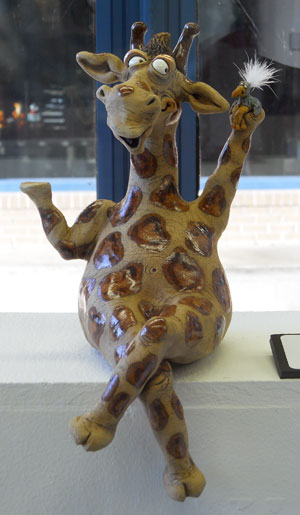 Let's Sit a While and Yackety Yack
This exhibit also included some ceramic "portraits" with titles like: Frida Without Diego, Picasso's Palette, Dali's Dilemma, and O'Keeffe's Beautiful Bones. One closer to home was A Pearl of A Man, of SC's Pearl Fryar. There were also some paintings by Patz Fowle. And of course they all carry a touch of that Fowle humor – the couple's trademark.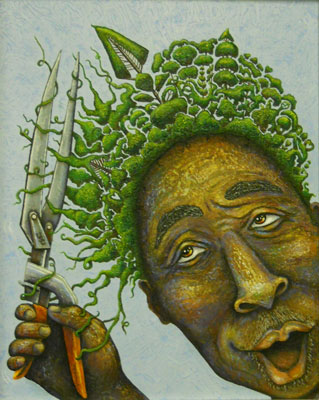 Pearl Fryar's Fantastic Fro-piary Garden oil painting by Patz Fowle
What was unexpected was a group of works that were re-purposed. You wouldn't say they were recycled as those are objects that some people toss away, but can be collected and remade into usable products again – like saving aluminium cans to be remade into aluminium cans or other aluminium products.
In this case the Fowle's, mainly Mike, were re-purposing children's plastic toys into works of art. He also does that a lot with discarded metal objects. Of course one piece entitled the Plastic Planet used plastic water bottles as a core material. The photos give you a better look at this piece, but it would take you maybe an hour or two to discover all the working "toys" making up the crust of this planet.
I can imagine if we, as a people, keep going the way we are that our planet could look like this one day – a big plastic ball.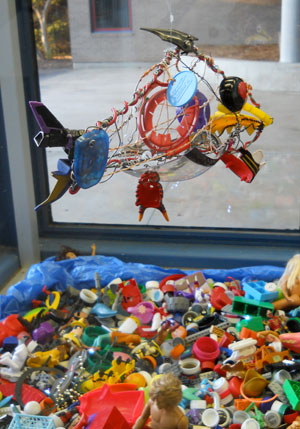 I didn't get this work's title but it reminded me of man's beginning on earth (if I can say that in South Carolina) from the primordial ooze of the trash we leave behind, this creature evolved.
These works reminded me of another show that opened that same night in Columbia, SC, at Vista Studios. On view in Gallery 80808 is an exhibit featuring assemblage "portraits" by Kirkland Smith, entitled, Re-Created, on view through Oct. 18, 2011. Smith creates amazing paintings out of re-purposed objects and some that I've seen are made up of plastic children's toys and action figures.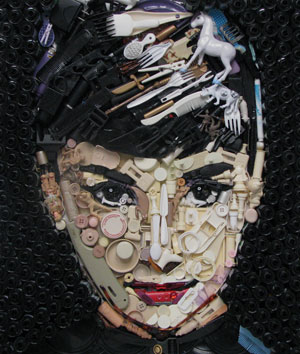 Image of Audrey Hepburn by Kirkland Smith
I don't want to detract from the Fowle's exhibit, but these three artists are saving our landfills from thousands of items which would take 100′s of years to breakdown by making works of art from them – art people want.
Smith's show will be up for a shorter period of time, so you have to act fast to see it. I'm hoping I do that before it's down, but time is not a friend of mine. You have a longer time to see Funk and Awesome!, but don't put it off and miss it.
One advantage of going to an opening is that you can hear stories in the background, like the one of Mike Fowle going into second-hand stores looking for children's shoes to use with some of their ceramic creatures.
Now you have to understand that Mike is a big guy – he could be described as a mountain man. So imagine this big guy going into a store and asking people if they have any small children's shoes. It might make some people wonder – what is he doing with all those children's shoes? It's just part of being an artist. Sometimes you're looking for unusual things to do your work – especially when you are re-purposing items. And, I'm sure his search for little children's shoes have given some folks a creepy story to pass along. I don't think it's creepy – the picture it paints in my mind gives me a chuckle.
Before I knew it – it was time to head home. It always seems like it's time to head home.
You can read about this exhibit and Kirkland Smith's exhibit in the Oct. 2011 issue of Carolina Arts and see a few more images of the works.
The gallery at the Hyman Fine Arts Center at Francis Marion University is open Mon. through Fri., from 8am-5pm.
For further information you can call the FMU Art Department at 843/661-1385 or visit (http://departments.fmarion.edu/finearts/gallery.htm). To see more works visit (www.patzfowle.com).