I guess all things come to South Carolina – eventually. I received an e-mail about this event from the Blue Ridge Arts Council in Seneca, SC, a few days ago and I wish I had gotten to it sooner now that I've looked into this Quilt Trail thing. But, with the big snow fall and our deadline for the March issue of Carolina Arts, I kind of let this spoil on the vine some.
Here's the press release we got:
February 16th, 2010 – Oconee Heritage Quilt Trail
Contact: Martha File, by calling 864/885-1018, e-mail at (info@oconeeheritagequittrail.com) or Cynthia Leggett at 864/985-1271.
The public is invited to the dedication of the Oconee Heritage Quilt Trail (OHQT) on Tuesday, February 16, 2010.  The dedication will begin at 4 p.m. at Keowee Elementary School located on Keowee School Road.  It will then move to the Oconee Conservatory of Fine Arts (, located across from the Walhalla Civic Auditorium, 101 East North Broad Street, Walhalla; and will end at the Oconee Heritage Museum, located at 123 Brown Square Drive, Walhalla, at approximately 5:15 pm.
The OHQT is sponsored by the Blue Ridge Arts Council in concert with a group of volunteers dedicated to putting South Carolina on the National Quilt Trail. The first three quilts have been completed and several others are in production. The quilts have been painted on specially prepared boards to be mounted on buildings in the area.
The patterns and their locations include a Mariner's Compass pattern painted by students of Keowee Elementary School to be hung at the front entrance; a Goose in the Pond pattern to be hung on the Oconee Conservatory of Fine Arts; and a Rocky Mountain Road pattern to be hung on the Oconee Heritage Center. This last quilt is on display in the Heritage Center and was originally made by Lena Mae Land Talley of Mountain Rest, SC.
Please visit the Oconee Heritage Quilt Trail web site for history of the National Quilt Trail at (www.oconeeheritagequilttrail.com).
Blue Ridge Arts Center, 111 E. South Second St., Seneca, SC 29678-3403; Phone/Fax:  (864) 882-2722
E-mail:  (office@blueridgeartscenter.com)
Web:  (www.blueridgeartscenter.com)
End of press release
Frankly, I had never heard of this National Quilt Trail before this e-mail, much less one in South Carolina or North Carolina for that matter, but after a little searching of websites and the Internet, I've learned it started in Ohio and is now in 24 states. And, now it's come to South Carolina. It's a pretty interesting subject.
What surprised me the most is how much North Carolina is into this Quilt Trail as tourism development – it's quite widespread in Western North Carolina which has its own website – Quilt Trails of Western North Carolina.
I found this notice of a quilt road rally on their site:
Quilt Trails of Western North Carolina is holding two Road Rallys in 2010: June 26, 2010 and November 5, 2010. The June Rally will end with a Bar BQ sponsored by Carolina Mountain Lifestyles, at The Cove at Celo Mountain. (Details for the November Rally are not yet finalized.)
This fun-filled rally will feature a long version (about 5 hours) and a short version (about 2 hours), with a shotgun start at Mountain Heritage High School in Burnsville, NC, at 8am for the long rally, and 12 noon for the short rally. Prizes will be made by local artists. All contestants must be back no later than 5pm or will be disqualified.
The goal of each Rally will be to find a set of painted quilt blocks on a list you will be given, by driving the fewest miles. The Rally will take you throughout Yancey and Mitchell Counties (NC) at a really lovely time of the year. You will see beautiful farmland, mountain vistas, waterfalls, bold streams and quaint towns. Cost to participate will be $35. Save $10 by registering online before June 15. Rally will be limited to 150 cars. For more information, call 828-682-7331.
Now that sounds like a real interesting way to visit these areas.
I also found some websites for different WNC counties participating in this National Quilt Trail. Here's some links: McDowell County, NC, Quilt Trail,Macon County, NC, Quilt Trail, and Avery County, NC, Quilt Trail.
Here's a few photos from the Avery County Quilt Trail site showing some of the quilt designs and the buildings they are on.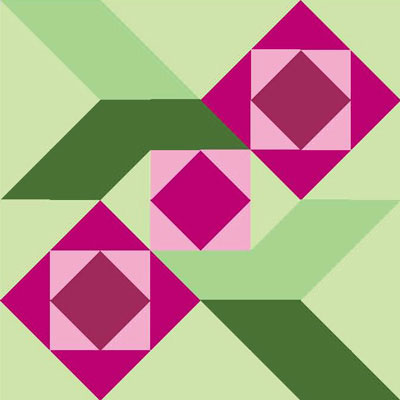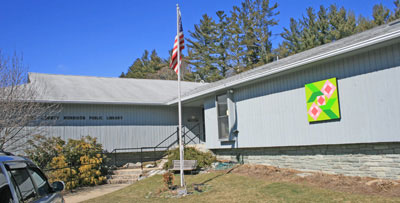 #15 Mountain Laurel, created by Mickey Banner's Advanced Art Students at Avery High School at the Avery County Morrison Public Library, Newland, NC.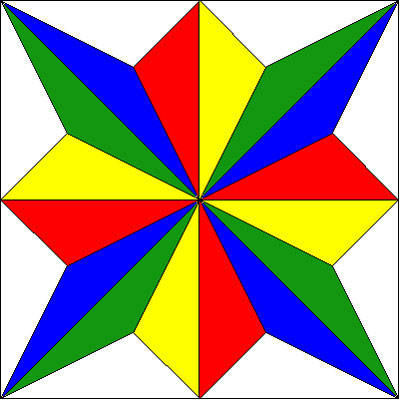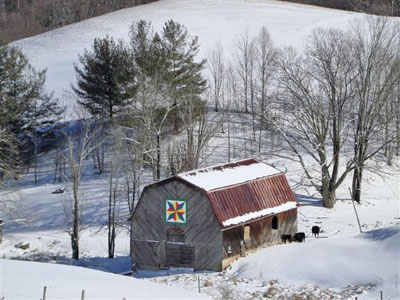 #14 Storey's Star, created by Fred Pfohl on a barn of Wilma Storey, in Elk Park, NC (across the street from Beech Mountain Elementary School).
HandMade in America an organization based in Asheville, NC, that has been instrumental in helping small towns in WNC use the visual arts to develop cultural tourism and commerce has received a grant to help communities in WNC become part of the National Quilt Trail.
And, we're just catching up in South Carolina. Well, as I was always told by the folks at the SC Arts Commission when I asked them why they are doing something a certain way – the response usually was – we do things this way because that's what they do in North Carolina – but, I've learned in the last twelve years – that ain't so! Folks in NC are very aggressive when it comes to using the arts to develop tourism and South Carolina just never seems to get it.
I hope to have more on this subject in the future – that is quilt trails in South Carolina. And, yes – there will be more about the SC Arts Commission – but then you knew that.