The Upstate Heritage Quilt Trail, in Upstate SC, has announced the selection of Gil Huggins as the 2011 Oconee County Quilter of the Year. This award recognizes a local quilter who provides leadership and community service through their quilting.
The Upstate Heritage Quilt Trail will honor Huggins with a 'drop in' at the Oconee Heritage Center in Walhalla, SC, on Mar. 13, 2011, from 2-4pm. In addition, a display of Huggins' quilts will run through Mar. 31, 2011, at the Heritage Center. The quilt show will be open on Tuesdays, Thursdays, and Fridays from noon–5pm; and Saturdays from 10am-3pm. The public is invited.
Huggins, a former teacher in the Oconee County School System, taught Industrial Arts and computer engineering. However, quilting was not a skill he was familiar with. His quilting education began when he and his wife, Pat, purchased a quilt at the Mountain Heritage Day, an annual fall event at Western Carolina University in Cullowhee, NC, featuring mountain crafts and art. When they arrived home, and examined the quilt, they realized that it was not only a wonderful work of art, but also a real bargain.
Thus began a pilgrimage of looking for and appreciating the fabric arts. It was during football season at Clemson University when his wife and family, avid Tiger fans, were attending the games, that Huggins began to take a more active interest in quilting. He attended a show in Pickens, SC, where the quilts on display fanned the flames of quilting in his heart. Those quilts had elements of design; geometry; flow, and order.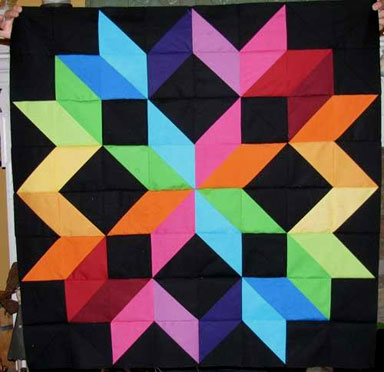 Huggins purchased a very nice sewing machine at a flea market and began to read books and magazine articles on quilting, and doing Internet searches. He made a small lap quilt using some of Pat's fabric pieces.  She was greatly amused by his earnest endeavor and lovingly supervised his work. A month later, he began a bigger and better project, a large bed quilt.
When Huggins met Carolyn Harris with the County Extension Service, he told her about his fascination with quilting. She invited him to attend the next meeting of the Lake and Mountain Quilt Guild (LMQG). It took a lot of courage for him to enter a building where over one hundred women had assembled for the meeting. It turned out to be one of the most enjoyable times he'd ever had. Huggins was stunned when the ladies began showing their quilts.
As Huggins said, "It was like the gala opening of a great art gallery for me. I came away so inspired and wanted to learn even more about quilting."
"Eventually I completed my second quilt. For my birthday, my wife gave me the gift of a quilting class at one of the local shops," adds Huggins. "Yes, I was the only guy in that class, but I was beginning to enjoy the celebrity status of being a male quilter. You see, I taught Industrial Arts for over thirty years in a local high school. I was already too familiar with sawdust, metal shavings, ceramic dust, and grease. I was ready for an art form that was a little cleaner but challenging. That class was wonderful, and all the ladies were so helpful."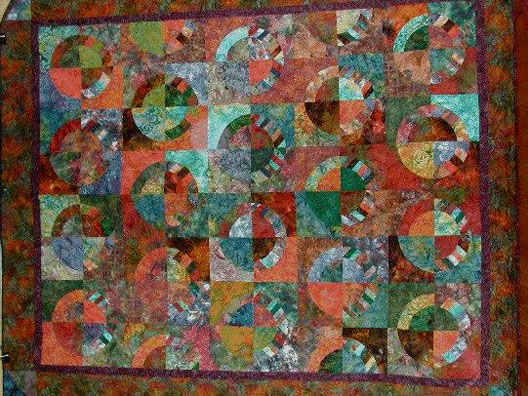 When Huggins told Pat he was going to join the local quilting guild, she said, "Those ladies are extremely serious about quilting, so you better be prepared to hold your own if one of them asks you a quilting question!"
Huggins says that being a member of the quilt guild has been marvelous. Each meeting is filled with exciting presentations, and the works exhibited by the members are outstanding. He's even been brave enough to show several of his own quilts. He's learned about the art, fostered many friendships and now feels comfortable with the ladies. Best of all, another man has joined and he is an outstanding fabric artist.
Some of Huggins' quilts have even won awards at the Anderson Fair and the LMQG biannual quilt show.
Two years ago, Huggins and his wife heard about an effort to bring the National Quilt Trail to South Carolina. They were enthusiastic, having seen many of the barn quilt blocks while visiting in Kentucky. In no time, they got involved with other volunteers in creating the Upstate Heritage Quilt Trail. As Huggins explains it, "Working with the quilt trail takes me back to my drafting roots, and many of the skills required to draw and complete a barn quilt block are second nature to me. It also helps complement my desire to be productive, and give back to the community."
For further information call 864/638-2224 or visit (www.upstateheritagequilttrail.org).
Share this article