Here's a press release which came into Carolina Arts about an exhibit in Aiken, SC, featuring members of the Aiken Artist Guild. We don't here much from the Aiken visual art community. Years ago, over ten, Aiken was part of our area of coverage in the printed paper and I delivered the paper there. A few months back I did some extra deliveries of the paper and a tour catalog all around the Carolinas and I went through Aiken. Not much had changed – at least that I saw during the middle of the night.
The reason I'm offering readers this press release on the blog is that while we were covering Aiken, a local artist, George Kierspe, was a big help to us in learning about the area. He's being honored by the Aiken Artist Guild which is no surprise to me.
Here's the press release:
Aiken Center for the Arts in Aiken, SC, Presents Local Artist Guild Exhibit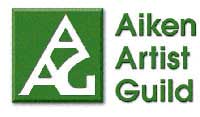 The Aiken Center for the Arts in Aiken, SC, is presenting the 2010 Aiken Artist Guild Member Show, on view from May 20 through June 26, 2010.
The Guild show will showcase a wide variety of artwork from the over 125 guild members. Artwork will include oils, pastels, acrylics, watercolors, photography, pencil and three-dimensional work.
This year's judge for the annual art exhibit is Alan MacTaggart, chairman and professor of the art department at Augusta State University. Professor MacTaggart's career began in 1968 with the Metropolitan Museum of Art, NY, and has spanned continents to include shows and study tours in Morocco, Germany, England, Italy and more. He is the recipient of many awards, internationally, and has been a valued speaker at Guild meetings.
Ribbons and cash awards will be presented in several categories: The Phil Permar Best of Show Award, the William B. Colgate Aiken Scene Award, and first, second and third place awards.
The Aiken Artist Guild was established over 40 years ago and is proud of its recent annual presentation of scholarships to art students at USC-Aiken. This year's awards honor two icons in our art community, Nancy Wilds and George Kierspe. The generous sharing of their knowledge and abundant production of fine art has contributed amazing gifts to our community and deepened our appreciation of art in countless ways. Wilds' scholarship will be awarded this summer, Kierspe's in the Fall.
The Aiken Center for the Arts is located in the heart of downtown Aiken and is open Monday through Saturday, 10 – 5. For more information contact the Aiken Center for the arts at 803/641-9094 or visit (www.aikencenterforthearts.org). For info about the Aiken Artist Guild visit (www.aikenartistguild.org).
Share this article