It's nice to see that Carolina potters are picking up on the fact thatCarolina Arts Unleashed is a good place to plug their events. I received such a request from Joseph Sand, a transplant from southern Minnesota, who has now planted his roots in the good soil of Randleman, NC, after completing a 3 1/2 year apprenticeship with Mark Hewitt in Pittsboro, NC. That's a nice entry to have on your resume. Don't forget you can find lots of info about what's going on now and in the future at Carolina Arts Online.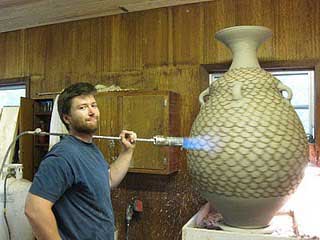 Joseph Sand with a very big pot
Sand and his wife Amanda, who helps put together jewelry pieces made from clay, have set up operations in Randleman, building his kiln – which you can follow the history of that operation in photos on their blog found at (www.sandceramics.blogspot.com). It's an impressive kiln – a 40-foot anagama kiln. In the firing, he will have pots ranging from mugs to 5 1/2 foot tall jars, all wood-fired and salt glazed.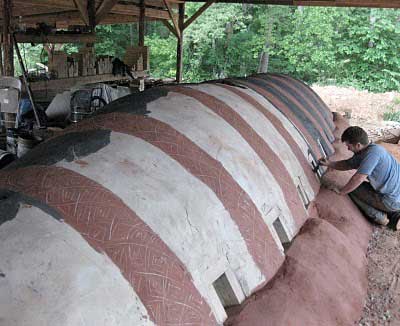 Looks like a beached whale
The kiln opening and sale takes place on Sat., Aug. 21, 2010, from 9am to 5pm and Sun., Aug. 22, 2010, from noon to 5pm. Google Maps can help you along your way.
Joseph Sand Pottery is located at 2555 George York Road in Randleman, NC. For further info call 612/518-4051, e-mail at (joseph@jsspottery.com) and on the web at (www.jsspottery.com).