Even though the event takes place on a Thursday night, all the planets seemed to be in alignment – so Linda and I made a run for it. Columbia is a two hour drive from our front door and Artista Vista starts at 5pm. Linda had to start a three day work weekend of 12 hr. shifts on Friday and I was picking up our May 2009 issue from the printer on Friday, which takes two trips to North Charleston, but we wanted to do Artista Vista – this would be Linda's first time. I had been to two previous Artista Vistas, two Vista Lights and one Congaree Arts Festival over the last 14 years. It would be a quick visit considering the two hour drive back home and the fact that Linda would be back in the car headed for work shortly after 6am the next morning. So we left early to get there early.
Our first stop was One Eared Cow Glass where they were getting things ready for the 5pm opening. We figured this would be a good opportunity to see the work without fighting the crowd and see what was being offered before anyone else. As usual, there were plenty of new items on the shelves. They are always up to something new. We got a good look and would come back when the show was going on – the magic of seeing molten glass being turned into art objects.
After that we headed to Lincoln Street to find a parking space – again before the crowd. We stuck our heads in the door at Blue Marlin which didn't start serving until 5pm, but the bartender served us up a drink so we could sit outside and wait for the event to begin. It was nice sitting outside watching all the parking spaces fill up and people scrambling around – getting ready for the crowd.
You see, unlike art communities that have art walks every month or even quarterly, the Vista only does it twice a year and Artista Vista is the only totally art event. Vista Lights includes all businesses in the Vista. So, this is a pretty big event for Columbia and the surrounding area. We wouldn't be able to see it all given our limited timeframe and knowledge of what was ahead of us (physically) for the next week, so we planned to do the best we could in a small area of the Vista.
At 5pm we walked over to City Art Gallery where they were presenting,Perceptual Painters: The Collective, on view through June 27, 2009. This exhibit featured the works of a group of painters who all had a connection with the Pennsylvania Academy of the Fine Arts. And, you could see it in the works. There is something about the painters who go through that school. I've seen it in other painters' works who went to school there – like Linda Fantuzzo in Charleston, SC. City Art always seems to bring in something different for Artista Vista – whether it be emerging artists from universities around the region or a seasoned group like this one. The artists being featured were: Dave Campbell, Matt Klos, John Lee, Aaron Lubrick, Scott Noel, Brian Rego, and Andrew Patterson-Tutschka.
While at City Art we ran into Mary Gilkerson, who at one time used to write reviews for Carolina Arts (www.carolinaarts.com) – way back when. She's also written for The New Art Examiner, The State, and is currently writing for FreeTimes in Columbia. But the big news here was – she has started a blog which will give her much more opportunity to write about the art scene and other things in South Carolina called SCARTblog (http://scartblog.com/). Her first contribution is about an exhibit of works by Carl Blair, Flora and Fauna, on view at ifART Gallery in Columbia through May 9, 2009. Add Mary's blog to your bookmark list.
It's great that more people are starting blogs about the arts in the Carolinas – they need all the coverage they can get considering the cuts being made at daily newspapers. And, don't forget about Jeffrey Day's new blog, Carolina Culture (http://www.carolinaculturebyjeffreyday.blogspot.com/). Jean Bourque (http://artsails1.blogspot.com/) also gives out a lot of info about what's going on at her blog.
Next we went over to ifArts. I was hoping to see Carl Blair there, but he wasn't there. I wanted to let him know the reason we didn't have anything in our April issue about his show was because no one sent us the info in time for our deadline. I've seen a lot of his paintings and sculptures in other galleries throughout the Carolinas before – this was the first showing of his animal sculptures in Columbia – so you readers in the Columbia area need to go by and see the show if you already haven't before May 9. No excuses.
We then headed to Vista Studios to see View from the Studios, on view through May 12, 2009. Gallery 80808 was filled with art as was every inch of the place – including the studios of Susan Lenz, Stephen Chesley, Don Zurlo, Robert Kennedy, Laura Spong, Pat Gilmartin, Sharon Collings Licata, Pat Callahan, Ethel Brody, David Yaghjian, Michel McNinch, and Jeff Donovan. As usual, the studio door of Heidi Darr Hope was closed. I wonder why she is part of this facility. I don't think she participates in many of their events. No problem – there's plenty of art to feast your eyes on.
While there, I got to catch up with some artists I used to chat with on a monthly basis when I was delivering papers to Columbia during the day – Laura Spong and Ethel Brody – who always seemed to be working in their studios. I was hoping to talk with Susan Lenz (http://artbysusanlenz.blogspot.com/) – the Queen of blogging, but she was always tied up with someone and I hate to get in the way when customers might be buying art. In fact, this place was full of folks.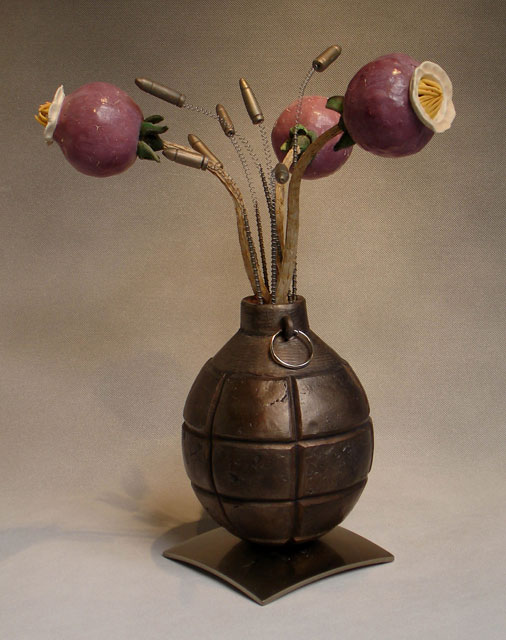 OK, here's something that I probably shouldn't do, but you know me – what the heck. My favorite work of the evening was Pat Gilmartin'sBlooming Arms. You can see it here. I liked lots of other works I saw this evening, but this was my favorite – don't shoot me.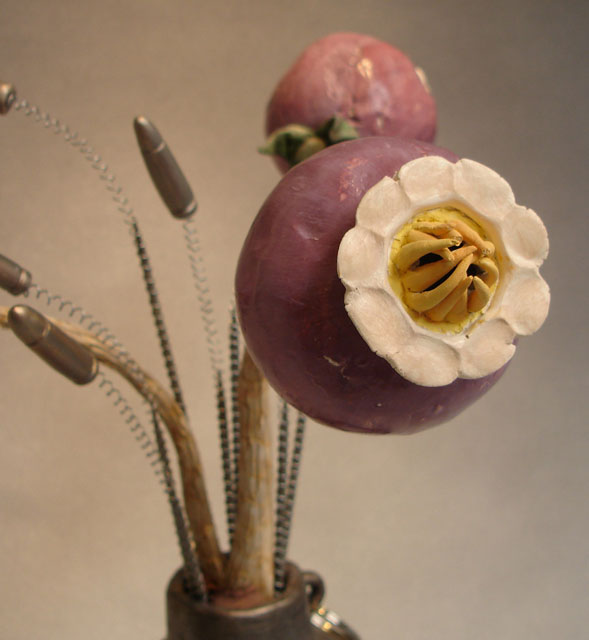 This is a testament of my taste in art. As we left Vista Studios I was thinking to myself – I didn't even look to see how much that piece cost. I need more art like a hole in my head, but you can't help but think of things you would love to have. And, after our trip to SEE pottery in Seagrove, NC, the week before – I was on a tight leash. Imagine that,Carolina Arts Unleashed on a tight leash. Believe it.
Anyway, I at least got a photo of the work to share with you all from Gilmartin. She let me know that the work had sold later that evening. At least I have the photo to remind me that recessions are hell, and the knowledge that someone else out there has good taste in art.
We got back to One Eared Cow Glass to see them at work. Someone was leaving as we arrived so we got a parking space. They were in the groove and we watched two works from beginning to – I'd say end, but that's not possible. We got to see two works they finished working on, but because it will take them 15-16 hours to cool down in a slow cooler – we might never see what the finished piece looks like. The final colors wouldn't show until they totally cooled. And, by that time – they will be sold. But, we can all imagine what they would look like to us. Hey, that's multi-media art.
Our witching hour came at 8pm and we headed back to Bonneau – ETA 2 hours. We were tired, but it was worth it. We had a good time. You just can't do and see everything.