For at least five years, the Pee Dee area of South Carolina has been a source of frustration and hope in looking at the future of SC's overall visual art community. Mostly concentrating on Florence and Lake City, SC, Florence represents the frustration and Lake City the hope. I've given both cities an unusual amount of my time and exposure in Carolina Arts and our social media network. And I feel at times that I'm holding the short end of the stick. And, besides all that exposure I find that I'm still having to fight to get info from this area about exhibitions being offered there. If this was school I'd have to give them an "F" in communications and promotions – with few exceptions.
In wondering why this is the situation, I bounce back and forth from my theory that they just don't care, due to decades of a lack of respect for the area by the rest of South Carolina, or that they just don't get it due to a lack of knowledge about promotion.
So, when I came across a notice that Jennifer Appleton Ervin or Jen Ervin was going to have an exhibit at the Waters Gallery of the Florence County Museum in April I knew we had our cover for our April issue. Since first seeing her work I've loved her imagery. And being an old black & white film processor I love black & white photography and I love the images Ervin makes of her daughters who take their images very seriously. Some might call them "posers". Most people are afraid of having a camera pointed in their direction, I think they have learned to enjoy it or at least make the best of it. And one day they might even be famous due to one of these images.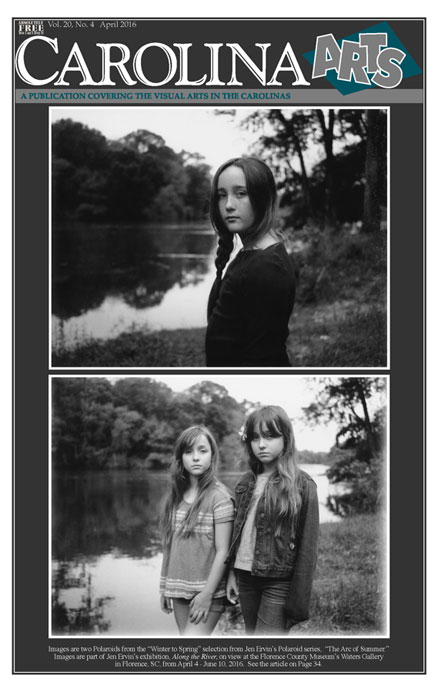 The exhibit is Along the River: The Polaroid Work of Jen Ervin, which will be on view through June 10, 2016, at the Waters Gallery which is located at 135 South Dargan Street, a separate building from the main facility of the Florence County Museum. This exhibition is presented by the Florence Regional Arts Alliance in conjunction with the Museum. A reception will be held on May 10, 2016, beginning at 6pm, during the Florence Regional Arts Alliance's Arts Awards Presentations. On May 11, Ervin will give a gallery talk at 11am.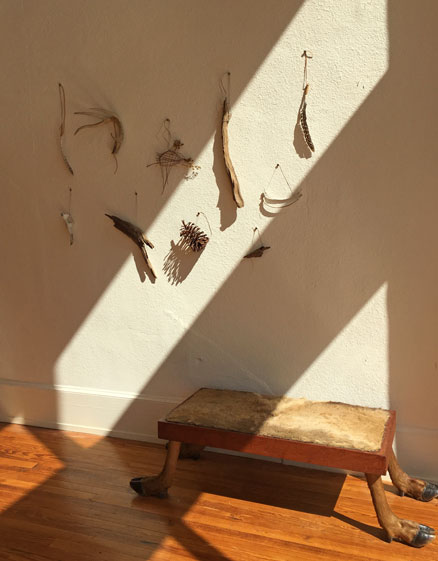 Some examples of items found inside Ark Lodge.
The exhibit traces the stories, heritage and landscape of a southern family's experiences within the Pee Dee, but I think the girls steal the show. The location where the images were made is called Ark Lodge, a cabin built in the 1940s by Ervin's husband's grandparents along the Little Pee Dee River.
Ervin states, "I was led to use Polaroid as medium because each image immediately becomes an object of experience that lends well to intimacy and family history."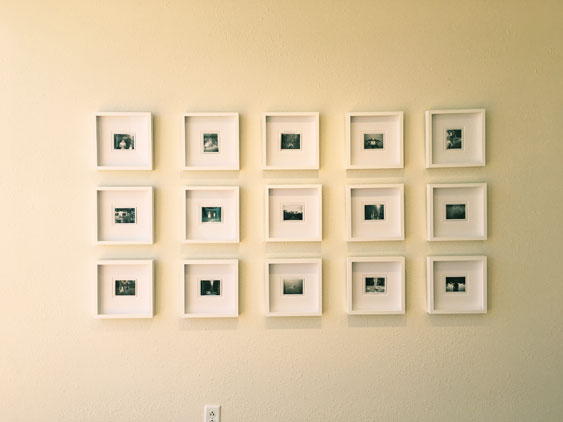 One group of images in the exhibit.
Polaroid images in their original form have limitations, one is size and two a limited tonal range, but for a camera that was designed to take family images that you could see – almost instantly, the detail is very good. But like in all things, talented photographers can make exceptional images with the simplest of cameras. But, the good thing is small images make the viewer focus intensely.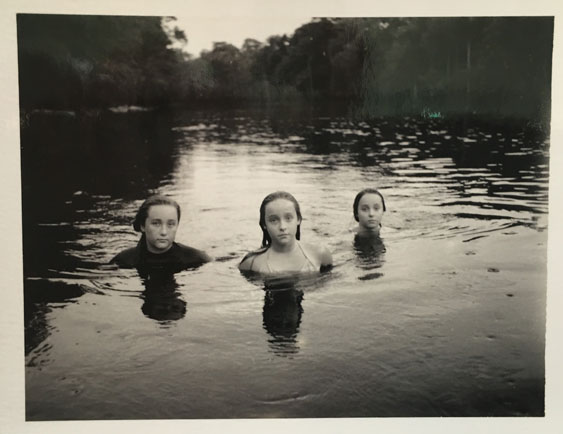 The three daughters together. Excuse the glare and reflections – this work was under glass.
Although the environment is a family cabin and people's reactions to nature, the images presented are not family snapshots. I'm not saying the images were staged, the situations may have been planned and then the natural flow of things took place, but it would have been nice to see these young girls giggling in at least one image. At least I hope their days spent at the cabin are not that stoic. I'm sure they are not – girls will be girls.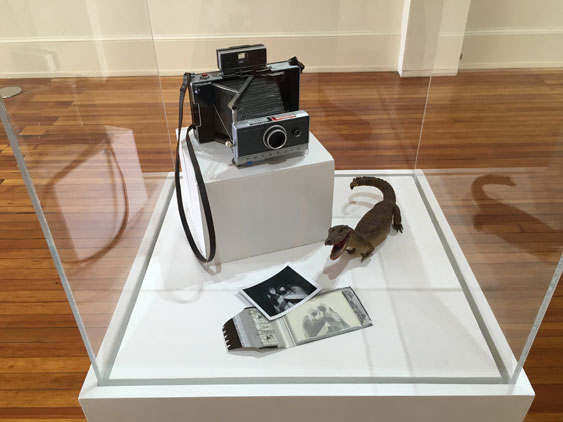 The camera and film used.
A short black & white film is offered in the gallery space on an Apple computer. The short film fills in the feel of the environment that still images just can't capture. It was just enough to complete a picture of this remote area of South Carolina and how Ervin's daughters enjoy and explore it.
Go see this exhibit and enjoy the richness of black & white photography, feel the flow of the river, and step back into a slower time.
If you go, you might also want to check out the exhibit, Arriving South, at the main Museum. It features a selection of paintings, prints, and drawings from the Florence County Museum's existing permanent collection and the museum's Wright Collection of Southern Art, on view through Feb. 26, 2017. The exhibition features the work of Thomas Hart Benton, William H. Johnson, Gilbert Gaul, Anna Heyward Taylor and Alfred Hutty.
The folks at the Museum haven't sent us a press release about this exhibit yet, but I'm hoping this mention will have one coming soon or not. I've never been able to figure out how they expect to get people to come see their exhibits when they don't promote them.
Admission to the Florence County Museum is free. Hours are: Tue.-Sat., 10am-5pm & Sun. 2-5pm, but only Tue.-Sat. at the Waters Gallery. For further information call the Museum at 843/676-1200 or visit (www.flocomuseum.org). Of course you might get more info by contacting the Florence Regional Arts Alliance by calling 843/407-3062 or by visiting (www.florenceartsalliance.org).

The second half of my trip on this day was to get a sneak peak at the upcoming ArtFields© 2016 exhibit taking place in Lake City, SC, from Apr. 22 – 30, 2016 – so I could share that peek with you.
As I said in the past, I usually take two days to see ArtFields© and it doesn't seem to be enough, but because of the dates of the event I can't give it much more as we have a publication to turn out and our May issue is always a big one. So why not get an early look? I e-mailed Hannah Davis, the new director of ArtFields© but someone who has been there from the start, to see if this would be possible and she told me yes and that Friday and Saturday artists would be delivering work, but a lot of it was in place already. Friday would be the best day for me.
I went through Lake City in the morning on my way to Florence on that familiar path of Hwy. 52 north that I had taken many times before, but never stopping to see what was in Lake City beyond what I saw on Hwy. 52 until four years ago when they wanted me to come check out this new event called ArtFields©. I can honestly say that if it wasn't for ArtFields© I would have never traveled down Main Street, a place I now know quite well.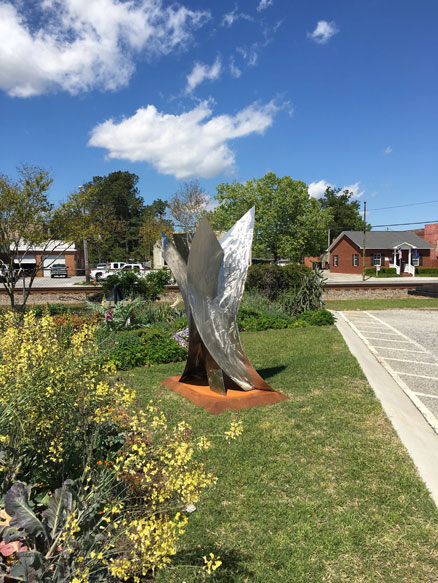 "Summer Wind 2″ by Bob Doster of Lancaster, SC.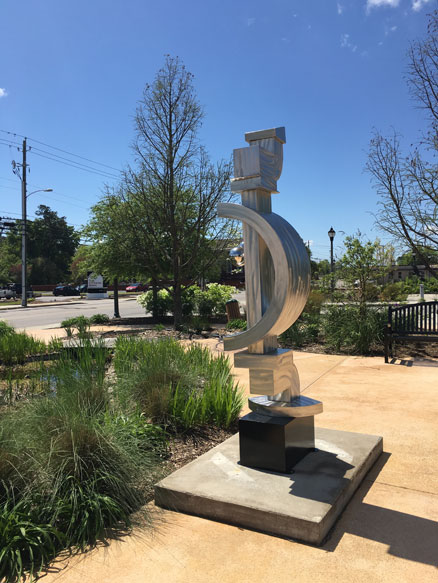 "Caryatid" by Gregory Johnson of Cummins, GA.
My first look at ArtFields© 2016 confirmed my prediction that this year's jurors would fill the ranks with a lot of university and college professors. If you put them on the jury panels don't be surprised when they select a lot of their friends, contacts and works that looks like the kind of work they make. This is not so bad as it does guarantee a lot of interesting work, but these jury panels need to be more diverse, including commercial gallery owners who might select more work that the public is not only used to seeing in galleries but might actually purchase to show in their homes. After all, the visual art community is very diverse and it would be nice to see more fine art crafts at ArtFields©. Also, at least nine out of ten artists I have talked to at ArtFields© would like to see these jurors come from outside the 12 states included in the competition. They don't like the thought of artists picking their friends for this competition.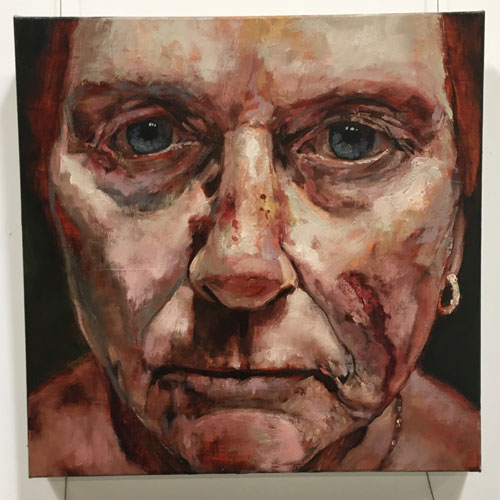 "Woman With Cuts" by Jim Boden of Hartsville, SC.
The other impression I've gotten is that artists entering this competition are falling into what I call the "Juried Show Syndrome" where they enter works they think the jurors will like. A lot of past winners at ArtFields© have been portraits or images of people, so this year we have a lot of entries by artists who may be known for doing other types of work but have entered works featuring people. I might be off base on this and I prefer to think that artists are using ArtFields© to present new works, but I'm seeing a lot of entries with names on them that I would have never expected to have produced them. We'll see if others pick up on this pattern.
Over the years I've also been surprised at the work some artists enter – what I would call – not their best work. I would hope that artists will start to think of ArtFields© as an opportunity to put their best foot forward. It's clear that some artists are already in the mode of planning their entries for the next ArtFields© the minute one ends. And those seem to be the most interesting entries.
Well, as things go with my visits to ArtFields©, I had a few great conversations with Hannah Davis about what it's like to be in charge, with Patrick Parise a Columbia, SC, artist delivering his entry, and a few merchants on Main Street. People are excited to have ArtFields© start.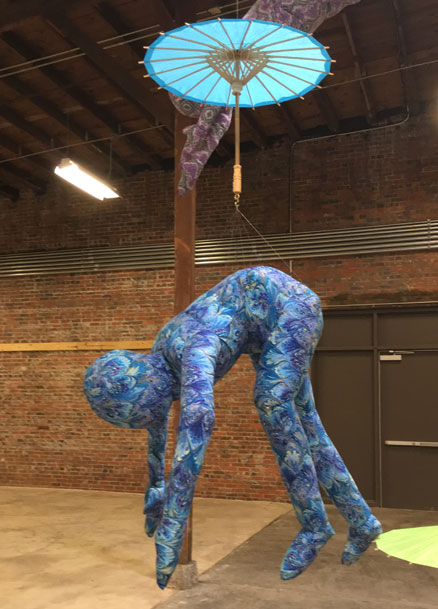 An interesting image by itself, but only a detail of a larger work.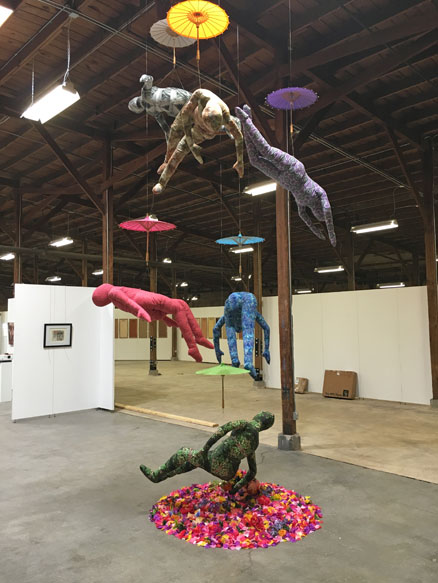 'Rising in Falling" by Kara Gunter of Lexington, SC.
I took a few photos of things that caught my eye, but since everything is not installed or even delivered yet I wouldn't make any judgements on what I'm offering as being my favorites yet. Some I took because I knew who created them. Others I took because I didn't have time to walk too far around town.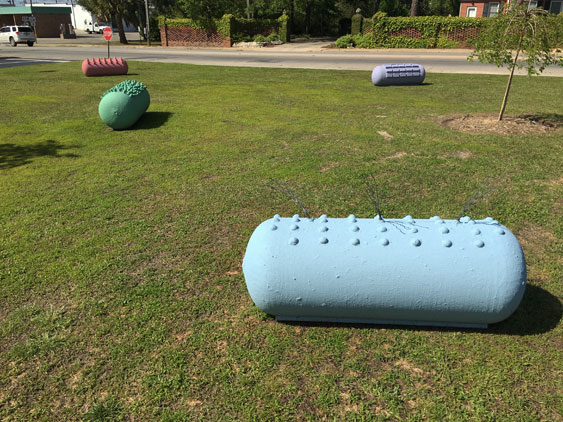 Just part of an outdoor installation entitled "Sculpture Cakes" by Mark Grote of Covington, LA, on the grounds of the Lake City Public Library.
There were a couple of installations that were in the process of being created which I would return to ArtFields© alone just to see how they turned out. Some artists are going all out.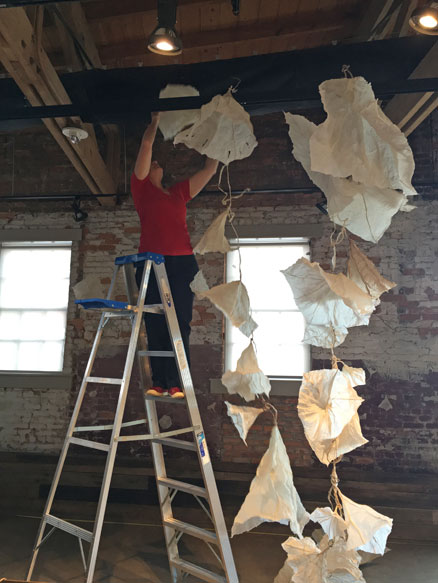 Jocelyn Chateauvert of Charleston, SC, works on her installation, "Invasive Species" at the Jones-Carter Gallery.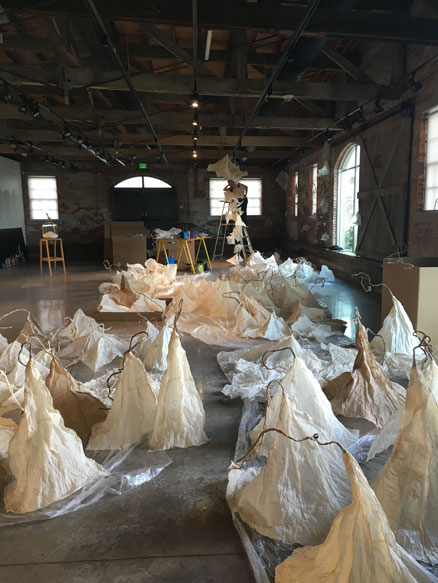 This image shows that Chateauvert has a long way to go before she is finished.
Under the category of new things learned, exhibition catalogs will now be available for the public to purchase. This is the second year ArtFields© has produced an exhibition catalog which was previously only available to artists who visited Lake City. Did you know that? If you're an artist competing in ArtFields© but don't come to Lake City by mailing your entry there and having in mailed back, you are missing out on a packet of goodies given to the artists who check in. This year they are printing enough to be able to sell them to the public along with other merchandise like T-Shirts and hats.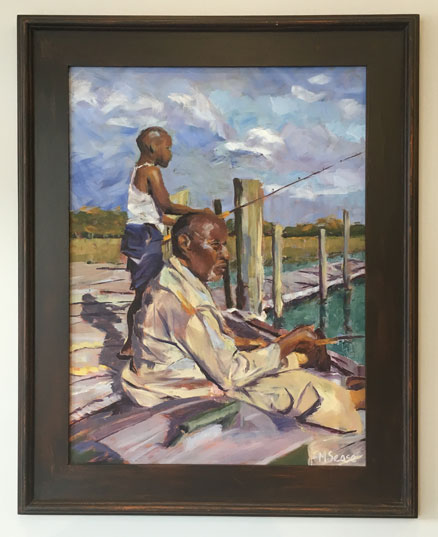 "Perfect Afternoon" by Murray Sease of Bluffton, SC.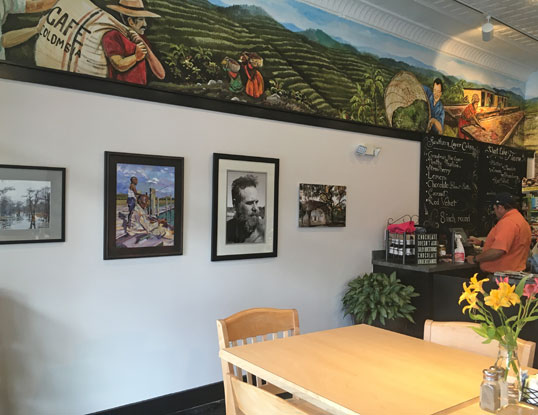 Sease's work is on display at one of the locations on Main Street in Lake City.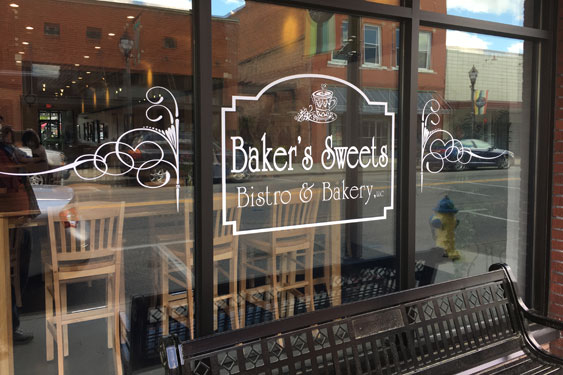 This is what it's all about – getting people in the businesses of Lake City.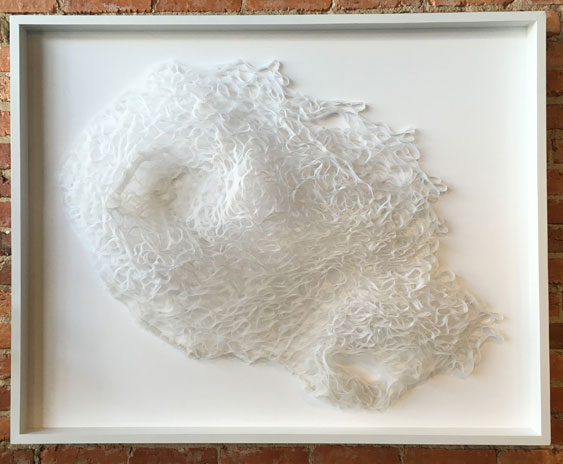 "Wisp" by Loren Schwerd of New Oreleans, LA.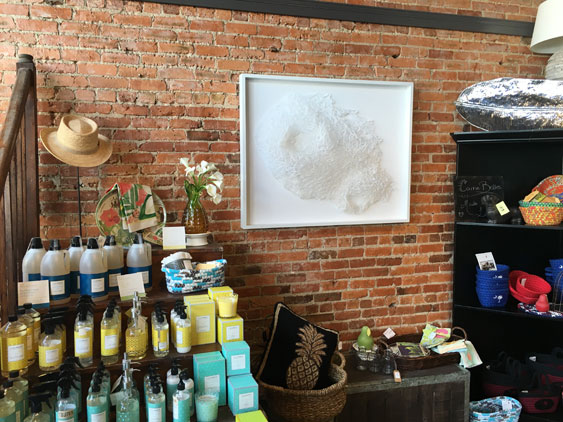 The same work in its merchant setting.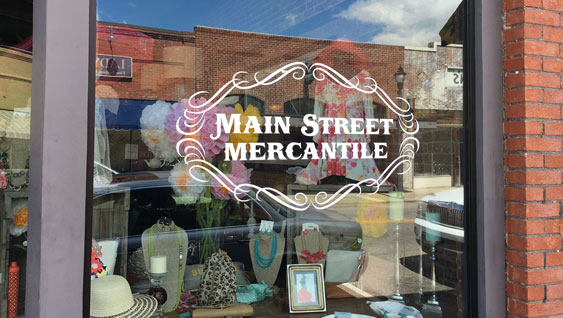 I'm always surprised by the personal tours you are given inside some stores of their ArtFields© entries.
Food Trucks! There will be food trucks at ArtFields© this year. I think that is new. Thar creates more choices for folks who want to keep going on their quest to see all the art being offered.
Finally – go to Lake City, SC, between Apr. 22 – 30, 2016, register to vote, go look at art, eat something while you are there, do some shopping while looking at art in these downtown shops and stores, see more art and then vote – either while looking at art, after you're finished looking at art, or at least when you get home before the deadline.
See you there.
For more information about ArtFields© 2016 visit (www.artfieldssc.org).