So, it's 6:30am and I wake up. Linda has already gone to her 911 dispatch job and there's no covers on me and it's a little cool. It only got down in the 50′s overnight so it was a little warm for covers. It's the first day of Winter, Dec. 21, 2011, and the Amazon weather gal on The Weather Channel – Stephanie Abrams says it's going to be around 77 degrees in our area today and 80 tomorrow. That's Winter?
This weather reminds me of my first year in Charleston or more exact, North Charleston, SC. It was 75 degrees on Christmas and on New Years day I went to Folly Beach and got a sunburn. I called my parents back in Michigan and it was 20 below with blowing snow. That was my first Winter in the South in 1974. The next year at the same time we had some of the coldest, damp weather I've experienced. That's Winter in the South. It's all relative. When you have months of 95 degrees + in the Summer, 30 degrees can seem very cold. And, it's always the humidity that makes the difference.
So when I first went on Facebook to check things out, I posted a picture of an 8 inch snowfall we had a couple years back and asked Mama Nature – what's up? Don't get me wrong, I'm loving it, if not just for the fact that the heater isn't running all day and I don't need air conditioning.
About noon, it's time to make the mail run and if there are some checks in the mail – a run into town to the bank. I also wanted to make a run to the trash site to take some garbage and some papers and plastic to recycle. When I opened our drawer at the local post office there's one of those slips to let you know you have a package inside. My first thought is – what did Linda or our son Andrew order online now, and then I think it's almost Christmas – who sent us something in the mail.
When I exchange the slip for a box with the Postmaster I see that it's from Whynot Pottery in Seagrove, NC. My mind is racing between the notion that it's a piece of potter or fruitcake that Meredith Heywood made. Either one would be great, but I've been jonesin' for fruitcake lately.
I can't explain why all of a sudden in the last two years that when Christmas time has come around I've had fruitcake on my mind. It had been almost 20 years since I've had real good fruitcake. For awhile everyone was making fun of fruitcake – so much so that people stopped giving them as gifts or if they still did – kept it on the down low. Too bad, a good fruitcake is heaven in your mouth and in your teeth for days.
The kind of fruitcakes I grew up on were heavy on the candied fruit and highlighted with a little booze. Linda's mother made an 80 proof fruitcake that fermented for six months. There was a two slice limit on those cakes and no driving after three. We had a friend back in our photography days who's wife made a killer fruitcake, but when the shipyard in North Charleston closed they moved away.
So with that box in hand I jumped in the car and drove home. Once I pulled into the yard I realized that I forgot to go to the trash site. So I put the box in the house and went back to finish my duties. When I finally got home I went straight to the box and opened it and there was a little pottery Christmas ornament and a shiny gold box. The box said it was from Southern Supreme – Old Fashioned Nutty Fruitcake. This was the company Meredith and a few other potters from Seagrove had told me about the first time I mentioned my desire for fruitcake a few weeks ago on Facebook.
The box said it was 8 oz. but it felt like 2 or 3 pounds. This was going to be good fruitcake – far from the mistake I made in thinking I might get something acceptable at Wal-Mart. What was I thinking? It was the fruitcake fever that made me do it.
In a note in the box Meredith said that this was probably more nuts than fruit and the box says that this was "More Nuts than Fruit….Fruitcake". Opening the box it looked real good too as you can see from the picture. Also in the note Meredith said her husband Mark called this a single serving, which was kind of funny.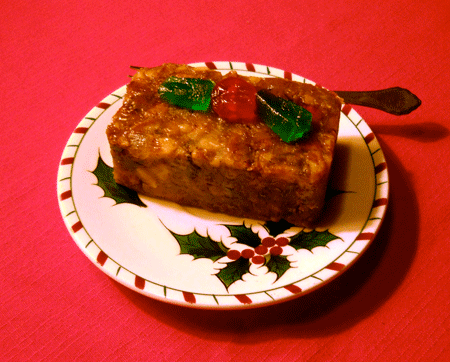 Around here, when it comes to slicing pie or cake or dishing out ice cream, Linda always ask if someone wants a "Starland" size portion or a normal portion. I guess my family has a habit of making big portions when it comes to desert. Our family was big so you took a big portion knowing there might not be any left over for seconds.
It took a lot of will power and a public posting on Facebook announcing that I had received a fruitcake in the mail to keep me from opening that packaging and putting a little bit of heaven in my mouth before Linda got home. A lot of will power.
Linda finally got home around 8pm and we had dinner and then I brought out the box. We took a picture first and then had at it.
Linda was reading the back label which said that it was a 100 calories per serving, not bad if you overlooked the fact that this 8oz. cake has 11 servings. That's 1,100 calories total. Fairly soon Linda remarks that she can't believe I'm still eating it – almost half-way through. I reply – I can't seem to stop, but I do. And, before long I felt like I had a brick or two in my stomach. It was sooooo good, but oh my! I think I'll try and save the other half for Christmas day. At least that's the plan.
Southern Supreme Fruitcakes are homemade by the Scott family in Bear Creek, NC, which is on NC Hwy. 902 which runs between Seagrove and Pittsboro, NC. They have a website at (www.southernsupreme.com) where you can make an order. Their photo number is 336/581-3141.
This fruitcake is not Yankee fruitcake, but it's damn Yankee good. And, you'all know what a damn Yankee is – one that comes South and stays. I know something about that.
I can't say enough about how appreciative I am to Mark and Meredith Heywood for thinking of me and Linda and my recent craving for fruitcake during the holidays. They're a couple of the great friends we have made in Seagrove – the center of pottery in North Carolina. They didn't do this to generate this kind of response, but no good deed and fruitcake in the mail goes unrewarded.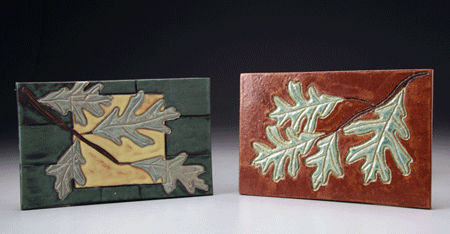 Mark and Meredith Heywood operate Whynot Pottery, located at 1013 Fork Creek Mill Road in Seagrove. You can check out their pottery on their website at (www.whynotpottery.com); follow Meredith on her blog at (http://whynotpotteryblog.blogspot.com/); and you can check out the items they have for sale on Etsy at (http://www.etsy.com/shop/whynotpottery?ref=badge). But the best thing is to make a trip to Seagrove and visit their pottery, but call first to make sure they are there this time of year. Of course they are also on Facebook at Whynot Pottery.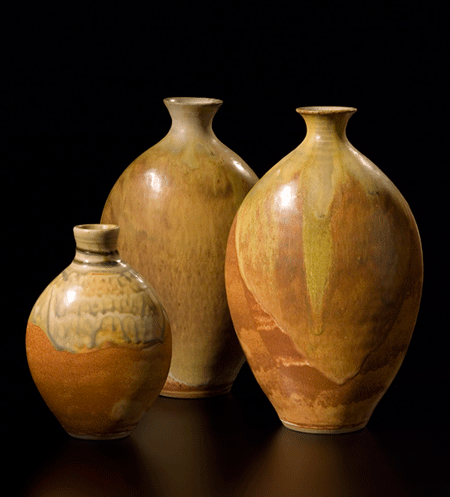 Mark and Meredith are going to celebrate their 30th anniversary of operating Whynot Pottery in October of 2012. Marking our own 25th anniversary this year, we know what that means – a lot of blood, sweat and tears down the road and good times too.
Today is also Meredith's birthday. Happy birthday my friend. We're a better world with folks like you.
P.S. I want you to know that I'm still holding you to the promise of pineapple upsidedown cake. I know – give you a few days warning before I visit. You can count on that.