As I have said before – this is the kind of art auction fundraiser that I can get behind and support and it turns out to have been a very successful idea – one soon to be copied by other non-profits. But, this will be the NC Pottery Center's for the time being.
Here's the good news.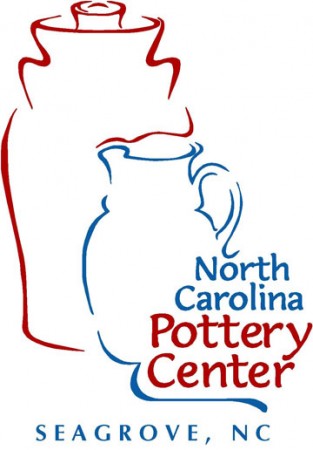 Unique canvases created by NC's premier potters for the first-of-its-kind event at the NC Pottery Center in Seagrove, NC, were auctioned on Saturday, Feb. 4, 2012.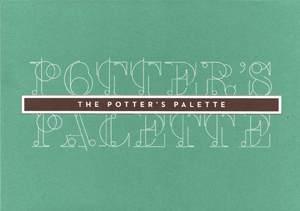 "The Potter's Palette" featured over 90, 12"x12" canvases produced by clay artists from around the state, who were invited to create a canvas using any medium they desired, to be sold in a fund raiser to benefit the NC Pottery Center. The outstanding results raised over $18,000 during the event, which included live Celtic music by Seagrove potter Michael Mahan and an outstanding buffet of food produced by Jennie Lorette Keatts with some help from sister Pam Owens.
The palettes are still on display at the NC Pottery Center's website (www.ncpotterycenter.org). This unusual and new event, brought another level of creativity to the North Carolina Pottery Center, and was a wonderful showcase for a different side of talent that the clay artists in NC have to offer.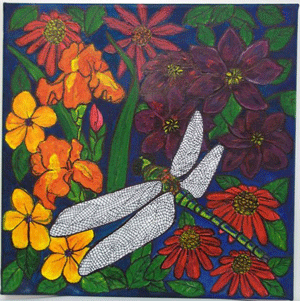 Painting by Mary Paul and John Garland
There was an air of excitement and festivity during the event where bidding went high for the exceptional paintings. The highest bid was $1700 and every palette sold, with over half bringing $100 and much more. Absentee bidding was also available at the Center and on the NCPC website and bidders came nationally from GA to VA, to CO and CA to participate in the event. Virgil Thomas of Able Auctions generously and graciously lent his expertise, while potter's pictures were described by NCPC Vice-President and notable potter, Mark Hewitt of Pittsboro, NC, and displayed by Seagrove potter Fred Johnston and volunteer Kirk McNaughton.
Highlights of the evening included over $14,000 of palette sales, over $4,000 of donations and ticket sales and over 70 registered bidders. The NC Pottery Center relies on its fundraising activities and membership, to maintain its ongoing exhibitions and educational  activities, as the main revenue stream.
Supporting potters included: Rita Abee, Colleen Black-Semelka, Cynthia Bringle, John Britt, Tammy Leigh Brooks, Jeff Brown, Chad Brown, Bonnie Burns, Kyle Carpenter, Donna Craven and Susan Greene, Daphne Cruze, Naomi Daglish, Jeffrey Dean, Kim Ellington, Seo Eo, Mary Farrell, Abe Fenberg, Michelle Flowers, Becca Floyd, Carol Gentithes, Terry Gess, Bruce Gholson, Vicki Gill, Beth Gore, Tom Gray, Sue Grier, Michele Hastings, Samantha Henneke, Mark Hewitt, Meredith Heywood, Mary Holmes, Helene Icard, Tonda Jeffcoat, Mary Paul and John Garland, Daniel Johnston, Fred Johnston, Matt Jones, Ann Raven Jorgenson, Jennie Lorette Keatts, Crystal King, Michael Kline, Keith Lambert, Bruce Latham, Janice Latham, Andrew Linton, Dan Lovejoy, Nancy Lovejoy, Levi Mahan, Michael Mahan, Alex Matisse, Eck McCanless, Fiva McCanless, Milly McCanless, Susan McGehee, Karen Mickler, Alexa Modderno, Lynn Morrow, Ben Owen III, LoriAnn Owen, Pam Owens, Travis Owens, Vernon Owens, Hal and Eleanor Pugh, Joseph Sand, Caroleen Sanders, Hitomi Shibata, Takuro Shibata, Paula Smith, Barbara Strassberg, Roy Strassberg, Tom Soumalainen, Bobbie Thomas, Scott Thomas, John Viegland, Kate Waltman, Doc Welty, Dina Wilde-Ramsing, Charlotte Wooten and Jared Zehmer.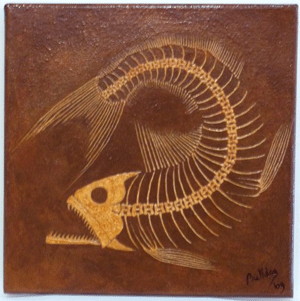 Painting by Bruce Gholson
The evening was supported and sponsored by: The Goodknight Foundation; Lucy C Daniels; Daniel & Genene Uyesato; Martha Luck Johnson; Dr. Terry Zug; Brad Crone; Mark & Carol Hewitt; Ed & Gloria Henneke; Harriet Herring; Ellen Jordan; Dr. Linda Carnes-McNaughton; Janice & GE Gavin; Lane Wharton; Charles W Millard III; Jo M Grimley; Shelton Gorelick; Something Different Restaurant; Peggy Myers; Archie Purcell; Nancy Farmer. Many volunteers stepped forward in their efforts to support the NC Pottery Center helping with check in and registration to the food service and auction. The NC Pottery Center is grateful for the generous support of our sponsors and volunteers, without them our efforts would be lacking!
The North Carolina Pottery Center offers educational opportunities to statewide schools and individuals, changing historical and contemporary exhibitions, demonstrations, and information about statewide potters. The NCPC is a private nonprofit entity, funded primarily through memberships, grants, admissions, and appropriations.
The NC Pottery Center is open, Tue.-Sat., 10am to 4pm. Admission (excluding free special events): $2 – adults, $1 – students 9th through 12th grades, Free – children through 8th grade, free – NCPC members. The center is handicap accessible and groups and tours are welcomed.
For further information and details call 336/873-8430, e-mail to (info@ncpotterycenter.org) or visit (www.NCPotteryCenter.org).