On a day when it was thundering and lightening around the lake here in Bonneau, SC, I decided to head over to the Pee Dee area of South Carolina, to see a few exhibits on view in Florence, SC, and Lake City, SC, just an hour's drive north on Hwy. 52. If the computer had to be unplugged, why not go somewhere else where the weather is not so angry.
Part I, about my visit to the Jones-Carter Gallery in Lake City, SC, (home to the ArtFields event) can be seen at this link.
In Part II of this installment, I'm going to cover a subject I've talked about several times in the last few years, and that's the growing arts district in downtown Florence, SC. It had been almost a year since my last trip to see an exhibit at the Art Trail Gallery and I was looking forward to seeing all the changes that had taken place during that time frame. I've also been waiting for almost six months to get a close look at the public art that was being installed in this district.
Downtown Florence, like many cities across America has a lot to work with as far as vacant buildings that can be rehabbed and buildings that will need to come down to make new open spaces and in the last 3-4 years I've been going there you could see signs of a makeover taking place.
So when I got to Florence after leaving Lake City, SC, I parked across from where the old Art Trail Gallery was on S. Dargan Street – where I knew Big Bleu Birdnanna, a towering sculpture by Mike and Patz Fowle was standing – the first piece of outdoor work to be placed in the new arts district by REdiscovering Downtown Florence, a division of the Florence Downtown Development Corporation.
I've seen photos of the big bird, but I wanted to see it myself before I reported about it. Once I got out of the car I could really see that a lot of work has been done since I was last in this area.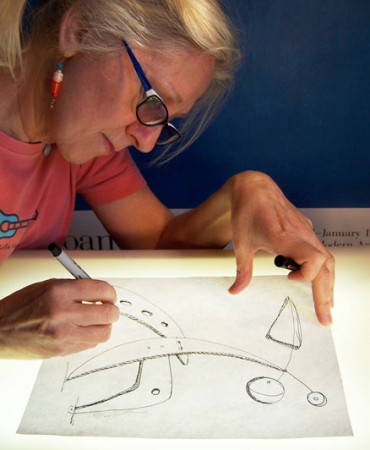 Patz Fowle working on design of sculpture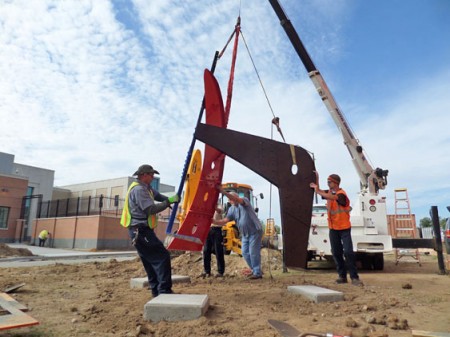 Installation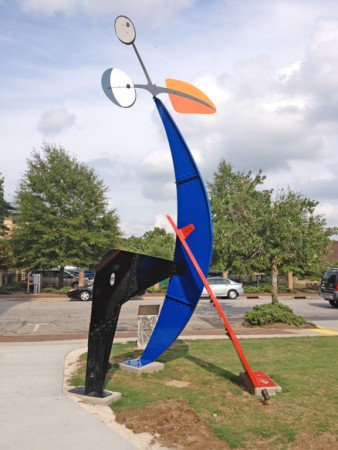 Another view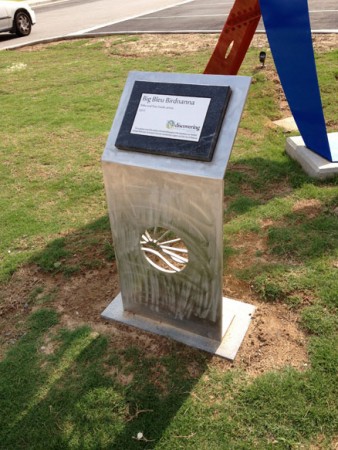 Impressive sign for sculpture – any guess as to who made this?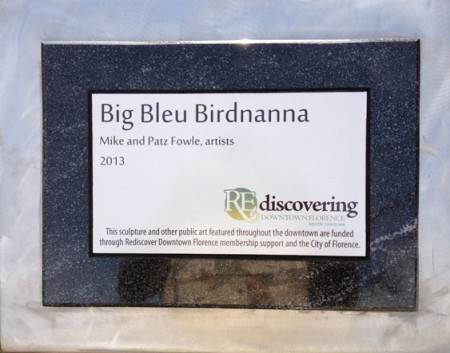 Many artists wish the sign for their sculpture ID sign was this good
After taking a few photos of Big Bleu Birdnanna, I followed a walkway to another open space that would lead me to the Art Trail Gallery on West Evans Street, but before I got there I discovered another open space which was totally changed since I was last in Florence. It was called the James Allen Plaza. I'm not sure who James Allen was but I'm sure he was someone important to downtown Florence or someone who gave them money to do this space. And, here I found the handiwork of Bob Doster, the man of metal, from Lancaster, SC. I'm telling you – his work is going to be everywhere someday.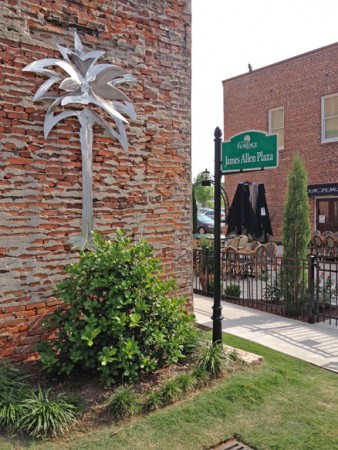 Sign for James Allen Plaza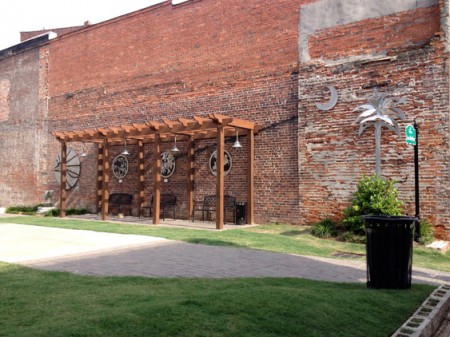 Here we see that Bob Doster has been here – it's no surprise
Three of the pieces were influenced by students from local schools, including the Swallowtail Butterflies and Yellow Jasmine designed by Williams Middle School students. Doster works with a lot of school children all over the state helping them make sculptures.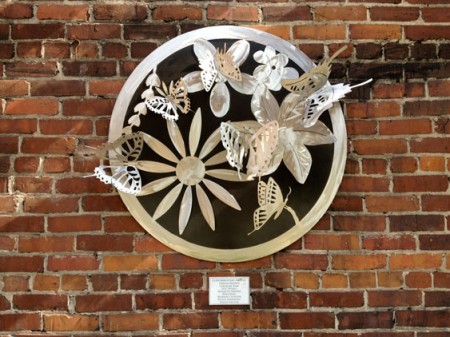 "Swallowtail Butterflies," by Bob Doster with the help of Dredan Brown, Caroline Ham, Lyle Detalo, Marquise Brewer, Ryan Byrd, Hannah Culpeper, Rocye Anderson, and Haven Rector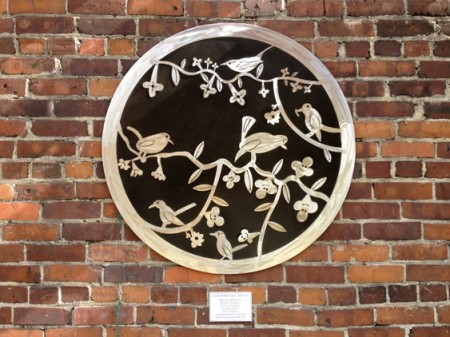 "Yellow Jasmine," by Bob Doster with the help of Henry Frierson, Jazmyn Rowell, Caleb Farrell, Ciona Gray, Lilly Huiet, Hannah Rose Carter, and Ezra Smolen-Morton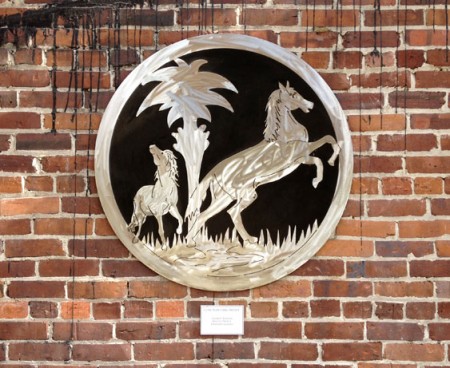 Unknown title, by Bob Doster, with the help of Lauren Bynum, Lelley Pierce, and Hannah Gandy, from unknown school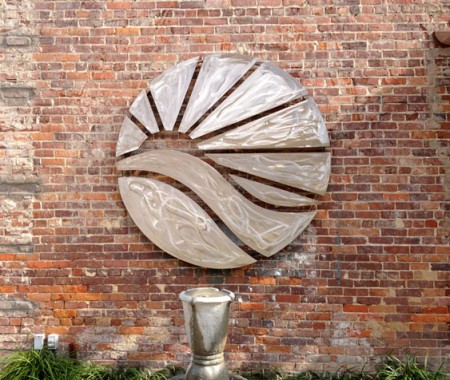 Rendition of the City of Florence Seal, by Bob Doster
Here's a little pitch for REdiscovering Downtown Florence:

REdiscovering Downtown membership is similar to memberships other downtown groups have, but focuses just on public art rather than business promotion.
Arts and culture is a very important component of the downtown revitalization process and creating public art will make the area more inviting and encourage both locals and tourists to REdiscover the historic heart of our community.
With your support, public art will be purchased each year and be placed in downtown courtyards and all the streetscape of Evans and Dargan streets. The city of Florence is providing matching dollars for this project utilizing funds from the fees collected from Sundays alcohol sales. This means that every dollar you donate will leverage public funds to help grow art downtown.
For further info and to become a member visit (http://www.florencedowntown.com/arts-culture/rediscover/).
The rest of the time before the reception started for the exhibit at the Art Trail Gallery was spent walking around W. Evans Street and S. Dargan taking photos of some of the buildings which now hold new businesses and some that will soon hold new businesses – in Florence's new arts district.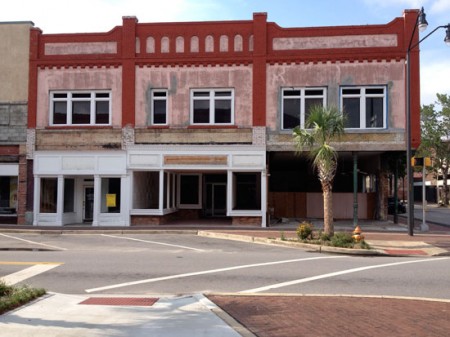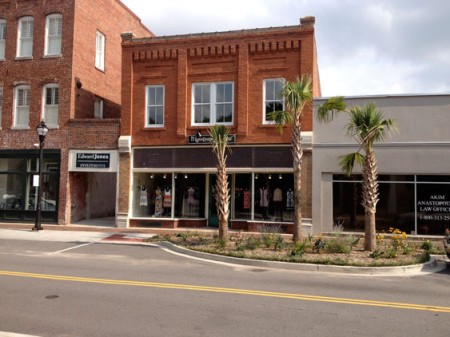 Another open space on W. Evans Street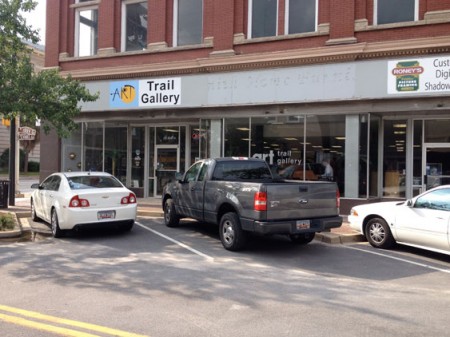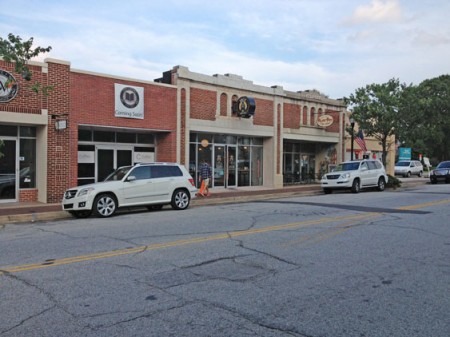 Businesses on S. Dargan Street, near W. Evans Street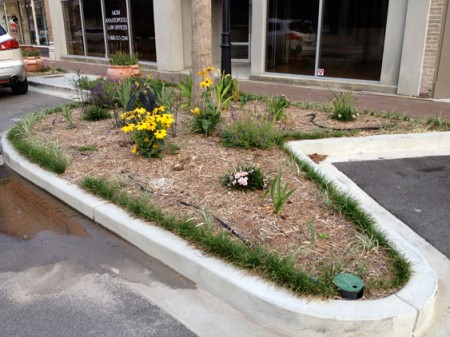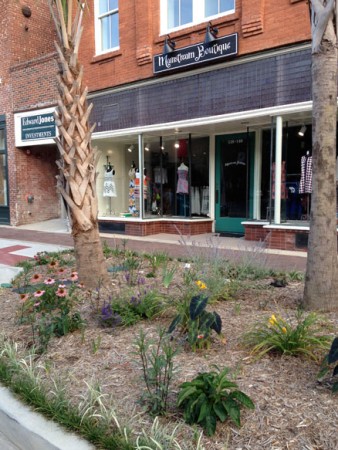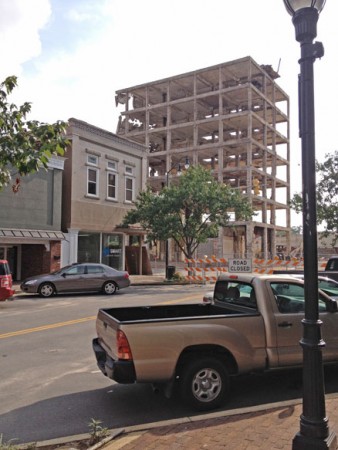 More signs of change – building coming down near Irby and W. Evans Street
I understand the new Florence County Museum will be opening sometime in October of this year, and that will add another big cornerstone in that arts district.
Things are happening in South Carolina's Pee Dee area.