The 6th Charleston Art Auction will present over one hundred important paintings, sculpture and vintage prints by living and deceased artists who are generally associated with the South at the Double Tree Guest Suites in Historic Charleston at 181 Church Street in Charleston, SC, on Saturday, Nov. 5, 2011, at 7:15pm.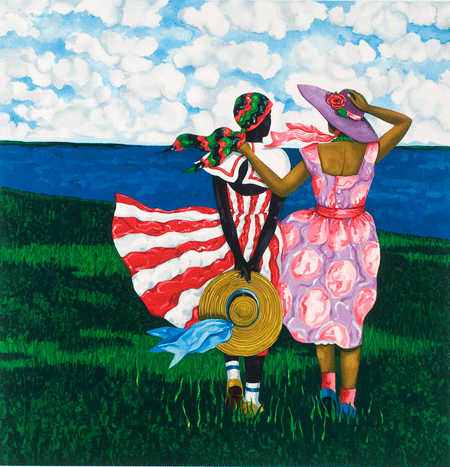 Jonathan Green, Daughters of the South, lithograph, 24 1/2″ x 23 3/4″
An illustrated catalogue is available for $25.00 and the entire selection of lots can be viewed online at the auction website at (www.charlestonartauction.com). Arrangements to attend may be made at 843/785-2318 or 843/722-2172 or through the website at (www.charlestonartauction.com). All works will be available for preview at the hotel from 10am to 7pm, Saturday, Nov. 5, 2011.
Auction principals Jack A. Morris, Jr., J. Ben Whiteside, David G. Leahy, Janie Sylvan and Joe B. Sylvan have over thirty years experience presenting fine art to collectors throughout the Unites States. "Our objective is to offer a showcase for the finest contemporary, representational work being created today" said Whiteside.
Shannon Smith, Shrimping Grounds, oil, 22″ x 28″
Artists presented will include Ken Auster, Bobby Bagley, Gerald Balciar, William Berra, George Botich, Joe Bowler, Scott Burdick, James Calk, Alan Campbell, Elaine Coffee, Guy Coheleach, John Carroll Doyle, Kathleen Dunphy, Ray Ellis, Ted Ellis, Kim English, Glenna Goodacre, Veryl Goodnight, Russell Gordon, Jonathan Green, Walter Greer, Chris G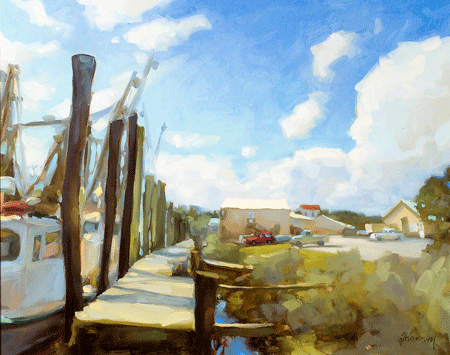 roves, Carol Guzmanj, John Austin Hanna, Michael Harrell, Betsy Havens, Evan Harrington, Mandy Johnson, Karin Jurick, Michael B. Karas, Jeff Legg, Earl B. Lewis, Weizhen Liang, Huihan Liu, Susan Lyon, Dan McCaw, Danny McCaw, Dean Mitchell, Joseph Orr, Robert Palevitz, Addison Palmer, Jim Palmer, George Pate, Guido Petruzzi, Joan Potter, Edward Rice, Jennifer Smith Rogers, Marilyn Simandle, Betty Anglin Smith, Shannon Smith, Loran Speck, Linda St. Clair, Rhett Thurman, Michelle Torrez, Karen Larson Turner, Mary Whyte, Scott Yeager, Stephen Scott Young and Alex Zapata.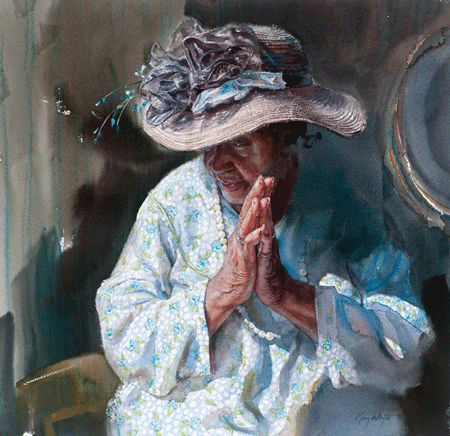 Mary Whyte, Hidden, watercolor, 20″ x 20″
Morris, who is also a principal partner in Scottsdale Art Auction, which set a new record with $15,300,000 in sales on April 1, 2011, is responsible for the expanded offering of important work by deceased Southern masters.
"There is a renaissance of interest among collectors for fine Southern works," Morris said, "and our sale offers an opportunity for new and experienced buyers to make significant additions to their collections," pointing to works by William Halsey, Clark Hulings, Alfred Hutty, George Plante, Gigory Stepanyants, George W. Sully, Elizabeth O'Neill Verner, William Aiken Walker and Eudora Welty, among others.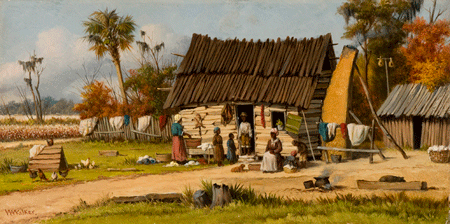 William Aiken Walker (1838-1921), Wash Day at the Cabin, oil, 6″ x 12″
Collectors who are unable to attend the sale in person should contact Charleston Art Auction to make arrangements for absentee and telephone bidding prior to 5pm on Friday, Nov. 4, 2011. Sale results will be posted at (www.charlestonartauction.com) the week following the sale.
For further information call 843/785-2318, 843/722-2172 or visit (www.charlestonartauction.com).