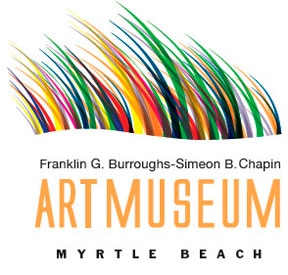 Back in the Fall, Linda and I traveled to Myrtle Beach, SC, Linda's hometown to visit the Franklin G. Burroughs-Simeon B. Chapin Art Museum, which was showing an exhibit I had come across when it was showing at other exhibit venues in the Carolinas, but never got a chance to see. The exhibition is, The Opulent Object: Tapestries by Jon Riis with Sculpture by Richard Mafong and Mike Harrison. I'm sorry for this late write-up, but somehow this trip had fallen through the cracks in my daily struggles to keep up with all that we're doing here at Shoestring Publishing. But, this is a show you should make a point to try and see before it ends on Jan. 5, 2014. It's my bad for giving you such a short heads up.
Although in the past Linda and I made many trips to Myrtle Beach when her mother still lived there we don't get back there that often these days. It's not like its on the way to other destinations. Well, it is if you're traveling up and down the Atlantic coast, but we don't make it that way much. Our beach days are over. We're always amazed at how much Myrtle Beach has changed each time we make it back there, but all you have to do is go to the Gay Dolphin to see that in some ways it never changes. We discovered the new boardwalk on this trip.
The Art Museum is practically right on the beach, but far enough back to keep sand from blowing in the door. That's a little inside joke. Years ago I sat in on a SC Arts Commission grant-funding meeting and one of the out-of-state panel members was shocked to hear that the Museum was on the beach. She was reluctant to approve funding for a facility that would, in her mind, spent most of its time sweeping sand out the doors. It was explained to her that the Museum wasn't a Teke Hut on the beach – it was a modern facility. That's a memory that comes up every time I'm dealing with the Franklin G. Burroughs-Simeon B. Chapin Art Museum, besides it having the longest name for a museum in the Carolinas. And, as we walked through it viewing the exhibits I was amazed at how good a shape it was in. There was no look of wear and tear that you'll see in some urban facilities. The folks there must keep the facility well maintained.
One of the other exhibits on view that day was Passionate Collectors, featuring works from the collection of husband and wife Barbara Burgess and John Dinkelspiel, which was donated to the Museum. The collection includes works in a wide range of styles, subjects and media all focused on Southern art. Represented in the collection are 21 pieces from South Carolinian Jonathan Green, along with works by noted African-American artists William H. Clarke, James Denmark, Cassandra Gillens and others.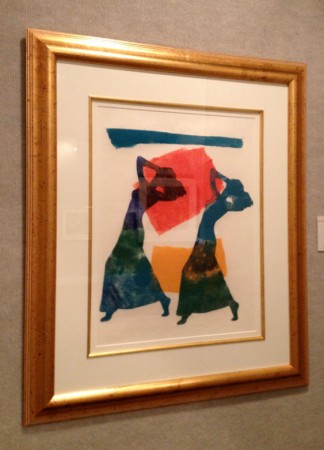 Work by Corrie Parker McCallum
Some of the others in this collection were artists like Corrie Parker McCallum, Chris Ritsch, and Lynda R. Karl, an artist from Moncks Corner, SC, our backyard, and I've never seen any of her work before. But, I liked what I saw. I also saw the first work by Jonathan Green that I liked. Don't get me wrong I admire what Green does, but that style has never appealed to me. I'd like to see more works by Green like the work included here.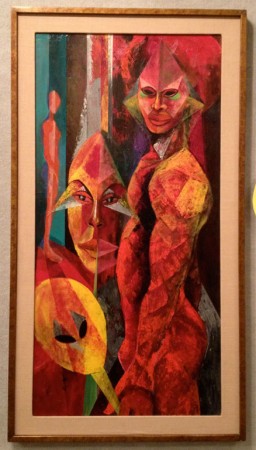 Ambassador, 1984, by Jonathan Green
The third exhibit on view that day was, Celia Pearson: Glass Transformed, A Photographer Explores Sea Glass. Nationally known photographer Celia Pearson was commissioned to produce 150 images of the sea glass in the collection of Marylanders Richard and Nancy LaMotte. The photographs were not that impressive, adequate for the purpose, but the glass objects found on the world's beaches was very interesting.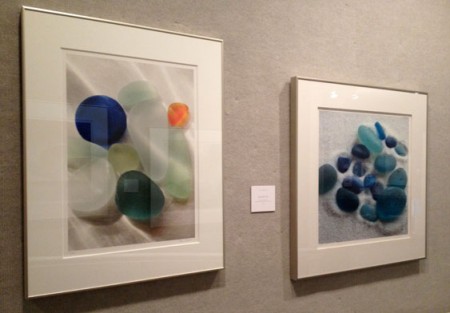 Works by Celia Pearson
The main show to me was the works of Jon Riis. His work was amazing and staggering to think of how much time went into each piece and there were so many – each equally impressive, if not more than the next. The images I took won't do these works justice as you have to see them up close to realize the details.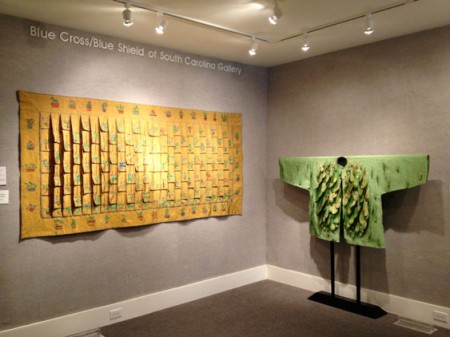 Works by Jon Riis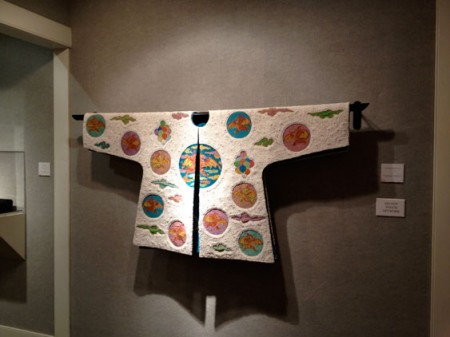 Work by Jon Riis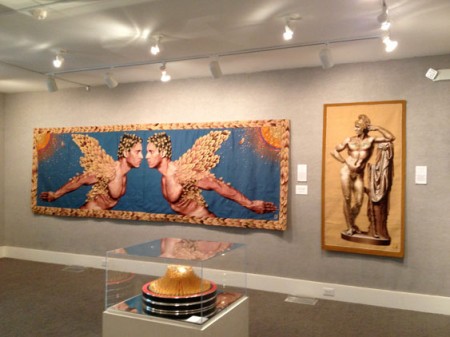 Works by Jon Riis
You can get a better feel for this artist's work by reading a blog entry (Feb. 17, 2012) by Susan Lenz, a fiber artist from Columbia, SC, who saw works by Riis at the Sumter County Gallery of Art in Sumter, SC, at her blog Art In Stitches at (http://artbysusanlenz.blogspot.com/2012/02/jon-eric-riis-shimmer-at-sumter-county.html). Lenz, a talented artist who works in fiber, among other mediums has a better feel for describing Riis' works. We also had an article about this exhibition in our March 2012 issue of Caro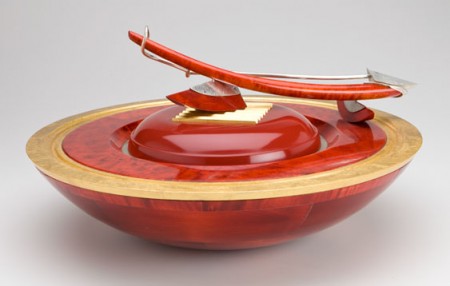 lina Arts.
The works in this exhibit by Richard Mafong and Mike Harrison are impressive too. They're a good match for Riis' works. But, I have to admit that I was blown away by Riis' works – even those that had subject matter I didn't care for. Riis has a darker side to him which undoubtably will be the works others find more impressive. Different strokes for different folks.
Work by Richard Mafong and Mike Harrison
I took a picture of a class that was going on at the Museum – it's the bread and butter of most visual art facilities these days. The children looked like they were having a good time with art. They weren't making art – not yet, but they were having fun and maybe preparing for a future in the arts. Hopefully they'll grow up to be art patrons. We've got enough artists.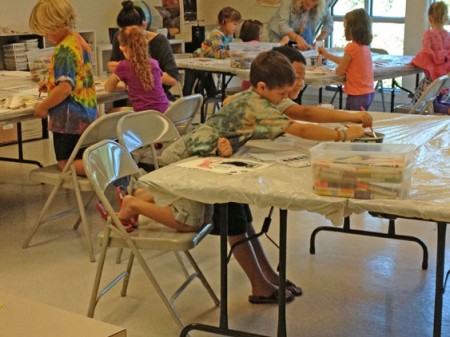 Again, I'm sorry for the lateness of this blog post, but this show may pop up somewhere else in the Carolinas and if it does, I'll give a holler. Hey, and you never know – this year could be like my first year in South Carolina where Christmas day and New Years day were 75 degrees back in 1974 – beach weather for a guy from Michigan. I got sunburned on Folly Beach on New Years day back in 1974. Called the folks back in Michigan and it was 20 degrees and the snow was blowing horizontally. Ya gotta love the winters here.
For further information call the Museum at 843/238-2510 or visit (www.myrtlebeachartmuseum.org).