On Friday, June 21, 2013, (not June 26 as Jane Madden pointed out to me – we didn't time travel) Linda and I made the 52 mile trip from Bonneau, SC, to Lake City, SC, to attend the opening of "agriART," featuring works by Joshua Vaughan (photography), Mark Conrardy (paintings), and an installation based on tobacco by Vassiliki Falkehag, on view in the Community Museum Society's new Jones-Carter Gallery, through Aug. 26, 2013.
I didn't come to review the exhibit – I leave that up to viewers. I'm more interested in getting readers in the doors of exhibit spaces. This time I was smart and took photos early on before a lot of folks would be in the way of seeing the art displayed and didn't start talking until later. I want you to go see this exhibit and this new art space in Lake City.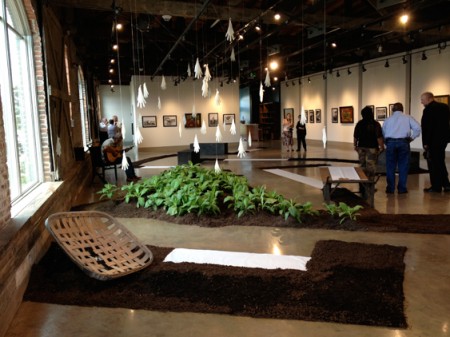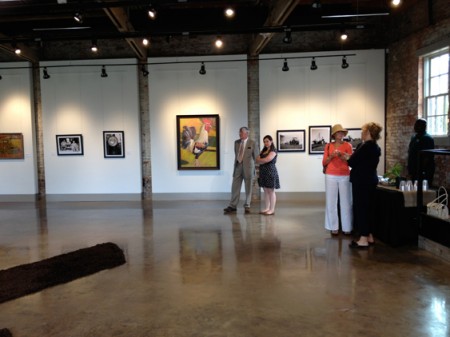 It seems fitting that the Community Museum Society which covers art, agriculture, and history begin with an art show focused on agriculture. Joshua Vaughan offers photographs of rural farm communities in the Carolinas, while Mark Conrardy offers paintings of farm objects – mostly vintage tractors. Vassiliki Falkehag, who was an active member of the Charleston, SC, art community during the late 1980′s and early 1990′s offers a site specific installation focused on tobacco entitled, "Fields of Risk".
Both Vaughan (from Greenville, NC) and Conrardy (from Columbia, SC) were participants in the first ArtFields event in Lake City, but Falkehag is like a blast from the past – Charleston's past.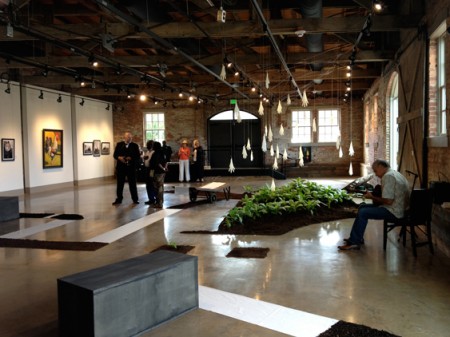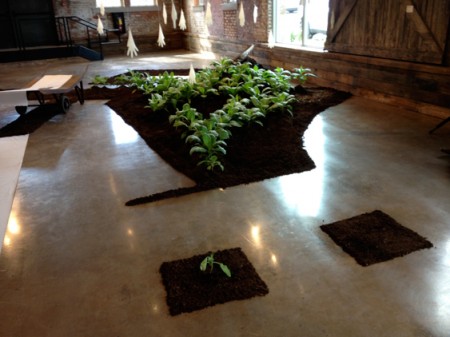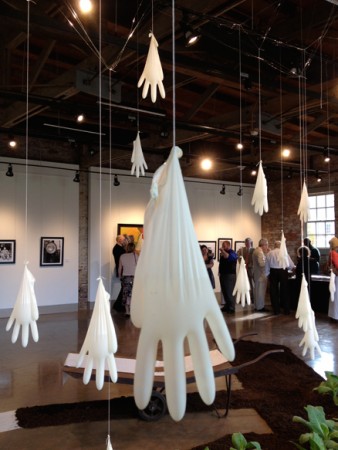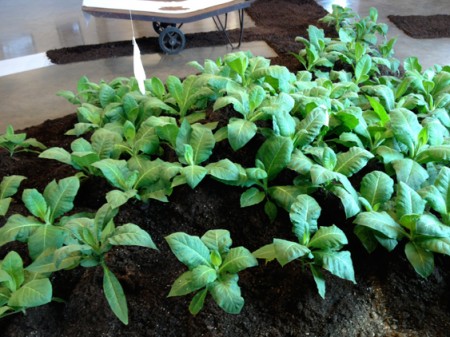 When I first saw her name associated with this exhibit I wondered where she has been all these years. I did a Google search and there was very little there about her. She was part of a more creative time in Charleston when the City's Office of Cultural Affairs was run by Diane Abby. It was a time when the visual arts in Charleston didn't have to take a back seat to the performing arts – as it does now. Falkehag has been living, exhibiting and teaching in Sweden and now that she has retired is spending Summers back in Charleston. She visited ArtFields and made some connections with folks here and soon she was to be featured in an exhibit. That's one of the other benefits of ArtFields besides large cash awards – being seen and making connections.
The new Jones-Carter Gallery is a wonderful space – big enough for showing lots of works by several artists at once – including installations. In talking with Ray McBride, Executive Director of the Community Museum Society and Hannah L. Davis, Curator of the Jones-Carter Gallery, we learned that they are working on bringing a major art exhibit to Lake City from the Smithsonian perhaps in the fall, but all the details are not worked out yet. Let's keep our fingers crossed.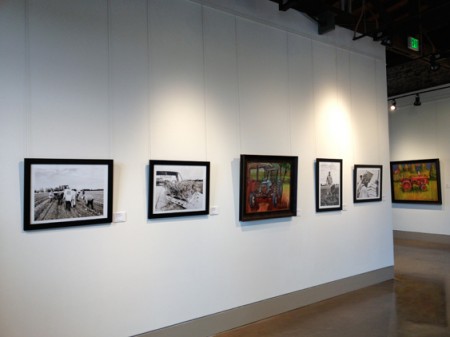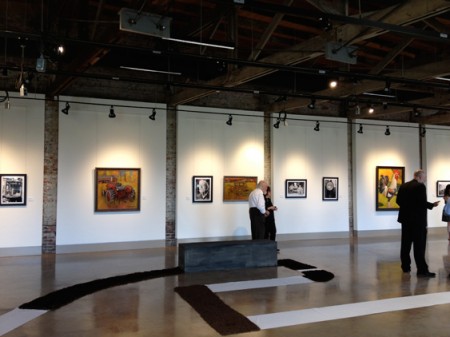 We also learned that the folks who produced ArtFields are getting ready for ArtFields 2014 and a few more big projects including a Children's Museum and developing an artist's colony – including apartments. The merchants of Lake City saw the impact ArtFields had on their businesses. I'm told some did a year's worth of business during ArtFields, but they still haven't adjusted to the fact that in order to develop a tourist market – they will have to open themselves up to more than a banker's hours effort. The city will have to come alive on the weekends.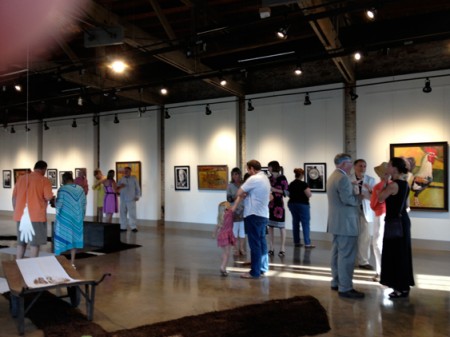 Excuse the finger in the upper left corner. Once people start to fill the space it's harder to take photos.
But, all good things take time. Opportunities are being missed in the aftermath of ArtFields, but those are lessons learned sometimes the hard way. I think they're catching on fast in Lake City – at least I hope they are.
One example of that was a list of eating establishments in Lake City and the surrounding area provided by The Greater Lake City Chamber of Commerce found on the front counter at the gallery. And Linda and I had a meal in Lake City before we left town. So we want them to know these efforts are paying off.
Linda and I also had a chance to talk with the Mayor of Lake City, Lovith Anderson, Jr. and his wife, Willie Mae who were at the opening about ArtFields' impact and future plans for the city. Karen Fowler, Executive Director of ArtFields was also there.
So, beside looking at art we also enjoyed a few hours of meaningful conversation about the art biz and making connections. But you can go just to see the exhibit and explore Lake City without the social networking or get on their mailing list for the next invite to the next opening.
One other special note worth mentioning. At the opening they were serving peach cobbler (from locally grown peaches) and ice cream. I didn't know they were growing peaches in the Pee Dee, but then again there is so much most of us who live in South Carolina don't know about the Pee Dee.
The Jones-Carter Gallery is located at 105 Henry Street in Lake City, next to The Bean Market, just a block off Main Street. It is open Mon.-Fri., 10am-6pm.
For further information about the Society or the Jones-Carter Gallery call 843/374-1500 or e-mail to (hdavis@cmslc.org). Dial them up on their newFacebook page and give them a "Like" to keep up with what's happening there.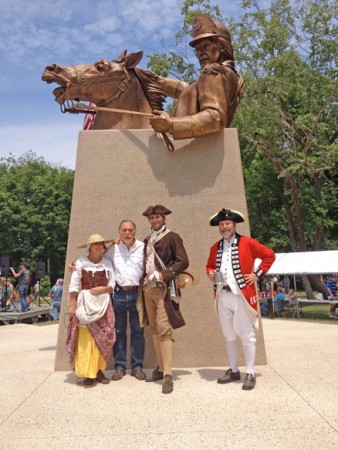 Alex Palkovich is the one not in costume.
OK – Not to take the spotlight away from Lake City, but we also had a conversation with Alex Palkovich, the sculptor from Florence, SC, who was also in ArtFields and recently showcased in our coverage of the new Francis Marion statue in Johnsonville, SC – just 20 miles from Lake City. We talked about my recent trip to Florence's growing art district, and he filled me in on a lot of exciting developments going on there. He claimed that since the 30 days that I visited I wouldn't recognize the changes made, but what was more impressive was future plans he told us about that I can not mention here. Florence is putting the pedal to the metal on its arts district.