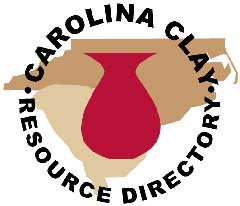 Finally! After months of collecting info about the clay community in both North and South Carolina we have finally gotten to a point where I felt we could launch this puppy. Plus, when we got close to this being our 400th entry to Carolina Arts Unleashed, I felt that was the time to put it out there and begin the long journey of collecting more info, updating, refining, and letting others have access to this info.
Our logo was designed by Zelda Ravenel – our blog graphics guru atCarolina Arts and Linda, my better half, and our web master at Carolina Arts, put it all together and actually made it work. I'm a content kind of guy – in other words – technically illiterate.
I'm not sure what the folks who make up the Carolina clay community will think of our efforts, but I didn't find this info collected in one place anywhere else – until now. And, right up front I'll admit – we have just scratched the surface. We have a long way to go yet, but everything has to start somewhere or it never gets anywhere.
We're open to any suggestions – within our abilities. Like Carolina Arts and all its related sites – we're not fancy, but we are simple and clean.
Right off, it won't take any observer too long to notice that the South Carolina clay community looks like the little cousin to the clay community in North Carolina. We know there is a lot more out there in South Carolina, but North Carolina is a lot more organized and supported by many more institutions. But hopefully we'll soon be hearing from those potters in the Palmetto State.
And, that's where NC and SC potters can help. Check out the info we're offering and if you find yourself there – check the info offered and if it is not correct – get back to us with the correct info. Then, see if other potters, galleries that carry pottery, pottery festivals & events, and other info (you know about) are there and if it isn't – send us the info or contact others to send it to us.
Now, our readers can help too. Hopefully you'll find the info easy to use and informative, but if you have any questions or problems – we want to hear from you too.
Back when I was collecting info and talking with some potters about my plans, I was asked – why do you want to do this? It's not an unusual question and my answer wasn't too unusual either – at least I don't think it is.
Carolina Arts is in the business of collecting info and offering it back to the public in a timely fashion. By attracting readers and visitors to our sites we open up opportunities for people who want to have access to those folks interested in the info we offer – advertising opportunities.
The various editions of our printed arts newspapers have been doing this for 23 years and we've been on the Internet for 11 of those years. With this posting, Carolina Arts Unleashed has offered 400 entries and nowCarolina Arts News is offering info on a daily basis – as soon as we get it – sometimes within the hour. So, we're attracting a lot of viewers and I think that the Carolina Clay Resource Directory will attract even more.
I also felt that the clay community was an underserved part of the overall Carolina art community. It surely is in South Carolina. We're just doing what we've been doing for 23 years.
So, go on over to Carolina Arts and click on the link for the Carolina Clay Resource Directory and see what you think.