A week or so ago, Linda, my better half, asked me at the end of a totally unrelated conversation, "Are we going Friday?". I asked in return if she wanted to go to some Pearl Harbor memorial, being the smart-aleck that I am – knowing she was talking about Friday Dec. 7th – which would also be the first Friday in December. That would also be the date of the mega art walk in downtown Charleston, SC, with both the First Friday on Broad and the French Quarter Gallery Association's art walks taking place. The December art walk in Charleston is the best as it is actually dark during the walk and a good bit of the area would be in full Christmas decor. You see, that Friday would be the rare occasion when Linda would not be working and it was a first Friday. The fact that she could just ask, "Are we going Friday" and I knew exactly what she was asking is the sign of a old married couple and that I spend most of my time each month working on our calendar listings and I was fully aware that it was going to be one of those special first Friday opportunities.
In the course of working on those gallery listings I knew there were going to be some interesting shows to see that Friday. Karin Olah, one of our favorite abstract artist was returning to Charleston, from wintery Colorado, for an exhibit at Corrigan Gallery. That was a must see. Karen Vournakis, a mixed media/photographer was having an exhibit at a new gallery in town, the Atrium Art Gallery, across the street from Corrigan Gallery on Queen Street. We have not seen her work in a gallery in some time. Mickey Williams was having an exhibit at Ella Walton Richardson Fine Art Galleryand there was always Nina Liu & Friends (843/722-2724). As things turned out – the day before the art walk we learned that Smith Killian Fine Art would be showing an exhibit of works by Trip Smith – the photographer in the talented Smith Family clan of artists. And, as usual, as the days wound down to that Friday, other tasks popped up making our trip to Charleston a narrow window of opportunity – making another quick in and out visit. And as usual we spent more time in the car coming and going than we did in galleries in Charleston. My apologies go out to those galleries that with more time and energy we would have liked to visit, but didn't get to. The major victims here were the Mickey Williams' show and Hamlet Fine Art Gallery – Stephanie we'll have to talk (perhaps on the phone). Plus, I always end up talking too much at each place as we run into folks we haven't seen in awhile. But we got to four galleries and one of them twice.
Our first stop as usual is always Nina Liu & Friends gallery as we never know when it will be the last time to go there and I seem to always be able to find a parking space on her street (State Street) if we can get downtown before 5pm. We arrived on State Street and found a spot at 4:59pm.
As I titled this blog entry – timing is everything. We were the first to arrive at Nina Liu & Friends gallery and as it turned out so had a shipment of Aggie Zed's small animal/human figures – just that afternoon. So we were lucky to get Nina Liu to set one aside for us. I don't know why it has taken us all these years to add a Zed to our collection, but we were very lucky. Liu said about a half-dozen had already sold between the time they had arrived and we walked in the door to folks who have been waiting for that shipment. They're still priced right too. I'm not going into the saga of Liu trying to sell her gallery/home, but the prime location is for sale. But I've got to say, she had more work in the gallery for sale than I've seen in a while.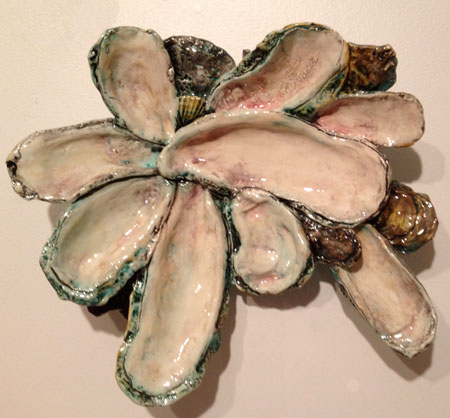 Work by Jeri Burdick
The gallery is showing an exhibit of Lowcountry landscapes by Katrina Schmidt-Rinke through December. But, there are lots of other things to see there. I took a few photos of a great wall piece by Jeri Burdick, who is doing something different every time I see her work. She has to be the most creative artist I know in South Carolina – no moss is growing on her talent. I also took a few photos of a multi-media piece by Cynthia Tollefsrud – not a Carolina artist, but one of the few outsiders in our collection. Her work is that good.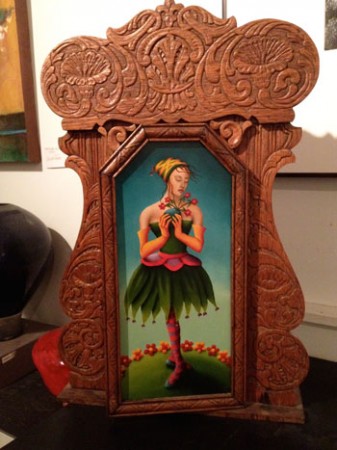 Front of work by Cynthia Tollefsrud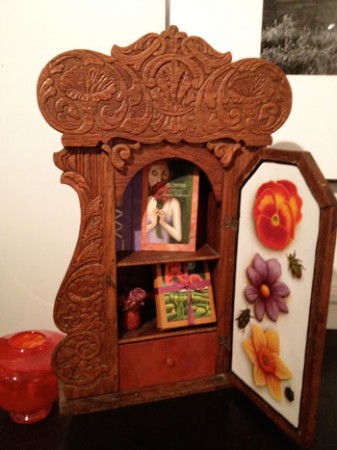 Inside view.
While at her gallery Liu told me about a fundraiser using art that was a win win situation. She knows I'm no fan of the over used practice of non-profits raising fund by having art auctions. I hope to have more details on this issue soon. It sounded good, but from what I heard it wasn't 100% good, but closer than most events come to being ideal.
Next we walked across the street to Smith Killian Fine Art to see that photography show by Trip Smith. Some of you know our history in photography in Charleston – running a custom photo processing lab for 16 years and a photography art gallery. We seem a million miles from it now, but photography played a big part in our lives, so as I walked into the gallery and ran into Betty Anglin Smith, I announced I was here to see the real art in this gallery. Which was a little joke everyone enjoyed as they know we are big fans of the talented Smith clan – including Betty and the other two-thirds of the triplets Jennifer Smith Rogers and Shannon Smith, but we never get to see much of Trip's work. Tonight was his night – finally – another joke.
Of course we started, or should I say I started talking photography with a few photographers there and time was slipping away. Things have changed in Charleston – which still has a long way to go in giving fine art photography its due respect. Photography was being shown in all four galleries we visited that evening (highlighted in two) and it is on view all over Charleston when just a decade or so ago that was not the case. But photography is still a step-child in South Carolina – things are much better in North Carolina, but the buying public still just doesn't seem to give it the respect it deserves. Go see this show.
Now, stepping down off the soapbox, I want to tell you of another rare observation at Smith Killian Fine Art. If you are a fan of the Smith clan's work, but feel the works are normally priced out of your pocket-book range – the gallery was full of small works with small prices on them. In fact there was on group of works on paper that were priced at only $800. Here I am talking like my son when he says something he likes and wants is only $100 or $200 – as if all I have to do is go to the backyard and pick a few bills off our money tree, but in respects to these artist's works which are always in high demand – $800 is an opportunity for someone to get an original Betty, Shannon or Jennifer piece. I've included an image of one of Betty's works. Excuse the reflections from the glass – as always art looks so much better in person.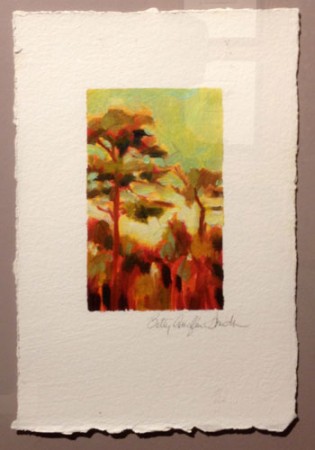 Work by Betty Anglin Smith
Linda had to point out to me one of Betty's abstracts – as if I wasn't going to notice it – that just happened to be in her favorite colors – purple. In another corner of the gallery we found one that I liked ever better. I told her we'd stop and buy some lottery tickets on the way home. As someone introduced us on this evening as having Carolina Arts, I corrected them and said Carolina Arts has us. But we can still like things and dream – can't we.
I've developed expensive tastes, but with nothing to back it up, but I'm not mad when others who can are able to and do purchase things I would – if I could. It just shows me I'd know what to do with money if I had it – in case anyone is listening. Remember that old TV show the Millionaire? Mr. Buffet if you're reading this – just saying.
Next stop was down Queen Street to see the show at Corrigan Gallery. Here was another example of good timing. Since Karin Olah has left Charleston for the wilds of Colorado I've managed to be in Charleston at the same time and run into her twice. Once was an unexpected meeting during a Colin Quashie exhibit at Redux Contemporary Arts Center and the planets aligned for this show. I've always loved her work from the moment I first saw some and I'm never disappointed. Karin and I had many a good discussion about art when she was managing the Eva Carter Gallery. A lot of the works in this show were smaller than I'm used to seeing, but that's a good thing as they were priced to match the size – another good opportunity for anyone looking to add an Olah to their collection or start a collection. I took a photo of my favorite.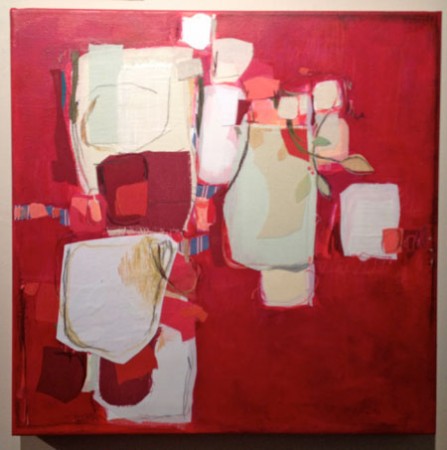 Work by Karin Olah
I got a chance to tell Olah to stop posting those outrageous photos on Facebook of the deplorable landscape in Colorado. If I hadn't been there before I'd think most of them were Photoshoped. These people that go west have no right to shove those kind of images in our face on Facebook.  It's just not the Lowcountry thing to do – showing off your environment. That goes for you too – Susan Mayfield (West).
There are lots of other great things to see and buy at Corrigan Gallery – including photography. Of course you better get there fast in case my ship comes in during the next lottery drawing.
Time was slipping by and we ran across the street to the new Atrium Art Gallery to see Karen Vournakis' exhibit Working Charleston Plantations, on view through Feb. 28, 2013. Vournakis is another photographer who began old school, so our discussion soon moved to how fast digital photography has taken over. It wasn't that long ago that she made her prints in a darkroom and hand-colored them and today she's all digital – except for still making images on film. We old timers used to claim we'd never go to the dark side of the force, but you can't hold back when the new kid on the block is better – much better and easier than the old ways. Believe me, from spending years in darkrooms – there's nothing glamorous about it. It's like working in a toxic landfill and it's dark.
The gallery was a nice new addition to Charleston's gallery scene and was full of local artists I did not know – except Vournakis. It was nice to see her work hanging in a gallery in Charleston again. Go check out this show and the gallery.
In the last week I've had conversations with a few gallery owners who were asking if I knew of anywhere art was selling. These folks were from different parts of the Carolinas and I had to tell them that I didn't know for sure, but I had my own barometer on that subject. No big galleries in Charleston have closed and it seems new ones were popping up all over – some I hadn't even seen yet. After visiting just four galleries during the art walk I think Charleston is selling art – they were that evening. There was a time when they were not and other areas were, but I think that trend has changed, but there are a lot of galleries in Charleston – more than anywhere else in the Carolinas, so four is not a great sample.
On the way back to the car we popped back into Smith Killian Fine Art – just to make sure we weren't dreaming and they really did have photography featured – just kidding. The crowd seemed to be getting larger and as soon as we pulled out of our parking space someone was right there to take it.
On the drive back home when I tend to run the evening's events over in my cluttered mind I realized that I didn't take one photo of any of the photography on exhibit. I guess as an old photographer I just have a deep rooted thing about copying other photographer's work. And when I think about it I don't think I've ever taken photos of photography on view in a gallery. I'm not doing them any good by not showing their work, but I'm going to have to think about that some. I'm not really doing justice to the other art I take photos of either, so I'm going to work that out, but the main point of any of these blog postings is to get you to go see the art in the galleries. So go do that.
Oh, I almost forgot. Karin, I finally noticed that thing you do with your signature. Boy that took a while.