Did you ever want to buy a teapot that was made in New Zealand or some teabowls that were made in Australia? If so – you're in luck. I'm going to tell you how you can do just that. But, first…
So, it's almost September and I guess it's time for another reminder of the upcoming exhibition, Clay 'n Blogs: Telling a Story, which will be on view at the Campbell House Galleries, home of the Moore County Arts Council, from Oct. 1 – 29, 2010, in Southern Pines, NC. After all, Carolina Arts is one of the media sponsors of the exhibit and I guess you want to know how you can buy those far-off items I mentioned. In due time.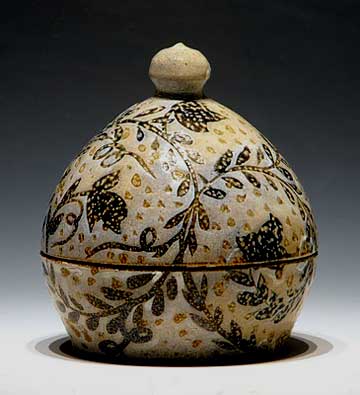 Work by Michael Kline, Bakersville, NC
This exhibition is the brain-child of Meredith Heywood of Whynot Pottery in Seagrove, NC. The exhibit will give viewers a glimpse into a unique community of 50 working potters who are separated by distance, but brought together through the common language of clay and the written word in a digital world. These potters share their lives, skills, thoughts, triumphs and defeats through an on-line medium called a blog or web log.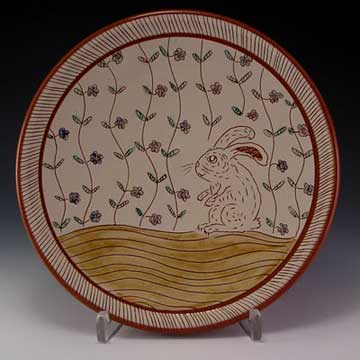 Work by Ron Philbeck, Charlotte, NC
Meredith's blog is on my list to check in regularly. I learn what's going on with Whynot Pottery and the Seagrove community, plus get a view of the world through her blog list – when I have time.
So here's the news:
As an added feature to the Clay 'n Blogs: Telling a Story exhibit at Campbell House Galleries, the Moore County Arts Council is proud to offer works by participating potters for online purchases only. Check out the Clay 'n Blogs Online Gallery at this link. You'll find a teapot made by Peter Gregory of Old Post Office Gallery in Otago, New Zealand, teabowls by Mel Robson of Brisbane, Australia, as well as works by other potters from around the world, around the US and around the Carolinas.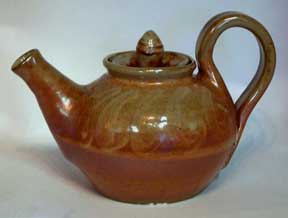 Work by Peter Gregory of Otago, New Zealand
Both Meredith and I know you're all not going to get to see the exhibition, but why should you be denied the opportunity to participate. You can go to her blog, Whynot Pottery Blog where every Friday she posts images of pottery works. You can go back through her archives to see the Friday postings. But, to get the complete picture you need to check out this link on her blog – it tells and shows all.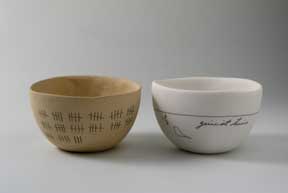 Work by Mel Robson of Brisbane, Australia
This doesn't let you off the hook of going to see the exhibit, it just gives you an excuse – if you're going to need one. I hope you won't.
So you see, this exhibition which doesn't start until Oct. 1, 2010 – has already started. You just need to go check it all out before you're the last one to do so.