If you're like Linda and I, and millions of others – you got stuck working this weekend, but we're making plans for a big weekend – next weekend. And it is a big Memorial Day weekend. That's three days for most people – unfortunately for Linda and I – it's back to work on Monday – the holiday. In reality – we'll be working a lot that weekend too – as it's the weekend after deadline for our June issue – drat!
That's the way it's been for 24 years since we started doing an arts newspaper. On the weekend of our wedding anniversary and my birthday, we're stuck working to get another paper finished. It's hard to work 24 hours a day, although it seems sometimes we try – here's a few things we hope to do this next weekend.
We hope to have a nice anniversary/birthday dinner, see the Avengersmovie, make a trip to Seagrove, NC, to visit with some of our favorite potters, and hopefully celebrate Memorial Day with a few friends. Oh yeah, and get the paper done or almost done. This one may go down to the wire.
Now everyone knows about the Avengers and Memorial Day and one clue on the anniversary/birthday event is that they add up to 94, so let me tell you about what's going on in Seagrove to draw us there on such a big weekend.
Of course, if you read about a lot of this on Pages 38 and 39 of our May 2012 issue of Carolina Arts, downloadable at (http://www.carolinaarts.com/512/512carolinaarts.pdf), you'd know what I'm talking about, but for those who haven't – here's a few reasons.
First, it's a trip away from the house, yard, and computer into another state. That's always a plus and it only takes a few hours to get there. Second, it's Seagrove – a beautiful area of gently rolling hills that just happens to be one of the Southeast's major artist colonies – a big plus for Linda who refuses to travel on the Blue Ridge Parkway – a major highway. So forget about driving around two-lane mountain roads. Third, it's Cousin in Clay weekend, several other kiln openings on Saturday and there's a new exhibit on view at the NC Pottery Center.
Bulldog Pottery, located at 3306 Hwy. 220, just outside of "downtown" Seagrove will be presenting the works of five talented potters during the annual "Cousins in Clay" event on May 26, 10am-5pm and May 27, 10am-4pm.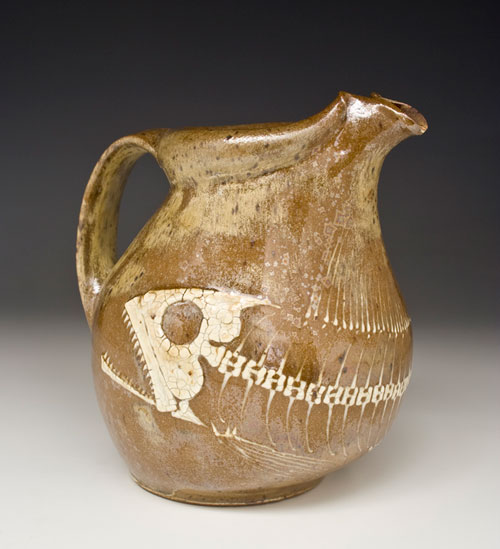 Work by Bruce Gholson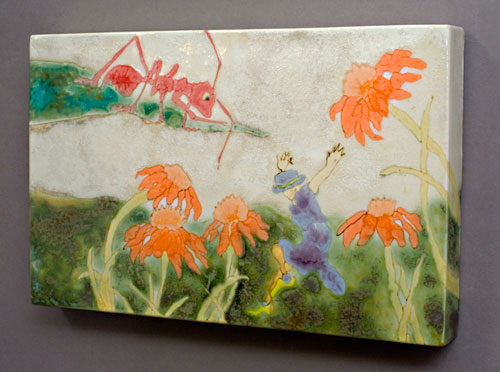 Work by Samantha Henneke
Bulldog potters, Bruce Gholson and Samantha Henneke, joined by their mountain "clay cousin" Michael Kline of Bakersville, NC, are hosting two special guest potters, Ron Meyers, an icon of American ceramics from Athens, GA, and Judith Duff, a full-time studio potter from Brevard, NC.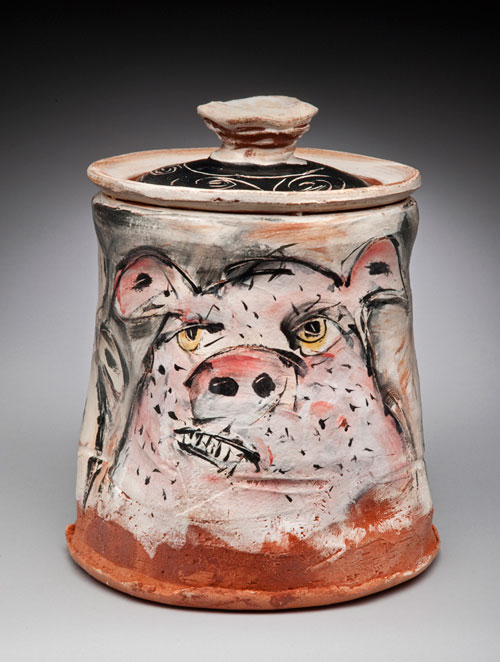 Work by Ron Meyers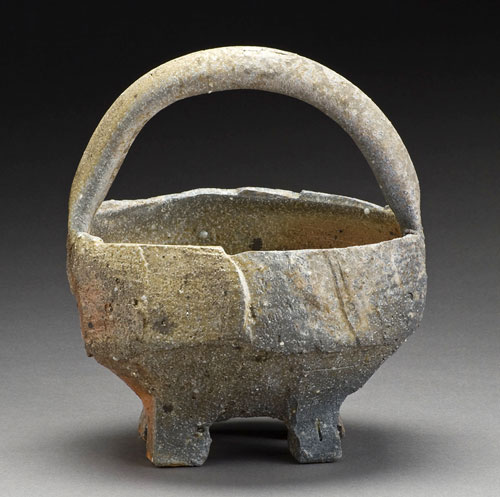 Work by Judith Duff
Live music will fill the air with Chronis Pou Vasiliou (Bruce's brother-in-law) of Greensboro, NC, playing his enchanting Greek Bouzouki music along with musician Matthew Beasley from Asheville, NC. Music begins at noon and lasts throughout Saturday afternoon with a light buffet.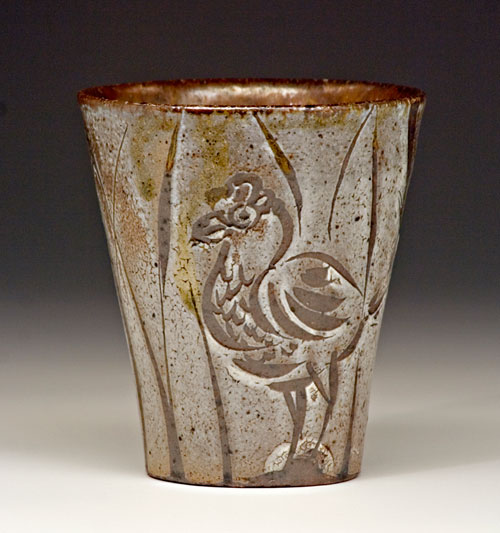 Work by Michael Kline
Michael Kline will present brushwork demonstrations on Saturday at 2pm and on Sunday at 1:30pm. And Sunday at noon, potters and lovers of pots are all invited for a Potluck Buffet at noon.
Gain insights into the work and activities of Samantha Henneke and Bruce Gholson at their pottery blog: "Around and About with Bulldog" at (www.bulldogpottery.blogspot.com). And take a look at the website (www.cousinsinclay.com) to learn more about this year's guest potters.
These kind of events are usually a less than free time for Max the mad wonder dog, but some might see him and get a chance to toss a red ball – once or a hundred times. And, as a bonus you might also get to chat with Ed or Gloria Henneke. A special note to Ed – I will not bring up the Michigan vs. Virginia Tech game, so there is no reason to make excuses to be out of town.
For further information or directions you can call Bulldog pottery at 336/302-3469.
Whynot Pottery, located at 1013 Fork Creek Mill Road, also just outside of "downtown" Seagrove – home and work place of Mark and Meredith Heywood, will be having a Kiln Opening on Saturday, May 26, from 9am-5pm.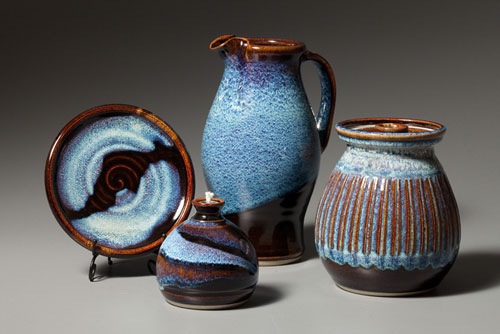 I've read that this round includes the cider/beer mugs that many folks have been asking for as well as a selection of whimsical tiles from their new venture, Acacia Tile. But, I'm sure they have a good stock of other works they are known for on hand.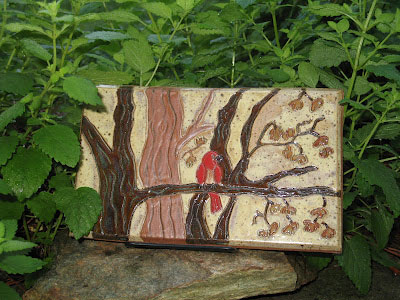 Mark and Meredith are really shaking things up this year, so if you haven't been there in a while – you're going to see some new items and new looks. I'll be looking to see if there will be any cookies. They have not been advertised – so don't expect any, but it doesn't hurt to hope. We all need hope.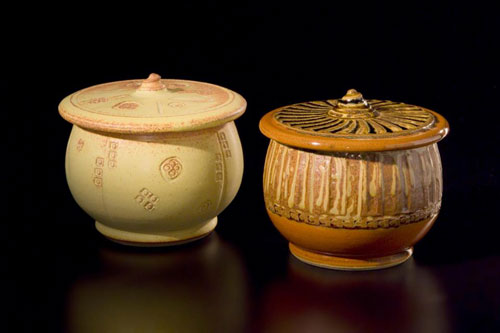 You can check out the Whynot Pottery's blog at (http://whynotpotteryblog.blogspot.com/), call 336/873-9276 or visit (www.whynotpottery.com).
Why are Bulldog Pottery and Whynot Pottery always a must see for us? Well, besides being blogging buddies, these two potteries have been our gateway and guide to the  Seagrove pottery empire. They represent the "not so old" and "not so new" ends of that pottery community. And, like I'm sure most of the folks in Seagrove are – they're nice people too. Plus, I hope you've noticed the images of the wonderful pottery they produce.
Donna Craven Pottery, located at 2616 Old Cox Road, between Asheboro, NC, and Seagrove is also having a Kiln Opening on Saturday, May 26, from 9am to 5pm.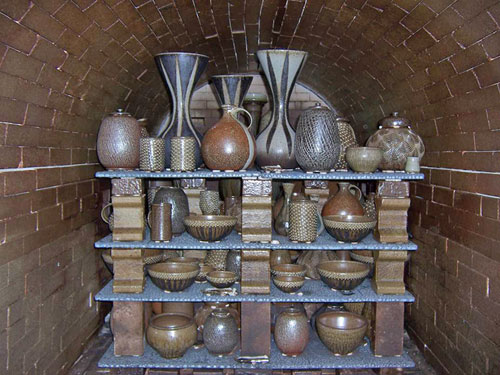 We have not been to her pottery before, but we've seen her work at several of the Celebration of Seagrove Potters events and you'll find her work in many museum collections. Maybe we'll make it there this time, but there is always so much to see and do – time has a way of slipping by, but if you're on the North side of Seagrove – it could be your first stop.
I understand that Craven is firing a new load of pots in her wood kiln for this event. She will have a variety of old and new forms, both large and small, including items for the spring.
For further info or directions call 336/629-8173.
And, of course, who would go to Seagrove looking for pottery without stopping at the North Carolina Pottery Center, located at 233 East Avenue, in the heart of downtown Seagrove. The new exhibit there is, NC Student Ceramics Exhibit 1: High School, which will be on view through July 28, 2012. The NCPC is exhibiting the best of NC high school ceramics. The Center will be open Saturday, 10am-4pm.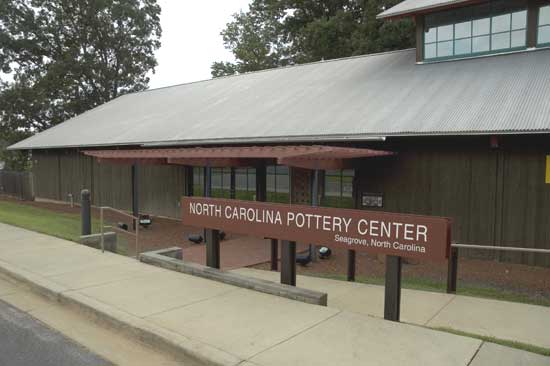 If it's your first trip to Seagrove, I recommend it as a first stop as the Center also offers information on activities, maps and information about the potteries located in the Seagrove area and across the state. They also have a display of representative works from more than 90 area potteries and maps to help to find the potteries.
For further info call the Center at 336/873-8430 or visit (www.ncpotterycenter.org).
If you're the planning type who has to have things all figured out before you arrive somewhere – let me suggest a visit to the Seagrove Area Potters Association's website at (http://www.discoverseagrove.com/). You can download a map there and find connections and info about many of the area's potteries. A lot of them will be open for business this weekend – you don't have to follow our plans. There's plenty to go around for everyone.