Back in our photography days, back when Linda and I ran a custom black & white photo processing business, a photography gallery, and a photography guild – we were in touch with the Charleston art photography community. It was a very talented and vibrant community. It was old school. Then came the digital age. Now we hardly know anyone calling themselves an art photographer today. We're way out of the loop, except to what comes across our radar in doing Carolina Arts.
Like a lot of our old photography friends, we thought this would be the end of good photography, and soon we gave up the photo processing business for the desk top publishing business. Many of those photographers fought tooth and nail to hold on to the old ways of doing photography. Years later we find ourselves smack dab in the middle of the digital age wondering why we resisted so long and trying to keep up with the constant changes and innovation.
Change is always hard, but change is good and in this case – change has been great.
So, when I got the notice that John Moore, one of those old photography friends was having an exhibit at Corrigan Gallery, located at 62 Queen Street in downtown Charleston, SC, I marked the date for the reception, Mar. 4, down on my calendar. That was also the day of the new Charleston Gallery Association's Art Walk. My hopes were that I would be able to attend.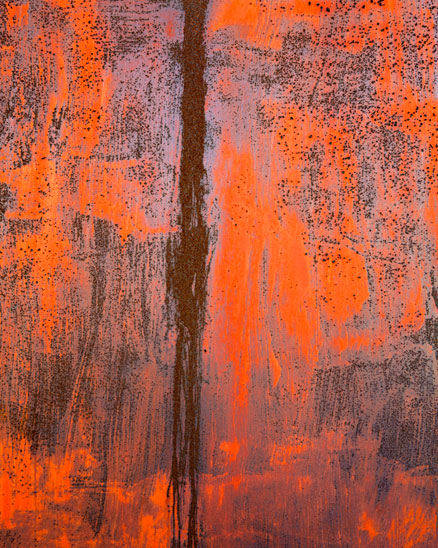 Work by John Moore
As things turned out something always happens which becomes a conflict with my plans, Linda had to work and that afternoon we had to have contact with our health insurance folks – never a good thing. The timing was not good as it would put me in Charleston after 5pm when the reception starts and because it was also Art Walk night – finding parking was going to be a challenge, which is an everyday challenge in Charleston. But I'm an old pro at finding space in Charleston to park and I had my lucky spots.
As I'm heading to Charleston I notice I'm almost out of gas and I determined that I would need to stop for gas before I got to Charleston or I would risk being able to get out of Charleston – another delay. So picture pulling into a gas station on Friday afternoon when most people got paid and would fill up their tanks for the weekend. The picture is of more delays.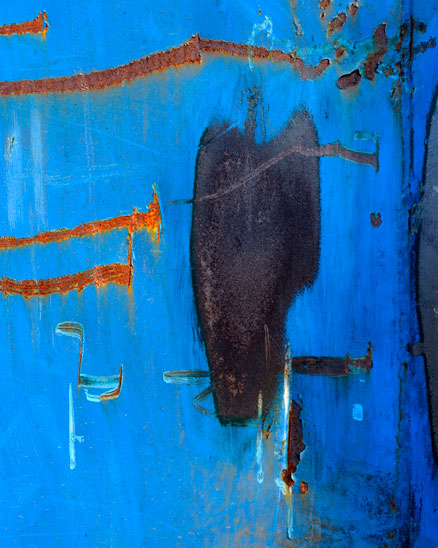 Work by John Moore
When I finally got onto I-26, the traffic coming out of Charleston was a solid mass, from Charleston to Goose Creek and probably all the way to Summerville. I was glad I was heading into Charleston not out and it should be all cleared away by the time I was returning home. Traffic in downtown Charleston was busy with the Art Walk already going on and the search for parking was in full mode, but my first choice on an old reliable spot was empty.
When I die, I'm leaving a guide on how to find parking in Charleston to the highest bidder. The proceeds will go to the Carolina Arts Foundation, which will mean one of the grandsons had taken over the publication or it will go to the owner of any art photography gallery in Charleston.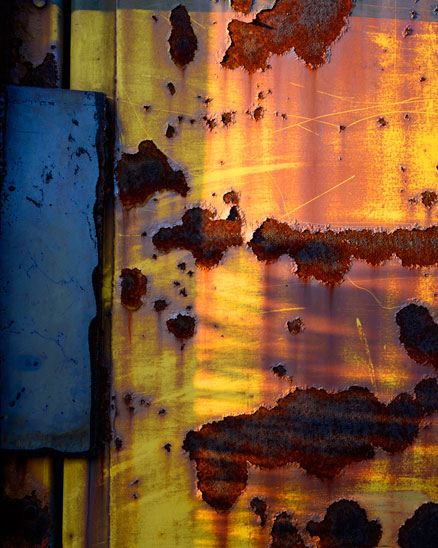 Work by John Moore
I had come to Charleston to just see John Moore's show, but anywhere you park in downtown Charleston you are going to pass several galleries getting to another – they're everywhere. So I would stick my head in any I passed. The first I came across was Anglin-Smith Fine Art. It was packed – I mean wall to wall, so I moved toward Corrigan Gallery thinking things will clear out later on my way back to the car. I passed a new pottery gallery that was also packed. The streets were packed with people going and coming from galleries. I know this as that's what they were talking about. That's one of the interesting things about the Art Walks is listening to what people are talking about as you're walking about from one gallery to the next.
When I got to Corrigan Gallery, which is not a big space, it was really packed and it took about 15 minutes once I got in to actually talk with John Moore. It was a little hard to see the work up close on the walls, but like hockey, you just have to be patient in muscling your way into position – eventually you get to the net. It was a little hard to take photos though.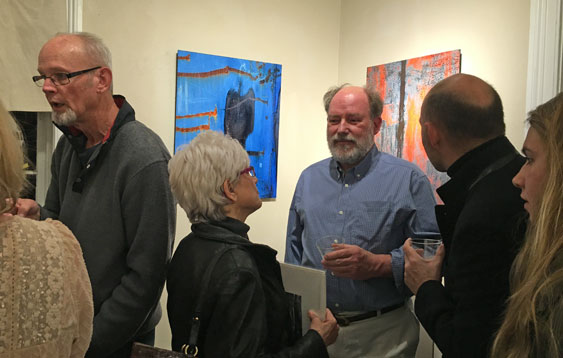 That John Moore in the blue shirt.
It was a good thing that Moore's show was my main objective for the evening as I could hardly turn around without bumping into an old friend from the old photography community, old and new art community friends, or the old Sierra Club group. It was good catching up with these folks as to what we're all doing these days and how many grandchildren we all have. And, there's nothing more I like than looking at art, but talking about art.
As far a photographers go, I just missed TR Richardson, but did talk with John Moore, Tom Blagden, Luke Platt, and Alan Jackson, who is doing more drawing these days than photography. In the non-photographer art group (oh yeah, these photographers are artists too) there was Linda Fantuzzo, Jenny Summerall (who is moving back to Charleston), Keller Lee, and Kris Westerson. Representing the old Sierra Club was Virginia Beach and Hayes Patterson.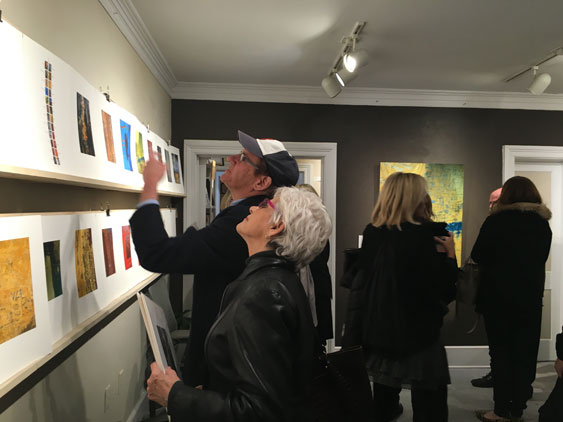 The exhibit, John Moore: 24 photographs, will be on view through Mar. 31, 2016. This display of abstract images is presented both individually and as a portfolio set in book form.
Some folks were saying that this exhibit was the best Moore has had and I guess I would agree with that, except for the fact that it's been so long since his last one and way long after early exhibits, that it would be hard to judge, but the fact was – this was a great exhibit of new works and good to see his work being exhibited again in Charleston. I've always liked Moore's art making.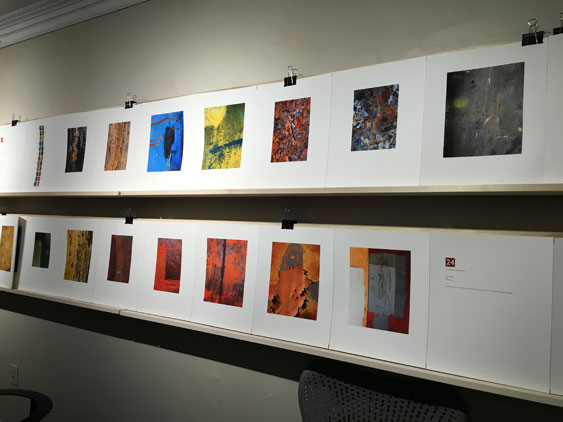 Moore is known as a nature photographer. I think of him as Mr. Tree and Mr. Rust. He seems to focus on trees in his landscapes, and the photographs of rust are also nature images – showing what nature does to metal. This show could be taken for a group of abstract paintings, which in the overall art world is the best thing that could happen for a photographer. The public and some in the art community have a bias against photography thinking it's too easy and something that can be reproduced again and again. The cameras in phones didn't help this thinking as everyone is a photographer now (as I'm taking my photos with my phone). So any photograph that doesn't look like a photograph is good – unfortunately.
The funny thing is that some of the images of rusting metal are actually presented on metal, which is a not so new thing in the photography world. And, for Moore this exhibit gets away from one of an artist's biggest hurdles in exhibiting their works – framing. The works on metal look great and are lighter than being in wooden frames. Having works offered in book form also avoids framing. Sorry framers – you are an added cost for artists presenting their works and most people buying art would prefer to have more control over how the artworks they buy will be framed.
Go see this show and see how photography and nature can compete with the best abstract painters. By all the red dots that were showing up on Moore's works – others were in agreement with me.
Several times while I was at Corrigan Gallery I went outside to get a breath of fresh air and watch the crowd coming and going. I noticed across the street over at Atrium Art Gallery that an abstract painting was hanging in the window, so when I finally left Corrigan Gallery I strolled across the street to check out the painting in the window which lead me inside. They were featuring the paintings of Jim Pittman that could have gone along side Moore's photographs.
A card I picked up stated that Pittman was a landscape painter based out of Colorado and coastal Virginia. I really liked his works. Not all abstracts cut the muster with me, but I could tell these were being made by a seasoned painter. As they say in The Fiddler – "if I was a rich man" – I would have loved to take a few of his paintings home with me. They wouldn't fit into my collection of Carolina artists, but they would have fit in great with my abstract works.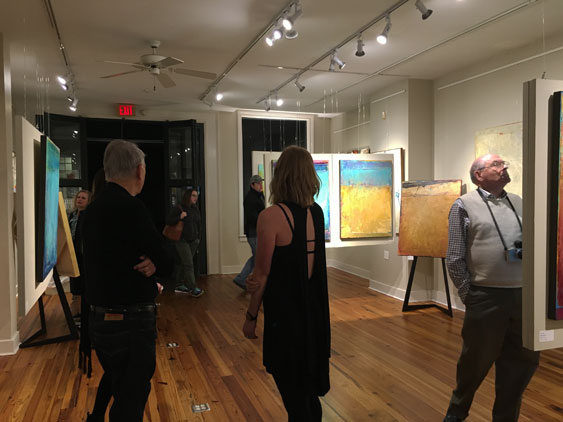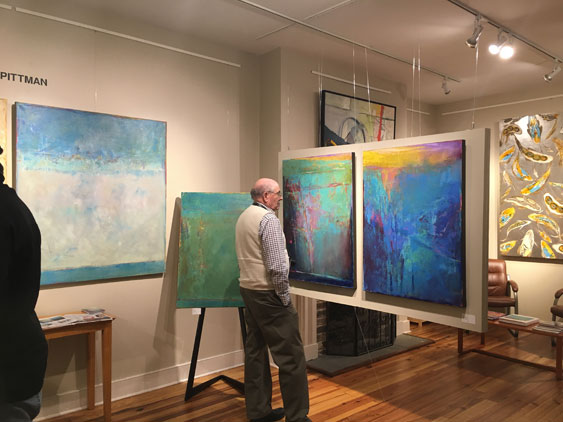 While you're going to see John Moore's exhibit, don't forget to go see Pittman's works just across the street. I don't know how long his works will be featured so don't wait too long.
On the way back to the car as I got close to Anglin-Smith Fine Arts again it was still packed, but I squeezed in this time. The Smith clan of painters always presents an excellent display of works by Betty Anglin Smith and her triplets, Jennifer, Shannon, and Trip. I fully expect to see a third generation of painters from this clan.
I have many times admitted that I'm most often drawn to works by Shannon Smith Hughes, but this night it was Jennifer Smith Rogers who won the prize for gaining my attention. Her painting, Birds Eye View showed signs of a little loosening of her painting style toward abstraction. It was a slight change but enough to catch my eye. It's not a competition and I don't mean to cause any friction, but that painting was my favorite of this night.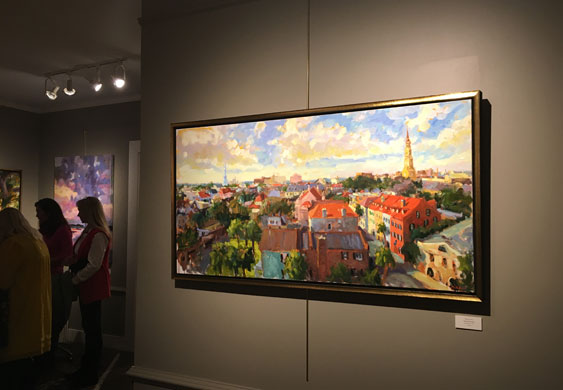 "Birds Eye View" by Jennifer Smith Rogers, oil on linen, 30″ x 60″
I talked with Betty a bit and she confirmed that they had been packed all night and with 10 minutes of official time left on the Art Walk there was no sign of the crowd letting up. She thought it was one of the best in the last few years.
I wouldn't know about that as my best Art Walk days are long behind me. Over the years I've been on so many, but now it's not my main interest. Back in the day when we had a printed publication that I had to deliver, I would deliver a stack of papers to every gallery during the day and then go to the Art Walk that evening and hit as least a dozen galleries. I was a much younger man back then.
I don't know how the crowd was at all ends of the greater Charleston Gallery Association community, as it is a much larger area to cover from South of Broad to North of Calhoun Street, but in the old French Quarter core – it was packed.
But just remember folks, these galleries are open all week long and you'll probably get a better look at the art when you're not having to elbow your way into position. After all, hockey is a sport – not an art.