Back on June 2, 2011, we received an e-mail from One Eared Cow Glass(OECG) in Columbia, SC, about one of their 20th Anniversary events or specials – a sort of take our T-shirt on vacation with you offer. The deal was that if you took a One Eared Cow Glass T-shirt on vacation with you and took a picture of someone wearing it at a monument, sign, or place, that is clearly recognizable – you would get $40 in "cow bucks" off your next purchase at OECG – just for showing your "cow pride" and letting them use the picture on Facebook and in the gallery.

For Linda and I, this was a deal we couldn't pass up. We have three weddings to attend in the next four months and OECG is our official wedding gift retailer. And, believe me – no wedding takes place in our extended family without an invitation coming to us – whether we can attend or not as word has gotten around what kind of gift you will receive.
Of course the catch is that these e-mails telling about these great offers were only going to folks on OECG's e-mail list and you had to own a OECG T-shirt, but how hard is it to get on someone's e-mail list and Tommy Lockart (one of the cowboys) told me – any OECG T-shirt will do and they have sold plenty of them throughout their 20 years in business. And, they have plenty of new ones in stock. They say they can even mail you one or a dozen (803/254-2444).

This deal runs through Aug. 31, 2011, but it's not the only deal they have in the works. But, I'm not telling you to do anything. I'm not suggesting that you do anything. I'm just telling you there is a deal out there – this is what it takes to complete the deal – I know it works – we got our $40 discount and here's what they call in the biz – the money shot or shots in this case.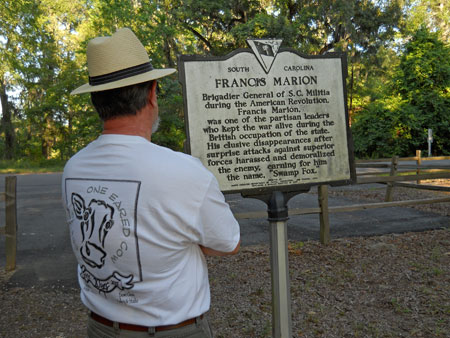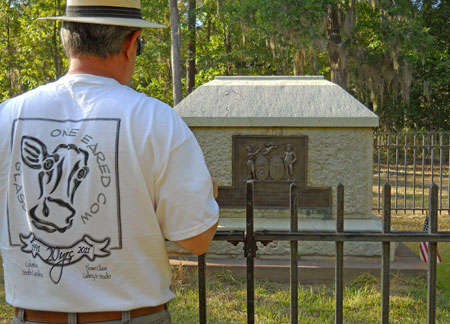 Now Linda and I are not taking a vacation this year – we had one last year. But we do live down the road from a very important SC monument – the grave of Francis Marion – the Swamp Fox – a true American Revolutionary hero. It's one of the most important monuments in South Carolina. There is also a special prize for the T-shirt that travels the greatest distance, but I don't think we'll be winning that, but 40 "cow bucks" is $40 bucks. I'm just saying.
P.S. Get on "the" e-mail list, get "a" T-shirt, take a "picture" near a monument, get it to "them" before Aug. 31, 2011, and save $40.