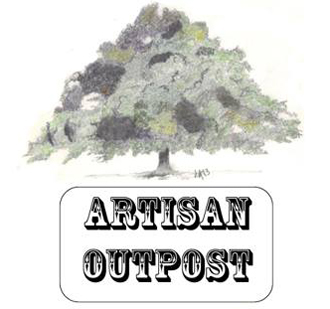 One of the newest entries onto the arts landscape in South Carolina is the Artisan Outpost established in Johnsonville, SC. The venture combines the charm of an old-fashioned market day with cultural and visual arts. Held in and around the old library at 151 East Marion Street, the Artisan Outpost is an example of cooperation between artists and their city's officials who provide the building and assist with general operation. Headed up by local artist, Jackie Stasney, the Artisan Outpost had a very successful opening day in July and aims to repeat that once each month. Saturday, Aug. 3 from 11am to 5pm is the next event.
The Artisan Outpost complements economic development efforts to attract visitors to Johnsonville. The City made headlines recently when it installed a world-class bronze sculpture of Revolutionary War hero, General Francis Marion, by well-known sculptor, Alex Palkovich, at Venter's Landing on the edge of Johnsonville on Highway 51. History buffs know this as the spot where Marion received his commission in the Williamsburg militia in 1780. Canoeists, on the other hand, have a beautiful location to launch an exploration of the river that is nearby.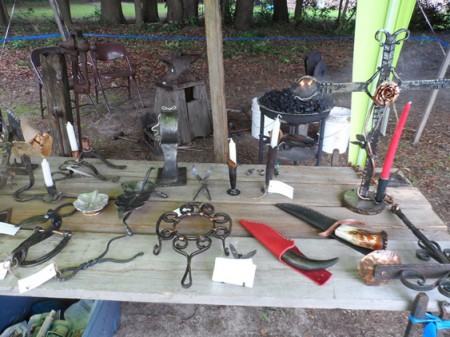 The Artisan Outpost has an expanded line-up for Aug. 3 with a combination of demonstrations and selling. To accommodate everyone, artists will be found inside and out. Demonstrations will include the very popular, Meck Hartfield, President and Librarian of the Philip Simmons Artist Blacksmith Guild, returning with his forge to show both the practicality and artistry possible in the hands of a master craftsman. John Siderio, from Conway and new to the Artisan Outpost, is a master flintknapper and will be outside demonstrating this ancient skill. Spurred on by a childhood interest in arrowheads, he has spent the last 20 years practicing flintknapping and other primitive technologies. For gun enthusiasts, this is the technique used to create flints for the old flintlock rifle. Jennifer Mazyck of Mt. Pleasant will also be on hand demonstrating the construction of the traditional South Carolina sweetgrass basket. Baskets will also be available for purchase. Inside, as time allows, Jane Madden will demonstrate Shibori techniques she uses to produce patterns on fiber.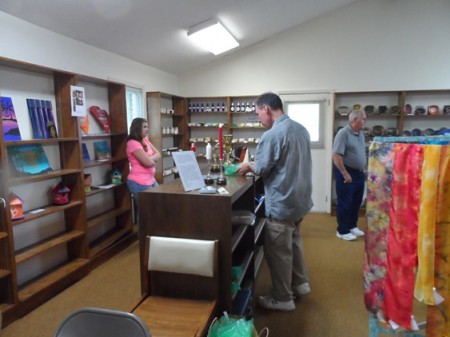 Participating artists and artisans encompass a wide spectrum of creative endeavors, as well as expected elements of a traditional market. Jim Gleason, retired Marine and accomplished musical instrument technician from Florence, takes his technical expertise to another realm by fashioning sculptures and lamps from the parts and pieces of brass and woodwind instruments no longer able to be repaired. His work has shown at exhibits and galleries around South Carolina.
Unlike a traditional art show, many of the participating artists show their works on items having practical utility. Paintings are done on pillow cases, clothing, and glass such as the work of local artists Pat Singletary and Mary Lynn Hope or on bird houses such as those done by Taylor Burkett. More traditional visual arts are represented by watercolorist, John Cribb, Leslie Belflower who uses regular canvas, as well as gourds as the basis for many of her pieces, and Fred Riales, painter, and 3-D artist who works in shells. Connie Hartley, from Johnsonsville, will be showing her work in ceramics. Jackie Stasney will be displaying her original gemstone jewelry pieces, Monica Moore from Myrtle Beach, will display jewelry in a vintage style, and Elizabeth Eaddy will show the upcycling trend with her bottlecap jewelry.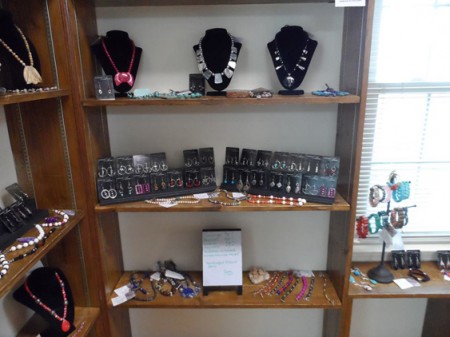 Fiber artists include: Karen Martinez, Lake City, and Janice Green, quilters, Lavonia Olsen, crochet, Jane Madden, Florence, experiments in surface design on silk, Joyce McDaniel, the transformation of magazines into bowls, Stephanie Gore, wreaths, and Chrissy Smith who produces intricate beaded designs. Teri Kooper will also be there with her handmade cards.
Culinary arts are represented by: Dianne Moen, traditional canned goods, Debbie Hanna, baking, and Sherise Jackell, who specializes in homemade treats for canines.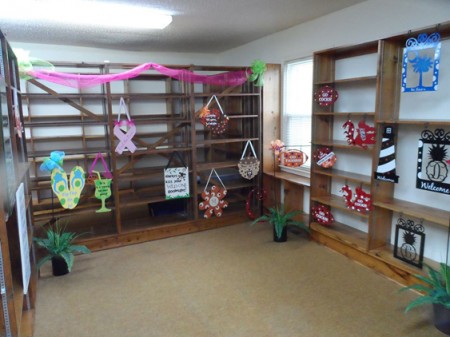 Woodworkers include: Ed Palumbo, working with reclaimed lumber, Alex Miles, wood and metal signs, Ron Stephan, plaques, and Tom Stasney, traditional Williamsburg apple tree forms.
Rounding out the line-up for the diverse market approach is Becky Ratz of Camden with her hand-molded soaps and plant specialists Sally Haynes and Barbara Matthews. Fresh produce will be available from Marvin Russ. A traditional South Carolina chicken bog will be available on-site for lunch.
The complete list of participating artists include: Jim Gleason, Mary Lynn Hope, Chrissy Smith, Jennifer Mazyck, Dianne Moen, John Siderio, Meck Hartfield, Fred Riales, Leslie Belflower, Jackie Stasney, Teri Kooper, Taylor Burkett, Pat Singletary, John Cribb, Connie Hartley, Monica  Moore, Elizabeth Eaddy, Karen Martinez, Janice Green, Lavonia Olsen, Joyce McDaniel, Stephanie Gore, Debbie Hanna, Sherise Jackell, Ed Palumbo, Alex Miles, Ron Stephan, Tom Stasney, Jane Madden, and Becky Ratz.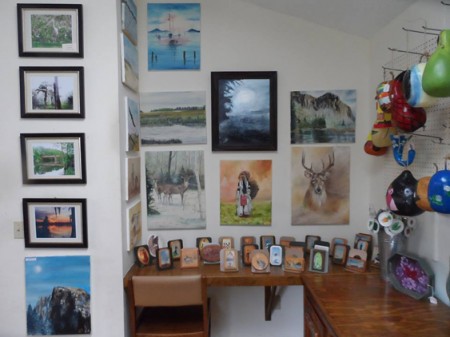 If you go to Johnsonville don't forget to visit General Francis Marion at Venter's Landing and you could also visit the Art Trail Gallery in Florence, SC.
For more information, to volunteer, or to participate, persons may contact Jackie Stasney at 843/621-1751 or visit the Artisan Outpost Facebook page at (https://www.facebook.com/).