I was long overdue for a visit to downtown Charleston, SC, to see the new Surface Craft Gallery, located at 49 John Street, on the same street where Linda and I once operated IF Labs, at 39-A John Street and opened the Photogallery next door (with the help of a few friends), an exclusive fine art photography gallery. But this was in the mid 1980's, long before the Charleston Visitor Center was built. Once construction started we were moved out fast.
This winter has brought me a new ailment that I have been adjusting to since before Thanksgiving until very recently. One that made it difficult to go out in public without somebody asking – do you need me to call 911. A bad cough that was keeping me from steady sleep – something I was very used to. Linda will tell you that I could set records in how fast I could be asleep by the time my head hit the pillow. Finally a combination of meds and adjusted habits has been found.
I also wanted to see the exhibition at the City Gallery at Waterfront Park before it was over. They are presenting an exhibition of works by Tyrone Geter of Columbia, SC, who we featured on the cover of our Feb. 2015 issue of Carolina Arts. From the few images I saw that were on the cover I really wanted to see this exhibit before it left Charleston.
I had planned to go sometime on the weekend of Feb. 13-15, but then I realized that was SEWE weekend and no one in their right mind would try to go to Charleston that weekend unless you were going to the Southeastern Wildlife Expo. So I finally set my sights on Wed., Feb. 18, 2015. Everything and everyone connected with SEWE would be gone by then or at least not taking up every parking space in the city.
It turned out to be a typical cold day in the Lowcounty. When I left the house I was bundled up for frozen tundra, once in the car the sun coming through the front windshield was baking me to death. It turned out not to be as cold as expected and I think by the afternoon the temps were in the 50's making it pretty nice in downtown Charleston – as long as you stayed in the sun.
First stop was John Street next to the Visitor Center Complex. I was lucky, very lucky, to find a metered parking space on John Street at the intersection of Meeting Street, a short walk from the gallery.
When I opened the door and walked in I could see that look on Liv Antonecchia's face that meant I finally made it. She is the artist/gallery owner of Surface Craft Gallery. Not that she expected me, but she knew I had been trying to get there. I've been supporting the gallery as much as I can on social media, but this was my first look inside the gallery. And, it looks much better when you're seeing it as a whole and not just in the background of Facebook photos of specific items she carries in her shop. The one room gallery is laid out very nicely – nicer than some craft shops that have been open a few years. Eventually gallery owners seem to find a way to use every inch of a space to display one more work of art.
I first met Antonecchia during an arts festival art walk in North Charleston, SC, and at other crafts sales in the area. I remember us talking at one of the art sales taking place in the Earth Fare parking lot in the South Windermere Shopping Center in Charleston. We talked some about organizing potters in SC, a pet goal of mine and her desire to open a craft gallery in Charleston. And, last year she opened Surface Craft Gallery.
Just like you might have a hard time finding a gallery in Asheville, NC, that features paintings, a gallery featuring fine crafts in Charleston is a rare item. Charleston is a painter's town.
Antonecchia was currently offering her first exhibition featuring sculptural works by Christine Kosiba, from Brevard, NC. This exhibit was an extra incentive to get to the gallery. Kosiba builds organically from coils of clay to create ravens, owls and horses to name a few. Some are free standing while others are perched as totems, wall hangings or on her clay built spheres. The exhibit will be on view through Mar. 1, 2015. You can read all about the exhibit on Page 20 of our Feb. 2015 issue of Carolina Arts found at (www.carolinaarts.com).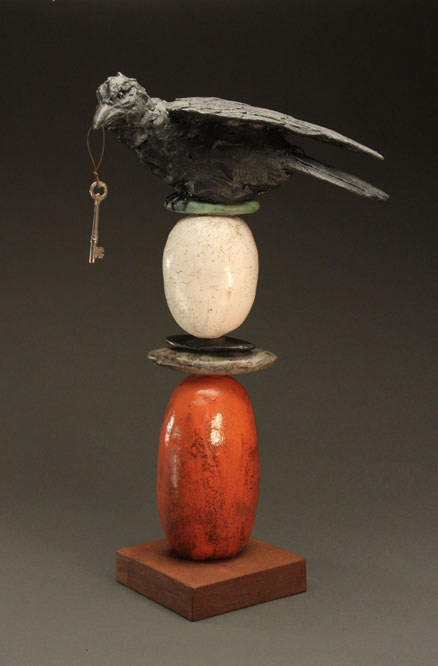 Totem by Christine Kosiba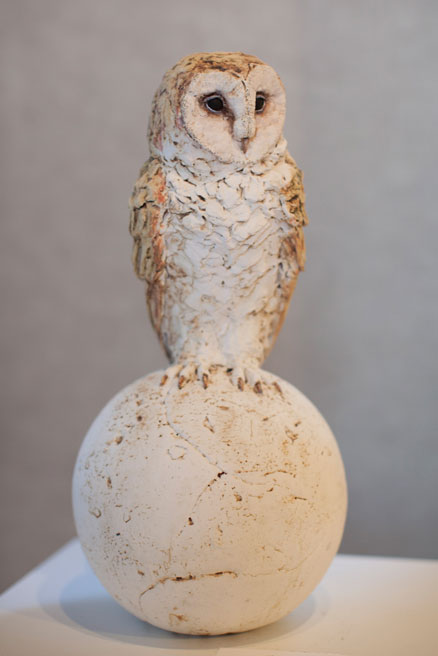 Another work by Christine Kosiba
I took a few photos to kind of show the space, but you really have to be there a while to discover all that is on display. Items in ceramics, handblown & fused glass, book arts, paper, printmaking, jewelry and wood are offered. There's more there than you would think at first glance. And, as usual I asked a lot of questions about how things are going, what kind of street traffic she got, what kind of items people were buying – all that shop talk stuff. It's kind of boring if you've never run a gallery, but it's the stuff gallery owners want to talk about. If you go there she'll be more interested in telling you about her gifted artists.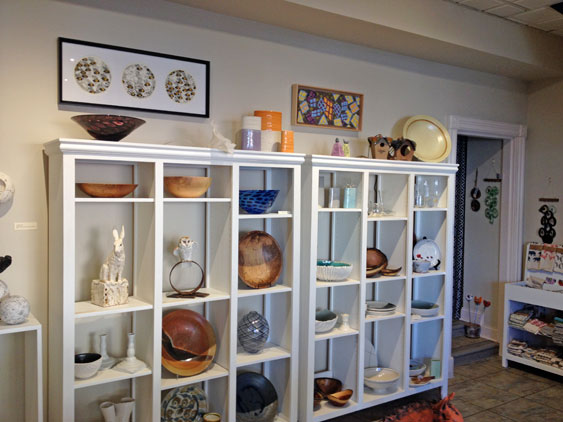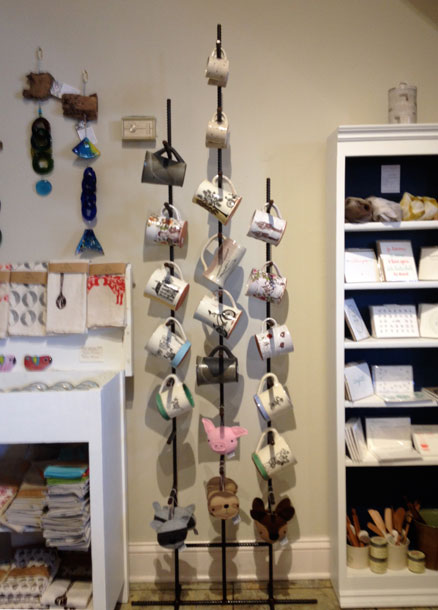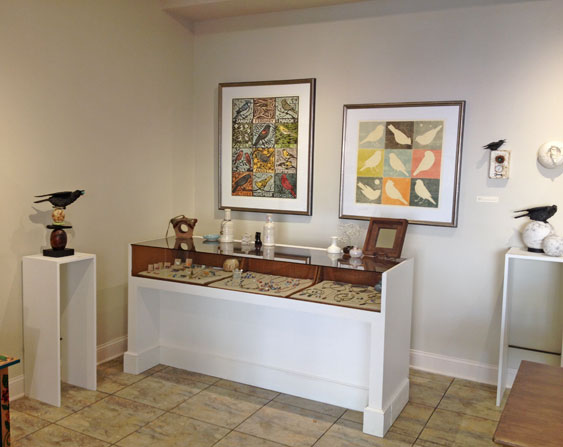 On this cold day after the big SEWE weekend there were not a lot of shoppers on the street coming in while I was there – except for a group of ladies who came in and wondered if the gallery owner might be willing to offers some items for an art auction fundraiser. They had a list of galleries they were going to hit up. Too bad they didn't spend any time looking to see what the shop offered. This is a subject that would take many blog posts to cover and the right people who would need to read it would never see it. They are deaf, dumb, and blind to the needs of the visual art community.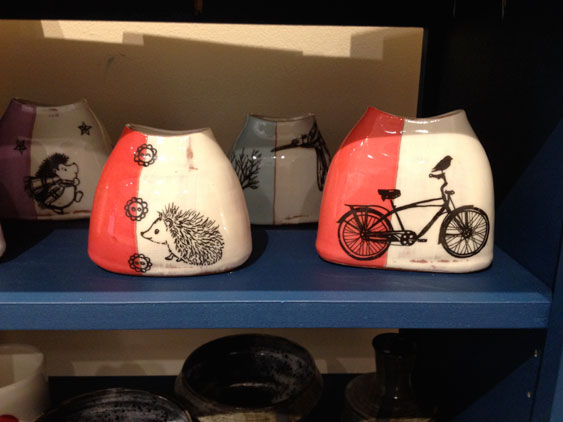 Here's one close up of a couple of works by Luba Sharapan of Darn Pottery in Tennessee
If you are suffering due to the closure of Nina Liu & Friends, you might want to check out this relatively new craft gallery on John Street. The gallery offers some items that haven't been seen in Charleston before – and that's always a good thing.
My next goal was finding a parking space not too far from the City Gallery at Waterfront Park, located at 34 Prioleau Street, across from the Pineapple Fountain in Waterfront Park overlooking Charleston Harbor. My luck came in the small parking lot next to the Old Exchange Building & Provost Dungeon at the corner of East Bay and Broad Streets – which also was right next to another building which was the last location we had in downtown Charleston – 132 East Bay Street. The newspaper's office was there, people could drop off film for processing there and pick it up, and we ran a gallery there too – years ago.
I'll tell you this, I know Charleston pretty well, but it's changing fast and parts of it are shocking to me on how it has been over-developed. I first stepped foot in downtown Charleston in 1974 and you wouldn't believe how the "most preserved city in America" has changed. Back then, locals cried about how much the city had changed and now I kind of feel that way too. Those old locals must be rolling over in their graves turning their backs on the city it is becoming. I wouldn't be surprised if some have had their graves moved for further development.
It was less than a half a block from my parking space to the City Gallery at Waterfront Park. I walked in and used the facilities right away. You'll find one of the nicest, cleanest restrooms in the city there. That's important info to know when visiting Charleston – where the public restrooms are.
Drawing from the Lifeline, featuring mixed media work by Tyrone Geter, is on exhibit here through Mar. 1, 2015. That's not very long from now so hurry and make plans to see this exhibition. The exhibit assembles a selection of new and recent work by Tyrone Geter curated by Frank McCauley, Chief Curator at the Sumter County Gallery of Art, in Sumter, SC. So, I guess now the City of Charleston's Office of Cultural Affairs is letting out of town curators organize exhibits for them. Well, that can't be right – I don't think anyone really knows how they select exhibits for this gallery space. I know I've never seen a public notice calling for proposals.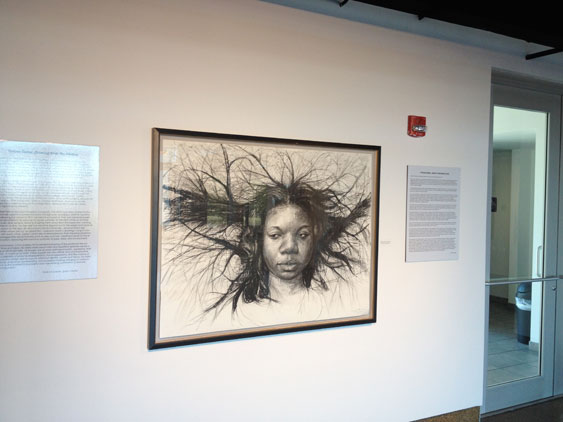 I guess this might be the first work of the exhibit. You can read about Geter and the exhibit on the text panels
Geter has forged a unique artistic practice spanning multiple media platforms including drawing, painting, and sculpture. His ongoing series entitled "Purgatory Ain't Nothin' but the Blues" is most often executed with the most basic and humble of mediums, charcoal on paper. You can read all about the exhibit and Geter on Page 16 of our Feb. 2015 issue of Carolina Arts found at (www.carolinaarts.com).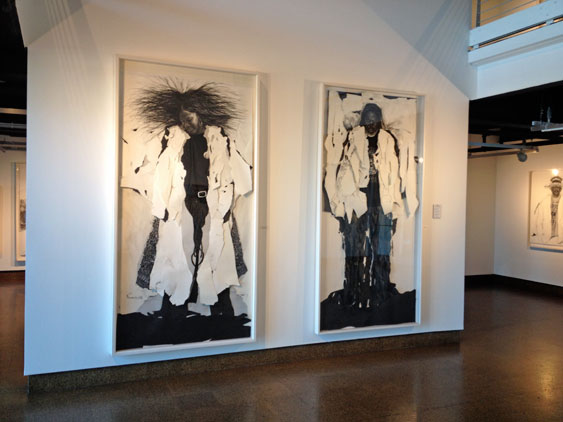 Two larger than life works.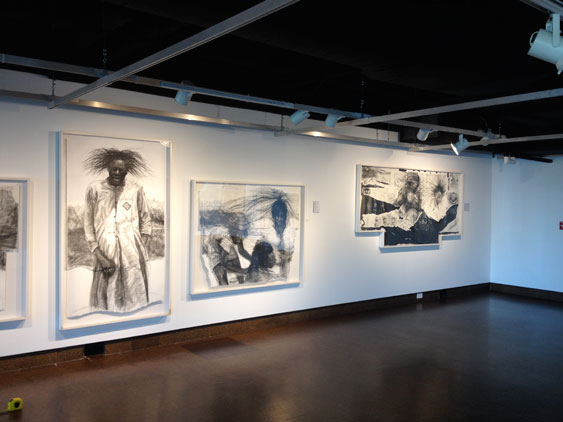 Many of the works are very large and they fill up a large wall very fast.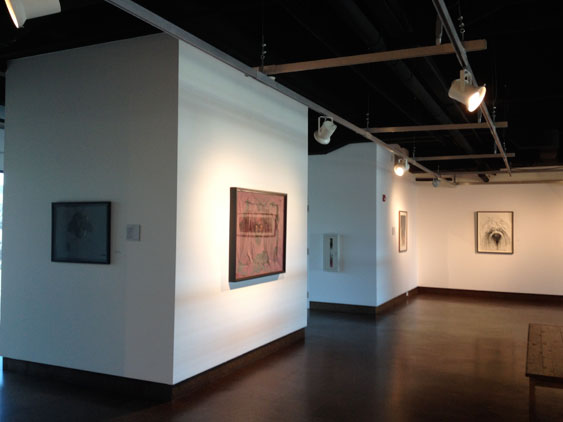 I added this image to show that on either side of the cube wall the lights were not on and I mentioned it to one of the people running the gallery, but nothing was done to turn them on while I was there.
I've seen a lot of exhibits at this gallery and I think, in fact I'm sure, this is the best single person exhibition I've seen here. There have been some great group shows, but this has to be the best one I've seen. Maybe I missed something better – my loss, but I'm glad I got to see this one.
Geter is very skilled at drawing but the title of the exhibit might fool you, a lot of the works have much more to them in making the final piece, but it's his abilities at drawing that pulls each piece together. Some works are down right 3-Dimentional and a few are almost mini installations. But it's the strong drawing that will always be the main focus.
And the people who are Geter's subjects are some of the strongest characters where you know there is a heck of a story behind each one – sometimes suggested by the title – some with stories a lot of us hope we never have to tell, stories of hard work and hardships – stories of going without for the sake of others. And, stories of injustice.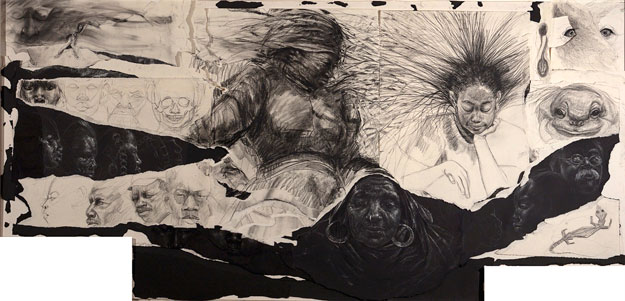 "So Many Gone" from the series "Living in the Light of Hell's Shadow".
Grandmother speak to me of wisdom.
Talk to me of courage and struggle.
Tell me the tales of freedom
and the quest for emancipation.
Tell me the stories of my people.
As a white person, you might begin to feel a little guilty – in fact I hope you do. I know I was and when I came across the only image of a white person or at least not a black person in the exhibit titled, I Saw Nothing, Heard Nothing, and Said Even Less, I was hoping I wasn't looking at a portrait of me. I didn't take a photo of it so you could see if it looked like you when you saw it.
In fact, it was nearly impossible to take decent photos of the exhibit as a whole. Most of all the works are behind plexiglass or glass and the way the lights are positioned and the fact and one whole wall of the gallery is all windows and doors – it's a photographic nightmare. But I did manage a few shots.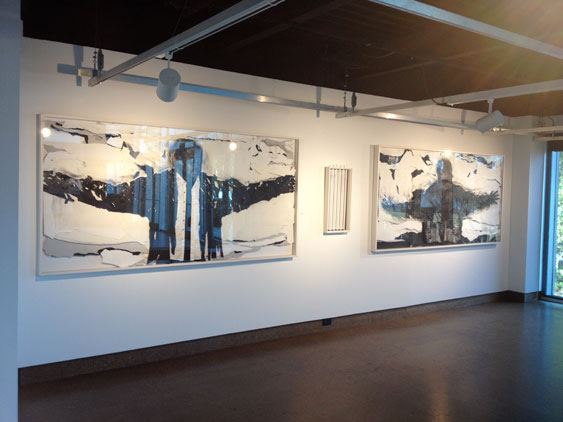 This image shows the terrible glare from the gallery lights and light coming in from the windows.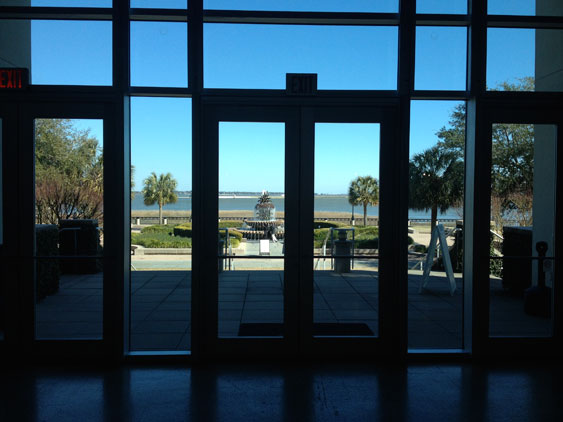 Mayor Riley asked for one whole wall of the gallery to be glass so people at receptions could gaze out over Charleston's Harbor view. Who cares what it does to the art on view in the gallery.
Between the time I saw this exhibit and while I was writing this blog entry, Tyrone Geter posted one of the works in the exhibit on his Facebook page titled, Black Face White Face. It's a charcoal/pastel on torn paper work he did in 2015 in response to events taking place in Ferguson, MO. It was one of the images that I wondered if he had taken any photos of before the works were put behind glass or plexiglas so I could show them here. There was no way I was going to get a good shot of them in the gallery. And, he did have good photos of the works I requested – as all the images were that he sent us. That's another reason his works ended up on the cover of our Feb. 2015 issue – because he had good high res images to send – on request. But, I'm getting distracted. I shared the photo he had posted on Facebook and commented that it was nice to see work being done by a SC artist that related to a current topic and made a statement that couldn't be missed by anyone.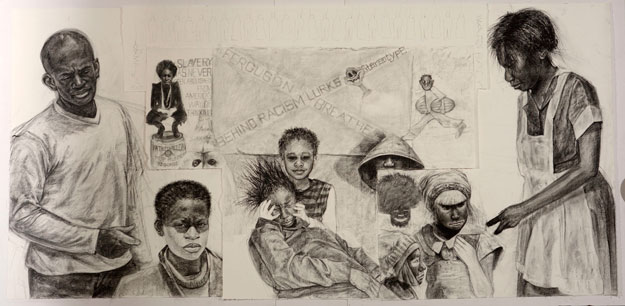 "Black Face White Face"


Detail of "Black Face White Face"
Geter makes beautiful, intense images that speak volumes to some people, make others think, and unfortunately leave some at a loss for what it's all about. I'm not saying I could relate to 10 percent of what some of these images were saying and I'm glad I never had to, but it also makes me wish they didn't have to either. And, today that gap between the haves and have nots is bigger than ever. And I feel that my family and I are slipping further down that trickle down economic pole. We're still better off than many who are way down that pole below us.
We've shown mostly black and white images, but there was an interesting group of works done in charcoal/pastel (color) on black paper. It was amazing how the color bounced off that black paper – subtle and powerful at the same time.
I did manage to get acceptable photos of two works that seemed like mini installations to me. The drawings were enhanced with torn strips of paper giving a real 3-D effect and the two works were placed in deep enclosures which had drawings on the outside of what I'll refer to as boxes. At the bottom the boxes where collected items of all sorts and the boxes had what looked like feet to me. One interesting item at the bottom of one of the boxes was an empty plastic bottle with the word "Hungry" on it. I guess there is nothing like being served from a bottle of Hungry, but I wouldn't know – I've never known hunger. How about you – would you know what that tastes like?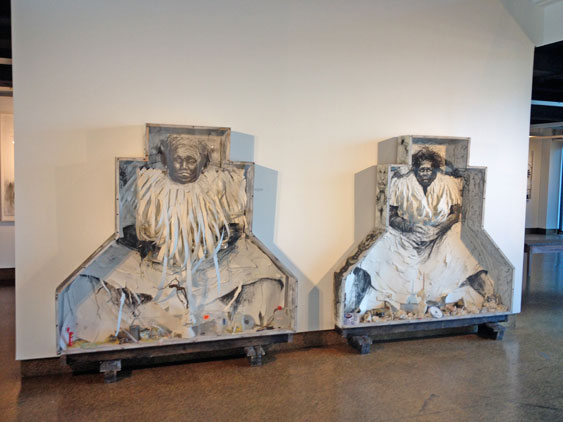 Here are the two boxed works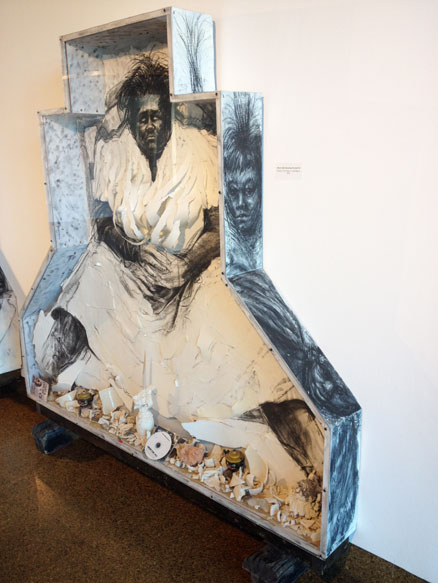 A view of the drawings on the sides and some of the items at the bottom.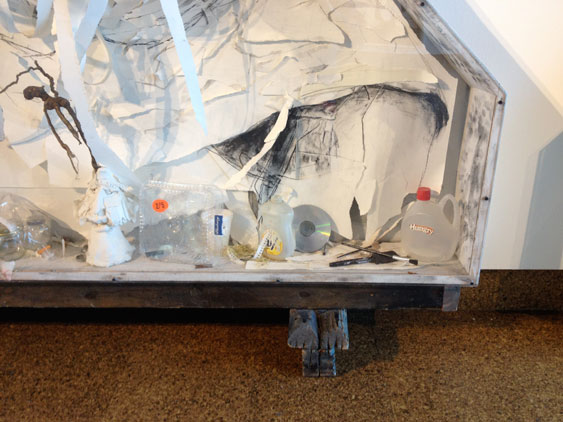 Check out the jug or bottle of "Hungry" and the feet holding up the work.
This was a hard exhibit to digest, but I'm oh, so glad I got to see it, and I hope a lot more folks go see it. I hope this exhibition will be shown in other places in South Carolina or North Carolina.
Time is running out on this Charleston exhibition. Unfortunately we didn't receive details about it until several weeks after it started. Run and don't stop until you see it.
Oh, before I left Charleston I stopped by the Corrigan Gallery, at 62 Queen Street and chatted a bit with Lese Corrigan about the changing face of Charleston's visual art community. There was a lot of good works of art to look at there too.
She has an exhibit coming up next month entitled, Female Cuts, on view from Mar. 5 – 30, 2015, featuring a showcase of primarily woodcuts by artists from then and now. A reception will be held on Mar. 6, from 5-8pm. The then will be represented by Charleston Renaissance artists Elizabeth O'Neill Verner, Alice Ravenel Huger Smith, Anna Heyward Taylor and now – Mary Walker, Kristi Ryba, Lese Corrigan with Corrie McCallum whose work is the bridge between the two time periods.
That title comes from a remark a SC State Representative recently said about women – "They are a lesser cut of meat". I'm sure our Governor liked that statement coming from a member of her own party, or, does she just care about serving her party's need for diversity?