Editor's Note: I meant to finish this post and post it a few days after June 19, 2015, but I was angry and it's not good to sit down and write something when you're angry. So, I put it off and as usual things got in the way.
This trip started with a desire to go to the opening reception of the exhibit, Contemporary Canines: The Dog in Southern Art, on view through Aug. 15, 2015, at the Jones-Carter Gallery in Lake City, SC, home to the ArtFields© art competition. I don't get to break away from the production of Carolina Arts that much, so when I go I try to make it a productive trip and see as much as I can. So, the plan was to go see the exhibit, Paintings by Mary Bentz Gilkerson, on view through Aug. 12, at the Hyman Fine Arts Gallery at Francis Marion University in Florence, SC, the exhibit, Legacy: The Ansel Adams Experience, featuring works by Tari Federer, Kathleen Kennebeck, Elizabeth Kinser, Julie Mixon and Allison Triplett, on view through June 28, in the Waters Gallery of the Florence County Museum, and the exhibit, Fantasy vs. Reality, featuring works by Jim Gleason and Lee Benoy, with works by Florence County art students, on view through June 25, at the Art Trail Gallery.
The plan was to go to Florence first, visit the three exhibits starting with Francis Marion University first (the farthest away) and then get back to Lake City in time for the reception. Keep in mind this was Friday, June 19, 2015.
I arrived at Francis Marion University about 2:30pm on a day when the heat index was well over 100 degrees. I've learned over the years that you can't always pick your days to go see art when the weather is ideal. Besides, most of the time I'd be spending in nice cool exhibit spaces.
I knew something was wrong when my first view of the gallery space showed me a dark space and when I reached the door and it was locked, my first response was – #$@&. There was no note on the door as to why the space was closed. I went next door where I knew the administration office was for the art department at FMU but found no one around. I picked up a copy of "Artastic" a publication covering the art events of the Pee Dee from April – August, 2015. I looked up the exhibit hours for this space which stated the space would be open Mon.-Fri., from 8:30am-5pm. I was there at 2:30pm – well after someone would be closed for lunch. This was super frustrating.
I had hoped to give some exposure to Mary Gilkerson's show as she is a reviewer of exhibits in SC and there isn't anyone else to give her shows a review. A review by me wouldn't be the same as getting one by someone qualified as she is to speak about art, but it would be something. I'm not sure I'll get back to FMU before her show comes down. I'm not sure I'll risk going back again, but if you're in the area I highly suggest you go see this exhibit. Gilkerson is a skilled painter and I love her style of loose realism – meaning in my words – her works are kind of abstract but you can still recognize what she is depicting in her works. She's a great colorist too. I strongly suggest you call FMU first to make sure they will be open this Summer at 843/661-1385. I hope someone answers your call.
So, I headed back to downtown Florence to the Waters Gallery which is in the old space the Art Trail Gallery used to be in on South Dargan Street. I got there about 3:30pm and to my dismay it was also closed. At this point I was ready to walk around the corner to where the Art Trail Gallery was now located and if it wasn't open I was going to leave Florence and I didn't know when I would be coming back. Hot weather is not pleasant to be out in but when it comes to gallery spaces hot weather is a good reason for people to visit them. When two institutions like Francis Marion University and the Florence County Museum don't keep their posted hours – that's bad, very bad. There is nothing that turns off gallery visitors more than walking up to a door that should be open and finding it closed – especially with no reason for that closure posted.
I later learned that it's not clear who is responsible for the Waters Gallery these days, but things are very fluid in the Pee Dee when it comes to its growing art community. Things seem to change from visit to visit. I can understand growing pains, but I'm also not sure its not a problem of leadership and power struggles. I've been given the impression that there are too many people stirring the art pot in the Pee Dee. But, I'm not going to waste a lot of time here going into that.
Luckily when I walked over to the Art Trail Gallery and pushed on the door it opened.
The Fantasy vs. Reality, exhibit offered the most works by Jim Gleason that I've seen in one location. His creatures made of parts of musical instruments that have seen their better days as instruments are now living again as Gleason's fantasy animals from his mind. And, his mind sees a lot more than most people would. I took a few images, but its really hard to capture these creatures in still photos. They are truly 3D and need to be seen that way.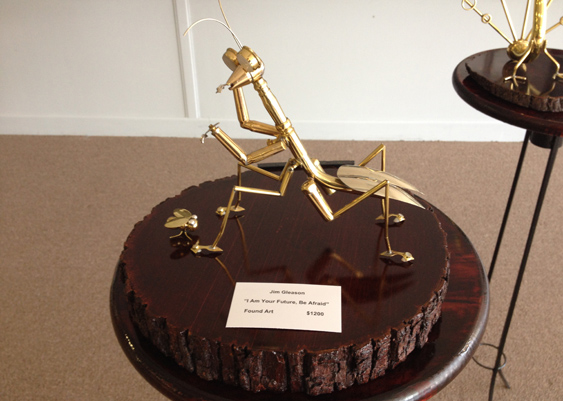 "I Am Your Future, Be Afraid" by Jim Gleason.
Lee Benoy offered the reality part of this exhibition with his black and white photographs of the Pee Dee's rural areas. It's hard to photograph images under glass so I just took a view from the side.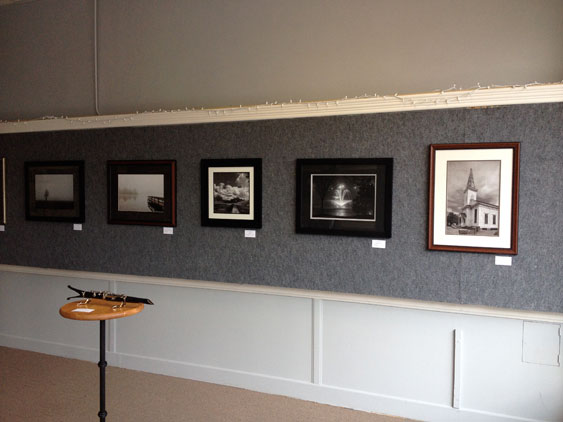 Side shot of photographs.
Unfortunately this exhibit is no longer on view at the Art Trail Gallery, but I wasn't in the best of moods while viewing this exhibit so I didn't do it real justice in looking that closely and taking photos, in fact my attention drifted to works I usually don't pay much attention to – student artworks that were also on display. In fact the handout about this exhibit at the Art Trail Gallery featured these works more than they did what I considered to be the main attraction – the works of Gleason and Benoy.
I had hoped to do this blog post much earlier than I have, but events in Charleston, SC, took my attention away and then it was time to produce the July 2015 issue of Carolina Arts.
The closure of the exhibits at FMU and the Waters Gallery left me with more time to view this student art and during that time the student's work sort of captured the spotlight of the day. Of course there were many excellent works to come in the exhibit in Lake City, as you'll see, but I found a few gems among the student works, beginning with a portrait by Ayle White, an 11th grader at West Florence High School. This young girl could be a working artist today, but I hope – if she wants – that she will continue with her art studies to enhance her skills. She's already better than many adult artists I know who are doing portraits.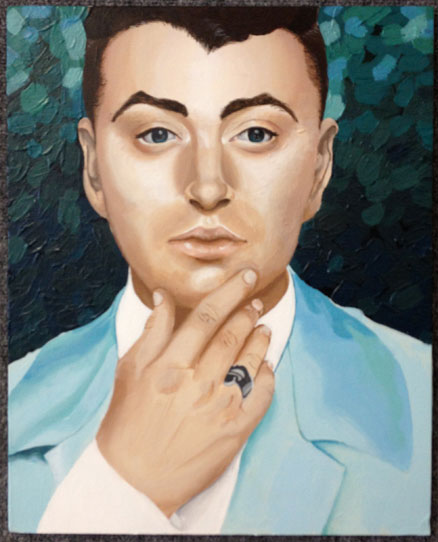 Portriat by Ayle White.
Also, cudos go out to art teacher Mrs. Swinney-Carter at Williams Middle School for three prints by students Brittany Sehnke, Abigail Sansbury, and Kushbu Jivan that didn't look like they were done by 7-8th graders.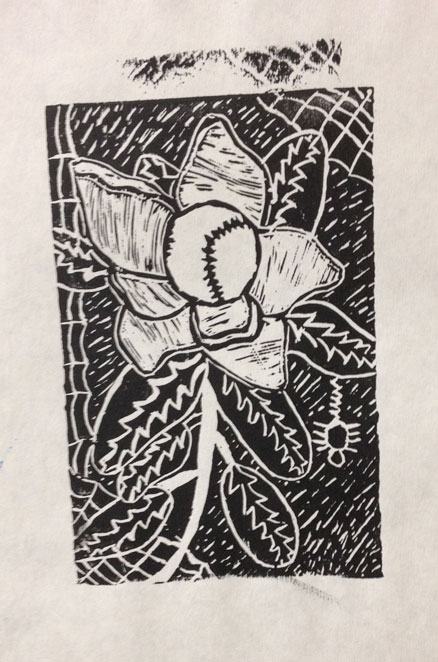 Print by Brittany Sehnke.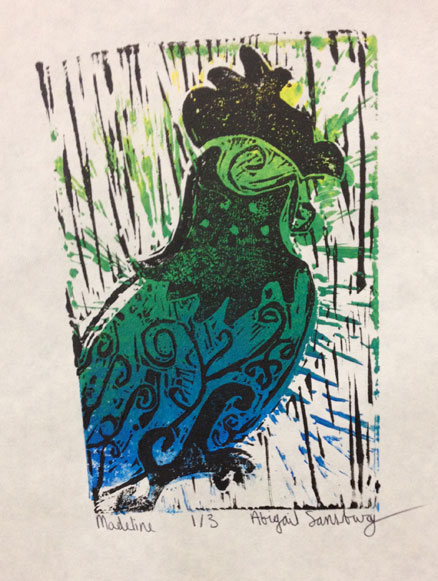 Print by Abigail Sansbury.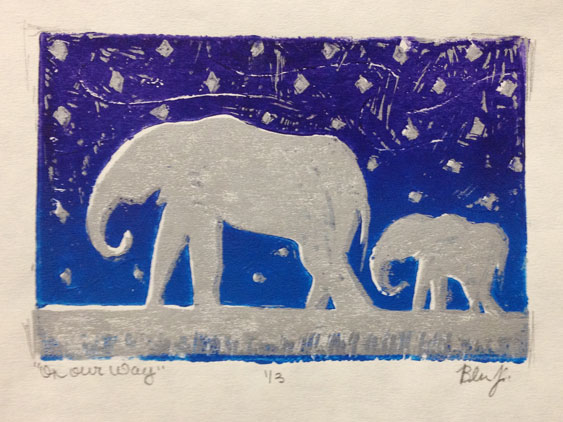 Print by Kushbu Jivan.
Anytime I do view an exhibit of student art I always find one or two works that stand out above all the others, but this exhibit had a number of works which could stand with an exhibit of works by adult artists – especially with professional help on presentation.
While standing at the front of the Art Trail Gallery looking out at the 100 + degrees waiting for me I noticed that there seemed to be works up over at Smart Phone Repair across the street, on the corner of West Evans and Irby. Smart Phone Repair had an art competition using old phone parts called Once A Part, Now Art. I guess the exhibit was still up – so they also got an unexpected viewing.
The deal with this competition was that artists who wanted to participate would pick up a similar bundle of old phone parts, left over from phone repairs and probably phones that couldn't be repaired. Their challenge was to make those phone parts into art. Recycled art – art made from recovered materials that otherwise would be thrown away is a big thing these days.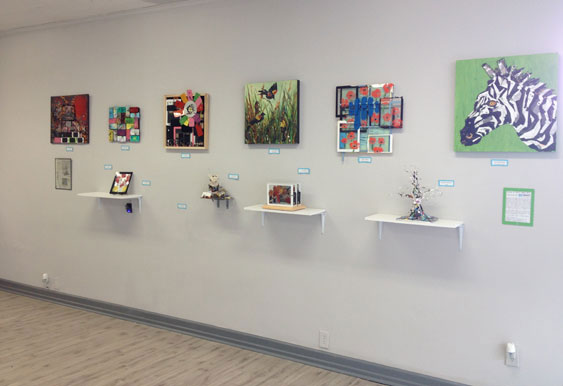 View of the whole exhibit.
This exhibit was supposed to come down in May, but the owners liked the reaction they were getting from the exhibit so it was still up. They were not sure how long it would still be up but it seems they'd like to keep some of the works on display and are also thinking of doing the competition again. So if you find yourself at the Art Trail Gallery, you might want to check out Smart Phone Repair to see if the works are still on display.

"Discarded Image" by Minnemie Murphy was the First Place winner.
That's the kind of thing that's been happening in Florence's developing arts district. Everyone wants to get in on the action being created by the arts. A lot of changes are taking place in the area. A Jazz Club has opened on West Evans and a new shop called E Interiors was about to open. I was hoping to have lunch at Box Car 9 Pizzeria, but it wasn't open yet. They seem to be taking a long time to get open.
I also learned that the Art Trail Gallery will be on the move (again) back to Dargan Street in what everyone hopes will be its final resting place. More about that at a later time.
OK, it was time to head back to Lake City, to the Jones-Carter Gallery for the opening of Contemporary Canines: The Dog In Southern Art, featuring works by Diane Kilgore Condon, Craig Crawford, Mike Fowle, Patz Fowle, Elizabeth Graham, Janis Hibbs, and Alex Palkovich.
By 6pm in Lake City it was hotter than two rabbits screwin' in a wool sock! My grand-pappy never said that – he was a dairy farmer from Michigan, it never got that hot there. I looked that Southern gem up on Google.
There was not a big crowd at the opening, which wasn't a surprise considering the heat and the fact that the opening didn't get a lot of promotion on social media – at least not on any I saw. I don't know if they send out invitations or just hope people will show up. I was there right after 6 and I did see the Mayors of Lake City and Johnsonville there, but they left not to long after they arrived. They might of had other engagements to attend. I don't think Mayor Riley in Charleston, SC, shows up at many exhibit opening. So they were more supportive than he is to the visual arts. But I doubt he misses many performances of the Symphony. I don't blame him – he pays a lot for every performance, or at least the City of Charleston does. Well, correction – the taxpayers of Charleston do.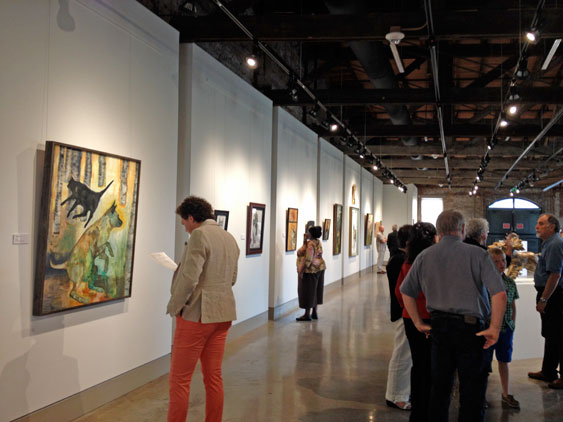 View from the door looking into the crowd.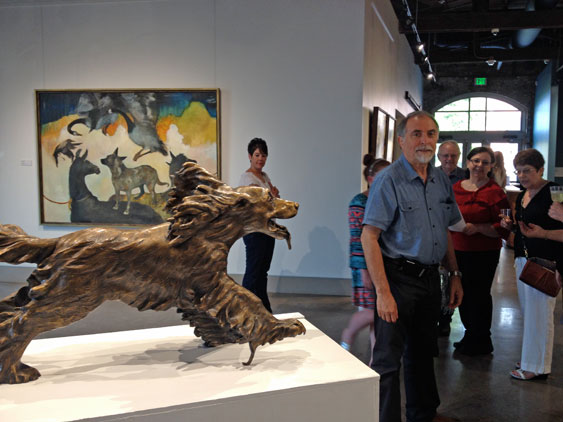 View of Alex Palkovich with one of his sculptures.
The crowd was small, but it seemed to be made up of a lot of folks I wanted to talk with. I finally met Jane Madden's (the original force behind the Art Trail Gallery) husband Michael for the first time in all these years.
I got to talk with a few of the artists, Patz & Mike Fowle and Janis Hobbs. And Janis Hobbs' husband, David Hobbs, who is Chairman of the Board of the Art Trail Gallery in Florence. And, as is the case with most visits to the Pee Dee to view art – Alex Palkovich was there, who also has works on permanent display at the Art Trail Gallery. It was kind of an Art Trail Gallery day.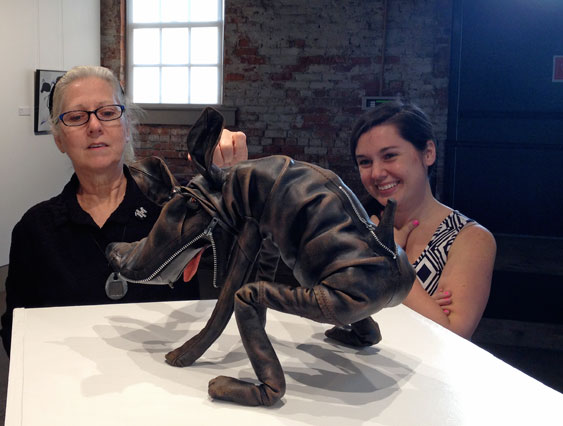 View of Patz Fowle (l) with her creation for the exhibit and Hanna Davis (r) the Jones-Carter Gallery Director.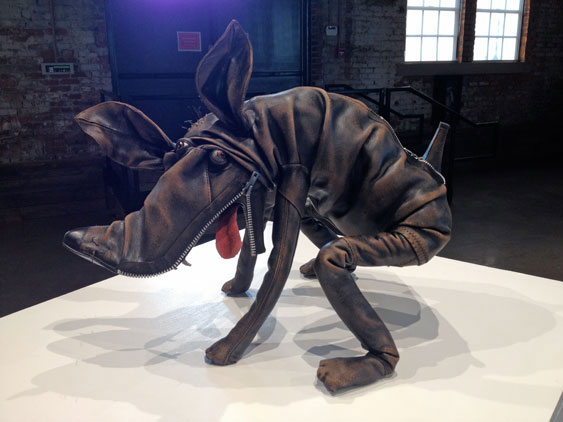 Close up of "Squattin' in High Cotton," mixed media by Patz Fowle.
Anyone who follows my post on a regular basis knows that I like talking about art almost as much as looking at art – maybe more at times to the point of distraction. But finding out what is going on behind the scenes in the art community is as important as art itself when you're the editor and publisher of an arts publication.
This exhibit wasn't the most interesting (to me) I've attended at the Jones-Carter Gallery, but it wasn't due to the lack of quality of art presented, it was probably more to due with the fact that not too long ago Lake City was filled with one of the best art exhibitions that I've seen in a long time – ArtFields@ 2015.
I'll fully admit that I might have also been tainted by the fact that the day had turned sour, it was extremely hot, and I was frustrated on how ArtFields© has once again gone dark after one of its events. Going to an art exhibit when you're in a bad mood probably isn't a good idea if you want to be inspired. But, in my defense – it wasn't my plan.
That's what happened to me on one day, yet I'm still recommending anyone interested in what they see from photos I took or the gallery supplied – to go see this exhibit.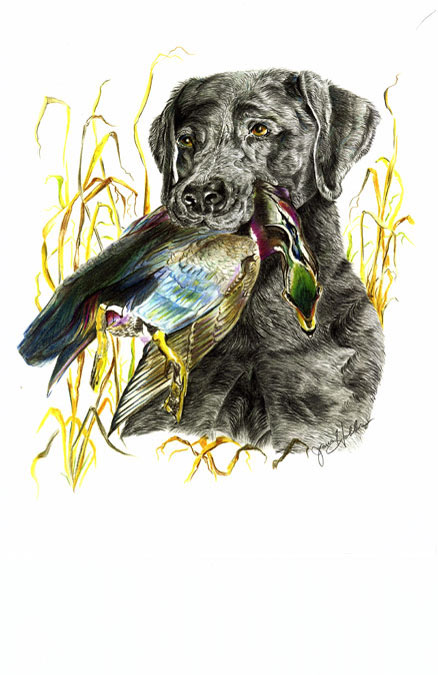 "Clutch," by Janis Hobbs.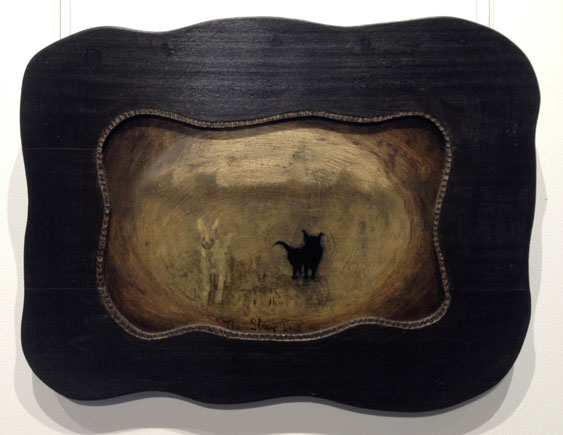 "Strays in the Field," oil by Craig Crawford.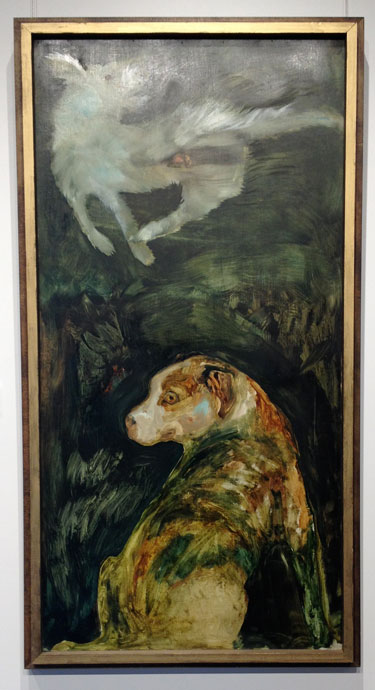 "The Menace," oil on panel by Diane Kilgore Condon, courtesy if ART Gallery, Columbia, SC
On July 25, from noon-4pm, you can bring your dog into the gallery to see the exhibit. All dogs must be vaccinated and leashed. And owners are responsible for pet clean-up. The Jones-Carter Gallery is also offering Yoga in the Gallery on July 30 and Aug. 16, 2015. Join them on those Thursdays at 6:30pm for a one-hour, beginner friendly class inside the Jones-Carter Gallery! Bring your mat, a towel, and a $5 donation. Walk-ins will be welcome, but space is limited. Call the gallery at 843/374-1505 to sign up today!
Well, that's it on this trip. Let's hope the next one is better – well seen under better conditions.