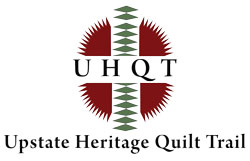 The Upstate Heritage Quilt Trail (UHQT) and the Lake and Mountain Quilt Guild (LMQG) are collaborating in celebrating quilts and quilting throughout Anderson, Oconee and Pickens Counties, in Upstate, SC, through Sept. 31, culminating in the biennial LMQG Quilt Show, Sept. 21 – 22, 2012.
The month-long festivities will kick off on Aug. 25, 2012, with a lecture entitled, "American Quilt Trail" by Suzi Parron, author of "Barn Quilts and the American Quilt Trail Movement" at 1pm at the Pickens Museum at 307 Johnson Street in Pickens, SC. Parron will also sign books at the event. For info call 864/898-5963.
On Aug. 26, a reception will be held from 4-6pm, for an exhibition of quilts at the Lunney House Museum, 211 West South First Street in Seneca, SC.  Several of the historic fabric quilts represented on the quilt trail will be displayed.  The show will continue through the end of September.
On Sept. 7, at 9:30am – The 100th quilt block on the Upstate Heritage Quilt Trail will be unveiled in Westminster, SC, at the Muncipal Building, 100 E. Windsor, followed by bus and walking tours.
For further information about this celebration and the planned exhibits visit (www.uhqt.org).
But, for now we have more updates on the ever expanding Upstate Heritage Quilt Trail in SC.
Martha File and Cynthia Leggett bring us news and images of the newest additions to the Upstate Heritage Quilt Trail in SC.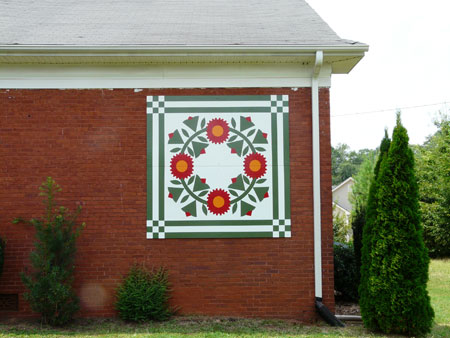 Block 89 – at the Oconee Community Theatre in Seneca, SC
The Oconee Community Theatre has joined the Upstate Heritage Quilt Trail. Called "Presidents Wreath", this addition to the quilt trail is made possible through a grant from the Mountain Lakes Region of the South Carolina National Heritage Corridor. The pattern dates back to mid to late 18th century.
The appliquéd blocks of this quilt were originally found in a dresser drawer belonging to Mrs. Lois Emmert of Mason City, IA, after her death. The family chose to let Doyce and Trish Emmert, Lois's son and daughter-in-law, take them back to South Carolina for Trish's mother, Jenny Grobusky, a well-known local quilter and teacher, to finish putting the quilt together.
Grobusky told us, "When Trish showed me the blocks, my hands just shook – literally! I knew the blocks were old because of the fabric, colors and pattern. But I had never seen such tiny hand stitches. We are not sure who made these blocks, but one can only imagine how long it took to sew such beautiful blocks – there were 13 of them."
"A little research showed that the blocks dated to the mid 1800's to early 1900's and the pattern was very close to the Presidents Wreath. But they were stained with age and I was afraid to wash them myself. One day on a 'fabric hop,' I saw a little package of VINTAGE TEXTILE SOAK and purchased it. After some trial and error, I was able to wash all the squares, then sew and quilt them using the Presidents Wreath pattern from the Smithsonian Museum in Washington, DC. Today, this beautiful quilt hangs in a prominent place in my daughter and son-in-law's home in Salem."
The Presidential Wreath pattern originated in New Jersey and subsequently made its way to New York. Examples can be found in the Shelburne Museum in Vermont, the Whitney Museum of American Art in New York and in many books on quilting.
Oconee Community Theatre (OCT) is located in the former Utica Elementary School, built by the Utica Mill in 1927. The school occupied the building until it was
purchased, renovated and upgraded by the theatre in 1989 with air conditioning, theater lighting and a stage suitable for live theater. OCT's 1989 – 90 season opened to great fanfare with "Annie Get Your Gun". It continues today as a viable and important cultural benefit to the greater Oconee County community and is on the South Carolina National Heritage Corridor, built with private funds and in constant public use ever since.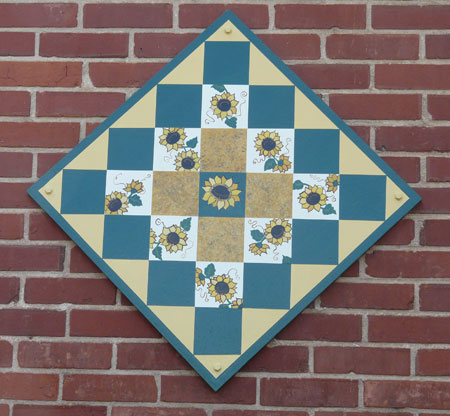 Block 90 – at Jo Brown Senior Activity Center in Anderson, SC
The "Trip Around The World Sunflower" quilt is on display at the Jo Brown Senior Activity Center located at 101 S. Fant Street, Anderson, SC, in the Historic McCants Middle School. The block is sponsored by the County of Anderson. Sunflowers are a significant part of the senior story starting with Jo Brown, the first director of the Anderson County Senior Citizens Program, who loved sunflowers and seniors. Later, Director Brandon Grace developed the sunflower as the first and only logo of the program.
In January 2007, Jo's only daughter, Kelly Jo Barnwell, was hired as Director of the Center to follow in her mother's footsteps. She remarked that it is ironic that Brandon never once asked for her family's input on the logo. He never suspected how Jo loved sunflowers!
In 2008, on Kelly Jo's birthday, she received a gift from her longtime girlfriend, Lisa Chaney, then living in Millington, TN. It was a "Trip Around the World Sunflower" quilt that Lisa made in honor of Kelly Jo's mother, Jo Brown. Lisa Chaney learned to sew as a young girl, and later while her husband was deployed to Afghanistan, took a class to learn to make quilts.
The "Trip Around the World Sunflower" block will mark the 90th quilt for the Upstate Heritage Quilt Trail and like the sunflower, it just makes you smile!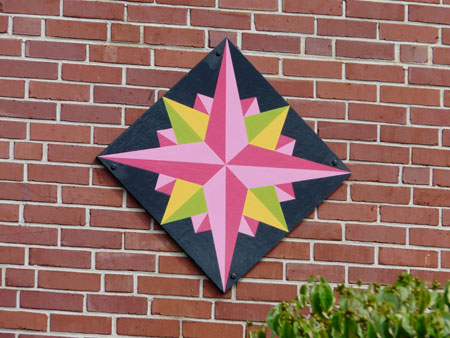 Block 91 – at Anderson Special Olympics in Anderson, SC
The Mariner's Compass is located at Anderson Special Olympics, 101 S. Fant Street, Anderson, SC. The quilt is sponsored by the Upstate Heritage Quilt Trail and donated by Kathy Caine. The quilter is unknown.
Quilter: Unknown
The Mariner's Compass has been a classic pattern for almost 200 years. From the time American women began making quilts; stars have found their way into quilting patterns. Star shapes are natural ones for quilters because the corners of patchwork often form stars with varying points. With slight modifications a star pattern can take on a new look and a new name.
This quilt block was made for the 2011 Pendleton Spring Jubilee. The colors were chosen to represent the vitality of springtime. Kathy Caine, the recipient of the block, requested it be donated to the City of Anderson Special Olympics Program, because of all the 'stars' in that program. The block is located on the historic McCants Middle School that now houses many community programs.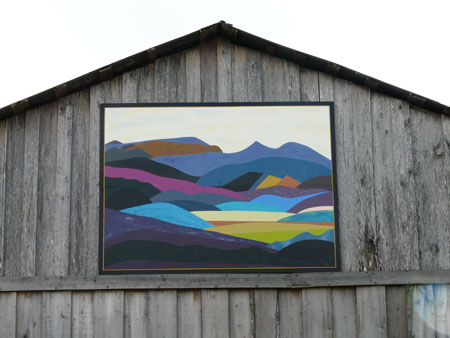 Block 92 – Harris Farm of Fair Play, SC
The Harris Farm of Fair Play, SC, has recently joined the Upstate Heritage Quilt Trail. Owned by John and Carolyn Harris, the quilt, titled "My Blue Ridge", was originally designed and created by Carolyn. "My quilt pattern is an original 'mental conjuration' that developed during a class in which I had all the wrong fabrics for a landscape design. Thus 'My Blue Ridge' was born!"
Carolyn is a native of Anderson and John is a native of Oconee County. He is the seventh generation grandson of Andrew Pickens. They are both graduates of Clemson University and Carolyn's great grandfather was W.D. Garrison of Denver Downs. The Harris Farm is known for its cattle, both Angus and a few others from only the finest families.  They also have a fine swine operation and John is President of the South Carolina Pork Board. Carolyn was with the Cooperative Extension Service at Clemson. So the Harris's have deep roots in the Upstate of South Carolina
"I've been seriously quilting for twelve years, but sewing since my maternal grandmother taught me to use her treadle machine. My mother continued the encouragement through 4-H sewing projects. My love of stitching, fabrics, and mental designing has created a desire to make color and value be the voice in my quilts while continually striving to excel in workmanship. Taking classes from nationally and internationally known teachers, teaching and judging quilt shows are part of the joy of being a quilter."
"I am currently planning a quilt group for my church and a Cousins Quilting Day each month for 2012 for four new quilters – this is exciting to me!"
"My Blue Ridge will be mounted on our barn here at Harris Farms to commemorate my parents and to honor the labor and love of this land we have been blessed to call Home for all our married years."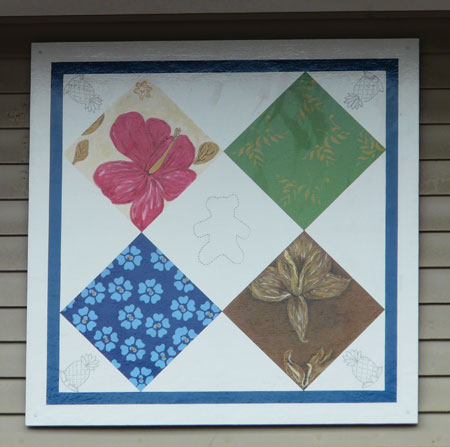 Block 94 – at the Offices of Drs. Ross and Fredrickson in Seneca, SC
A quilt block known as a "Hawaiian Patch" has been mounted on the dental offices of Drs. Kendon Ross and Malia Fredrickson at 10229-A Clemson Boulevard in Seneca, SC.
Dr. Fredrickson is a native of Hawaii where tradition requires that a mother give her daughter a quilt on the birth of her first child. When Dr. Fredrickson's son, Jeffrey, was born in 2004, her mother, Patricia Ann Slater, made this quilt with the help of Amish friends in Randolph, NY. The pattern includes Hawaiian flowers, pineapples and teddy bears.
As she tells it, "This is the only quilt my mother ever made. Though there is no symbolism attached to the flowers or pineapples, it is purely Hawaiian. Our Amish friends in Randolph were thrilled to be able to help her design it, piece it and put it together. I wish the story was more exotic but the quilt is very beautiful and very special to me and my family and she did an outstanding job."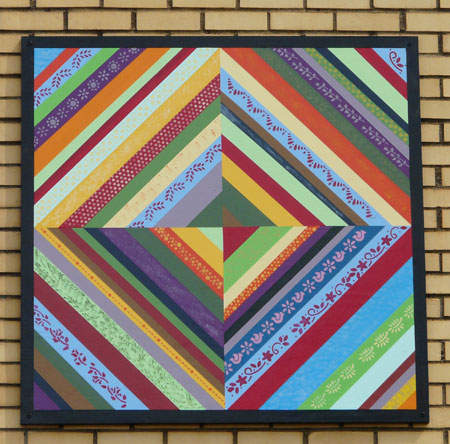 Block 96 – at Oconee County Chamber of Commerce in Seneca, SC
The Oconee County Chamber of Commerce building, located at 105A Ram Cat Alley in Seneca, SC, has joined the Upstate Heritage Quilt Trail. The Seneca Literary and Civic Club is sponsoring the quilt as a gift to help promote the Chamber and Ram Cat Alley. Martha Duke, a local resident, made the original quilt from a pattern called "Bouillabaisse" and donated it to the victims of the 2011 Japanese Tsunami.
"I call it 'Tsunami Relief' since it is made of many different fabric scraps, representing a hope that the tsunami victims can build something comforting, strong and beautiful from the scraps of their lives."
"I learned to quilt 40 years ago. Because of career demands, however, I had to suspend this for about 30 years.  As these demands wound down, I joined a guild and discovered that quilting had become a creative art form using material as the pallet. I found it to be creatively exciting and challenging. Not wanting to collect a bunch of quilts, though, and wanting to do something for society, most of the quilts that I make today are for charity."
For further information about the Upstate Heritage Quilt Trail or to see the quilt blocks on the trail visit (www.uhqt.org).