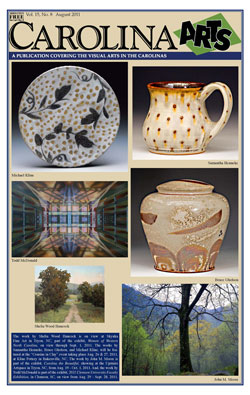 Well, the numbers are much better this month – especially since we had no holiday to compete with at the beginning of the month.
This month in the first ten day, the August 2011 issue of Carolina Arts was downloaded 43,731 times – compared to just 29, 544 in the first ten days in July. In fact, we had more downloads of the paper in the first two days of August than in all of July. We're still dealing with the dog days of Summer, but that's 4 times the amount of papers we use to print in the old days. People sure do like the easy access they have to Carolina Artsnow that it's available online at (www.carolinaarts.com).
The (others) came in at 18,672 – just 300 more that at the same time in July. But pay no attention to that number – we don't know what it represents.
In those same ten days our website attracted 204,908 hits and 28,641 sessions – where people spent time calling up various pages from this month and pages from all the way back to July 1999.
The count for those who are downloading our previous issues is as follows:
March 2011 – 853 – a real drop from last month, but still the all time leader.
June 2011 – 260 – a big improvement since there was no count during the first ten days in July.
July 2011 – 213 – which was good – lots of info in that issue is still current.
February 2011 – 60 – probably first time visitors checking out older issues or artists who are still checking it out to see if their images are still part of that issue. We don't usually take any thing out of past issues – history is history.
The Jan. 2011, Apr. 2011, and May 2011 issue were a no show in the top 1000 on our stats list. Hopefully they will gain some readers by the end of the month.
That's the numbers so far – check back at the end of the month for the totals.
I want to thank all those people who went to our Facebook page and did a "like" for Carolina Arts. I made a special request in my e-mail blast at the beginning of the month when we announced the new issue was ready. If you haven't done that yet – please do at (http://www.facebook.com/carolinaartsnewspaper).
And, if you have never sent the link for the paper out to your e-mail list, but would like to spread the news about the Carolina visual art community, the link is (http://www.carolinaarts.com/811/811carolinaarts.pdf).