I didn't get to go to the first Celebration of Seagrove Potters in 2008, but I've been writing about it way before then, since I got myself in the middle of a heated battle going on in Seagrove, NC, the center of pottery in North Carolina. There was a fight going on between a slick festival promoter, his Seagrove sidekick, and a group of long term potters from the Seagrove area – potters who's families have been throwing pots in the area for generations. And I think time has proven that I took the right side way back when – now nine Celebrations ago.
I'm not going to rehash the problem or even name names – mostly because no one can hardly remember the other two dudes. That's what happens when a new idea becomes an annual success. And, that's what the Celebration of Seagrove Potters is – a resounding success. 2017 will be its 10th anniversary – our 30th in doing an arts publication and the 20th for Carolina Arts. How time flies.
When we got our tickets in the mail from the good folks at the Celebration, Linda had to do some horse trading to get a few days off from her 911 job and we booked a room in a hotel in Asheboro, NC, where everyone else there is either going to the Celebration or the NC Zoo.
It's about a five hour trip from Bonneau Beach, SC, the headquarters of PSMG, Inc. to Seagrove – depending on how many stops we have to make. The older we get the more stops it seems to take. Maybe with all that infrastructure building our new President has promised the I-74/73 highway will get finished and it will be down to a four hour trip, but we won't hold our breath.
When we got to the hotel we got a surprise – the woman who checked us in was the sister of Rhonda McCanless, who used to write a column about Seagrove for us before she went to work for the STARworks Center for Creative Enterprise in Star, NC. Rhonda is married to Eck McCanless, one of the overly talented McCanless clan of potters and musicians in the Seagrove area. You might say that in Seagrove potters grow on trees – family trees that is.
Next stop was the Friday night Gala at the Celebration at the historic Luck's Cannery just outside of downtown Seagrove. That's an inside joke for anyone who has been to Seagrove. There's not much of a town there, but it is the capital of pottery in North Carolina – pretty much the Southeast. And on the weekend before Thanksgiving every year the Celebration of Seagrove Potters takes place featuring over 75 local potters. This town might be small but it goes big when it comes to pottery events in that – believe it or not – there's another big pottery festival which takes place that same weekend in another location. So little old Seagrove offers two major pottery events on the same weekend. It's pottery madness.
The Gala is a special event made for serious collectors, who pay $45 to get a first chance to buy the latest works right out of the kiln and a chance at owning special collaborative works, created by two area potters, offered at a live auction. These one-of-a-kind works are fought over by collectors who want something no one else can own. It's a fundraiser, so when the bidding gets hot – the winner does a lot of good for the pottery community. One of these works, a pot created by Ben Owen III of Ben Owen Pottery and Takura Shibata of Studio Touya went for over $1,450+. This was a sort of East meets West creation since Takura and his wife Hitomi, also a gifted potter, moved from Japan to USA and then Seagrove. But some bidders got some real bargains.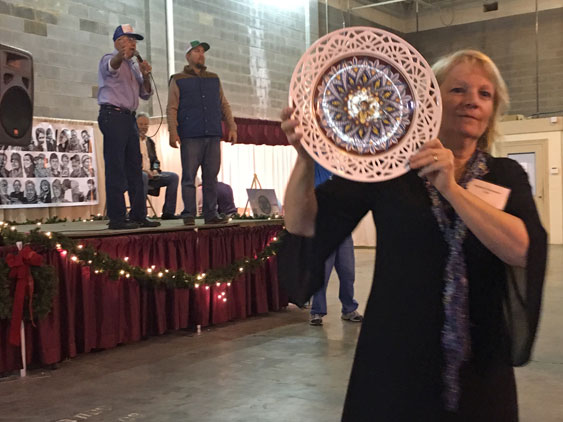 This was a work created by Zeke McCanless of Dover Pottery and Frank Neef of Pottery by Frank Neef – it's high bid almost reached $1,000.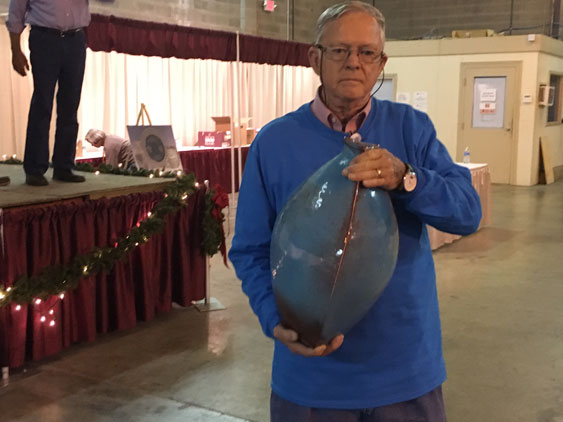 This is the pot by Ben Owen III of Ben Owen Pottery and Takura Shibata of Studio Touya
But the Gala is much more than buying pottery – it's good food and drink with live entertainment, good conversation with the folks who create all these wonderful pots, and an opportunity to learn about this pottery community as several organizations are also involved – the NC Pottery Center and STARworks Center for Creative Enterprise, which is not only involved in promoting pottery, pottery supplies, glass making, glass making equipment, teaching classes, and much more.
Of course you can get a lot of this during the sales event Sat. and Sun., but you'll miss out on the collaborative works. Admission is only $5 these days and parking is free.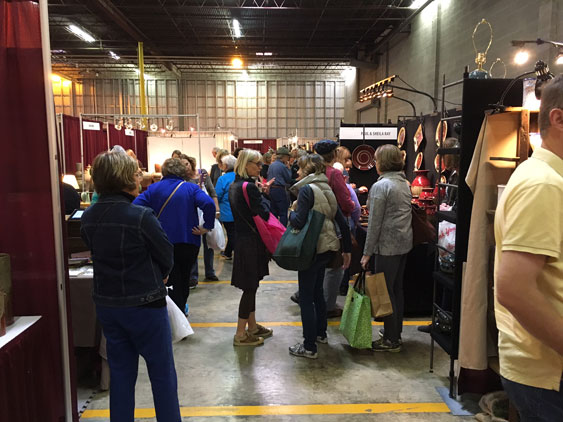 For me – it's mostly about conversations and some adding to our pottery collection. And that's why I don't have hundreds of images of pottery to show you. I talk too much and forget to take photos, but then again I want you to go experience this event yourself not just look at my pictures of the event.
If you have never been to Seagrove and you like pottery, going will be an experience you'll never forget. Some folks make going there a regular habit. Many do their holiday shopping during the Celebration. Oh the lucky folks on their lists. If you have been there but it was some time ago – new potters are moving there and setting up shop all the time. And, of course there are always new generations of historic pottery families coming on line.
The 10th Annual Celebration of Seagrove Potters will take place Nov. 17-19, 2017. For more information about that and other events taking place in Seagrove visit (www.DiscoverSeagrove.com).
So here's some more images of our visit this year.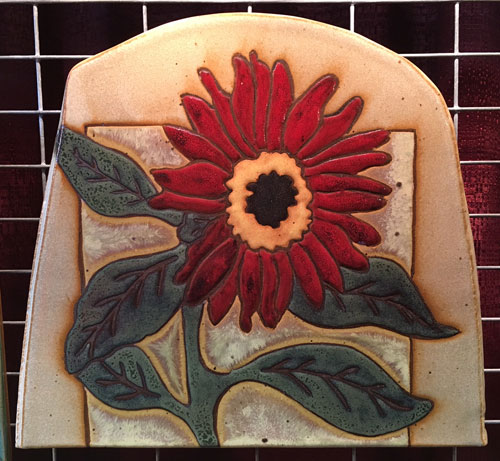 Our first stop is always the Whynot Pottery booth, the folks who first got me to Seagrove. These art tiles being shown are being offered through Acacia Art Tile at Whynot and are made by Meredith Heywood.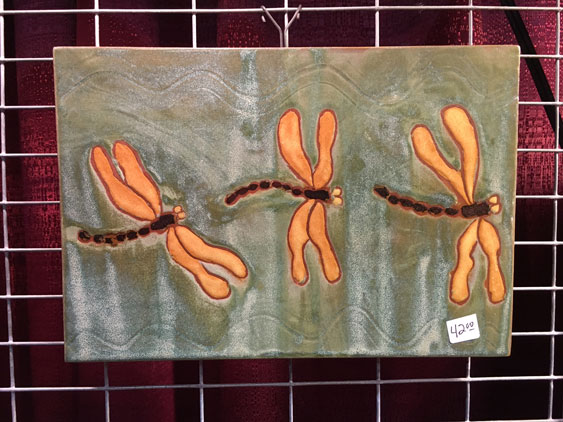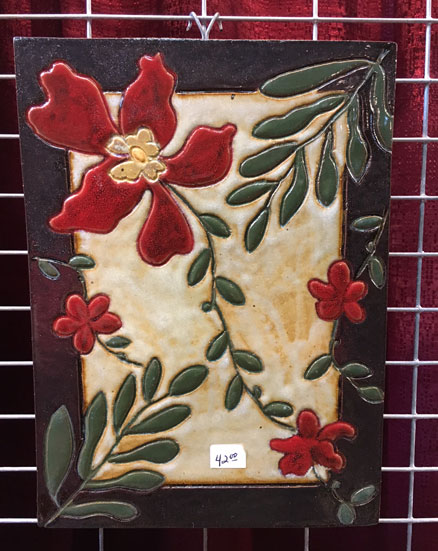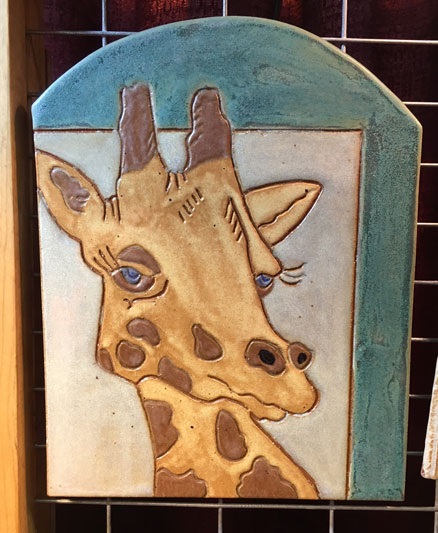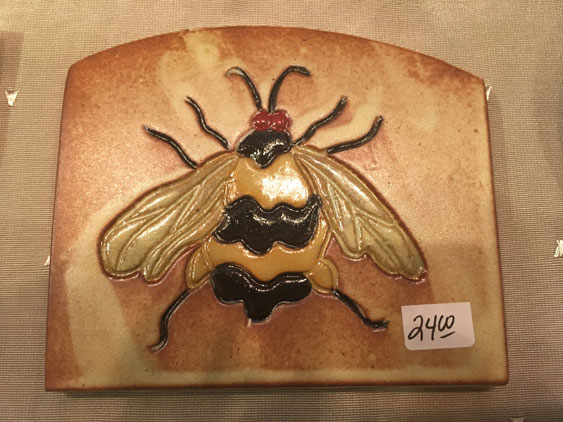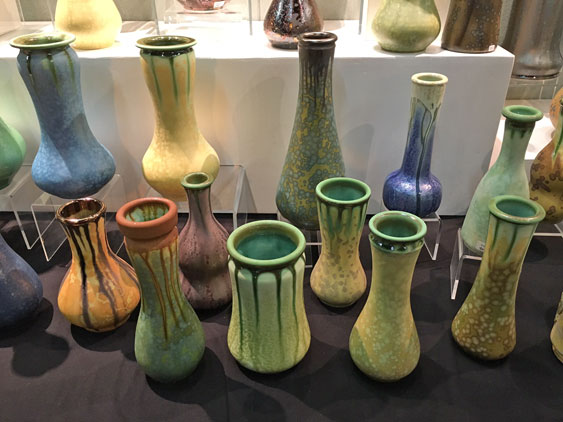 Our next stop is usually to the Bulldog Pottery booth, where we'll meet up with Samantha Henneke and Bruce Gholson and their crew Gloria and Ed Henneke, Samantha's parents.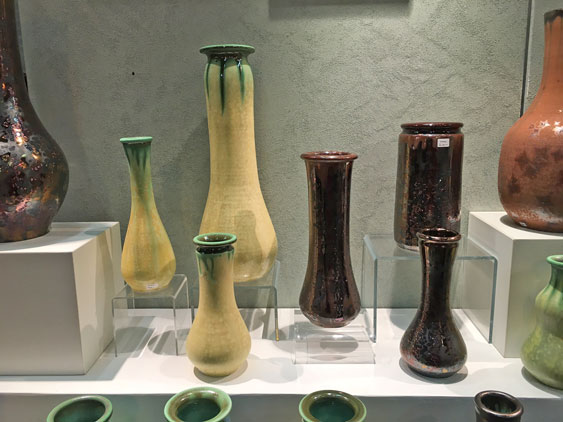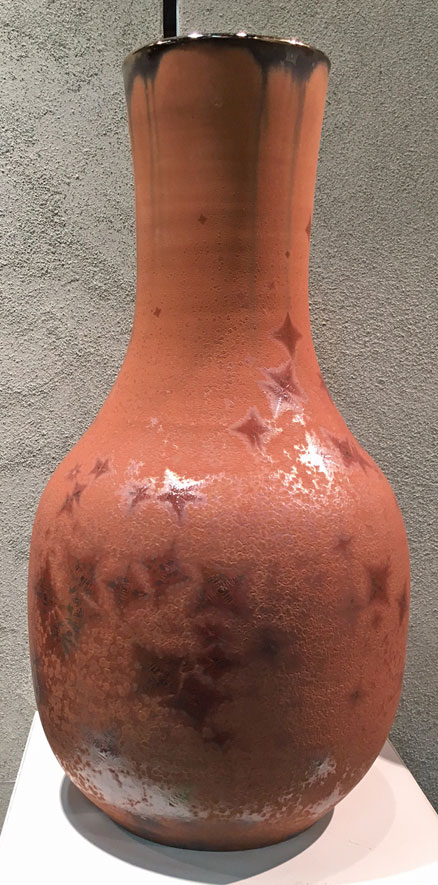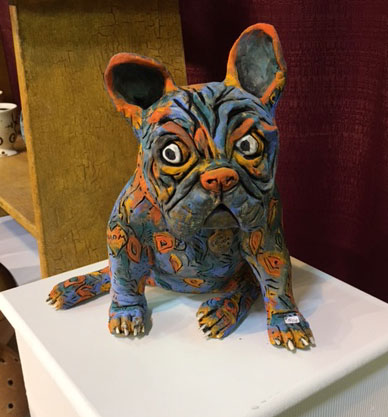 This clay dog is guarding the booth for Johnston & Gentithes Art Pottery. He was created by Carol Gentithes.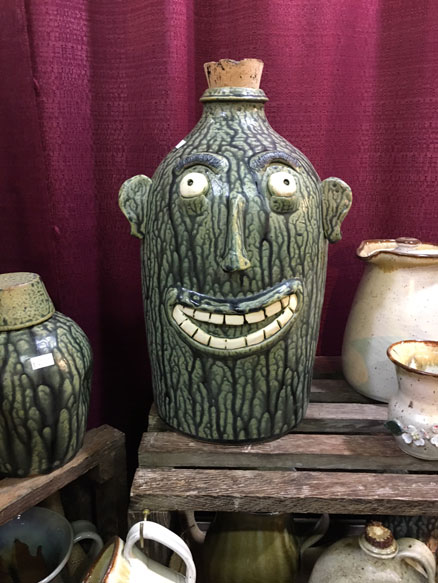 Here's a face jug by Sid Luck of Luck's Ware, Sid is a cultural treasure in North Carolina.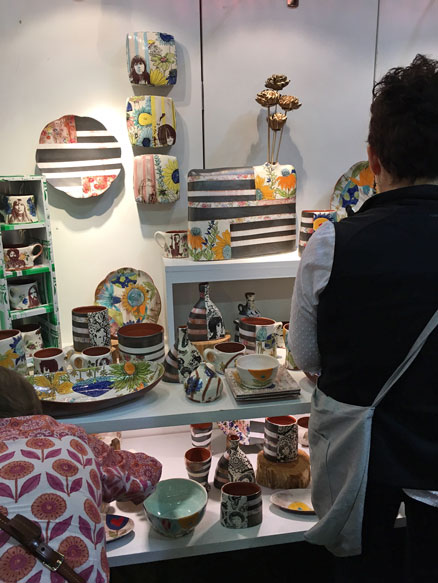 Here's a view of the booth of Dean & Martin Pottery (love that name). They incorporate images from the 60's in their work. I knew most of the people I saw on their pots – how is that possible – oh yeah – I'm old.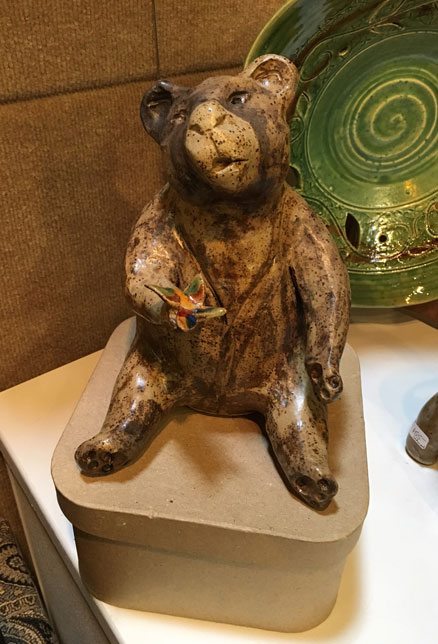 This little bear is having fun with a butterfly at the Crystal King Pottery booth.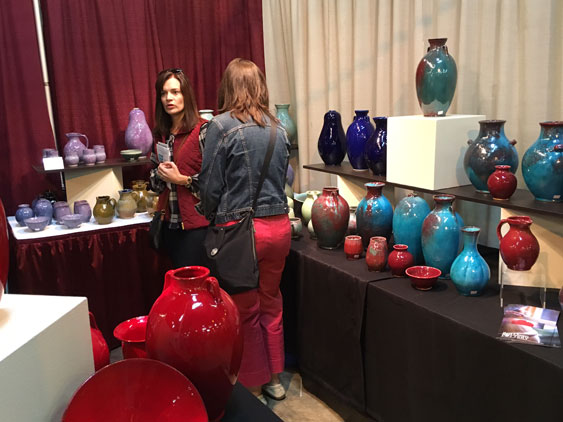 Here's a view of works at the Ben Owen Pottery booth.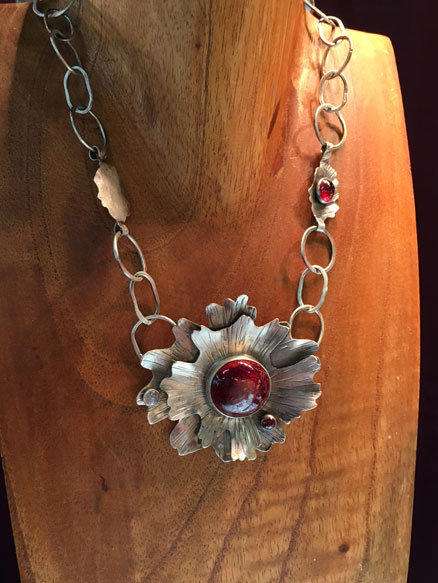 Always a favorite stop for Linda is the JLK Jewelry booth. I finally got Linda to stop looking and buy something.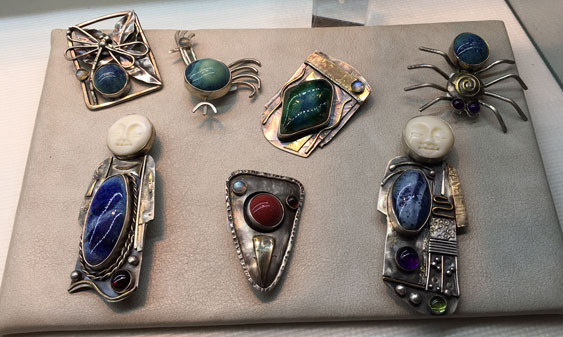 OK – you're wondering what this jewelry has to do with a pottery event. All the stones you see in these works are made of clay.
There were lots of other booths we visited who had wonderful works, but as I said I talk to much and forgot to take photos.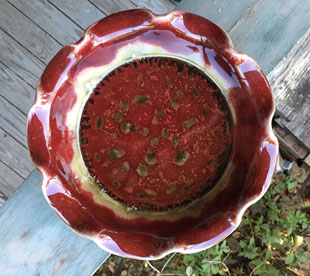 Now speaking about talking too much – it has it cost. Last year I had my eye on adding a work to our collection from Ray Pottery. I love red in artwork, but I spent too much time talking last year and by the time I got back to their booth – the pieces I had my eye on were gone. So it was a first order of business this year and their booth was across from Whynot Pottery's booth, but no one was there. That was frustrating as I knew I'd get talking again. Mark Heywood said to pick what I wanted and he'd hold it for me until the Ray Pottery booth was open for business. Now that's service and a reflection of this community.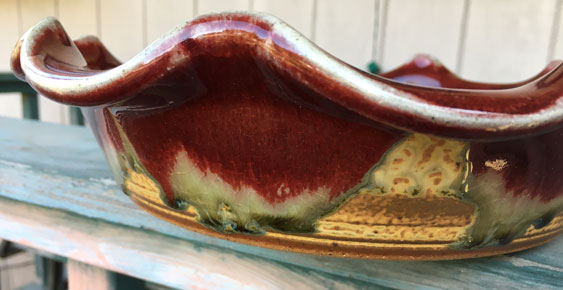 Here's a side view of this piece. There's lot of details to enjoy.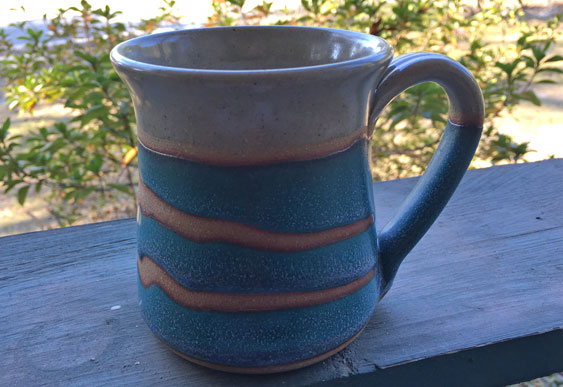 I also got this mug from Whynot Pottery to match a little pot we found while visiting Whynot's studio last year. It was a glaze that they had used in the past but had trouble getting it to come out right in the kiln process – so it was a real find. Well they have worked out that process and had lots of works with this glaze available this year. Oh, you didn't know that most of the potters at the Celebration also opened their studio/galleries during that weekend so you can see even more of their works – well they do.
Hey folks, stick with me and I'll let you know all the things I'm learning. In fact, I'm thinking of organizing a tour bus to the 10th Celebration from the Charleston, SC, area next year. Stay tuned for details.