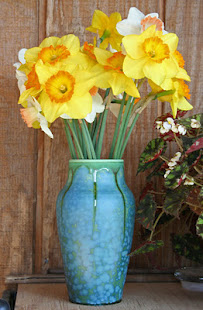 Don't be caught "lion" around at the end of March or being an April "fool" by missing Daffie Days at Bulldog Pottery this weekend.
"Daffie Days," Bulldog's spring kiln opening, will be held March 30 through April 1, 2012, from 10am-5pm each day. Potters Bruce Gholson and Samantha Henneke created the annual event to welcome the beginning of spring and celebrate the flowers that come with it. Despite the early Spring, there should be plenty of flowers in bloom, and the Seagrove countryside should look great this weekend.
Bulldog Pottery is located just 5 miles south of Seagrove's street light on Hwy 220. Look for the blue water-tower.
An array of Gholson and Henneke's studio art pottery, including a variety of elegant vases will be available during the event. The potters will be on hand to discuss their most recent work and offer tasty treats to those who visit.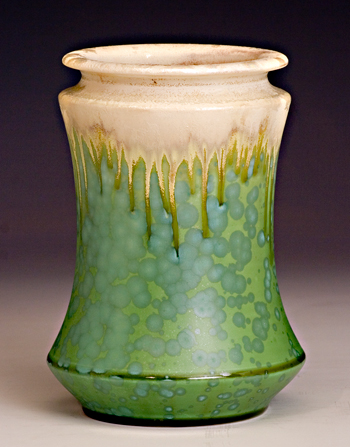 A piece by Samantha Henneke
Ed and Gloria Henneke might be hanging around too. There's no reason for Ed to hide anymore – I can't make it this weekend and a new football season starts this fall and I doubt that Virginia Tech will have to play Michigan again this year. And, I'm not one to brag too much. Like they say – a win is a win.
Mad Max the wonder dog might be on hand. If you see a red ball roll up to your feet – run! Max is not so mad – he's more disappointed that he's not allowed to play with strangers.
I'm kidding of course. If you go to Bulldog Pottery this weekend you won't even notice a dog or anything else – you'll be so focused on the amazing pottery that after you get back in the car you'll have to ask yourself, "This isn't a dream is it? I did buy these from someone?" Hopefully with your purchases in the back seat or trunk of your car you'll come back to reality before you hit the road to check out some other Seagrove pottery.
It's happened to me – don't think it can't happen to you.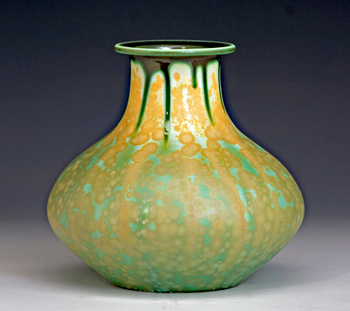 A peice by Bruce Gholson
Bulldog Pottery specializes in flowing glazes, including their molybdenum crystalline glazes that feature diamond-shaped iridescent crystals. That's pottery talk. Let me break it down for you – "pretty sparkles".
To find out more about Gholson and Henneke, visit their blog, "Around and About with Bulldog Pottery" at (www.bulldogpottery.blogspot.com).
But just take my word for it – you should make plans to visit Bulldog Pottery this weekend – I'm not making any of this stuff up. It's all true. And even thou Ed Henneke still thinks it's all a dream – Michigan did beat Virginia Tech – just ask the referees.
I'm kidding – really.